Heads up! We're working hard to be accurate – but these are unusual times, so please always check before heading out.
Ignore this test 4
Ignore this test 4
Im adding a zone through annotation
Zone 2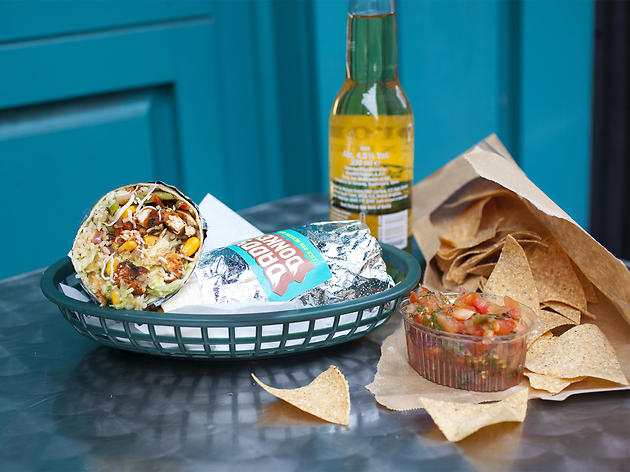 If you have a hankering for a burrito as well as a cheap handbag, Leather Lane is the place to be. Nestled among the bric-a-brac, cheap shoes and 'classic' CDs is this behemoth of an operation – Daddy Donkey is a self-proclaimed 'kick-ass Mexican grill'. Started by Joel Henderson in 2005, the street food stall grew massively over the past few years, and in 2014 the operation moved into a permanent coner site. But despite settling into a 'proper' takeaway joint, has still managed to keep the quality of their offerings consistent. Whether you're having the 'naked burrito' (sans tortilla, replaced with salad) or the Daddy D burrito, choose from five fillings (a step above other burrito stalls), including shredded beef (cooked with green tomatillos and lime salsa; £6.50), or carnitas (pork shoulder cooked in with garlic, cola, spiced and chili; £5.95). The combinations are endless, but there is one constant – be prepared to queue.
Don't be fooled by its sartorial-sounding name: leather is no longer readily available here. Instead this scenic street, nestled between the hustle and bustle of Gray's Inn and Farringdon Roads, and running parallel to the jewellery trade hub of Hatton Garden, is a haven for food lovers. Leather Lane mixes the best of traditional London with the new. Its down-to-earth weekday market – which has been operating for a staggering 400 years – is one of the city's best and is constantly evolving, these days feeding the suited lunchtime worker crowd. Meanwhile innovative, independent, and – dare I say it – kind of hipstery restaurants and coffee shops are springing up on the street all the time. Surprisingly for somewhere so central, Leather Lane is also majorly residential, which has fostered a greater sense of community than you'll find in most parts of the City. The Friends of Leather Lane Market group and Leather Lane Stars project work hard to preserve this; it's them you can thank for helping to retain the lane's unique character and independent spirit. Okay, yes, there is a Pret, a Subway and a Greggs, so you're sorted for sandwiches – but apart from that, you'd be hard pressed to find any major chains setting up shop here. Drink this A photo posted by Camylla Vitorio (@camytomylife) on Aug 5, 2016 at 8:16am PDT Microbrewed cask ales from the Sir Christopher Hatton, a cosy traditional pub with outdoor tables for those rare sunny days. Craft beer, obviously, at The Craf
We made it! Christmas is almost upon us and London has pulled out all the stops to make it better than ever. Pick up beautiful gifts at festive fairs, dance, prance and skate your way around town, or sing your heart out at candlelit carol services where you can stuff yourself with mince pies and mulled wine. Finish off 2015 with a bang using the list below! THINGS TO DO Dec 1-24: Christmas at the Charles Dickens Museum The Charles Dickens Museum has an obvious right to go fully festive come December, and this year they'll be marking the season with near-daily special events and an exhibition themed around 'A Christmas Carol'. Dec 3: KidZania Adult Lates The incredible children-only city that is KidZania – where kids play a sort of real-life version of the Sims – is opening to grown-ups exclusively for Time Out this winter. If you're over 18 this is your only chance to explore the diminutive world and pretend you're a child again. Dec 3: Seven Dials and St Martin's Courtyard Shopping Party Over 100 stores, hotels, bars and restaurants will be offering a 20% discount plus live entertainment and activities during this central London annual shopping soirée. Dec 3: Trafalgar Square Christmas Tree Lighting Ceremony A huge Christmas tree will herald the arrival of the festive season (someone ought to tell the supermarkets they started early) when it is lit by the Mayor of Oslo, the Mayor of Westminster and the Norwegian Ambassador at 6pm. Dec 3: William Morris Gallery Late: Agita