Batman and Robin: superhomos
We cast an eye over Marco Mancassola's new novel, which imagines the Caped Crusader and the Boy Wonder as embittered lovers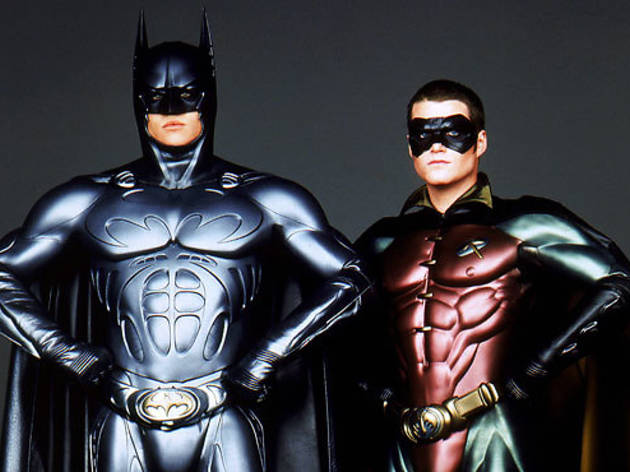 Dark Knight
, the Caped Crusader camped it up with Robin in gay film director Joel Schumacher's two contributions to the genre, '
Batman Forever
' and '
Batman and Robin
'.
'Batman and Robin Forever' could have been the working title of Marco Mancassola's new novel. In 'Erotic Lives of the Superheroes', Batman and Robin are a celebrity gay couple living together in New York. But the spark has gone. The Boy Wonder has 'committed the unforgivable sin of growing older.' So while Robin is out fighting crime, Batman has sex with young pickups and sits next to Elton John at charity dinners.
Then Robin is murdered in Central Park, and Batman is hellbent on revenge. In the course of the book, he meets Superman, now old and frail with his 'trembling arms' and wicker chair. Meanwhile, Mister Fantastic and Mystique have hung up their gloves, unaware that they too are in mortal danger. Framed as an erotic murder mystery, this is a big, bold book about the fear of aging and the true nature of heroism. It's also a sly take on contemporary celebrity culture, in which people once considered super human are reduced to staging fake rescue attempts or performing tricks on tacky TV shows. Mystique's party piece sees her morphing into the likes of Madonna and Arnold Schwarzenegger – fellow American icons with bodies of steel, growing old under the glare of the media.
Nothing lasts forever, Mancassola reminds us – not even Batman and Robin.
'Erotic Lives of the Superheroes'
is published by Salammbo Press at £14.99.
Marco Mancassola reads at
Polari
on Tue Jul 30.
Top LGBT interviews
The lesbian playwright talks about the struggle to put gay women centre stage
Read more
Dean Atta's tackles the touchy subjects of homophobia in hip hop and the 'reclaiming' of the 'N' word
Read more
His new memoir 'Film Freak' recalls Soho in the late '70s
Read more
Pedro Almodovar, talks about passion, death and his new in-flight comedy 'I'm So Excited'
Read more
Justin David takes a look at the after-hours lives of London's gay icons
Read more
Kristian Johns has transformed his own experience of HIV into a superhero epic
Read more