Heads up! We're working hard to be accurate – but these are unusual times, so please always check before heading out.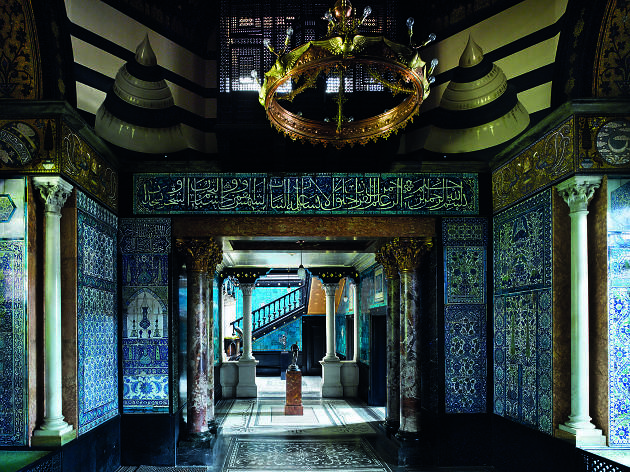 LGBT landmarks in London
Queer heritage is everywhere in London. Enjoy historical LGBT hotspots across the city
Did you know that Princess Diana spent a night clubbing with a gay icon at the Royal Vauxhall Tavern? Or that Highbury Fields hosted the first gay rights protest? Take a tour of the key points in the historic battle for equal rights and the current hot spots that celebrate queer culture.
LGBT landmarks in London
The same-sex ponds have long been known for potential hook-ups; add in Hampstead Heath's reputation as a cruising hotspot (for all types of sexualities) and it can be a pretty heady experience. Saying that, more often than not, the vibe is friendly and platonic.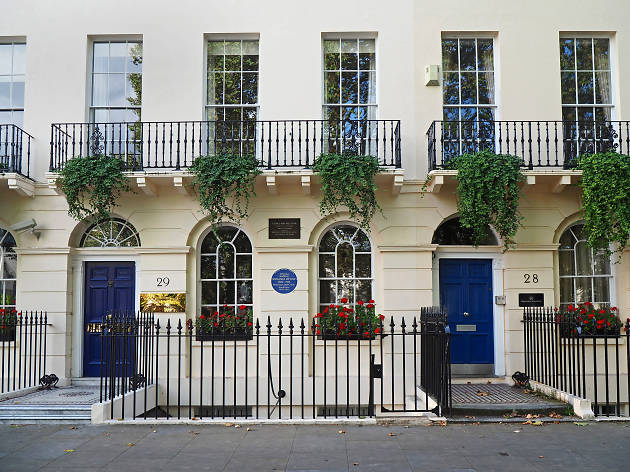 Pete Spiro/Shutterstock.com
The acclaimed Bloomsbury author – who enjoyed a ten-year affair with Vita Sackville-West – lived in a number of London residencies. You can pay respects to the groundbreaking early-twentieth-century author at her childhood home on 22 Hyde Park Gate or at 29 Fitzroy Square, the house she stayed at while studying; both have plaques in her memory. After her former home at 52 Tavistock Square was damaged in the Blitz, Woolf was also immortalised with a bronze bust.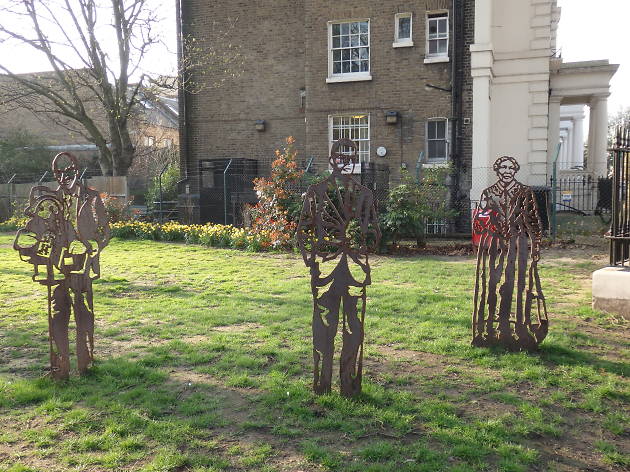 Julian Walker/Flickr
Alan Turing Statue, Paddington
Turing was an exceptional mind. His mathematical genius was a driving force in cracking codes used by Nazis during WWII. His life is commemorated with a statue on the southern end of St Mary's Terrace in Paddington, close to his birthplace
. He was convicted of gross indecency in 1952 and killed himself the same year after being sentenced to chemical castration. He has since been royally pardoned.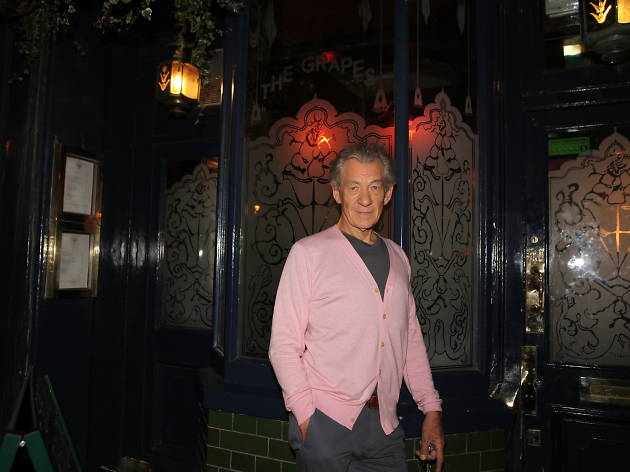 National treasure Ian McKellen is a leaseholder of this beautiful, narrow Limehouse pub and seeing as he lives nearby it's not entirely impossible to meet the renowned actor at the bar. The pub has been open for nearly 500 years – it was even immortalised in Charles Dickens' 'Our Mutual Friend'. There's a complete set of Dickens in the pub if you fancy a quick catch up with a pint.



That tired stereotype of gay men having an eye for interior design may well have begun with Lord Leighton. This nineteenth-century artist and collector poured his collections of Middle Eastern treasures into his home – now open to the public – and while being a mish-mash of styles and eras, it just works. Despite being a recognised figure in the arts, he managed to keep his personal affairs secret. Even his private correspondence gives nothing away about his sexuality.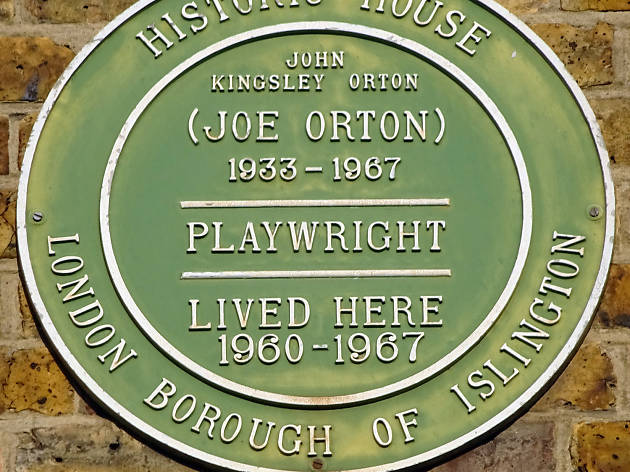 Joe Orton was the 'enfant terrible' of '60s theatre, feted for his caustic farces, yet he and his lover Kenneth Halliwell became notorious for defacing books from their local library. You can visit the small Islington library, close to their flat on Noel Road where the pair borrowed rather dry titles, to which they added rude words and naughty collages. Joe and Kenneth both served six months in prison for their hi-jinks. You can check out the actual covers in the Islington Local History Centre.
This friendly, welcoming Soho stalwart is one of the area's oldest gay pubs (it opened in 1832) but it hit national headline in April 1999 when Neo-Nazi David Copeland planted a nailbomb in April 1999, killing three people and wounding 70. This was the worst homophobic attack in Britain. A memorial chandelier hangs within the bar while a plaque sits within nearby St Anne's Gardens. While the attack is in no way forgotten, people are often drawn to the open door policy, cheesy jukebox and cabaret at the weekends.
The first ever gay rights protest took place in Highbury Fields in November 1970 following the arrest of Louis Eakes, who was caught in a police entrapment operation. Over 100 members of the Gay Liberation Front held a torchlight rally. It is widely believed that this protest directly led to the many Pride marches that now run throughout the UK.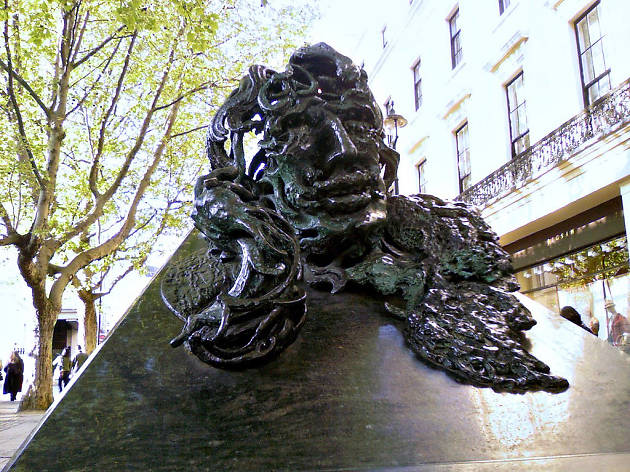 Drinks Machine/Flickr
A few metres from The Strand is a florid interpretation of gay icon and superior wit Oscar Wilde. His location is perfect, just on the edges of theatreland, as in his life he was at once embraced for his literary talents and then ditched as the law caught up with his lifestyle – at the time it was illegal to be gay – and he served two years in prison and spent three years in exile. The only downside is that Wilde does appear to be sinking into the granite but the neat thing about this statue is you have the chance to sit down and face the author, technically you are sort of sitting on his lap.
Before Heaven opened in 1979, most gay venues were small basement affairs. This cavernous 1,000-capacity venue under Charing Cross station was a game-changer. It has always pulled in huge crowds and queues regularly back up onto The Strand.
The UK's only dedicated gay and lesbian bookshop has been a lifesaver for anyone who previously had to depend on the slim LGBT pickings in most bookshops before it opened in 1979. Various rounds of rent increases have threatened the shop's future but its loyal, large following has always managed to rally around. Its future has hopefully been secured by its star turn in the fabulous 2014 film 'Pride'.
Withlocals Universal Widget Paris