Win a Champagne Capsule
Enter our competition for a chance to share The London Eye's unique views with your best friends – in your own private capsule!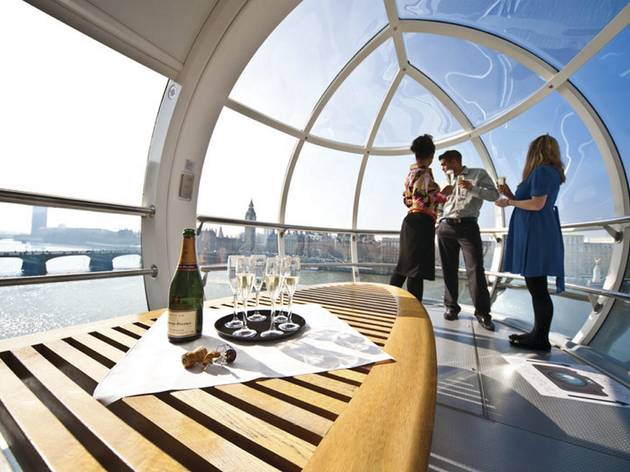 The London Eye is centrally located in the heart of the capital, gracefully rotating over the River Thames opposite the Houses of Parliament and Big Ben. This Christmas, we are offering you the chance to host your own private party on the London Eye for you and up to 19 of your friends, as you try the Champagne Capsule. If you win, you'll indulge in a glass of Pommery Brut Royal champagne served by your own private host, while enjoying the sensational winter views of London. Even if you don't, you can still enjoy a 10% online discount for this unique experience
here
.
To enter, simply fill in your details below.
Enjoy The London Eye at Christmas
Sponsored listing
Cocktail Embassy
In Crystal Palace, one of London's many mini-villages south of the river, most of the drinking and dining action happens in the commercial hub known as The Triangle - a trio of roads lined with bistros, gastropubs and local specialists in cuisines from Indian and Thai to North African and European. If they want a drink, most people who live here head to the pub. Cocktail Embassy is a bar that's trying to change that mind-set, but whether it will win over residents with its dated look and awkward collection of mostly Prohibition-era/style cocktails – heavy on booze and light on mixers – remains to be seen. The menu is a combination of out-there concoctions such as vodka with raspberries and beetroot, through to made-over holiday tipples, although decent classics can also be knocked up on demand. The cocktails we tried were good. A Sun Leaf (spiced rum, vanilla, orange marmalade, mint, lime juice and orange bitters) was simply presented and nicely balanced, despite losing its sweet-sour power towards the end. A Mai Tai, served in a heavy, straight-sided glass goblet with a slice of house-dried fruit and a layer of 'rum float', bore no resemblance to most of its more conventional cousins. However, Cocktail Embassy's décor is stuck in the early Noughties, and its ambience is far from cosy: shiny black chandeliers with electric flickering candles, leather seating all facing the L-shaped bar, loud flock wallpaper, and lighting that was way too bright. It's not a place that invites
Venue says: "Happy hour every day 5-8pm and Sunday all day. Exclusive cocktails and DJ over the weekend. Open until 3am... what else do you need?"