Food stalls at Notting Hill Carnival
While you're soaking up the Carnival music, costumes, dancing, soundsystems and rum, make sure you don't skimp on the food
Food stalls at Notting Hill Carnival are as crucial to the Carnival experience as soundsystems, coconut shell cocktails, afterparties, reggae and mas troupe dancing. So take enough cash with you to purchase plenty of mouth-watering Caribbean cuisine alongside all that Red Stripe and rum. We asked three veteran Carnival food vendors to tell us about the experience of catering for Europe's biggest street party.
RECOMMENDED: Read the full Notting Hill Carnival guide
Food vendors speak about serving at Carnival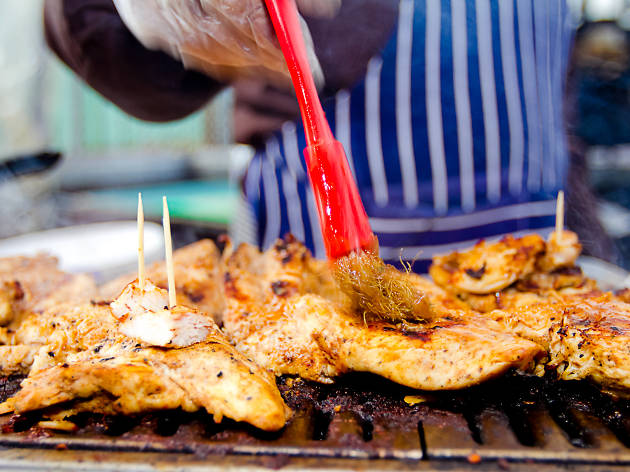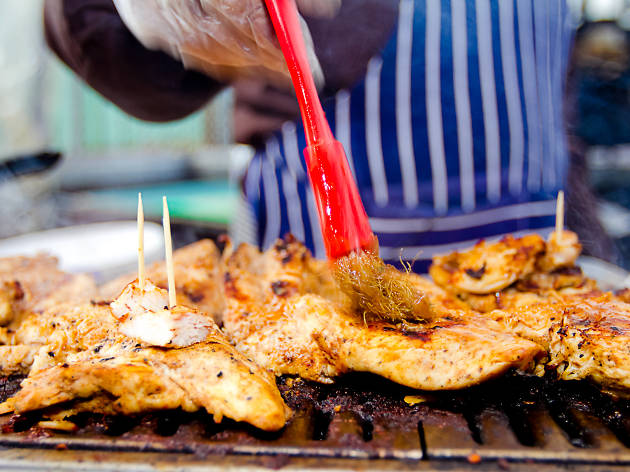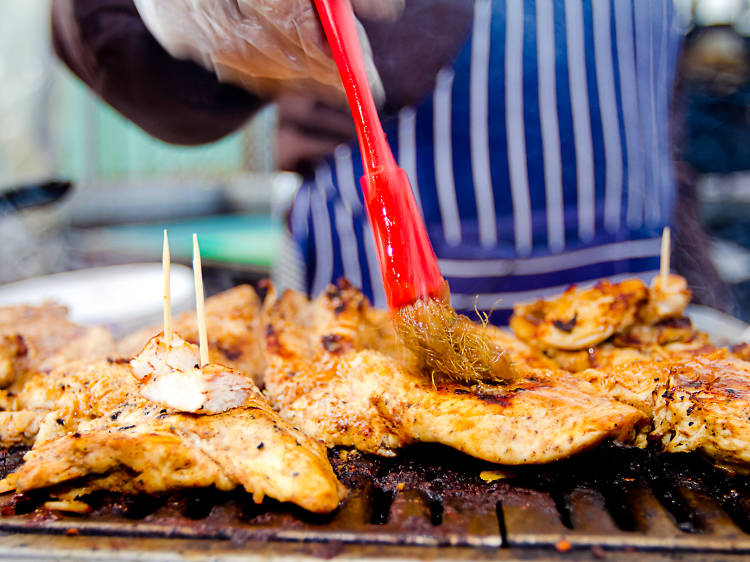 Chris McIntosh
Mama's Jerk Station: corner of Portobello Road and Oxford Gardens
Mama's Jerk Station has been serving food at Carnival since 2010. Adrian Luckie is the founder of Mama's Jerk Station.
'Back in Jamaica, my great grandmother, Mama Charlotte, used to make her own jerk marinade. She had her own recipe which got passed through generations and then down to me. We try to make our food a bit different to other Caribbean food. As well as jerk chicken, we make our own jerk vegetarian bean cakes with sweet potatoes and coconut. There's also our jerk swordfish cakes and my 'jerkurrito', which is rice, peas and jerk chicken in a wrap. We also make our own tropical mayo sauce.
'Carnival allows people to retain their cultural heritage, and food is crucial to what Carnival represents. I love the smell of all the different food there, with chefs doing their own versions of Caribbean food and adding their own special ingredients – some people throw Red Stripe or rum on their food while they're grilling. Everyone's there for a good time, it's just a really happy vibe.
'On Sunday at Carnival I get everything set up and then leave things to my team, so I can go and see the parade for an hour or so. Then I go back and carry on serving and working. Jerk chicken is definitely our most popular dish. It's what people go to Carnival for! I saw a guy serving jerk chicken pizzas a few years ago. It sounds a bit funny, but I thought it was pretty cool – people love pizzas and people love jerk chicken, so why not?'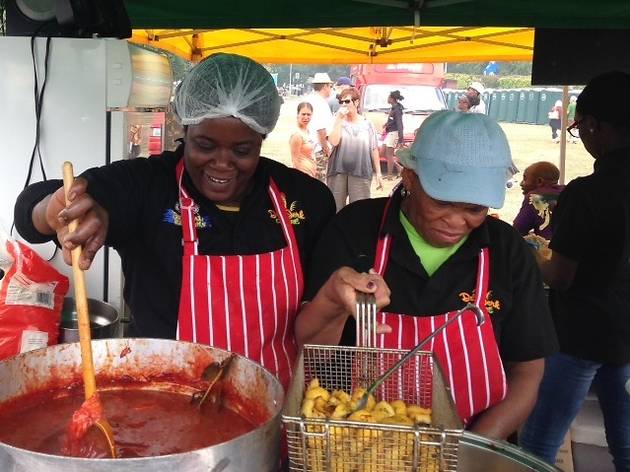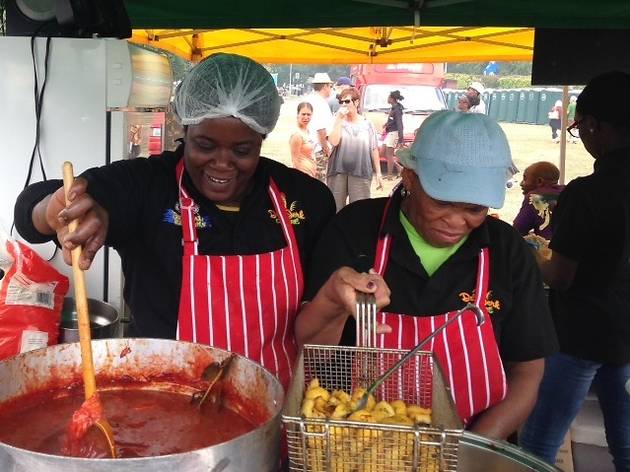 Deli Jerk Centre: Westbourne Park, Pitch 12
Deli Jerk Centre has been serving food at Carnival since 1997, settling into its Westbourne Park pitch in 2001. Andrea Brown is a director of the business.
'We serve jerk cuisine, including chicken, pork, spare ribs and beef. Another speciality is our jerk wraps, and we have also broadened out our vegetarian cuisine, serving jerk vegetables with macaroni cheese or plantain.
'Over the 18 years we've been there, Carnival has developed and the crowd has got more diverse. We have met people from all over world, who have welcomed our food. We love Carnival! It's a good time to see nations unifying.
'Food plays an important part in Caribbean culture. We have different ways of preparing foods from around the world and Carnival is where we can explore these different tastes. Music, costumes, food and people all come together at Carnival, it's a great time!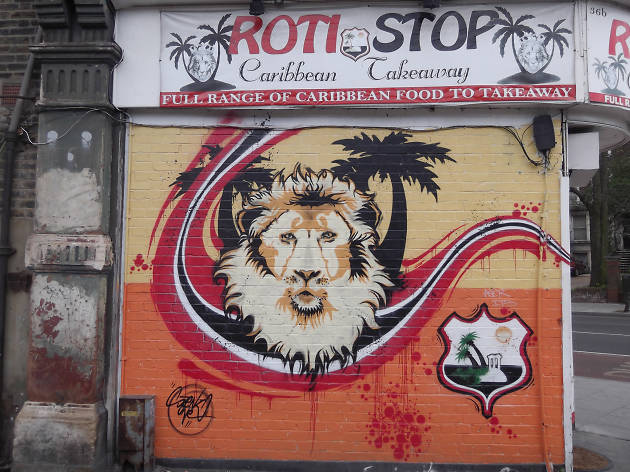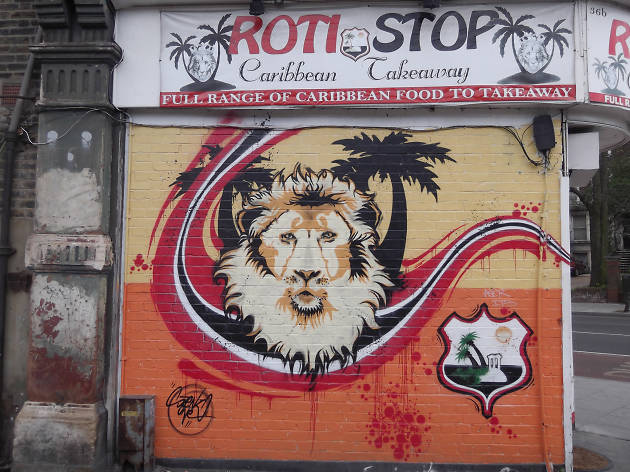 themostinept
Roti Stop has two London locations, and founder Bernard 'Roti King' Jackson has been serving food at Carnival for over 20 years. Roti Stop won't be at Carnival in 2015, but Jackson has plenty of Carnival knowledge to impart.
'One of the main dishes served in Trinidad, my country of birth, is roti, and that's our main dish. But we also serve a wide cross-section of Caribbean food – rice and peas, jerk chicken, aki and swordfish, and rotis with different curries. We also cater for vegetarians, with dishes that use pumpkin and channa – chick peas.
'Carnival is so versatile, because you're dealing with people from so many different cultures, and the demand for food is so great. What makes [being a food vendor at] Carnival really rewarding is seeing the whole set-up in motion after weeks of intense preparation. And also to see satisfied customers, and the enjoyment they get from the food. It's fun on the day, because when you get used to the whole operation, it's not as difficult as it may seem.
'Roti is our most popular item at Carnival. Most other stalls tend not to sell roti, so because that's our speciality – and also because of our track record and our history at Carnival – we tend to stand out. We've served some famous people over the years, including Brian Lara, Dwight Yorke, Rudolph Walker [Patrick Trueman from 'Eastenders'], and musician Tobago Crusoe.
'Food is crucial and important to Carnival because it's part of the culture of the Caribbean people, just as Carnival is part of our culture. It goes hand-in-hand with the music and the whole aspect of the event. People travel to Carnival from far away, and it might be the only chance that some people get to enjoy Caribbean food.'
More Notting Hill Carnival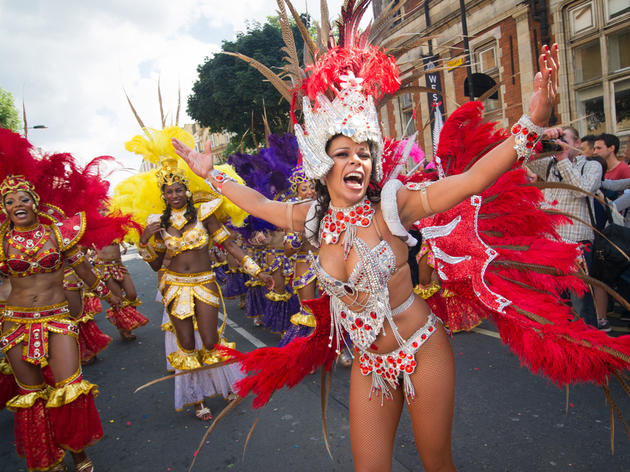 Navigate your way through this year's Carnival with our map of the main parade, bars, toilets and tube stops.
Carnival's exotic outfits, banging music and strong Caribbean liquor are a perfect party combination. Here are the hottest pre-and post-Carnival parties this August bank holiday.