Confession: nobody in the Time Out office is doing any work this afternoon. And it's not because we've all been blown into a distant hedgerow in Zone 7 while trying to make it into our Covent Garden office. It's not even because we're all busy desperately checking Citymapper to see if we're going to be stranded here until Storm Eunice chills the fuck out.
Nope. The fast-paced world of curating 'Things to Do in London this weekend' has been completely derailed by a livestream of planes trying to land at Heathrow. If you're not On Twitter, you might not be aware of the Big Jet TV. Allow us to fill you in.
At the time of writing, nearly 200,000 people are hooked to the anonymous YouTube channel, which is streaming live from the arrivals runway at London's largest airport as pilot after pilot attempts the butt-clenching descent onto runway 27L in crosswinds of up to 70mph. It's stomach-churning stuff, made all the more dramatic by the anonymous host's hilarious running commentary. 'AH, LOOK AT THAT!' he yells, voice muffled by wind crackling in his microphone.
From the enthusiasm in his voice, you can tell that this might just be the best day of this aviation enthusiast's life. This is bigger than that time when that mystery drone ruined a load of people's Christmas holidays.
And we can understand why. Several members of the Time Out editorial team burst into spontaneous applause just a few minutes ago when an Emirates A380 (the biggest aircraft in the world!) managed to touch down on the tarmac. The emotional release was palpable.
Not got much on your to-do list this afternoon? Tune into the channel here to witness the adrenaline-pumping live-action for yourself. We can't promise you won't revise your opinions on clapping for the pilot. And whatever you do, don't tune in if you've got plans for the rest of your day.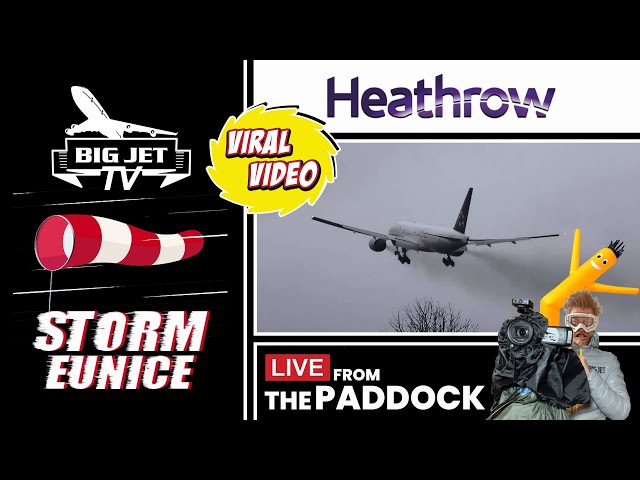 Storm Eunice: The roof of the O2 has literally ripped

A 5,000-year-old bone has been found on the banks of the Thames