From kidult games to extremely grown-up cocktails, here are 11 ways to beat the January blues (without booze)
1. Go back in time (above)
Regress to a time before Friday night consisted of six pints, 20 McNuggets and a blurry ride home on the night tube. For the ultimate PG night out, head to Namco Funscape, located in City Hall on the South Bank. Here you can win big (you know, like 83p!) on the coin slots, go bowling, play arcade games or take a serious shunting on the dodgems. Whatever you get up to in this neon labyrinth, you'll have a total blast without even
a sniff of the sauce. County Hall. Waterloo Tube.
2. Sink a hole in one
You might tell yourself that lifting pints is a great way to condition your arm muscles, but so is a few hours of putter-swinging at one of the capital's crazy golf courses. At Junkyard Golf Club in Shoreditch players can chip around grizzly bears, Egyptian pyramids and even Del Boy's yellow three-wheeler, while at Swingers (in the City and launching in the West End in March), golfers can manoeuvre around a giant windmill or lighthouse. Junkyard Golf Club, Dray Walk, Old Truman Brewery. Shoreditch High St Overground. Swingers, 8 Brown's Buildings. Aldgate Tube.
3. Get your creative juices flowing
Make the most of having both hands free and sign up to an evening with Collage Club to get stuck into some serious cutting and sticking. This creative crew host group collage sessions at various locations around the capital every few weeks and provide all the materials you need to produce a montage masterpiece. You'll leave with a work of art in hand and the smug feeling that you'll be hangover-free the next day. Multiple locations. Next event Jan 24.
4. Trick yourself drunk
At Sexy Fish, Mayfair's swanky sushi restaurant and bar, you can get on it without the prospect of falling flat on your face. If you're gagging for a smack of liquor, you can fool yourself with a delicious and oh-so-boozy-tasting mocktail called the Seedside. Made with Seedlip, the 'world's first booze-free distilled spirit', and blended with sugar, mint, lime and soda, this tipple is as good as any alcoholic counterpart. Hoof as many as these as you like and you'll still make a dignified exit come closing time. Berkeley Square House. Green Park Tube.
5. Have a cinematic sleepover
Kick back in the cosy Prince Charles Cinema and take on one of its classic film marathons. On January 27, the downstairs screen is hosting a 'Lord of the Rings' all-nighter, which will screen the whole trilogy back-to-back. Upstairs you can kick off to a Jean-Claude Van Damme-a-Thon, which involves a non-stop showing of the Belgian's six best movies from 9pm to 8am. Strap in and get comfy. 7 Leicester Place. Leicester Square Tube. £20.
6. Hit a caffeine high
Booze might be off the cards but that doesn't mean getting totally buzzed isn't an option. From now until February 1, relocate all after-work drinks and Bumble dates to late-night coffee shops and you can neck cups of caffeine until the wee small hours. Shoreditch Grind serves until 1am, Caffè Nero on Old Compton Street until 4am, and if you're on a raucous cappuccino crawl, Soho stalwart Bar Italia can hook you up with a shot of the black stuff at 5am.
7. Embark on a mindful bender
Having debuted its Mindful Drinking Festival back in November last year, alcohol awareness group Club Soda is back with a mindful pub crawl this month. Aiming to highlight the fun of socialising while not getting incoherently shitfaced, the crawl kicks off at The Draft House in Tower Hill and continues to more pubs in the area, all of which offer a sublime selection of genuinely delicious soft drinks. Starts at The Draft House, 14-15 Seething Lane. Tower Hill Tube. Jan 16. £7.
8. Prop up the bar
Proudly operating with the motto 'spoil yourself without spoiling yourself', sugar-free, wheat-free vegan restaurant Redemption is also home to a 100 percent booze-free bar. Luckily, flavour and fun are still on the menu here – try the Frocorita, a virtuous frozen margarita, or the Pious Piña Colada, a concoction of fresh pineapple, lemon and coconut yoghurt. Fizz fans can still get their fix with a glass or two of zero-alcohol sparkling wine. Cheers to that. 320 Old St.Old St Tube. 6 Chepstow Rd. Bayswater Tube.
9. Sample booze-free beer
Most non-alcoholic beers taste like watered-down cat piss, so thank God for Nirvana Brewery, which began making delectable booze-free brews on a north-east London industrial estate last year. Not only has Nirvana crafted a stout, IPA and two pale ales totally free from alcohol, but its brews are all lactose-free and vegan-friendly too. If that ticks all your (dietary requirement) boxes then swing by their tap room for a taste, or meet the Nirvana crew in person at the Strongroom Bar in Shoreditch on Tuesday January 9 (£10 entry). Unit T6, Leyton Industrial Village. Lea Bridge rail.
10. Downward dog
If your tactic for Dry January is outright avoidance then the Re: Solutions Festival is for you. The month-long health and wellness festival is touted as 'a hub of rest and rejuvenation' – it's ideal for haggard Londoners who hit the festive season harder than Patsy from 'Ab Fab' would a free bar. The festival has looped in the likes of Fat Buddha Yoga and Disco Barre to host exercise classes, plus there'll be meditation sessions and an onsite superfood café. Come and feel revitalised and pretend those many, many festive prosecco hangovers simply never happened. Juju's Bar and Stage, 15 Hanbury St. Shoreditch High St Overground. Until Jan 31.
11. Get your game on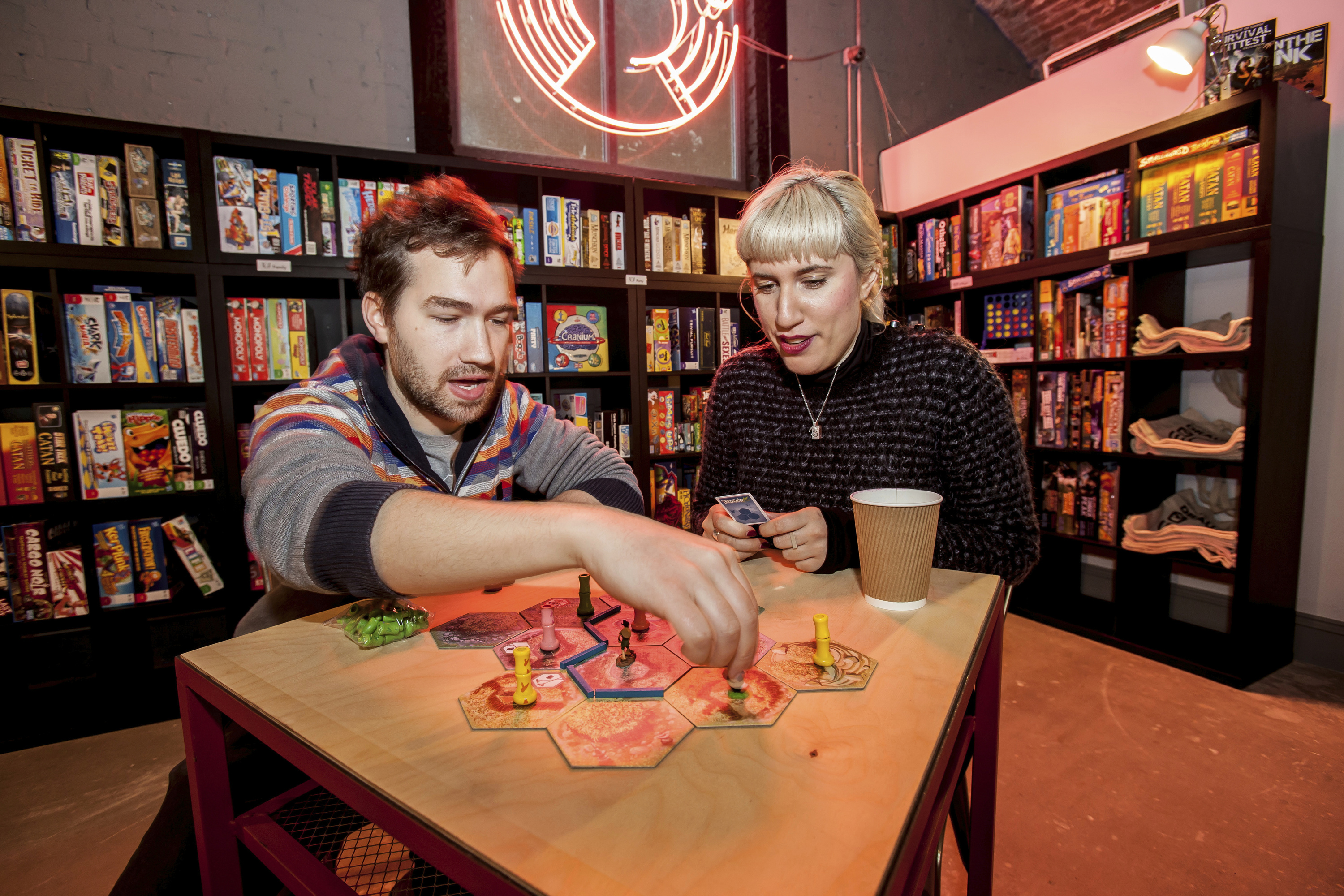 Swap beer pong and Ring of Fire for more puritan pursuits at Draughts, London's first board game café. With 600 (and counting) games on offer, you can battle your mates at classics such as Monopoly, Jenga and Pictionary, or at any of the other hundreds of options available. For the uber-competitive, themed tournaments take place most months. Regardless, losers are most definitely not obliged to down shots. 337 Acton Mews. Haggerston Overground.