Luke Thompson is having his cake and eating it. Figuratively: that's how he describes simultaneously filming season three of 'Bridgerton', Netflix's hugely successful TV series, and rehearsing for Ivo van Hove's West End stage adaptation of Hanya Yanagihara's bestselling novel 'A Little Life.' And literally: he's tucking into a vanilla-and-passionfruit cake while chatting about his busy schedule, using words like 'lucky' and 'blessed' as he munches away in Terry's, a 1940s time-capsule caff in Southwark.
He's run the two miles from rehearsals in London Bridge. That's how excited he is to talk about stepping into the shoes of Willem, one of the book's four lead characters, alongside an all-star cast headed up by James Norton of 'Happy Valley' as Jude, Omari Douglas from 'It's a Sin' as JB and Zach Wyatt from 'The Witcher' as Malcolm. 'I knew there was a possibility "Bridgerton" wouldn't be able to fit around this,' he explains. 'I worried I'd audition, be offered the part and have to turn it down. So to be able to do both is the joy of joys.'
'Joy' isn't usually the first word that springs to mind when talking about 'A Little Life', the Booker Prize shortlisted novel that captured imaginations and speared souls when it first hit bookshelves in 2015. The plot follows four college friends as they move painfully through life, covering topics from sexual assault, drug addiction, self-harm and suicide. It's not an easy read, yet it has the unputdownable power of a story in need of telling. On the mass appeal of the novel, Thompson says, 'People call it "misery porn". But we all die and usually not in a pleasant way. Life's a sad story and it's fucking hard. That's the reason [the story] moves people, because it's true to life.'
Stepping into a world full of trauma is not something the 34-year-old shies away from. 'I don't feel like I'm having to carry something really difficult when I have to go somewhere dark. There's actually always a base level of complete pleasure.' He likens it to stage violence: making it look as graphic and visceral as possible to the outside world, but to those in the know it's just about getting from A to B, and occasionally manoeuvring a few vital organs away from sharp objects.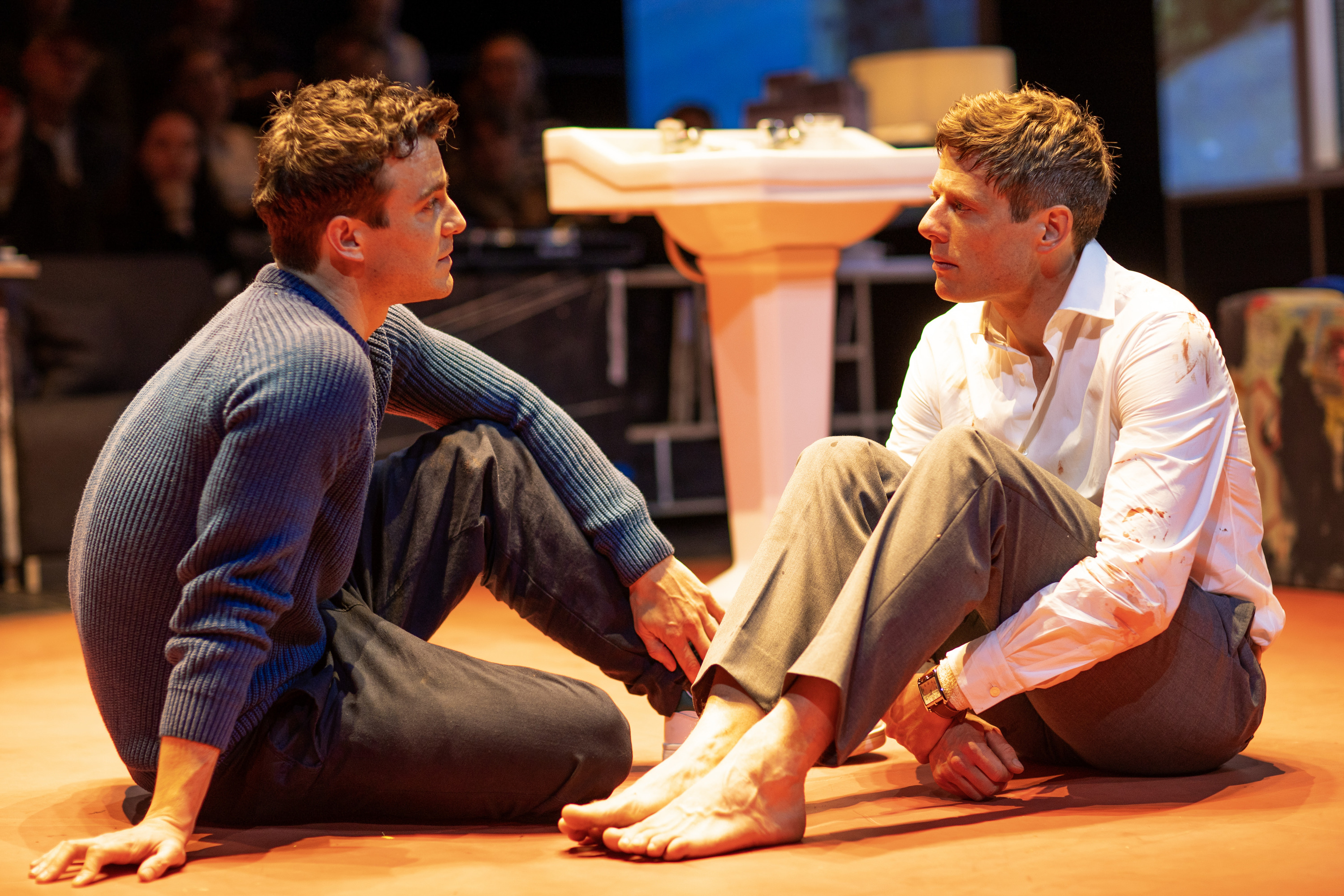 Working with a genius
Renowned for his bold, uncensored approach to stagecraft, Van Hove has directed the likes of Gillian Anderson, Jude Law and Ruth Wilson, and was hand-picked by David Bowie to direct his musical 'Lazarus'. 'His rehearsal room is like a playground,' Thompson says with a smile. 'Actors are released, unfussy, messy; they shout and roll around.' It's a way of working this English-born, French-raised thesp prefers. 'British theatre can be very controlled. I like not tiptoeing around the swimming pool.'
I'm happy switching my brain off and seeing what happens. It's quite nice being a puppet
Having grown up in the Parisian suburb of Fontainebleau, Thompson has a quasi-Frenchness about him, something he sometimes leans into if the Chateauneuf-du-Pap sweater he's wearing is anything to go by. He's straightforward and unapologetic. In a polite way.
Speaking of the culture clash he experienced on his return home in 2006 aged 18, he says: 'I could speak English, but I didn't have any of the cultural references – think "Dancing on Ice", Billie Piper in "Doctor Who" and Chantelle Houghton winning "Celebrity Big Brother" – or understand any of the colloquialisms.' Despite nearly two decades having since passed, he adds: 'I guess I still feel a little bit on the outside.'
That's no bad thing. In fact, Van Hove's reputation as something of an outsider – along with his bloated awards cabinet and Continental flair – is one reason why Thompson trusts him to the point of being able to completely relinquish control. 'He's a genius, one of the top five directors on the planet right now.' It's a hard statement to argue with: from his monumental Young Vic production of 'A View from the Bridge' to his visionary Shakespeare mash-up 'The Roman Tragedies', Van Hove is unquestionably responsible for some of the greatest theatre productions of recent times.
'I'm happy switching my brain off, giving it to him and seeing what happens,' says Thompson. 'It's quite nice being a puppet.'
Sex, drugs and controversy
Believe it or not, Thompson sees similarities between 'A Little Life' and 'Bridgerton'. In the former there are no mentions of 9/11, despite it being set in 2000s New York; in the latter Ariana Grande and Taylor Swift soundtrack a drama set in Regency England. 'They're both fantasies lifted out of time,' he says.
Both parts also explore male friendships and sexuality, which has proved controversial. In season one of 'Bridgerton', breadcrumbs were dropped that Benedict might be gay, or at least questioning his sexuality. But when all hints of the would-be-romance with artist Henry Granville vanished in season two, the show was accused of queerbaiting. 'A Little Life', meanwhile, features a sexual relationship between Willem and Jude, triggering familiar questions about whether straight actors should be allowed to play LGBTQ+ roles.
Theatre is a conversation. It's meant to be provocative and get people talking
Thompson hasn't publicly disclosed his sexuality, nor does he feel the need to. 'Why do you have to set the record straight? Let people think what they want to think,' is what he says on the matter. But confronting the tricky conversations around identity politics in the arts, he says, 'It's a complicated debate. There's value in the authenticity [of having an LGBTQ+ actor in a role]. But also, the whole point of acting is that you step into someone else's experience.'
'Theatre is a conversation,' he adds. 'It's meant to be provocative and get people talking. It's about putting a problem on a table and asking "What do we think about this?" The more heated the better, because that's its purpose.'
The power of male friendship
It's hard to deny the book and show's refreshing approach to male friendship. Each friend is flawed and carries a different demon. 'It's a breath of fresh air to explore that level of sophistication that's often afforded female friendships,' he says. 'I'm a great believer in how much of a mess we all are. The novel welcomes men into that fold.'
Playing Benedict Bridgerton is definitely a change of pace. Thompson's character is 'the spare' – the second-eldest son – of a prominent Georgian family. Sure, he's got his own cross to bear: having to live up to the family name, marry a woman of small fortune proficient in French, Latin, embroidery, piano, dancing and riding, and rear a succession of wan male offspring. But there's no arguing with the fact his therapy sessions would pale in comparison to Willem's.
Romance is often labelled as over-the-top or silly. And I think: Take a look at sci-fi. That's fucking stupid too
'He's got a complicated role as he's there to step up if needed. But he's also potentially useless as he might never have to,' is how Thompson describes the aspiring artist. In season two, we get to see a more playful and human side to Benedict as he experiments with opium and faces the reality of being a nepo-baby – a term Thompson hasn't heard until this interview – as he finds out the intervention of his older brother is the reason he is accepted by the Royal Academy.
Given their closeness in age, square jaws and ability to smoulder on cue, Thompson has often competed with his on-screen brothers for roles. Case in point: in 2018 he took over Jonathan Bailey's role as Edgar in Ian McLellen's 'King Lear'. I ask if he ever finds it weird that people want to believe the three siblings in the show are friends in real life. 'If I were to say we fucking hate each other it would burst the bubble,' he says. 'But saying we're friends in real life does the same because it's not the fantasy people want.'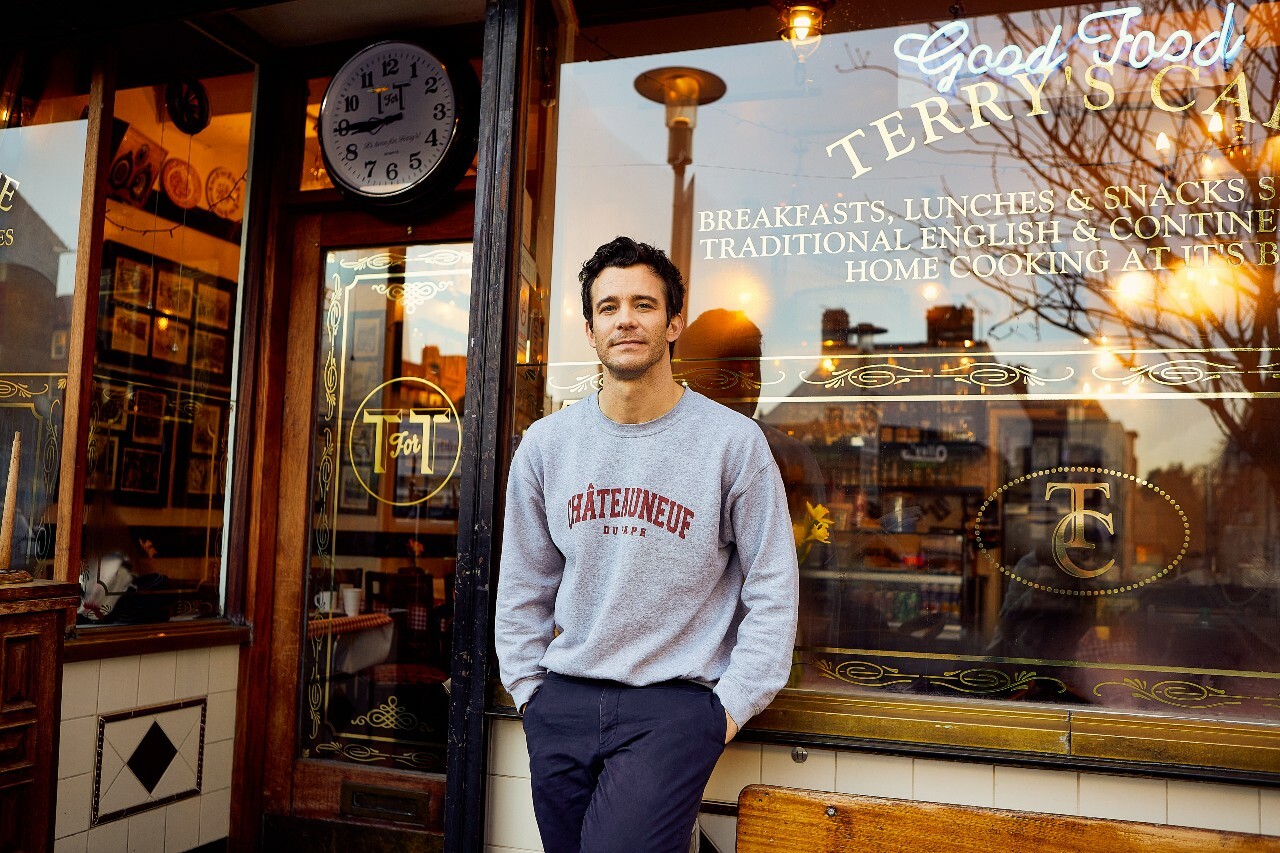 The next heartthrob
Friends or not, his co-stars Rege-Jean Page and Jonathan Bailey have become the classically handsome brothers in arms paving the way for Benedict's leading man moment, rumoured to take place in season four. 'They're my canaries in the mine showing me how it's supposed to be done,' Thompson laughs.
On potentially reaching the frenzied heartthrob heights of his predecessors – lest we forget the winter of 2020 when a spoon became the most envied inanimate object known to man – Thompson is characteristically modest. 'Don't count your chickens.'
He's more concerned with giving the romance genre the respect he feels it deserves. 'I think misogyny has played a large part. It's often labelled as over-the-top or silly. And I think: Take a look at sci-fi. That's fucking stupid too.'
It's at this point in the interview that the café's eponymous flatcapped owner Terry starts to shut up shop: bringing in benches, switching off the jazz and retiring the self-serve pint machine. We scuttle across the road to a chippy to tie up loose ends; Thompson graduated from Rada, prefers oat to cows milk and is a diehard 'Star Wars fan'. As for the pressure to look a certain way on screen: 'To honour the role I want to work out and make a bit of an effort.' He tucks into a portion of chips and a full-fat Coke. 'But I don't feel pressure to.'
How about the fact he's about to get naked in two projects at the same time? 'My body happens to be Benedict's body,' he says. 'As long as I'm playing a part, people are fantasising about his body, not mine.'
'A Little Life' is at the Harold Pinter Theatre until Jun 18, and then the Savoy Theatre Jul 4-Aug 5.
The best new theatre shows to book for in 2023.
Did you know you can visit the 'Bridgerton' mansion IRL?