Hammersmith restaurants
Discover the tastes of the world in Hammersmith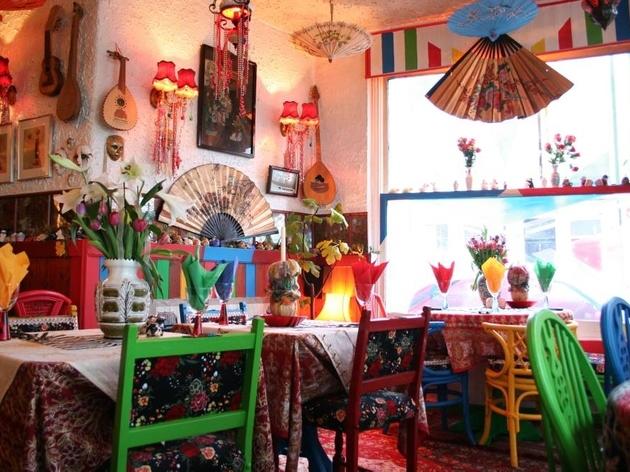 Given the fact that Hammersmith is a major travel hub, it is unsurprising that you can explore the culinary world in a day with the area's restaurants. They feature a wide range of cuisines, from Keralite food (from an area in southern India) at Shilpa and eclectic vegetarian fare of The Gate to Saigon Saigon's Vietnamese and Polanka's Polish menus. Perhaps more surprising is how well priced it all is.

Think we've missed a great restaurant in Hammersmith? Let us know in the comment box below.
Opened in January 2011 in Brook Green, West London, Malina offers Polish and Eastern European cuisine. Malina is owned and run by two partners: Beata Murphy and Jola Pinchard.
Read more
Despite its reputation for exclusivity, it's possible to get a table at the River Café with just a couple of hours' notice if you choose your moment.
Read more
But for the tables outside, you might think that this was a shop. But a pub it is, and a popular one at that: head here on a Friday evening, and you'll probably find 'reserved' signs everywhere.
Book now
Read more
Flower-filled exterior aside, there's nothing fancy about this local favourite. From the well-worn furniture to the order-at-the-bar chalkboard menu, it's all very familiar.
Book now
Read more
The Hampshire Hog in Hammersmith sounds like the start of a tortuous tongue-twister, but it's actually a 'pub and pantry', run by the team behind the Engineer gastropub in Primrose Hill.
Read more
See our full Hammersmith area guide
West London is something of a desert for Vietnamese food, but this roomy, fairly smart place near Ravenscourt Park more than makes amends.
Book now
Read more
As is the case in many of London's most authentic Thai restaurants, the cooking here is largely from the Esarn region of north-eastern Thailand.
Read more
Perched at the zenith of London-based fish and chippery, Kerbisher & Malt works within pretty tight strictures.
Read more
Just south of Ravenscourt Park, Kirsten and Nico (the café is named after their dogs), serve breakfasts, lunches and dinners that have been satisfying locals since 2007.
Book now
Read more
There's something of the community centre about this basement restaurant – it's a little shabby, with workaday furniture, sauces served in polystyrene cups and an easy-clean tiled floor.
Read more
See our full Hammersmith area guide
Sponsored listing
The Andover Arms
From their bucolic riverside home in nearby Chiswick, Fuller's local influence stretches far. A fair few of their pubs, including the nearby Stonemason's Arms and George IV on Chiswick High Road, have been given makeovers, scrubbing them up until their rough edges are replaced by smooth, clean lines, expansive food menus and, dare we say, slightly less soulful places for a drink. Not so, the Andover Arms. Here, in a villagey spot (known locally as Brackenbury) complete with pretty terrace housing, a butcher's and a café-deli, you'll find a Victorian pub offering plenty of room for drinking as well as dining. What's great is that it feels like a proper boozer: there's a wood-panelled bar that looks like it's been around since the pub's early days, creaky chairs, faded carpets and a roaring fire (during the winter months at least). Cheery staff only add to the snug, friendly vibe. Craft beer might continue to boom across the capital, but there's no chalkboard listing all the special brews here (they chalk-up their malt whisky selection instead). A slightly disappointing selection of three ale pumps provide Fuller's ale staples, and the only nod to 'craft' is their own Frontier lager. They do know how to pour a good pint of Guinness (£4.50), though, and their wine menu's worth exploring. There are pies, cheese boards and smart fish dishes but thankfully, the food doesn't upstage the drinking, with plenty of nooks and crannies to settle in for a sesh. Long may that continue.
Venue says: "A high-quality casual drinking and dining outlet which has become the heart and soul of the local community and beyond."