London's best ramen restaurants
We unravel the best of the Japanese noodle-in-broth joints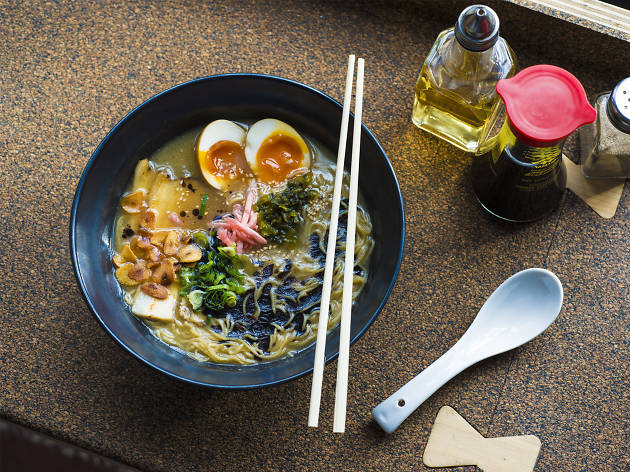 From Kyushu-style tonkotsu made with long-simmered pork bone broth, to simple soy sauce based soup, you can now get your ramen fix in all sorts of forms in London. From traditional Japanese restaurants to places doing something a bit different, here's our pick of where to grab a steaming bowl of thin wheat noodles in broth. It's the best ramen joints in London.
Check out our video of list fave Nanban, in Brixton: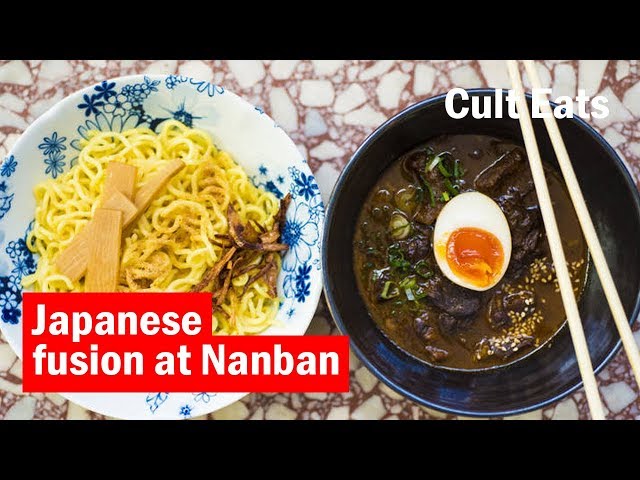 The best ramen in London
The flavours are bold; the dining room is tightly packed; the staff are friendly. Bone Daddies is a gusty New York-style ramen bar with blaring rock music and a range of seriously rich ramen dishes. It specialises in chicken bone broth options, the Tantanmen 2 a stand-out blending Chinese wheat noodles with sesame and chilli.
Read more
Venue says: "Come and try our new special ramen, the miso akamaru!"
The speciality here is tonkotsu with pork loin slices, crunchy kikurage (cloud ear mushroom) and thin, own-made noodles (in the dish called Shiromaru Classic). Vegetarians are not left out at Ippudo: there's a seaweed and mushroom broth-based version that's topped with fried tofu. Sadly, this is another no-bookings restaurant, and despite running to 80 covers, queues can gather.
Read more
Venue says: "If you're looking for authentic tonkotsu ramen, look no further than Kanada-Ya in Holborn."
Founded in Japan in 2009, this award-winning tonkotsu specialist arrived in London in September 2014. Small, brightly lit and minimal, it is not the place for a leisurely meal. And it has a serious downside: lengthy mealtime queues outside its doors. But this is exceptional ramen, using smooth, rich, seriously savoury tonkotsu broth – one of the best we've tried in London.
Read more
There are just two options on the menu of this Pop Brixton vendor – classic tonkotsu ramen, served with tender, char-grilled pork belly slices, bouncy noodles and crunchy kikurage (cloud ear) mushrooms. And a vegan 'mellow miso' version with fried tofu, shredded carrot and spring onion. Tonkotsu comes with the option of a marinated egg while the mellow miso can be pimped with meat. This is ramen as it should be.
Read more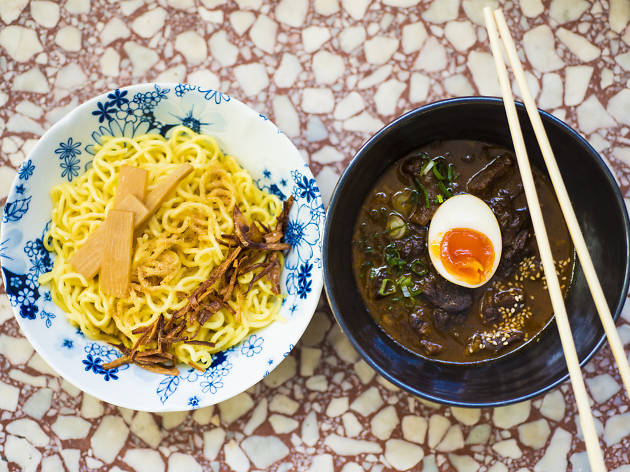 Sure, it's not the cosiest spot, but the big bowls of inventive noodles and broth at Nanban will keep you more than toastie. Order Kyushu-style tonkotsu or plump for one of our favourite dishes in London, the lazy goat tsukemen, two bowls of deliciousness that form a firm and flavoursome ramen.
Book now
Read more
Venue says: "Get two-for-one Shoryu buns every Monday when purchasing any bowl of ramen."
Run by the same people as the Japan Centre across the road, Shoryu mix authentic Japanese flavours with a little bit of innovation. Specialising in tonkotsu ramen, made with a long-simmered pork bone broth, the bowls are filled with bouncy noodles and include a choice of unusual toppings like kikurage mushrooms and, er, parmesan cheese. It's the Dracula Tonkotsu with extra garlic that has us slurping up every last drop, though.
Book now
Read more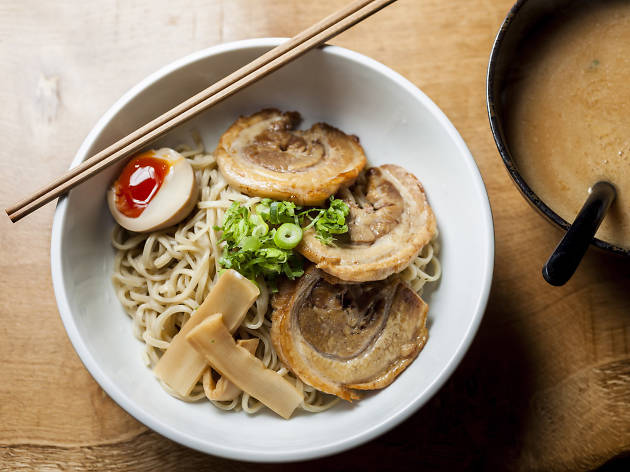 Another champion of the long-simmered pork bone broth variety of noodles in soup stock, Tonkotsu serve theirs topped with slices of tender pork, beansprouts and half a marinated soft-boiled egg. They also offer a veggie noodle soup here, packed with shiitake mushrooms and konbu (kelp). There's a second branch in Haggerston.
Read more
Discover more dreamy dishes in London
Here it is, a countdown of the capital's most coveted plates. No more need to agonise over the menu; dive straight in as we reveal dishes to die for at London's best restaurants and street food market stalls. The 100 best dishes 2016 picks out sophisticated signature dishes, indulgent desserts and sweet treats, finger-licking street food and restorative plates of breakfast food. Our list also celebrates 2016 food trends – from fiery curries to fried chicken. Tuck in.
Read more