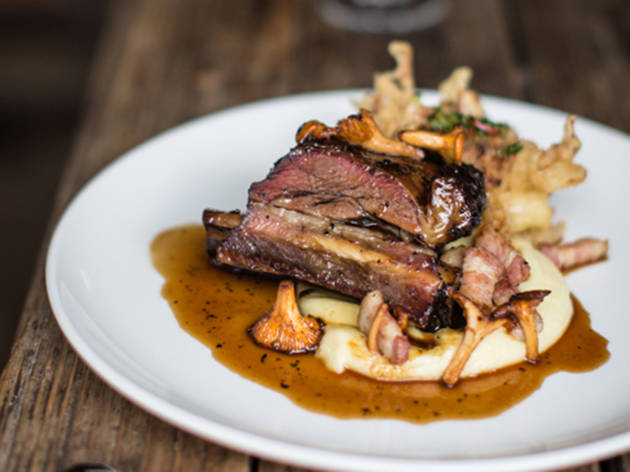 1/4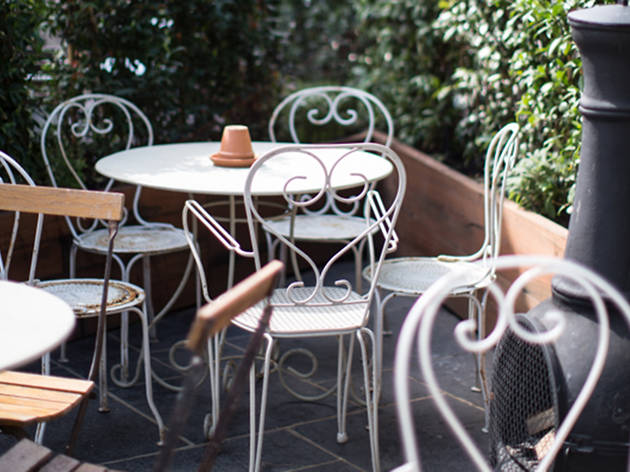 2/4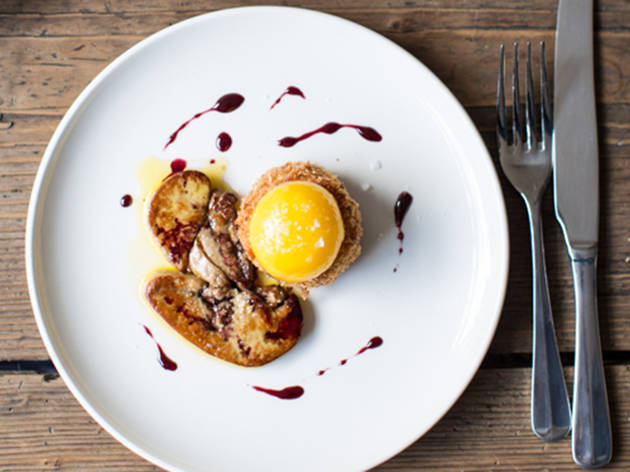 3/4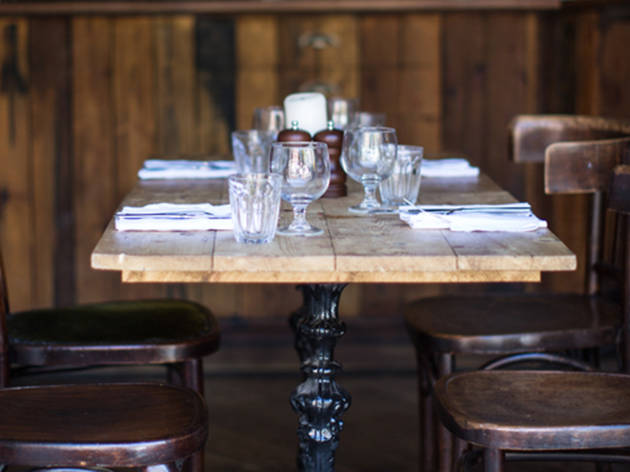 4/4
Time Out says
In the Big Smoke, chef Neil Rankin has become one of the high priests of barbecue. Through his early association with the Pitt Cue Co, then a well-received stint at John Salt on Upper Street, he's shown he's a dab hand with the Big Green Egg ceramic barbecue, the wood and charcoal smoker, and the robata (charcoal) grill. He also seems to move around London faster than a firewalker over hot coals. His latest kitchen is in this new gastropub, run by the small chain behind the excellent Princess of Shoreditch, Lady Ottoline and Pig & Butcher.
Trendy though the menu seems – it includes French bistro dishes, carefully sourced British produce, even Korean flavours – the mutton chops here come from the grill, not the barman's cheeks. Fatty and full-flavoured, they were best enjoyed with fingers. Mullets – the fishy sort, of course – are smoked, cut into translucent slivers and served with slices of white pickled clams, radishes and smattering of sea purslane.
Stovies are a Scottish dish of leftovers, a bit like bubble and squeak. Here, a very superior version uses flavoursome lamb rather than 'mystery meat'. Pit-roasted corn on the cob, slathered with a buttery smoked béarnaise sauce, shows that a real barbecue expert doesn't just sear flesh.
Rankin's on-trend and interesting dishes might sound like reason enough to visit Smokehouse, but the pub side isn't put on a back burner. The service was engaging and friendly, the country-modern look simple and appealing, and the drinks list celebrates the diversity of craft beers – a score of them on tap, many more by bottle, none cheap but all worth savouring. You can just pop into the bar area for a half- or third-pint of strange brews from Flying Dog (Maryland, USA), Hopf Helle Weisse (Germany) or Gentleman's Wit (Camden Town Brewery), among many others. There's also an extensive range of real ciders.
The tiny garden (of what was The House restaurant) is a charming space, used only by a cigarette smoker on my visit. Despite this, a visit to Smokehouse was a breath of fresh air.
Details
Address:
63-69 Canonbury Road
London
N1 2DG

Transport:
Tube: Highbury and Islington
Contact:
Do you own this business?
Average User Rating
4.3 / 5
Rating Breakdown
5 star:

14

4 star:

1

3 star:

1

2 star:

1

1 star:

2
I have wanted to visit Neil Rankins' Smokehouse restaurant since before it opened. A few of my friends have gone and the talk of going had increased in the last few months and I went last night. Thank you so much to all involved, my parents, god and myself, it was awesome.
The food was so amazing and every bite lent itself to a moment of glory and ecstasy. The food in London is becoming so good and new places are popping up constantly. Going out and trying all these places is a pleasure but it does put a strain on the wallet.

For starter I had beef brisket in a fried encasing with Gochujang sauce. So the beef wasn't fried but was soft and tender and very amazing. The sauce was tangy with a hint of spice and added an extra moisture to the dish.

For main course I ordered "The Sphere" which was similar to the starter but with ham hock and pigs cheek and cuttlefish romesco surrounding it. The delightful ham and romesco made me very very happy. This dish left me absolutely stuffed but also wanting more and more bites once I had finished it.

All the meals were so tasty and the desert just added to my enjoyment. I am looking forward to going back as I know that every dish will be excellent. I have just found out that they serve burgers on occasions too which means I will be back.
pictures on www.lifeofshayan.com
I ate here with my girlfriend in the first week it was open, if you dont have time to read the full review then here is a teaser. The evening was fantastic and one of the best meals my girlfriend and I have eaten in London. We arrived on a lovely sunny evening, the pub was busy without being manic at this stage and we were greeted by staff and chatted too like regulars for a few minutes. We are both beer fans so the selection of draft and bottled beers meant there was some serious decisions to be made. It was hot I was thirsty and I wanted a nice easy drinking but flavoursome beer, I had a couple of the barmans suggestions and they were just what I wanted. For some reason people dont talk to their barman enough and just settle for what they are use to. I recommend that you talk to staff here as they seem knowledgeable about what they are serving. We sat outside for a while drank some beer and got some lovely olives to nibble but we were also convinced to have some of the beef jerky that is made locally and was the size of a large machete. This would be a solid way to spend an afternoon or warm evening in a garden that feels nicely less London than a lot of other places. We were shown through to our table by a wonderful waitress who was attentive and funny. My girlfriend started with Chopped brisket roll with gochujang at just over £5 and was insanely good. I went for what may seem like the slightly more out there Foie gras, apple pie & duck egg at £10 is one of the most expensive starters on the menu but was well worth the cost (I probably would have paid that for the slow cooked egg yolk alone). My lady then had monkfish that was perfect for the summers evening with beautiful tomatoes and a mint type of sauce. Unfortunately I cant really remember what she had but it was lovely. As it was opening week there was a 50% off all food and I was convinced to go for the Highland Sirloin for 2 for myself and boy am I glad I did. Though massive for one the taste and quality of the meat made it easy enough to eat, it was served with roast potatoes and the smokehouse salad which is a type of warm/cooked salad and againso tasty. These mains were enjoyed with a beautiful Mikkeller beer and a lovely light red wine which I think was the Petite Syrah, another great suggestion from staff. A big mention also has to go to the side dish we had which was the Lamb Stovies, slow cooked shredded lamb with what tasted a bit like roasted/crushed/mashed potatoes. I could happily eat a plate of this on its own. All this was finished with us sharing Vanilla, Vanilla, Vanilla. Which is vanilla ice cream, shortbread biscuit and a vanilla liquor. Pretty simple but very lovely. If you have made it all the way through my review you will obviously know that we had a great time here and will definitely be going back several times. I can only suggest going now before this place becomes impossible to get a booking, it will be a staple eatery in N1. Thanks
We enjoyed lunch at this new pub (and let's be honest that's really what it is). Sunday roast menu was good - lamb, beef, pork or a veg option. Service was spectacular with a lovely Canadian waitress who could not do more for us. Excellent wine list. I opted for the beef, and it was dry-aged sirloin and very well turned out. Some negatives on the food side was really the under-cooked veg (including turnips that needed a chainsaw), and a very thin and watery gravy which to my palate at least was fairly tasteless. Roast potatoes were acceptable. Yorkshire puddings excellent - still doughy and fresh (rather than completely eviscerated as often happens). Although our experience at the pub was excellent, I have now had 2 terrible experiences with booking and the general attitude and policies of the restaurant. On the occasion above, I booked for 6. On the morning of our booking I received a call to confirm our booking. At this point I was informed that we had the table for 2 hours strictly (not a great start frankly). I accepted and then mentioned we may need a 7th seat. I was informed that there was no possible way this could be accommodated, that there was no room in the restaurant, and not enough room around the table to place a 7th seat. I appreciate that this does happen, and it was my fault for not making an additional booking at the time, but I didn't think their approach was very helpful.. In the end, we arrived to the pub to find that it was essentially empty as they weren't accepting walk-ins that day, and despite all the hoo-ha on the phone could have been easily accommodated, this left a fairly bad taste in my mouth (also I wonder why the need to be so aggressive on the 2 hour rule when the place was empty?, and they knew it would be?). Anyway, decided to put it down to 'ironing the kinks out' and book for a larger table for dinner (8 people). I was informed that they could accommodate us, a £10/head deposit would be required (OK, I can accept this). I was then informed that I could have either 6:30pm or 9:00pm because the table would only be available for 2 hours, and they want to book the table twice that evening. Needless to say we'll take our business elsewhere. 6:30pm on a Friday is impossible, and 9:00pm is just too late - for a table of 8, which would probably spend £80-100/head, I'm really at a loss. If it were The Fat Duck, I might accept that there is a high turnover and a long waiting list, but this is just a pub in N1, and a new one at that. Other local friends have booked and had the same experience (and similarly decided that they'd rather go somewhere more keen for their business). Given we live just a street away, and there are other options in the area, I'm very disappointed - there was great potential here, but I've now twice felt like I was being unreasonable for trying to book a pretty standard table at a pretty standard time. I really hope they have a good think about these policies and the impression they're creating..
Walked in and was ignored for 15 minutes. I was then told by the manager that my wife and I had to move from a table across the room from a wedding party because they weren't serving particular tables any more. The manager said this whilst looking at me like a piece of s**t. Charmless and rude. We decided it was better to just leave without ordering and go to Maison D'Etre down the road for half the price. The staff there sat us down in about 10 seconds and were really nice. I'd say sod the Smokehouse and go to Maison D'Etre instead. The burgers there looked overpriced and average anyway.
Amazing polenta and lamb shoulder cooked to perfection served with a spot-on crispy and well balanced glass of red. I highly recommend this restaurant for a perfect dinner out. Book in advance...
If you have the Sunday Roast here, you'll never want to eat roast anywhere else ever again. It's in a whole other world. Their regular food is amazing also, and their wall of beer is always impressive. This might very well be the best restaurant in London.
Best Sunday roast in London. Great beer offerings as well, along with reasonably priced wine.
Brilliant food, great atmosphere and amazing selection of beverages :)
Creative take on American barbecue that's delicious and well-presented. Great Sunday roast!
INCREDIBLE meat! Such a lovely place, with seats outside for summer, but so cosy inside for winter.
Delicious sunday roast with all the trimmings and all the condiments you could ever want, plus they have a great courtyard when the weather decides to be nice.
Best burger in London? Maybe!
Came here for a lunch and ordered the brisket for starter, then the burger for main - both incredible. The lovely waitress said this about the burger "you've never tasted anything quite like this before"...she was right, tough words considering the whole London burger revolution.
Crazy rare beef in the middle with properly pulled pulled pork on top with a layer of cheesy/mustard Korean sauce to top it off - not quite your standard cheese & bacon. If you go here and enjoy your fair share of burgers please please eat this, I actually cried a little when I finished it.
Ate the kimchee & duck main as well - good but perhaps a bit too Korean for many. Would recommend it only if you love kimchee.
Enjoy
Unfortunately, I haven't actually eaten at the place, despite numerous attempts to book. We've had very similar experiences to the previous reviewer. Appalling attitude towards customers when it comes to reservations. We had a table booked for 7 people for Saturday night, after begging for a table for 8 and being told it was impossible. We have now been informed (after we called them) that they can only accommodate 6 of us. Needless to say, we've given up on this place and won't be trying to reserve a table here again. It seems foolhardy to treat customers this way when there are so many great pubs who do excellent food on their doorstep?
Snap up exclusive discounts in London
Time Out's handpicked deals — hurry, they won't be around for long...