The best gardens in London restaurants
Get the buzz of alfresco dining and avoid the drizzle with our pick of the best gardens in London restaurants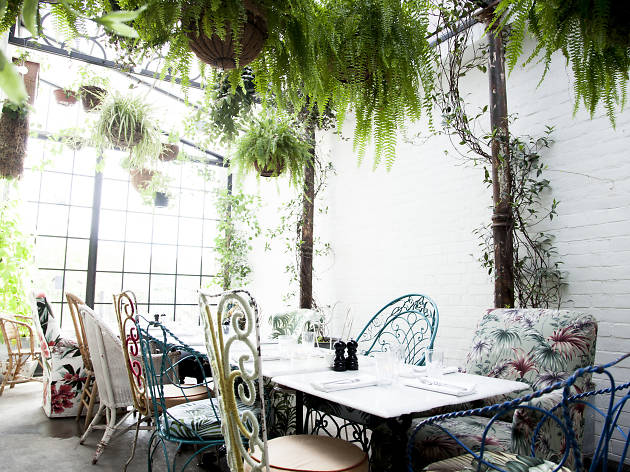 You gotta love the British weather, it could be sunny when your starter arrives but torrential rain by the time you pick up your fork. Take your hands off the umbrella, peel off the raincoat and dip into the best gardens in London restaurants. Here, you'll find giant tropical palms, trailing hibiscus, dangling vines and not a raincloud in sight.
The best gardens in London restaurants
Fancy braving the elements?
London is full of cafés, bars and restaurants that let you take it outside. Still, for every rose-trimmed terrace there's a caff with two tables plonked next to traffic lights – so it helps to know where the good outdoor spots are. Here's our area-by-area alfresco dining guide, including restaurants in central London.
Read more
Sponsored listing
Cigala
We'd gladly revisit Cigala for its unusual by-the-glass sherries and its heavenly salt cod; our most recent visit also saw a sublimely nubbly almond and medlar tart. Set on a lively street corner, it's a light, modern sort of place, with big windows, whitewashed walls, and pavement tables on warm days. On a weekday lunchtime, the room was more than half empty – just a few elderly diners and local businessmen – but the sizzle of oil and sound of Spanish coming from the kitchen were enough to whet our appetites. Cigala's owner/chef Jake Hodges (also a co-founder of Moro) has scoured Spain for its best dishes and added a little élan of his own. The cooking can be slapdash – our grilled cuttlefish was partly raw – but slip-ups are rare. A smoky, splendidly macho pork chop was vibrant with lemon and rosemary, and accompanied by crisp, liberally salted fries. Rabbit and pigeon terrine was punchily meaty and came with pickled carrots, a pleasing departure from the Spanish veg-phobic norm. Our León-born waiter took some warming up, but his gruff manner was nothing if not authentic.