Vietnamese restaurants in Shoreditch
Check out the best of the Pho Mile with Time Out's guide to Vietnamese restaurants in Shoreditch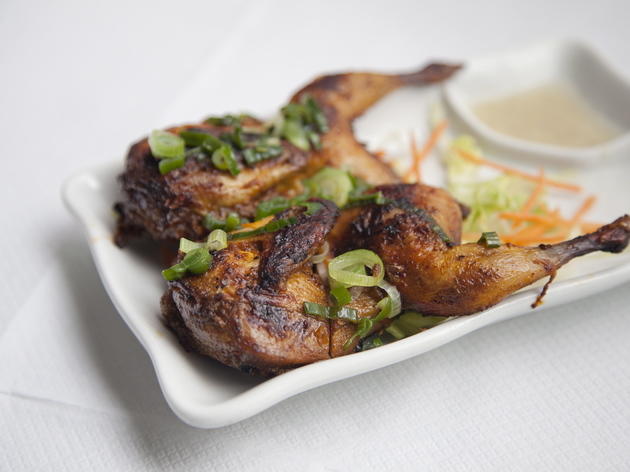 For fantastic Vietnamese food, make a beeline to Kingsland Road – now affectionately referred to as the Pho Mile. From trendy Cây Tre, to the more established Tay Do Café and Song Que, try our guide to the most sumptuous Vietnamese cuisine in town.

Think we've missed a great restaurant in Shoreditch? Let us know in the comment box below.
Venue says: "We have some great set menus coming soon for our exclusive hire and private event space at Viet Grill. Watch this space! Info coming soon."
A vibrant addition to the Shoreditch Vietnamese dining scene just a stone's throw from the City. But don't let its smart Western decor fool you - the cuisine on offer is the real deal.
Book now
Read more
Tay Do's vast dining room is often full, perhaps because this is the first available Vietnamese restaurant at the southern tip of Kingsland Road. The BYO policy undoubtedly helps too.
Book now
Read more
Sponsored listing
Korova
Thanks, Time Out Love London Awards! You alerted us to a new restaurant in Tufnell Park that we probably wouldn't have heard of. Fans of 'A Clockwork Orange' will recognise the name: the Korova Milk Bar served milk mixed with mind-bending drugs. Don't worry, there's nothing sinister going on in TP. The name (Russian for 'cow') is more a reference to the venue's origins: Tufnell Park formerly supplied a lot of London's milk, and this place was once a dairy. More recently, it has been a graveyard for a café-deli and a bakery. Now Steve Wilmot (owner of the Zensai bar in Camden Town) and his wife Sital have bet they can do better with a café that turns into a cocktail bar and restaurant by night. It was brunch that got good comments online. We went for dinner, however, and it was really memorable. There's a tiny menu, just four choices at each stage. Shallot soup had silky texture and deep flavour. A special of seared foie gras, with lozenges of baked apple, was perfectly executed. Beautifully cooked ribeye came with a lush gratin dauphinoise; tender braised lamb shank with creamy-textured butter beans. Chocolate mousse was nicely bittersweet. No main course costs over £15, but the bill will swell if you fall for cocktails and the wine list. Do yourself a favour: fall. Especially for their negroni and the Vesper martini; as 007 would have said, 'Same again, bartender.'  There's something very retro about Korova. The decor combines original tiling with new features such as a
Venue says: "Tuesday Supper Club....we are serving 3 Courses & a glass of Wine for £25. Vegetarian options available, booking is advisable"
You might also like