Vietnamese restaurants in Shoreditch
Check out the best of the Pho Mile with Time Out's guide to Vietnamese restaurants in Shoreditch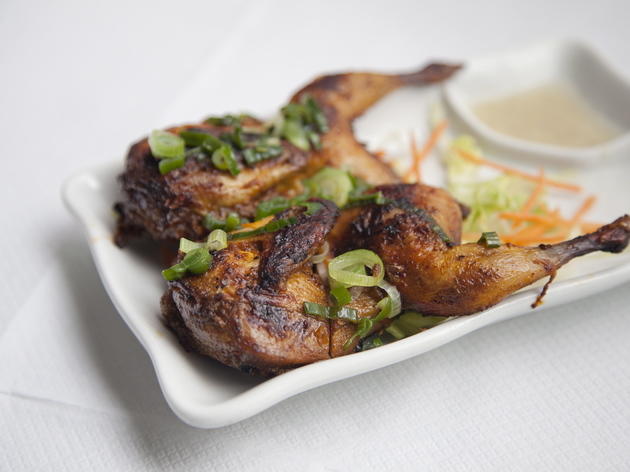 For fantastic Vietnamese food, make a beeline to Kingsland Road – now affectionately referred to as the Pho Mile. From trendy Cây Tre, to the more established Tay Do Café and Song Que, try our guide to the most sumptuous Vietnamese cuisine in town.

Think we've missed a great restaurant in Shoreditch? Let us know in the comment box below.
A vibrant addition to the Shoreditch Vietnamese dining scene just a stone's throw from the City. But don't let its smart Western decor fool you - the cuisine on offer is the real deal.
Read more
Tay Do's vast dining room is often full, perhaps because this is the first available Vietnamese restaurant at the southern tip of Kingsland Road. The BYO policy undoubtedly helps too.
Book now
Read more
Sponsored listing
Hook Camden Town
Hook will make you feel as if you're at the seaside. The simple, maritime-themed furnishings are reminiscent of a beach hut. The walls are painted blue like sea and sky. And, as on any seaside visit, you'll be eating fish and chips. But not just any old fish and chips. Forget about slabs of grey flesh in thick, greasy body bags of batter. Think instead sea bass in a lime, mint and wasabi batter, applied sparingly; think Cajun spiced hake; think cod in a 'classic' batter made of panko – Japanese breadcrumbs. Barely a hint of grease in either one, and fish perfectly cooked: juicy and tender. The menu changes daily. Hook gets some of its fish from Cornish day boats; catches vary day by day. Some other fish are farmed, and they're not afraid to use lesser-known species such as gurnard and ling. The catch makes it to NW1 speedily, and is served very fresh. Side dishes on our visit included a tasty celeriac slaw and a salad with samphire. We got a sampler plate of all their sauces, and they're good, but the battered fish is so fine that it doesn't need anything else. If you want vinegar for your chips, you'll get a dinky atomiser of the sherry variety: classy. Our deep-fried rounds of potato tasted great, but needed a bit more chippy crunch. The drinks list is basic, but a small selection of bottled beers should do the trick. You may find a family at the next table, or a group of friends celebrating in sybaritic style. Camden Town is rapidly learning that it does like to be bes
Venue says: "We roast and grind all our own spices from scratch so you get an extra depth of flavour in all our homemade sauces!"
You might also like