Heads up! We're working hard to be accurate – but these are unusual times, so please always check before heading out.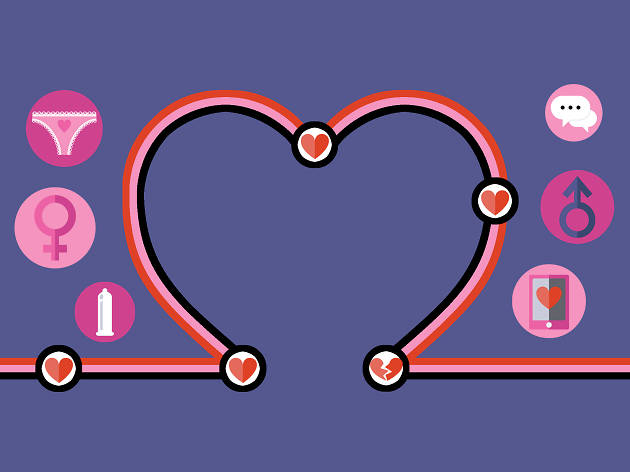 Nudes, apps and the sexiest accents: London's dating scene laid bare
We quizzed more than 3,000 Londoners about their love lives for our City Life Index. Here's what we discovered
Last month we revealed the results of the Time Out City Life Index: our global grilling of city-dwellers worldwide about every aspect of urban life. And we mean every aspect. As part of the questionnaire we asked some pretty personal questions about sex, dating and relationships – and the 3,000-plus Londoners we surveyed didn't hold back. Here's what we learned about the city's dating scene in 2018.
Who's on the market?
First things first: London's relationship status.
Ever felt like the city's dating scene's gender balance is out of whack? You're right: 21% of London men are single-and-ready-to-mingle, compared to 27% of women.
Who's been naughty?
We asked Londoners whether they'd ever been guilty of various things that might be considered bad dating behaviour. Short answer: yes.
London men are twice as likely as women to have had a three-way, and they're more than twice as likely to have sent someone a naked pic. Put it away, boys.
How long should you wait?
…is the average number of dates a Londoner will wait before having sex. For men, it's 1.8; for women, it's 2.7. Only 2% of Londoners think you should wait till you're married.
Do dating apps work?
Er, sort of. Single Londoners using a dating app in the last week were…
(Meanwhile, 2.1% of married Londoners admitted to using a dating app in the last week.)
For better, for worse?
If you're thinking of popping the question on Valentine's Day, consider this. Compared to Londoners who are in a relationship but not officially hitched, married types are 27% less likely to have felt stressed today. On the other hand, they have 27% less sex. Your call!
Which accent do Londoners find sexiest?
We asked our London respondents whether there was a particular accent that made them go weak at the knees. And there was, to be sure.
Almost one in five Londoners said that Irish was the accent they find sexiest. The Welsh accent lagged behind the other home nations with 3% of the vote – sorry, Tom Jones.
Gender-wise, men are more Europhile – finding French, Italian and Spanish accents sexier – while women are more likely to fall for Irish, English and Scottish brogues. No, not the shoes.
So how does London compare to other cities?
And you thought dating here was complicated. Here are the ins and outs of love and lust in some of the other 31 cities we surveyed.