Heads up! We're working hard to be accurate – but these are unusual times, so please always check before heading out.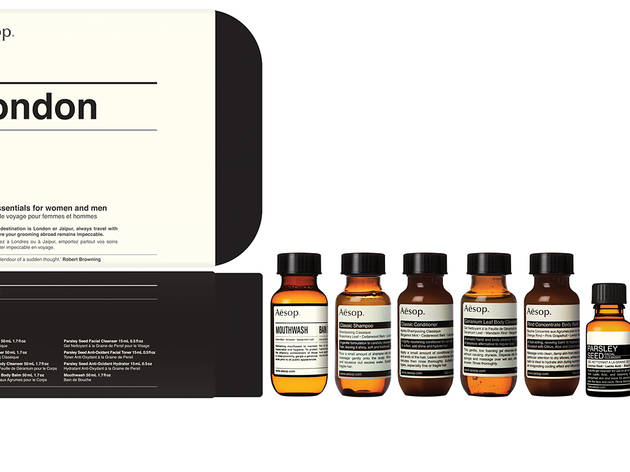 1/10
Why it's good: If you haven't tried Melbourne beautification brand Aesop yet, then – strewth! – you really should. This kit is a very good place to start, and rather than concentrating on hair or face, provides all of your toiletry needs for one trip, leaving you extra space in your carry-on for duty free booze. Products smell incredible too, all packaged in Aesop's quasi-medical style. What's in it: Classic shampoo 50ml, Classic conditioner 50ml, Geranium leaf body cleanser 50ml, Rind concentrate body balm 50ml, Parsley Seed facial cleanser 15ml, Parsley Seed anti-oxidant facial toner 15ml, Parsley Seed anti-oxidant hydrator 15ml, Mouthwash 50ml. £47, www.aesop.com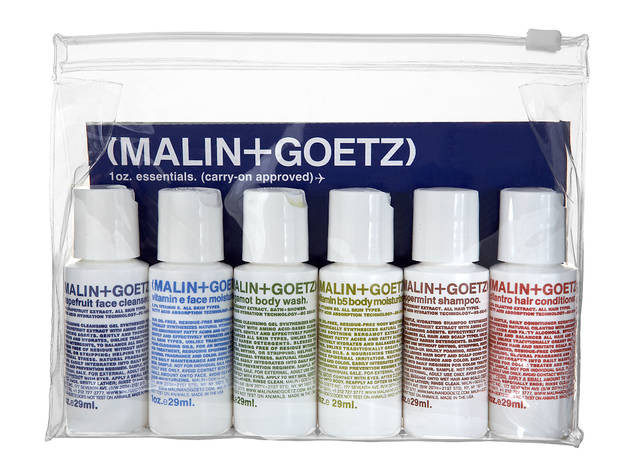 2/10
Why it's good: You may have come across Malin + Goetz in trendy hotel bathrooms and swanky gyms. But don't let its hipster packaging and associations put you off what is a hugely effective brand of skin and haircare. This kit covers both, and though the bottles be but little, they will last a long weekend. What's in it: Grapefruit face cleanser 29ml, Vitamin E face moisturiser 29ml, Bergamot body wash 29ml, Vitamin B5 body moisturiser 29ml, Peppermint shampoo 29ml, Cilantro hair conditioner 29ml. £20, www.uk.spacenk.com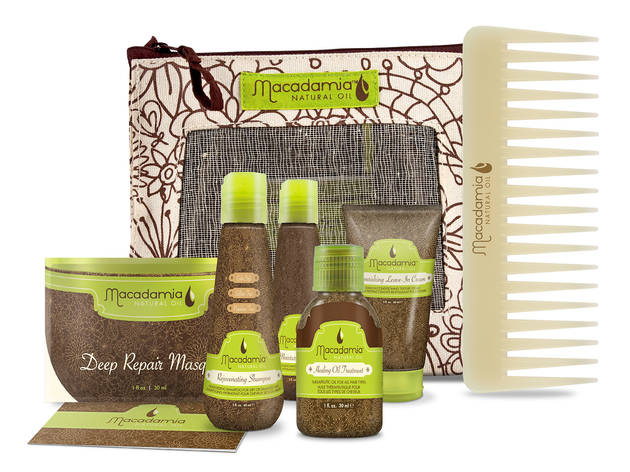 3/10
Why it's good: If you're going to an eco-retreat to practise yoga, the last thing you want to do is slather a chemical-rammed 99p shampoo miniature on your head. Instead, treat your locks to some sensual healing with this aromatic set, which makes use of hugely effective argan and macadamia oils rather than the usual parabens. What's in it: Healing oil treatment 30ml, Rejuvenating shampoo 60ml, Moisture rinse 60ml, Leave-in cream 60ml, Deep repair masque 30ml, Oil-infused comb. £25, www.macadamiahair.co.uk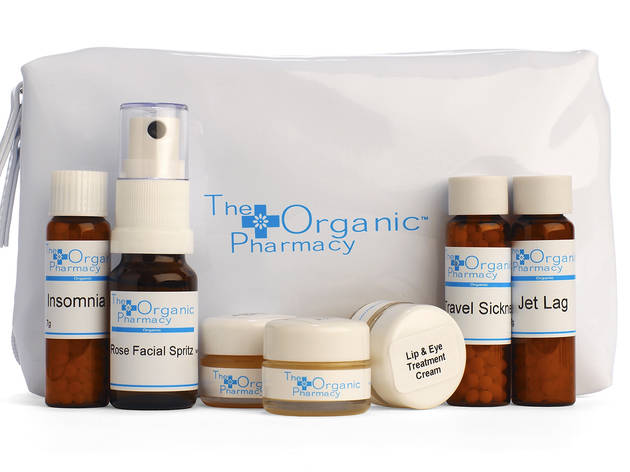 4/10
Why it's good: If the prospect of a flight to somewhere fabulous leaves you more "WE'RE ALL GOING TO DIE" than "where's the beach?", this hypochondriac's dream of a kit is your man. From travel sickness pills to jet-lag healers, you can self-medicate with natural remedies until landing. What's in it: Arnica & Cocculus 14g, Coffea, Passiflora, Avena Sativa, Valeriana 14g, Cocculus, Tabacum, Petrolatum 6cH 14g, Rose facial spritz 10ml, Monoi lip gloss 5ml, Lip and eye treatment cream 5ml, Rose herbal hand & nail balm 5ml. £46, www.theorganicpharmacy.com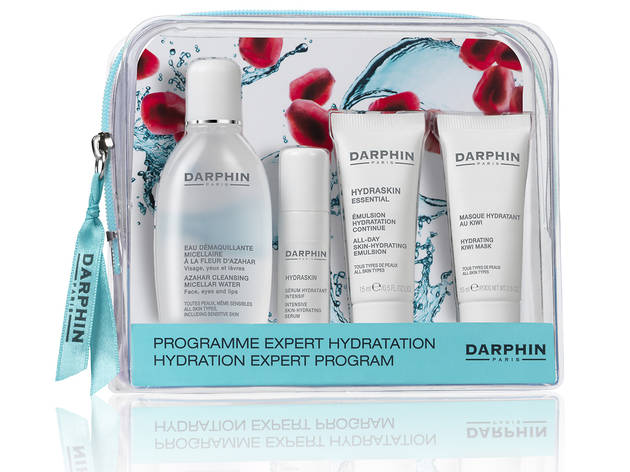 5/10
Why it's good: Cabin baggage restrictions are a nightmare for product junkies. Those ladies and gents who only treat their skin to the finest of unctuents can keep the dermatologist from the door with this good value kit from skincare superbrand Darphin. What's in it: Azahar cleansing micellar water 50ml, Hydraskin intensive skin-hydrating serum 5ml, Hydraskin light all-day skin-hydrating cream gel 15ml, Anti-fatigue smoothing eye gel 5ml. £26, www.darphin.co.uk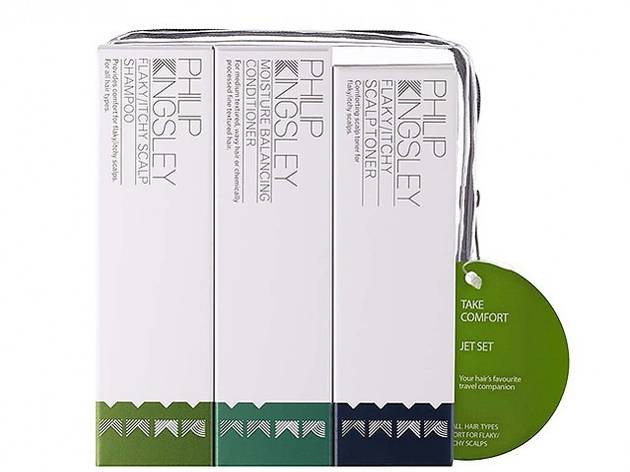 6/10
Why it's good: Scorching sun, salty sea, and a diet of pina coladas : everything that makes a holiday great also does a good job of making your hair a mess. Exercise some damage limitation with this excellent, generously sized set of samplers from Philip Kingsley – probably the best trichologist in London. What's in it: Flaky/itchy scalp shampoo 75ml, Moisture balancing conditioner 75ml, Flaky/Itchy scalp toner 75ml. £20, www.philipkingsley.co.uk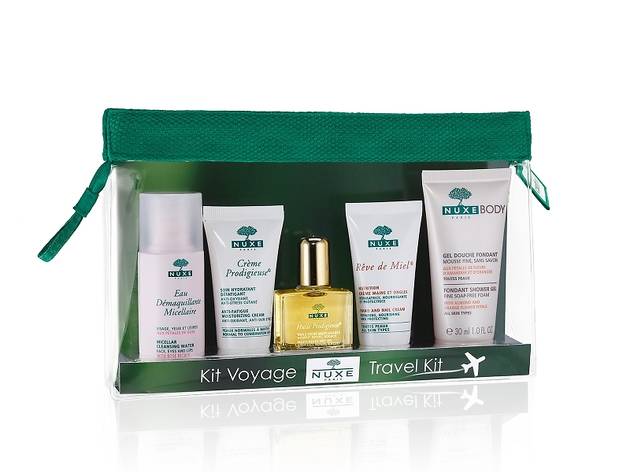 7/10
Why it's good: This cheap and cheering pack of luxury products from French skincare brand Nuxe concentrates on reinvogorating skin that's been wiped out by flying. And in-flight gin and tonics. The dry oil is a quick fix for face and hair. But not salads. What's in it? Micellar cleansing water 35ml, Anti-fatigue moisturing cream 15ml, Multi-use dry oil 10ml, Hand and nail cream 15ml, Fondant shower gel 30ml. £12.40, www.feelunique.com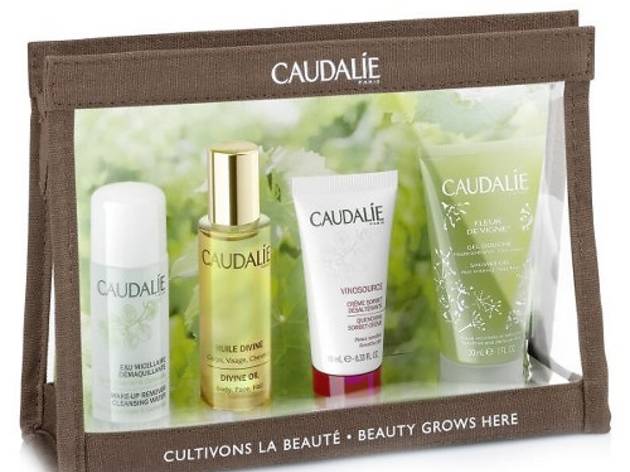 8/10
Why it's good: Ever wondered why, despite necking vin rouge and Gauloise packets whole, our sisters over the channel remain infuriatingly fresh-faced? Caudalie is the secret to the dermatological success of many a Frenchwoman. This kit concentrates on the basics - clean skin and freshly scented body. What's in it: Make-up remover cleansing water 50ml, Divine Oil 15ml, Vinosource moisturising sorbet 10ml, Fleur De Vigne shower gel 30ml. £12, www.naturisimo.com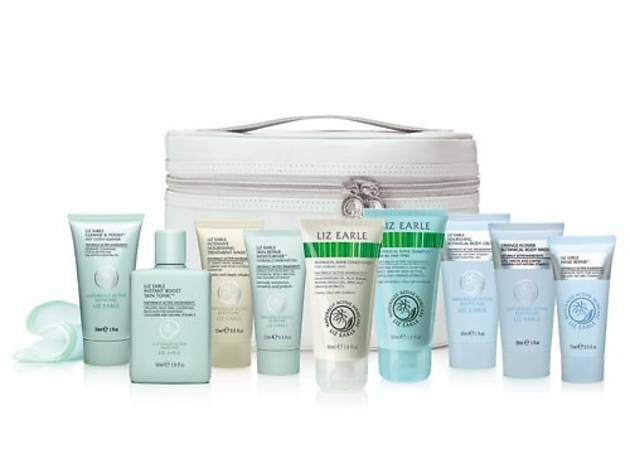 9/10
Why it's good: Those who take their hair and skincare regime seriously, and treat their extremeties to only the purest products, will be happy to tote one of these excellent packs on their adventures. As well as Liz Earle's cult hot cloth cleanser (a legendary bit of beauty kit), you'll find treats from her new haircare range to boot. Plus muslin cloth which can double as earthy face wipes when you start perspiring under the Marbella sun. What's in it: Cleanse & Polish hot cloth cleanser 30ml, Instant boost skin tonic 50ml, Nourishing botanical body cream 30ml, Orange flower botanical bodywash 30ml, Hand repair 15ml tube, Intensive nourishing treatment mask 15ml, Skin repair moisturiser 15ml, Botanical shine Shampoo 50ml, Botanical shine Conditioner 50ml, 2 muslin cloths. £39, uk.lizearle.com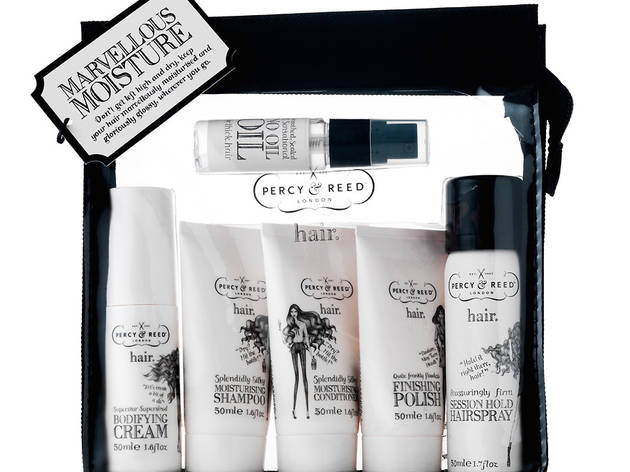 10/10
Why it's good: Cheeky East London duo Adam Percy and Percival Reed are hairdressers to the stars. As well as launching two of the capital's snazziest salons, they have found time to launch a cracking haircare range, with unfussy and very good value products for all your follicular needs. This kit doesn't just allow for washing your hair, but styling it too - if you're not the type to go au naturel on hols. What's in it: Moisturising shampoo 50ml, Moisturising conditioner 50ml, No oil oil 15ml, Bodifying cream 50ml, Finishing polish 50ml, Session hold hairspray 50ml. £24, www.percyandreed.com
Best travel beauty kits
Pack light, pack smart with these nifty travel kits
More great buys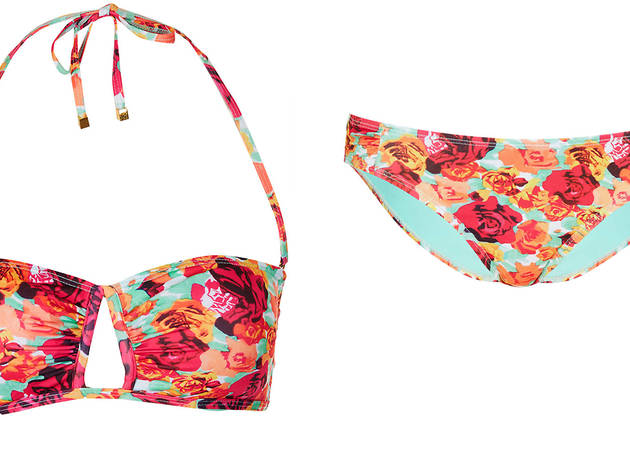 More summer style Must-have swimming costumes Summer's best sunglasses Must-have festival fashion Best travel beauty kits Looking for more fashion in the capital? London's best thrift shops Your best party gear is not suitable festival wear. Stock up some second-hand clothes perfect for the inevitable mud stains. The capital's coolest shops Hunters and daisy chains are so 2007. Find the hottest festival wear at one of the capital's coolest and quirkiest shops. The 100 best shops in London If you're ever struggling to find something to wear, don't panic. Head to one of our favourite shops in this city.
Visit our guide to shops and fashion in London