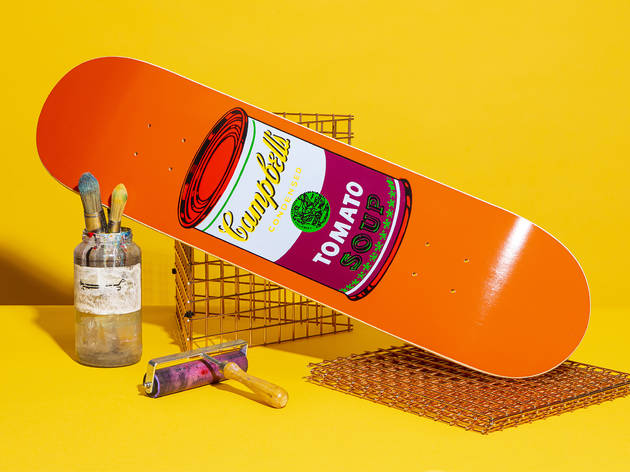 Christmas gift guide: for culture junkies
It's been a tough year for London's arty institutions, so give them love and money this Christmas
This year hasn't been kind on art lovers and art institutions alike, so a present purchased from one of London's cultural hubs will not only earn you brownie points, but it will also give back. We've rounded up gifts that any art-head would surely love to receive this Christmas.
Need a few more tips? Check out our full Christmas gift guide.
Gifts for culture junkies
Andy Warhol Campbell's Soup Can skateboard (pictured above)
The views of Pittsburgh's king of Pop Andy Warhol on the noble pursuit of skateboarding are not recorded (as far as we know), but he'd surely have been tickled by the meta dimensions of this beauty. A screenprint of a can of soup becomes art. Said art is applied to a plank of wood you stand on. Said plank is now too fancy to stand on. If you do use this as a deck, you'll be doing Warhollies in no time.
£230. shop.tate.org.uk
Courtesy Rose Stallard
'Rock Alphabet 4' print by Rose Stallard
Courtesy Prince Charles Cinema
Prince Charles Cinema mug
You can't go to The Prince Charles Cinema for a mega movie marathon right now, but you can support it (and upgrade your tea game) with this excellent mug.
£11. www.pccwebstore.com
Courtesy Stack Magazines
Stack magazine subscription
Courtesy Lanzarote Works
Remember going out out? Relive those days with Moth Club's Google Reviews T-shirt which features astute observations like: 'not enough lamps' and 'love the shiny ceiling'.
£20. lanzaroteworks.com
Courtesy The School of Life
'What Is Culture For?' by the School of Life
Photo: Tiina Erameri
Lady Macbeth's Hand San by the National Theatre
Courtesy Stranger Than Paradise
'SEX: Too Fast to Live, Too Young to Die' LP
Courtesy BFI
Image: © Thames & Hudson
Royal Opera House pocket photobook
Back to the Christmas gift guide
The most thoughtful, stylish and fun presents this Christmas