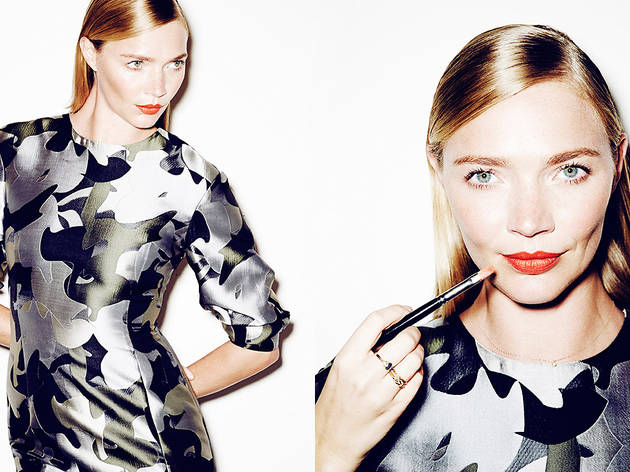 1/6
© Mark Cant
Silk dress, £175. www.whistles.co.uk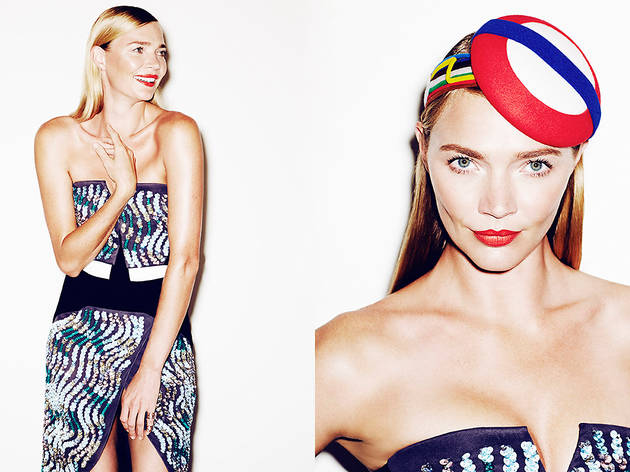 2/6
© Mark Cant
Dress, £1840, by Peter Pilotto. www.net-a-porter.com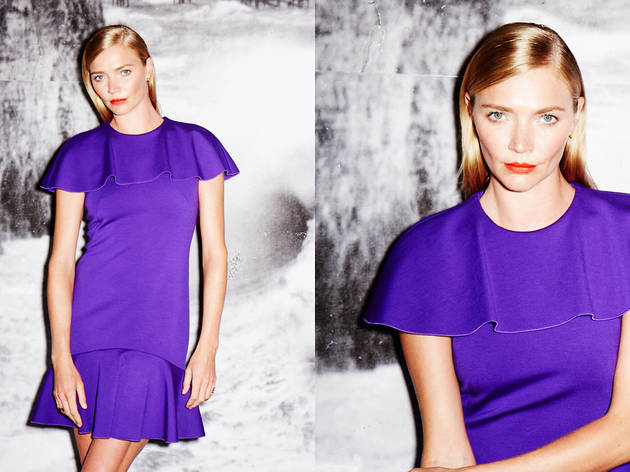 3/6
© Mark Cant
Dress, £930, by Alexander McQueen. www.liberty.co.uk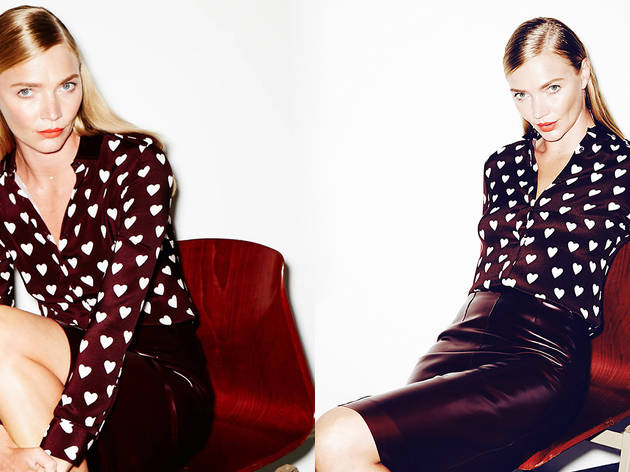 4/6
© Mark Cant
Blouse, £495 and £795, by Burberry. www.matchesfashion.com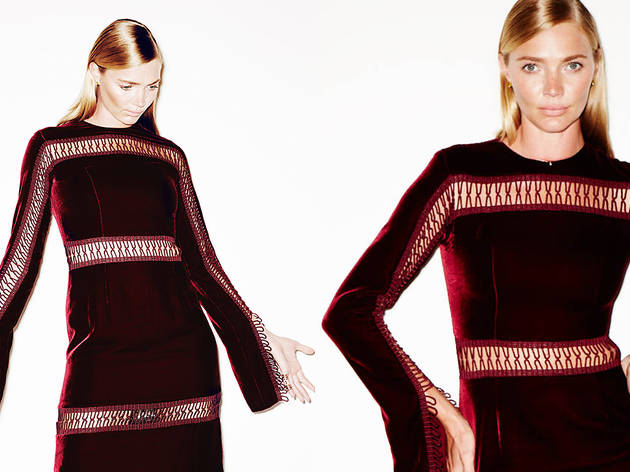 5/6
© Mark Cant
Dress, £1500, by Christopher Kane. www.liberty.co.uk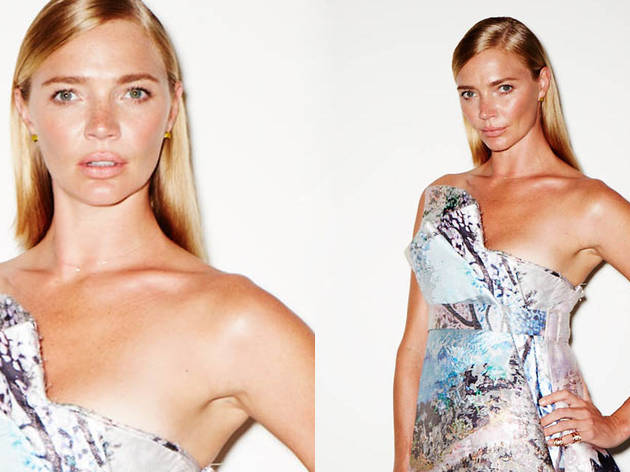 6/6
© Mark Cant
Dress, price on application, Mary Katrantzou.
Jodie Kidd: 'It wasn't possible to have ambitions with modelling'
Professional motor racing, international polo playing... Jodie Kidd has a lot of talents. So why return to modelling, the career she turned her back on ages ago?
Jodie Kidd has just tossed me the keys to her car, which needs to be moved. I am to drive the car of a woman who gave up modelling to compete at Silverstone. Who boasted that she drove her baby around in a Maserati. Whose home once featured a garage full of Ferraris. It's not likely to be a vehicle I'd want to scratch.
So when I press the button on her key remote, it's as surprising as it is consoling to hear an answering chirrup from a sensible and rather mucky Volkswagen Touareg. Which makes me possibly the only person in history to be more grateful for the chance to drive a dirty old 4x4 than some badass sports car. 'I'm a mummy now,' Kidd explains, without a trace of regret, when I return. 'I got rid of all the Ferraris: gone. I just stopped driving them. I need something boring, with room for prams and babies.'
As we chat, she's expertly spidering her famously long limbs in and out of garments from some of London's best designers, on what is her first fashion shoot in seven years – one she hopes will relaunch her modelling career. In the '90s, she reached the pinnacle of her profession – opening catwalk shows for John Galliano and heading up Chanel campaigns. As a six-foot-two, self-described 'bag of bones', she also became the public face of eating disorders, despite the fact that she didn't actually have one.
Now aged 34, having swapped stilettos for steering wheels and poses for polo mallets, she's come full circle and is returning to the fashion industry. Which begs the question, why not stick to the sports?
You've often joked about being too old for the catwalk, too unsteady for heels. But you're now relaunching as a fashion model. What lured you back to the frocks after so long?
'Well, even though I walked away from it, I was still surrounded by it. I've always loved seeing it all in magazines, and my sister Jemma is a big make-up artist, so it was still part of my world. But I saw a big resurgence of my friends – Erin [O'Connor], Karen Elson, Guinevere [Van Seenus] – in magazines. There seemed to be this huge revival, with the public falling in love with them again, and they all look so bloody amazing!
'It was so refreshing, as a consumer, to be looking at a beautiful woman for once, rather than a teenager. When I was modelling, I was a skinny little 16-year-old girl, supposedly selling clothes to 40-year-old women. I love seeing these women – not girls – modelling fashion.'
And it made you wistful for that life again?
'I just thought I'd love to do it again – do some amazing pictures with a different head on my shoulders. With an older head, actually.'
Do you think, second time around, the industry has changed?
'Yes, in a positive way. If proper, grown women are being shot, something good is happening.'
What about motor racing, your great love?
'I had a really big crash at Silverstone. It slowed me up. When you're racing cars you're constantly at the edge, pushing the limits. And you have to push the envelope the whole time. After I went beyond the envelope and had a big crash, subconsciously my brain was lifting off the accelerator, and I was braking too quickly. It would have taken a long time and a lot of dedication to get back to how I was.'
Was it hard to give it up?
'I didn't give it up; I moved on. By that point I wanted to do something else. I wanted to do polo. I'd raced for Maserati for four years and I thought: I've ticked that box.'
So you ticked the polo box too?
'Yep: I wanted to play for England, so I played for England. And then of course I had a beautiful baby.'
A more typical retired model trajectory is to design lingerie and marry someone from a crap rock band. You're obviously very different from other fashion models: what did you find to talk to them about?
'I didn't have a huge amount to say to them, to be honest. I made a few friends – Carolyn Murphy, Erin. When I went off to do my crazy things they were like, "Okaaay..." I just lived with them during the shows, and it's lovely having those bonds – but there wasn't really anyone like me.'
You must have had some real fashion moments? Any champagne baths with Johnny Depp?
'There have been a few times when I've been sat with all the Stones having a drink ready to go out and thought: I'm sorry, where am I? I need to take a memory snap of this one! It happens, but when you're in it you do get used to it.'
Socialising is almost part of the job in fashion. Are you up for all that again?
'Hell, yes! The baby can feed himself!'
What excites you about the industry now?
'I love the new generation of designers, because I was part of an amazing new generation myself. When I was becoming big it was at the same time as Alexander McQueen, the incredible Julien Macdonalds and Matthew Williamsons. I walked at Lee's [McQueen's] first show at Fashion Week, "The Birds".
'My agency called and said I had to do the first show of this genius new guy. It was before his "Highland Rape" collection [the controversial 1995 catwalk show that made McQueen's name]. At the fittings I was just like, "Jesus!". It was great to meet this mad, crazy person, and my God, those outfits! I opened his first show for Givenchy, I did the same for John [Galliano]. It was an amazing time for Britain and I was part of it. So now I always look out for new designers.'
You're obviously tremendously competitive. Is there a way of 'winning' at modelling?
'Fashion was always something I had to learn. I would turn up and put 110 percent in, and be on time with clean hair and a full night's sleep. But it wouldn't necessarily make any difference at all, and you could easily lose out to someone who'd just come in stinking of booze. I had to learn that you can't do a "good job". With animals, what you put in is what you get out. As a competitor – showjumping and racing cars – I have the control. With modelling, you just had to sit there. It wasn't possible to have ambitions.'
As a young teen, did you find that rejection hard to take?
'You get let down so many times. But you have to know it's not personal rejection. Your hair's just a bit too blonde or something.'
A lot of the media coverage was incredibly personal, though. (Lorraine Kelly called her a 'sick, anorexic giraffe'.)
'I was really protected by my agent. I honestly didn't see much of it until afterwards, thank God. It would have really harmed me and I wouldn't have wanted to carry on.'
If you could swap your 34-year-old body for the one that opened those catwalk shows, would you?
'No, God no. I don't aspire to skinniness. I'm a mummy. I've got saggy tits [for the record, as eyewitnesses we can report that this isn't true], but then I breastfed for nine months. I'm not yearning for that time or that body.'
What do you think when you look back on the pictures themselves?
'I can see I was terribly skinny. But it was never what they said it was. I had anxiety attacks constantly; I never wanted to eat. It was a ton of different things – but there are pictures that aren't even real. The one that follows me everywhere is a shot of a Dolce & Gabbana catwalk show that has been doctored beyond belief. I don't even look human. That wasn't really me at all. But that's the British media...'
I heard another great rumour about you: you were up for a role with Tom Cruise in 'Mission Impossible II', but were rejected for obvious reasons...
'It's absolutely fucking rubbish! They said I didn't get it because Tom Cruise is too short! It's just utter bollocks: made-up crap. I've never done any acting in my life! Haven't the slightest interest in it...'
But you have done TV – smashing the 'Top Gear' celebrity lap record.
'I would LOVE to go back on "Top Gear"!'
You need to – your record has been beaten. By Jay Kay!
'That's because they changed the car! I was on top for two years.'
You're still faster than Jeremy Clarkson.
'Ha! That's not difficult. He's as slow as they come. I can beat a lot of people, but I can definitely beat him.'
Support Time Out
We see you're using an ad-blocker. Ad revenue is Time Out's main source of income. The content you're reading is made by independent, expert local journalists.
Support Time Out directly today and help us champion the people and places which make the city tick. Cheers!
Donate now