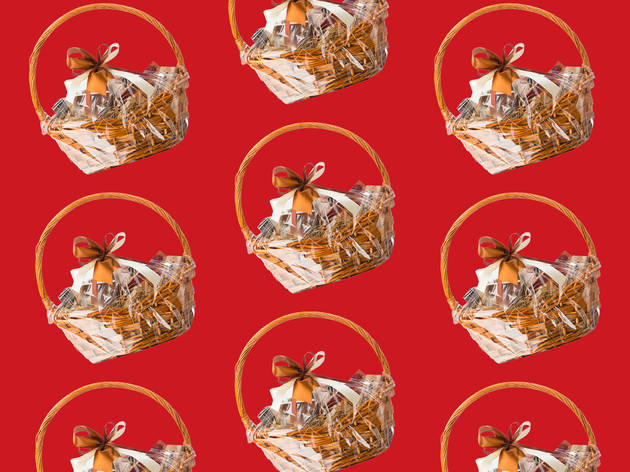 10 of the best Christmas hampers to see off 2020
We've sorted through London's Christmas hampers so you don't have to
You just can't beat Christmas in London. We love everything about it, the magical lights, the music blasted from every speaker, the dodgy jumpers and, of course, the hampers.
Opening up a wicker basket of lush goodies that you'd never splash out on at any other time of year is adult equivalent of getting that toy you really wanted but didn't need. There are hampers for vegans, hampers for cheese-freaks, hampers for drinkers and hampers for keen eaters of every description available from London shops and restaurants this Christmas. Behold: a few of the best.
Recommended link: discover the best of Christmas in London.
This article includes affiliate links. These links have no influence on our editorial content. For more information, click here.
London's best Christmas hampers
Fortnum & Mason's St Nicholas Hamper, £300
Fortnum's has been making merry gentlemen even merrier since 1707. And no merchant nails traditional festive greed with such panache as Fortnum's: its huge range of hampers is Dickensian in its total commitment to Christmas. They ship everywhere, cater for every hearty appetite and occasion, and range from the sublime to the ridiculous, with the Mini Tuck Box weighing in at £50 and The Sovereign at a whopping £2,500. They're not cheap but they are comparatively good value: this is a food hall which really gets Christmas eating and drinking, and every hamper costs less than the sum of its parts.
It is the attention to detail that makes Fortnum's hampers such satisfying gifts: every rich, boozy, delicious item is beautifully tinned, jarred, labelled, boxed and wrapped, buried in piles of hay like a lucky dip, then leather-strapped into the famous wicker. The baskets can withstand a hard-knock life, and survive for years as picnic carriers or toy boxes. Ditto the retro tins, often more gratefully received than their contents (does anyone use loose-leaf tea? And, with boxes that look like they came from the Magi, does it even matter?).
Mid-range is a good place to look for a lavish box of delights to cheer someone up this socially distanced winter. The new St Nicholas (£300), packs a stash of posh booze including very decent champagne (Brut Reserve NV); sauternes, haut medoc red, chenin blanc and half a bottle of port – plus Christmas pudding, cognac butter, marmalade, loose-leaf tea (Christmas Spiced and Ceylon Orange Pekoe), Christmas coffee, cognac dragees, four kinds of biscuits in jewel-bright boxes, cinnamon and apple curd, chocolate-and-hazelnut butter and onion marmalade. Pretty much everything you need before you draw the curtains, light the candles and shut out 2020.
Star item The wind-up Mini Merry Go Round Christmas biscuit tin. It spins like a carousel! It plays 'Jingle Bells'! It holds biscuits! Ding-dong!
Winter Savoury Treats box from Farm Direct, £29.99
The Savoury Treats box from sustainable grocer Farm Direct is an affordable, locally sourced bundle of delight. It weighs in at £29.99. You get loads of bang for your buck: a baby burrata, walnut sourdough, game salami, tomatoes, Colston Basset stilton, Oxford Isis, fennel salami and chutney: basically all you need for a sandwich party to remember. Expense is saved and so is the planet, partly because they don't faff about with packaging at all: they just deliver the naked goods to your door. Even better, Farm Direct support the little guys: everything is British and seasonal. Even their mozzarella is made in Acton. Can't get more local than that.
Star item Baby burrata: a cheese that trembles at your approach.
Santa Baby from Funk (Columbia Road), £55
There is a certain seasonal food fetishist who, when they find themselves tempted by ziggurats of mince pies, or juicy roast turkey and spuds, will tighten their belt a couple of notches and save themselves for the cheese.
The folks behind Funk and The Cheese Bar demonstrate an acute understanding of the needs and wants of your average cheese perv. Back in the Before Times, they handed out wodges of the stringy, melty, grilled stuff from the hatch of a decommissioned ice-cream van – then went on to open up a shop with an actual conveyor belt so that we could ogle their hunks of dairy more conveniently. Now, they are online and deliver nationally (though local London cheeseheads can click and collect from their Columbia Road shop).
Funk's online hampers and boxes ooze passion and flavour: the titles are saucy; the contents outstandingly good. Its regular boxes include modestly priced options like the Big Boy (£19.50 for three fine cheeses and a tower of biscuits). But for Christmas gifters, self-gifters or cheeses addicts, the Santa Baby (£55) is the one. It packs insanely good Rosebud pickled onions and piccalilli, four punchy British cheeses (Westcombe cheddar, Cropwell Bishops stilton, Baron Bigod brie and Sinodun Hill goat's cheese) and a packet of Damsel crackers. Thank you, Lord Cheese-us!
Star item Sinodun Hill goat's cheese.
Borough Market's Savoury Selection Set, £42.95
There's a foodie supergroup assembling at Borough Market whose traders have banded together to defeat Covid restrictions and deliver assorted sweet, salty, boozy, meaty and cheesy stuff to your door in a rather natty eco-friendly hessian bag. Borough has been through many tough times and its tight-knit community of traders deserves our support. Plus: the charcuterie from the Parma Ham Stand is phenomenal and will sustain Netflix grazing for a week.
Festive bags start with the Mulled Wine Set at £27.50 (a criminal use of a Borough Wines bordeaux IMO, but I suppose it is Christmas), and end with the Luxe Christmas Bag at £74.95, which is crammed with Brindisa truffle crisps, a vast pack of charcuterie, ginger thins, Borough red, hard cheese from Alsop & Walker, soft cheese, nut brittle, fudge and more. The salty stuff has the edge over the sweeties, so the Savoury Selection Set (£42.95) is a strong option. Bonus: enter TIMEOUT at the checkout and get free delivery.
Star item All shall have prizes!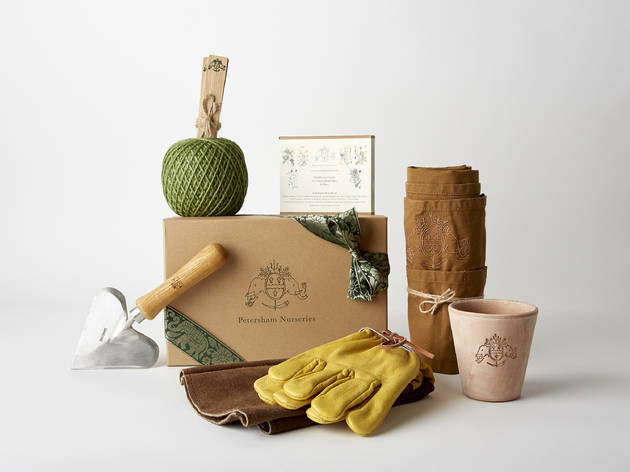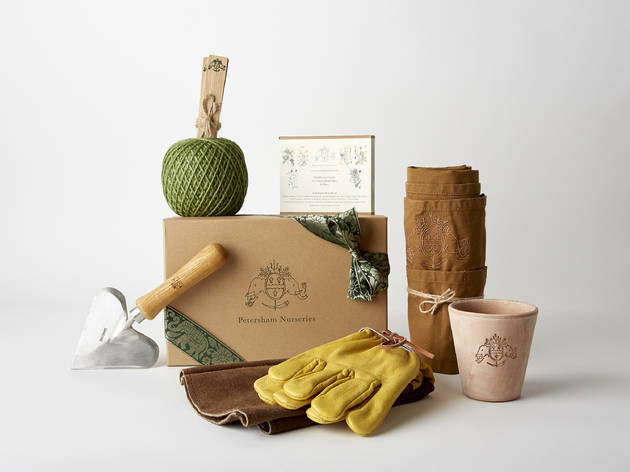 Petersham Nurseries
Petersham Nurseries' Luxury Green Hamper, £195
Lockdown made 2020 the year of the gardener: smug people with real gardens quaffed socially distant prosecco over the fence with their equally smug neighbours; city dwellers ran mad and tried (and failed) to cultivate everything from hydroponic weed to beehives on their window sills.
Richmond's loveliest garden-centre-cum-restaurant, Petersham Nurseries, has moved in to occupy this fertile present-giving ground with a lovely online Christmas shop which has the eco teen/English rose/earth mother demographic sorted, with an array of ornaments and tasteful hampers.
At the posh and romantic end of the spectrum, the Luxury Green Hamper (£195) is one for a budding gardener with the style to pull off leather garden gauntlets (a strong look: think falconry reimagined by Vogue, with a touch of Kate Bush), and wield a dainty heart-shaped trowel while scattering gorgeous wildflower seeds in a small space. The Afternoon Tea Hamper (£65) is more down-to-earth: it includes delicious local hits like Petersham's own Gooseberry Preserve and Summer Berry Jam as well as own-brand earl grey, tea, shortbread and prosecco. Perfect for passing over the fence to the neighbours...

Star item The Gooseberry Preserve. All hail England's native green and hairy garden fruit.
Il Natale from Lina Stores, £100
I'm not the biggest Italian Christmas goods fan – except, of course, for the triumphant panettone, which kicks our traditional English Christmas cake's claggy arse right over Sicily and into the Mediterranean sea. However Italian flavour and panache is stirred deeply into London's food culture, especially in Soho, where waves of talented immigrants have sprinkled delis, bars and restaurants like candied peel.
2020 was the year that Soho shucked off its 'sleazy tourist museum' image and experienced a community renaissance, as locals, venues and fans banded together to save it from becoming a shuttered zombie district. Large parts of it were pedestrianised, and in October Time Out named it London's coolest neighbourhood. Lina Stores has been trading from Brewer Street for over 75 years. Like so many indies, it's pivoted to online booking and deliveries and you can recreate a lunchtime browse through the Soho deli via Lina Stores' selection of Christmas hampers.
The Il Natale ships nationwide, and stuffs its famous panettone into a big flour sack that's striped like an Edwardian circus tent, along with numerous niche sweetmeats and treats (panforte, chestnut chutney, candied chestnuts, nougat) and a slab of prosecco-ripened cheese. The panettone is a dream – but only the strong in tooth should attempt the nougat. As you'd expect, the contents score more highly for style than their substantial English rivals, and even the chutney looks like it was dressed by Pucci.

Star item Panettone. Also available solo, as a mini (£4.95) and a maxi (£25.95)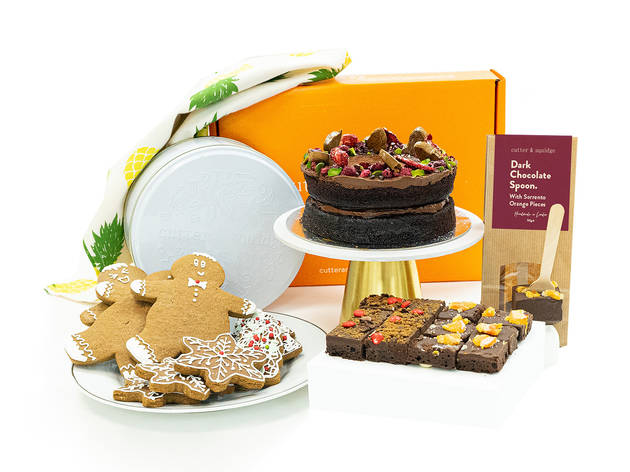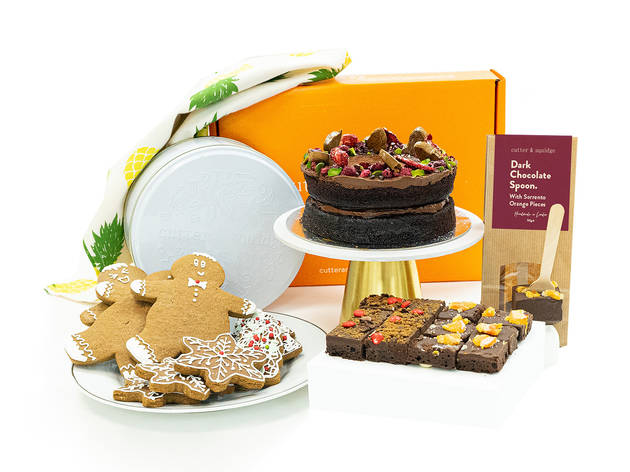 Clare Winfield
Cutter & Squidge's Vegan Christmas Hamper, £55
Weighing in at £55, and handmade in London, the Cutter and Squidge Vegan Christmas Hamper dispenses with flummeries like candied exotics, and leans into the cake. There is a Yule Log, nine gingerbread folk, a dozen vegan brownies and a couple of their Orange Hot Chocolate Spoons, plus a tea towel for the drips. Delicious and sensible.
Star item Cutter & Squidge's Orange Hot Chocolate Spoons. Stir them into hot milk and watch them melt...
Classico box from Manteca, Soho, £60
Manteca's holiday boxes contain a variety of seductive smoked, creamed and hung flavours from the much-loved Soho restaurant, all dangerously snackable. The £60 Classico packs in homemade salami, smoked cod roe, chicken liver parfait and date jam, Christmas pudding and amaretti biscuits. Stockpilers can bog off: this is all fresh and freshly made: as with other restaurant-created boxes, it's an opportunity to spend a bit of money and show some love to venues who've had an absolute annus horribilis – at Christmas and beyond. Order Mondays for Friday delivery.
Star item I might propose marriage to Manteca's smoked cod roe this Christmas.
Biscuiteers Monopoly Luxe Biscuit Tin, £48
Monopoly the boardgame? A stressy greed-fuelled nightmare that ends in tears, pass-ag rows, and – one memorable year – Communist Party membership. Monopoly the biscuit box? Now you're talking. South London-based Biscuiteers are a bunch of gung-ho artisans who can basically bake anything and ice it. Their workplace, the Ministry of Biscuits, is pretty spicy through the holiday season as the icers turn out thousands of gingerbread houses, stars, snowmen, snowdogs and the like. They ship worldwide, ship next day in the UK and gingerbread keeps for bloomin' ages. Their take on Monopoly – complete with iced money – will have you convinced that greed is good.
Star item The 'Go' biscuit. Remember when any place in London was a roll of the dice away? It will be again, my friend. Let 2021 commence.
Selfridges's Vegan Christmas Box, £120
Good tidings for veg lovers (and for turkeys): good vegan Christmas food has never been so widely available. At the luxury end of the range, Selfridges Vegan Christmas Box is Good Housekeeping's festive favourite. It seems less appealingly packaged than most of the hampers on this list (the big yellow cardboard box is filled with recyclable foam bits, not straw), but it does include a superb vegan figgy pudding in a bowl in a muslin cloth, ready to be steamed for 1½ hours (do not let it boil dry!) or microwaved. Also, £120 gets you a decent shiraz, lots of gorgeously packaged pralines and fudge, a salted-caramel panettone and a charming Biscuiteers card – three handmade biscuits, iced like Christmas tree decs.
Star item That vegan Christmas pud. What is suet anyway?
Support Time Out
We see you're using an ad-blocker. Ad revenue is Time Out's main source of income. The content you're reading is made by independent, expert local journalists.
Support Time Out directly today and help us champion the people and places which make the city tick. Cheers!
Donate now