Heads up! We're working hard to be accurate – but these are unusual times, so please always check before heading out.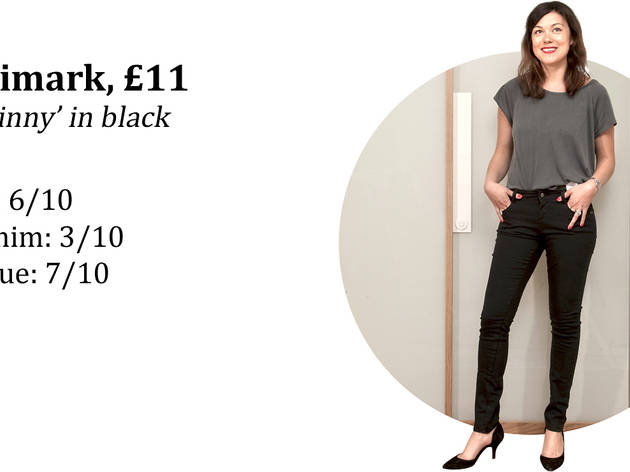 1/9
FIT There's so much Lycra, they could have fitted all of us in, so they're comfy. It also means they'll lose their shape. 6/10 DENIM Cheap jeans often have naff fading but these are a clean black – I worry they'd wash badly, though. 3/10 VALUE Disturbingly cheap. I have concerns about the labour as well as the longevity. Does that represent value? 7/10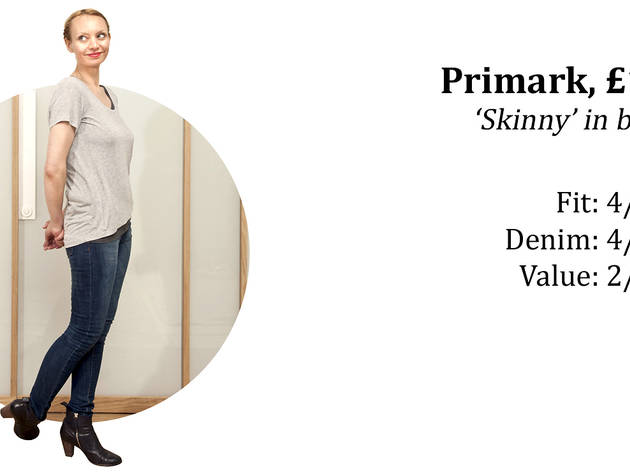 2/9
FIT Too tight –my legs felt like over-ripe bananas bursting out of their skins. 4/10 DENIM Poor. Scatchy and rigid – like a pair of loo roll tubes. The fading is unconvincing too. 4/10 VALUE These are stupidly cheap, but the cut and denim quality feels so rubbish that I don't think they offer value for money at all. Get me out of them! 2/10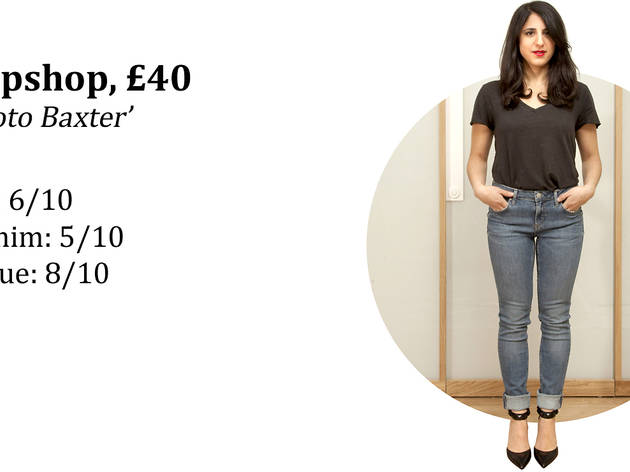 3/9
FIT Simple, easy-to-wear: not too skintight, but not too baggy… maybe not too exciting. 6/10 DENIM Reassuringly thick, but there's only one percent elastane, so there's minimal stretch. 5/10 VALUE I reckon these would hold up to at least a summer's worth of wash-and-wear. 8/10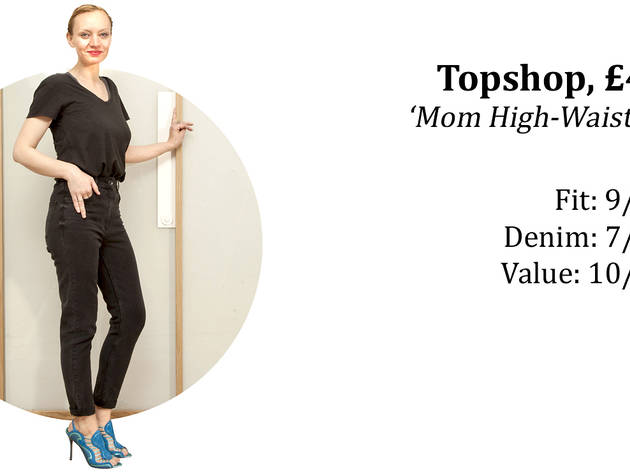 4/9
FIT Great. I love the flattering high waist and slim, but not artery-constricting shape. 9/10 DENIM A bit thicker than some of the premium denims but that little bit of stretch means they are still comfortable. 7/10 VALUE Brilliant. A bargain for the amount of wear I'd get out of these. 10/10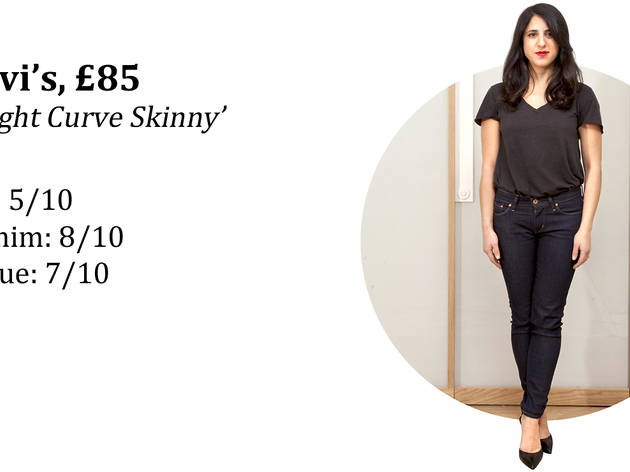 5/9
FIT There's no chance of sitting cross-legged in these cardboard-stiff jeans – or even climbing stairs . 5/10 DENIM Hardy enough for a pair of workman's overalls – but a bit unforgiving for eight hours at a desk. 8/10 VALUE They feel built to last – and they are supposed to relax over time. 7/10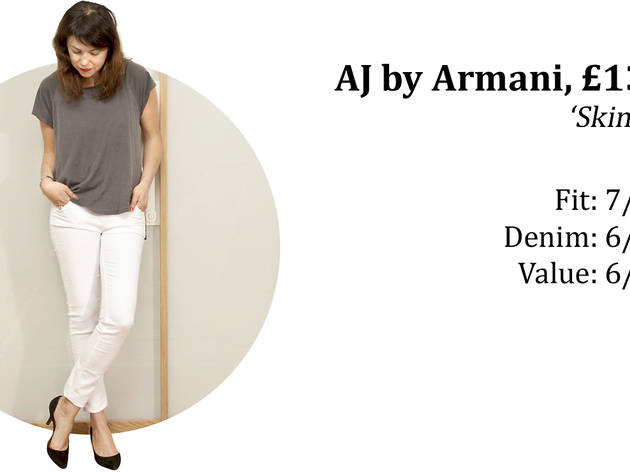 6/9
FIT Tight enough to embarrass Liz Hurley. 7/10 DENIM White jeans need to be a bit thicker than this to avoid operating as an X-ray of your underwear. Though they felt very soft and not too stretchy. Good for summer. 6/10 VALUE They looked expensive, and for an Armani tag I'd expect to pay this. But I'd want thicker denim. 6/10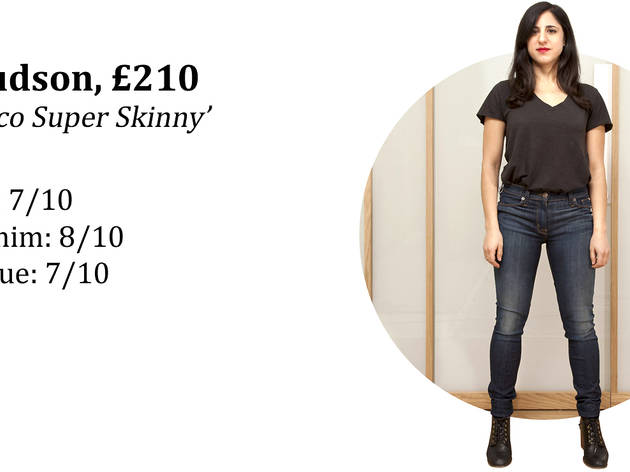 7/9
FIT As comfy as leggings, without the sprayed-on look of jeggings. 7/10 DENIM The suction has such force, I doubt saggy denim arse and crinkly knees will ever be a problem. 8/10 VALUE They're pricy, but it's pretty hard to find jeans that cling so convincingly. 7/10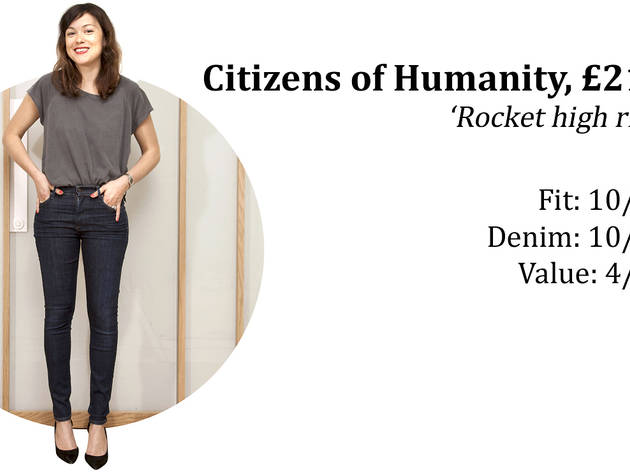 8/9
FIT Like a pair of very expensive gloves. Comfortable but substantial – they'd suck back into shape after use. 10/10 DENIM A chic, no-fading classic rinse. It's suprisingly hard to find jeans with no fake-looking effects. 10/10VALUE Ouch! But I'd wear them nearly every day, so cost-per-wear might offer value. After a decade or two. 4/10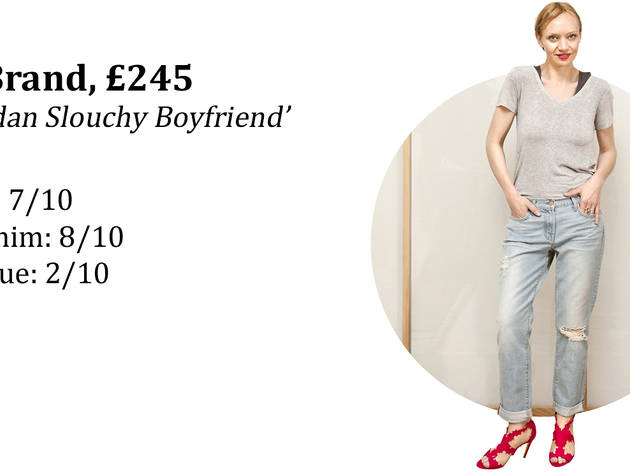 9/9
FIT Comfortably slouchy. Not too tight, not too baggy, just right. The Goldilocks Zone of premium denim. 7/10 DENIM Soft but not too thin. The rips are in all the right places – it feels like a bit of a luxury to pay for wear and tear rather than letting your jeans age naturally. 8/10 VALUE Pretty poor. For jeans you'd wear around the house, they are about £200 over my budget, sadly. 2/10
The great Selfridges jean test
Is it worth spending hundreds of pounds on denims? We head to the world's largest jeans department, newly opened at Selfridges, to find out
Selfridges
denim department is the largest in the world. The store's pioneering founder, Gordon Selfridge, frequently emphasised that 'Selfridges is for everyone', and that principle is certainly true here – it's got 11,000 pairs of women's jeans priced from
£11
(for a pair of thrifty
Primark
skinnies) to
£11,000
for a pair of Paige jeans sporting a frankly daft diamond-encrusted waistband. These were under lock and key when our we visited to seek out the perfect pair, but we were still spoilt for choice, with
Selfridges
aiming to cater for every conceivable shopper's taste and budget.
The vast shopfloor houses denim boutiques from
Primark
,
Topshop
,
Levi's
,
Armani
Jeans
, Isabel Marant and Citizens of Humanity, to name but a handful. There are 18 capacious changing rooms, an alterations centre for on-the-spot tweaking, and dedicated denim specialists hovering to recommend styles and whizz them over to you. There is even a long polished bar for them to throw suitable pairs down in the interest of speed – rather like in a saloon, but with regrettably less whiskey. In short – if you can't find a pair you like here, it's time to resolve to stick to skirts. But if there are £11 jeans on offer, why drop £250? We donned the denim to find out…