The best pilates classes in London
Get lean, long and strong at these brilliant fitness studios and ace pilates classes in London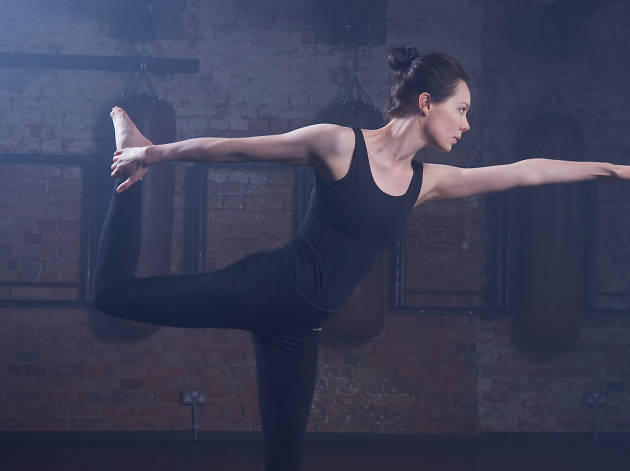 Don't be fooled into thinking pilates is easy. There's more to strength-building than flinging a load of barbells around. Pilates is a top pick for elite athletes and dancers because the precise, low-impact exercises do wonders for the core – and it'll sort out your posture too. If you wanna help your bod get a bit more bendy and powerful, there are some great studios in London to do pilates classes. And it doesn't matter whether they're mat-based, inspired by ballet, involve a load of wacky apparatus, or take place on a reformer machine – these fun and fancy classes won't leave you bent out of shape.
RECOMMENDED: The best sport and fitness in London
London's best pilates classes
Frame
The supercool Frame studios are all about reformer pilates, so if you're new to those weird springy beds with neck braces and straps, you've come to the right place. Their basic pilates reformer class will walk your through the techniques slowly, and once you've got a few of those sessions under your belt, you can slide on over to their regular classes. They also do a dynamic class for master core blasters who love to feel the burn.

Various locations. Drop ins £20 per class. Cheaper options if you buy a Frame Card.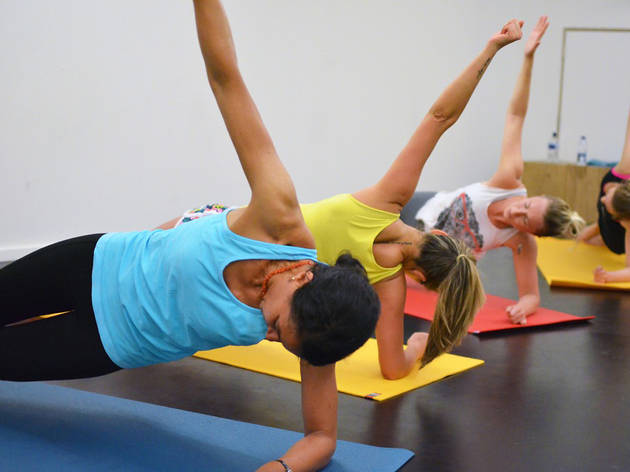 The Refinery
As one of the coolest places to break a sweat in east London, The Refinery's pilates class was never going to be run-of-the-mill. They run a number of ace classes for beginners and experts alike. Mattitude is a fun-fuelled, dynamic class where you hit the mat and do a bit of barre, as well as using resistance bands, dumbbells and pilates balls. Hard-Core focusses on, you guessed it, your core, while Pilates Yin and Yang is a tough 40 minutes of mat work followed by 20 wonderful minutes of deep stretches. Don't be fooled by the studio – it might be cute and colourful (and home to a dog), but a session here is definitely not child's play. Bring along your A-game and you should fit right in.

14 Collent Street, The Basement, The Ceramic Works, E9 6SG. £5 for the first class, £14 per class afterwards. Class passes are available.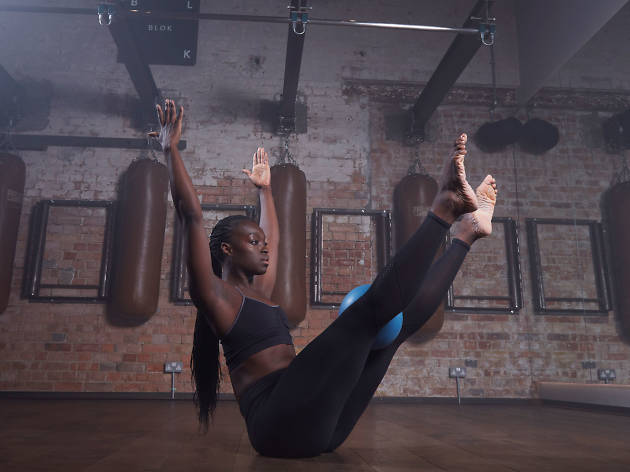 Blok
We're big fans of Blok's cool Clapton studio space. The converted warehouse is all exposed brick and steel beams. Their mat pilates classes take place in a warm, low-lit room. It's tough workout where dynamic movements flow into one another. Challenging enough for Pilates-pros but also easy enough to pick up if you're a complete beginner. And a banging soundtrack will distract you from the hard work. Almost.
The Tram Depot, 38-40 Upper Clapton Rd, Lower Clapton, London E5 8BQ. Single class £14. Cheaper options if you block book.
Core Collective
For a tough class in a seriously sleek environment you can't get much better than Core Collective in High Street Ken. The studio space is super stylish, with ace changing rooms and a healthy cafe upstairs for a post-workout pick me up. The mat pilates class is fast paced and hard work, but you'll leave uplifted and energised. There's a plenty of equipment - bricks, hoops and bands - to get your hands on too. There are modifications offered for beginners, just make sure you let the instructor know you're a newbie at the start of the class.
45 Phillimore Walk, Kensington, W8 7RZ. Single classes £22. Cheaper options if you block book.
Core Kensington
There are only four reformer beds at Core Kensington, which means intimate classes where no wrong move goes unnoticed. But that can only be a good thing. Teachers are knowledgeable and encouraging, as they lead you through a series of classic pilates exercises for an hour. But all work and no play can be a bummer, which is why you should get down to their reformers bounce class.This fun and energetic session involves bouncing off a rebounder trampoline horizontally while staying steady on a reformer machine. It sounds insane, but trust us, you'll leave feeling higher than Superman.
110 Kensington Church Street, W8 4BH. £15 for your first class, £28 for single bookings after that. Cheaper options if you block book.
Ten Pilates
Ten Pilates limit their classes to ten people for each session so you can expect a personal trainer style experience with plenty of hands-on coaching. Classes are taken mainly lying down on reformer platforms, which is an ideal stop-gap between your bed at home and your desk at work on a Monday morning. If you're new to reformer pilates, your instructor will show you how to use the machine before you get started. There are also designated classes each week dedicated to beginners. Facilities here are good with towels, Ren products in the showers and even GHD straighteners, meaning you can travel light.
Multiple London locations, £30 per class or cheaper if you block book.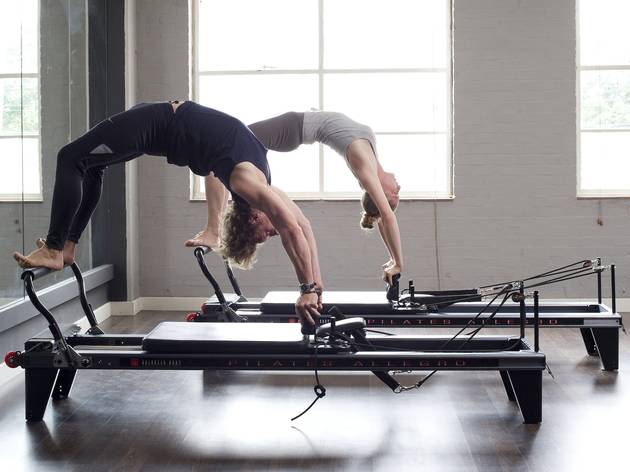 Tempo Pilates
If you're looking for pilates that goes with the flow, Tempo Pilates doesn't miss a beat. Music is at the heart of their energetic sessions, which uses reformer machines, along with dumbbells and squeezy resistance rings to get the calories burning and the sweat flowing. The teachers here are on-point, so if you're just starting out, you can get plenty of expert guidance in their daily beginner/intermediate or high intensity 'X-Press' classes – but if you don't want to look like the new kid, they do a sesh for beginners on Sundays that'll get you into the groove.

Covent Garden, Hackney and Shoreditch. £13 for the first class, £20 per class afterwards. Cheaper options if you block book.
Pilates HQ
If it's directly-opposite-the-tube convenience you're after, it doesn't get much better than Pilates HQ. The set-up is simple, and the small fourth-floor studio is seconds from Angel Underground. It gets great light (and a waft of fried chicken from the Upper Street takeaways – we'll leave it up to you to decide if that's a pro or con). The lunchtime Reformer Pilates session is ideal for beginners who want some core-strengthening action they can fit into work hours. Classes are just the right size for the space, allowing the attentive instructor Georgina to offer advice without leaving you feeling exposed. Everything is based around the reformer machines and there's a big focus on that thigh-squeezing resistance ring. The pace is relaxed, so you won't feel the effect until the next day, but trust us, you will feel it.
4th Floor, 17 Islington High Street, N1 9LQ, Peak classes (weekdays: 5.30pm-8.30pm and weekends) £25 per class. Off-peak classes (weekdays 6am-5pm): £22 per class.
BePilates
You might wonder what kind of establishment this is as you walk into a scene that's more akin to the red room in Fifty Shades of Grey than a traditional gym. That said, despite lots of scary looking contraptions everywhere, there's absolutely no need for alarm. You'll be working out in a stunning, airy atrium with church-like windows and high ceilings; an awe-inspiring venue like no other workout space in London. Book some tailored 1:1 tuition with BePilates owner Dawne to get you started on the Pilates equipment. She'll work your body into dancer-like sleekness in no time, plus she'll distract you from your exercises with facts about the history of the Pilates technique.
78a Chiltern Street, W1U 5AB. Private sessions from £90, group sessions from £16 upwards.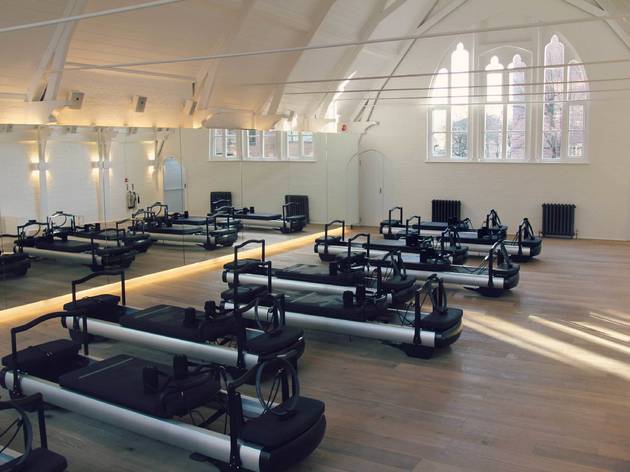 Heartcore
Heartcore's got studios in the poshest parts of town, so their pilates sessions are pure class. Specialising in reformer-style pilates, their spaces are stunning – the St John's site in particular is a beaut. The classes are mixed ability. You can feel like you're getting personal training, while other instructors opt for a more hands off approach so make sure to flag your beginner status if you've never stepped foot on a reformer bed before. For those that like to switch it up, Heartcore also offers barre, kettlebells and TRX classes – but really, folks flock here get their stretch on.

Various locations. £27 for a single class. Cheaper options if you block book.
Show more
Keep stretching