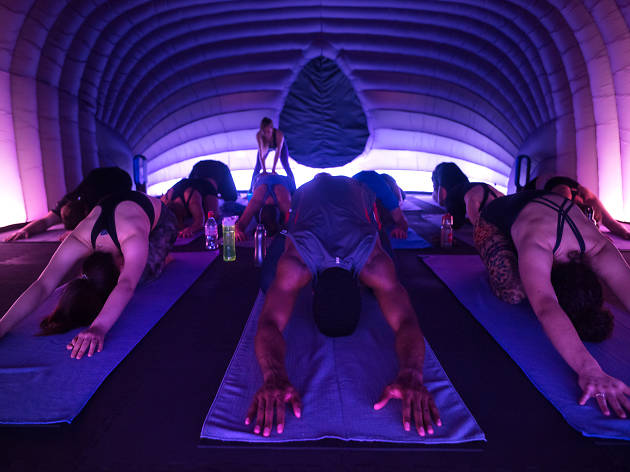 The best yoga in London
Calling all yogis! Check out the very best yoga classes and studios to bend, stretch and chill out in London
Need to de-stress, stretch out or get zen? In London you are never far from a yoga studio and classes with brilliant instructors ready to show you how to perfect your technique, build strength and get even more flexible. Whether you're a sun salutation newbie or an experienced yogi, fancy sweating it out in a powerful bikram class or laying on your back in a candlelit studio, London's yoga scene has got you. Here are some of the best studios around London to help you unlock those endorphins. We'll see you in shavasana.
Fancy something a bit different? Check out hot yoga or rooftop yoga. If intensity is more your thing, take a look at our top picks for outdoor exercise classes or best boxing classes.
RECOMMENDED: More ways to be active in London
The best yoga classes in central London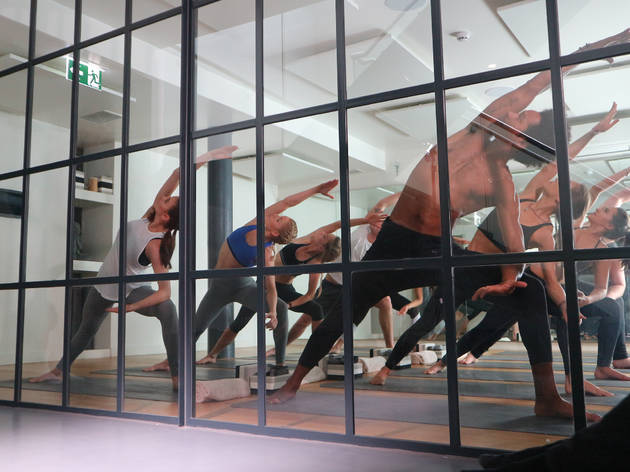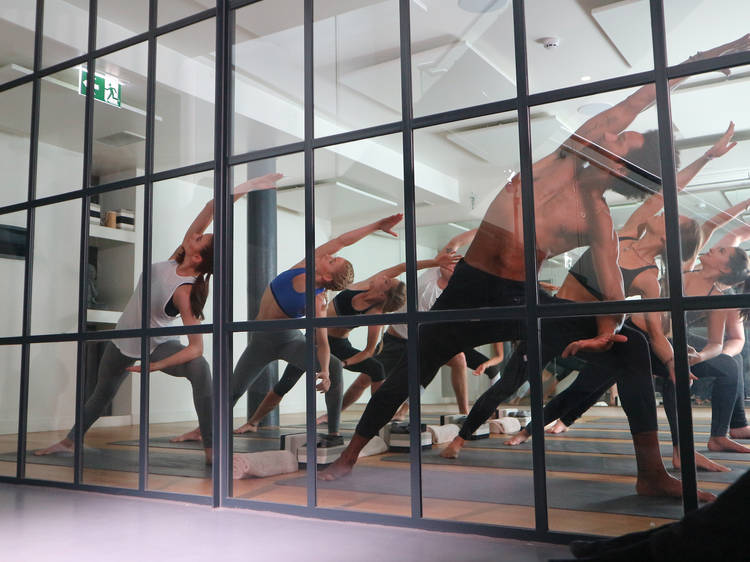 Over at Another Space in Covent Garden their head of yoga Chris Magee has a loyal army of followers for his classes. The sessions hit the sweet spot between a physical workout, pushing you to raise your heart rate, improving flexibility and helping your mental state. The studio's lunchtime conditioning classes are ideal for perfecting your technique, too. If you want to get a really good sweat on try the amazing hot yoga classes; the studio is heated by infra-red, said to reduce muscle inflammation. No need to lug your heavy gym bag either – Another Space's super-luxurious changing rooms are stocked with extra fluffy towels, Cowshed products plus straighteners and dryers. Exit looking fresh and pick up a berry blast smoothie from the juice bar on the way out.
Perfect for... light-hearted yogis who want a fun, action packed class with great facilities.
Average price per class: £22 per class.
Introductory offer: None as such, but you get a free class when you refer a friend.
Monthly membership: £105 a month for six classes, £145 for nine, or £175 for twelve.
Find studios in Bank and Covent Garden.
A compact studio ideally placed for those who work around Fitzrovia. Recently refurbished, you'll find popular lunchtime and evening classes take place underground in a quiet studio. Classes here are not set to music, but despite this, you might struggle to hear the instructor if you're at the back so don't be shy and head to the front. If you're taking a vinyasa class here, prepare to sweat and be impressed by the elastic-like flexible folk surrounding you. Whilst the studio itself is spacious and well laid out, unfortunately, the same can't be said for the facilities. The ladies' changing rooms are compact, but you can hire towels here.
Perfect for... More experienced yogis who work in the area.
Average price per class: From £18 for a yoga class, up to £30 for pilates.
Introductory offer: £10 for your first class.
Monthly membership: £200 per month for unlimited yoga/pilates on a 12-month contract.
Find Good Vibes in Fitzrovia.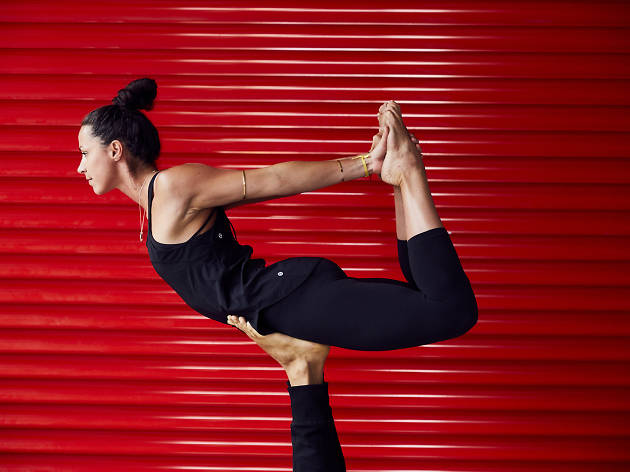 Frame is well known for its selection of fun and challenging fitness classes set in uber-cool gyms across London. Their dedicated yoga studio is long overdue and while the gym runs yoga classes across all locations, it's Frame King's Cross where a dedicated yoga space has been created. The space is a little rough around the edges and could do with a bit of warming up – but that's what the stretching is for (sorry)! Frame run a series of classes ranging from vinyasa flow to power yoga to specialised wellbeing workshops. Classes are usually packed, so get there early to get a good spot – mats and bolsters are provided.
Perfect for… yogis who like to feel the burn
Average price per class: £15
Introductory offer: Two classes for £20.
Monthly membership: £60 for six classes a month in one chosen studio, £180 for unlimited classes across any studio.
Find studios in Kings Cross, Fitzrovia, Farringdon, Shoreditch, Hammersmith, Victoria and Queens Park.
This Covent Garden studio is rehashing fitness and turning up the heat. Literally! Their exciting range of classes focus on hot vinyasa flow, where each movement runs into the next. There's also a choice of hybrid spinoffs: Hot Ballet, AcroYoga (yoga, acrobatics and healing arts) and Quantum Yoga (ayurveda and quantum physics). Their state-of the-art 'hot and humid' studio reaches 36 degrees for a gym-clothes-drenching workout (there's showers, hairdryers and complimentary REN products in the changing rooms to freshen up after). The teachers really know their stuff, and some have a keen fan base, meaning classes tend to fill up fast so book in advance to nab a spot.
Perfect for… yogis who want to sweat it out
Average price per class: £17
Introductory offer: £35 for first 20 days
Monthly membership: £100 per month for unlimited classes
13 Mercer St, WC2H 9QJ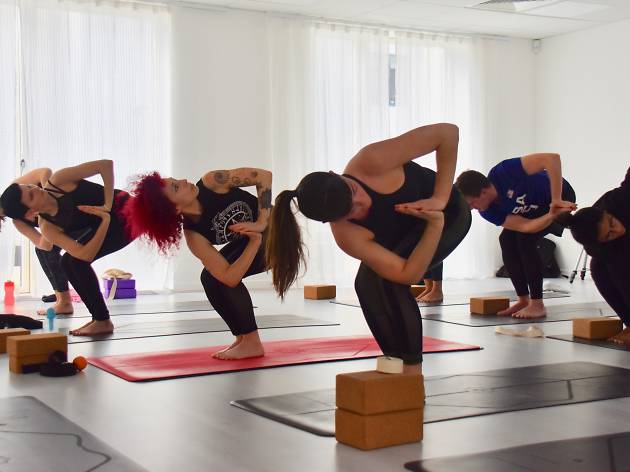 One Yoga London
Wannabe yogis should hop to this yoga studio just off Hornsey High Street, for a welcoming and open introduction to the practice. One Yoga London runs brilliant Yoga Basics classes that are chatty and laid back. You can challenge yourself, take it easy or fall on your face without worrying about what your fellow students will think. More experienced yogis can challenge themselves at dynamic Yoga Flow classes, as well as Hatha, Yin, Honey Flow and Restorative yoga sessions. The classes vary depending on the teacher but there's a focus on strength and physical fitness as well as mental wellbeing; most classes close with a thoughtful moment of reflection. All classes take place in bright, clean first floor studio, where mats, blankets and props are provided.
Perfect for… self-conscious yogis
Average price per class: £15
Introductory offer: £35 for 21 days of yoga
Monthly membership: £99 for unlimited classes
15 Myddelton Road, N8 7PY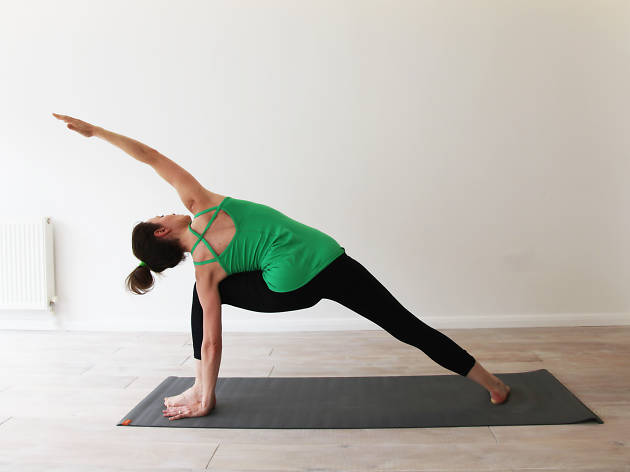 Down to Earth's peaceful flagship studio on Tufnell Park's bustling Fortess Rd is a popular neighbourhood spot – on a Saturday morning there's even a reserve queue! Founded by a design-loving Central St Martins graduate, the large upstairs studio has big windows all along the far wall and wooden floorboards, making it spacious and light. Classes run throughout the day all week, offering many types of yoga, as well as pilates, and there's classes for kids and teens, too. There's limited space to change – just two small cubicles – so most people arrive already in their kit. Mats are provided.
Perfect for... Serene, sophisticated yogis
Average price per class: yoga/pilates drop-in: £15
Introductory offer: £40 for 14 consecutive days of yoga and pilates at Tufnell Park, £49 for 30 consecutive days at Islington.
Monthly membership: £95 per month (peak), £75 per month (off-peak)
Tufnell Park and Islington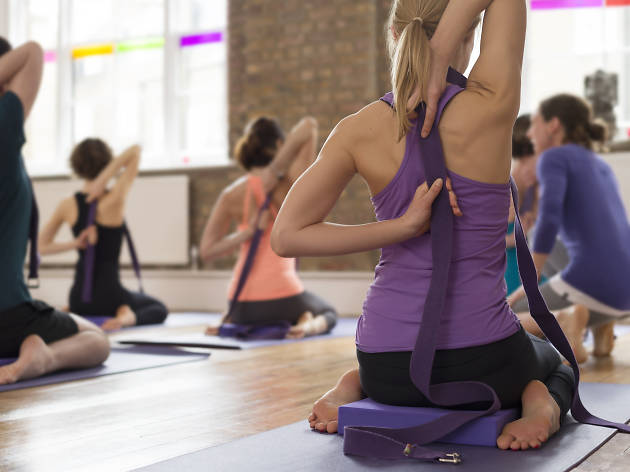 Karen Yeomans
Triyoga is a yogis paradise. Their studios, which are shoe-free-zones fyi, are all calming colours, raw materials and hushed tones. You're met with the gentle scent of incense at the door, before you pad through to one of the studios. Triyoga have an impressive line-up of classes on their rosta, from classes designed for newbies or yin and restorative sessions for those wanting a gentler practise to dynamic vinyasa flow classes, ashtanga, nidra yoga and steamy hot yoga sessions. Kids, toddlers and teens can get stretchy at Triyoga too, and there are also classes for pregnancy, stress, back problems and free yoga for cancer classes to help cope with cancer and cancer treatments. With knowledgeable teachers, loads of open level classes and spacious facilities, Triyoga is a serene spot to escape the stress of the city and rediscover your zen.
Perfect for... yogis wanting to explore and expand their practice
Price per class: From £12
Introductory offer: £54 for 30 days of unlimited yoga, barre and mat pilates
Monthly membership: £108 a month for unlimited classes.
Find studios in Camden, Soho, Shoreditch, Chelsea and Ealing.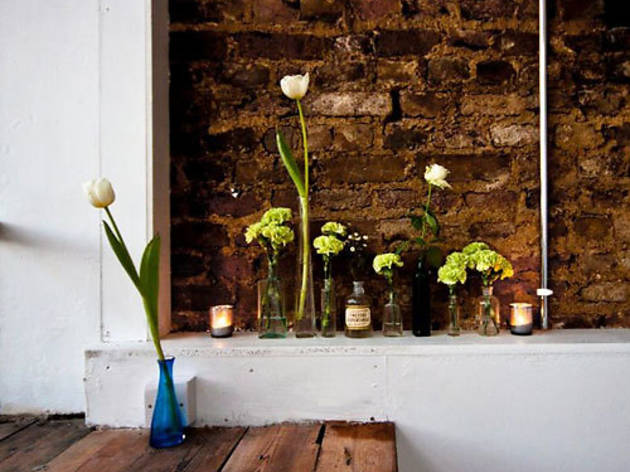 Pauline Egge
This small, pretty yoga studio in Dalston is one of the most welcoming in East London – and that's not only due to their toasty underfloor heating. Teaching classes of 15 students, Naomi Reynolds, a former ballet dancer, and her team of instructors are friendly and super-attentive, always finding time to work with each student. The practice is dynamic vinyasa yoga, but if you're a total newbie this is still a good place to start. There are at least five A1 beginners' classes a week, taught by one of the loveliest instructors around. Arrive early for the weekend morning classes, they fill up fast.
Perfect for… beginner-to-intermediate yogis looking for a bit of guidance
Average price per class: £12
Monthly membership: 10-class card (no strings) or a monthly unlimited membership (three-month minimum) are both £105
105 Shacklewell Lane, E8 2EB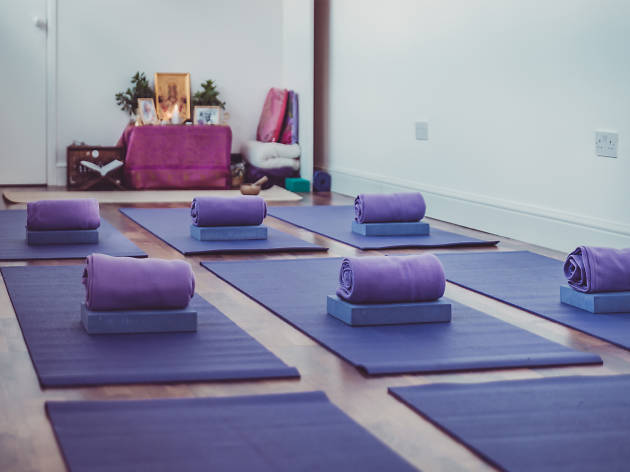 Set up in 2015, MahaDevi is relatively new on the yogi scene. It's a cosy space on Holloway Road – mats, blocks and straps are provided, but otherwise it's a fairly basic studio, and that's no bad thing! The modest space means that classes have a maximum of eight people, making it ideal for newbies who might need some one-to-one attention. The studio also runs a yoga therapy programme for children with disabilities, which are subsidised by profits from the adult classes. At £12 per session, it's pretty affordable, and on top of all those post-yoga endorphins, you can feel good knowing that your money is going towards a worthy cause.
Perfect for… beginners
Average price per class: £13
Introductory offer: First class for £10
Monthly membership: You can't get one but you can buy a block of five classes for £55 or ten classes for £100
102A Holloway Rd, N7 8JE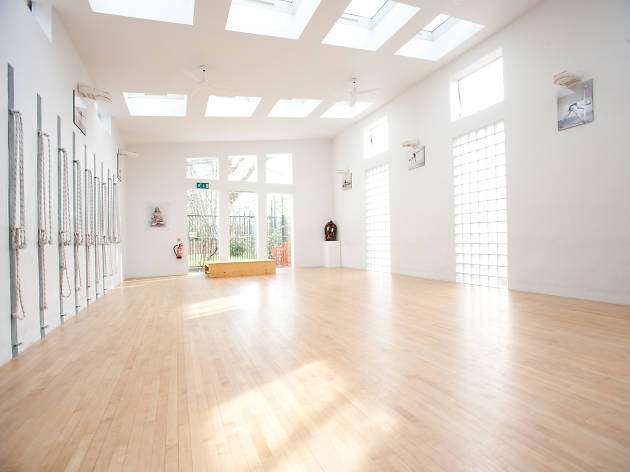 10. Iyengar Yoga Institute
This specialist Iyengar yoga studio has two very spacious and bright practice rooms, so you don't feel squashed by everyone else's positive energy (and sprawled legs), which means you can breathe yours in all the more. The instructors are very encouraging and attentive, but advanced. There's a lot of equipment (which is provided) involved – you name it, you'll bend with it, from wooden stools to ropes hanging off the wall.
Perfect for… advanced yogis
Average price per class: £14
Monthly membership: £110 for 11 beginners or general classes, £140 for 11 intermediate or teachers classes.
223a Randolph Avenue, W9 1NL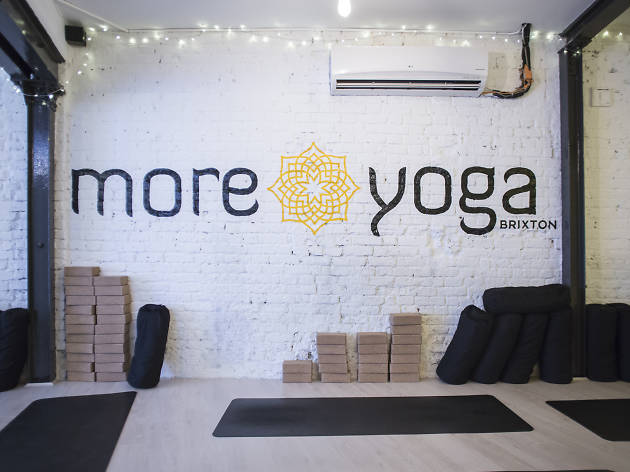 Can't get enough of child's pose? You can bend and stretch all around London with MoreYoga, who aim to make yoga more affordable and accessible with their growing number of studios and great value class bundles. Classes on offer include ashtanga, vinyasa, rocket and power flow sessions, as well as morning flows, candlelit classes and sessions that combine yoga with dance-inspired moves for more of a cardio hit. MoreYoga's facilities can be pretty basic. You'll find changing rooms and toilets, but no showers. But they provide all the mats, blocks and bolsters you'll need during class.
Perfect for... doing your triangle pose all around town
Price per class: £11 for a single session.
Introductory offer: £15 for 20 days of yoga
Monthly membership: £75 a month for unlimited classes.
Find studios all over London. Central: Aldgate, Old Street, Soho, Tower Bridge, Victoria / North: Angel, Caledonian Road, Camden, Finsbury Park, Harringhay,, Winchmore Hill / South: Balham, Bermondsey, Brixton, Clapham Junction, Croydon, East Greenwhich, Forest Hill, Greenwich Creekside, Lewisham, Surrey Quarys, Tulse Hill, Woolwich / East: Hackney, Haggerston, Stoke Newington, Stratford International.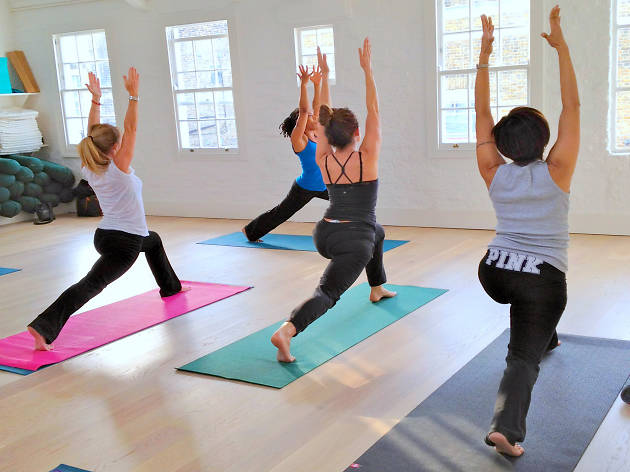 Photograph: Yoga Loft
A saunter down a pretty cobbled mews for an hour's stretching session at this instructor-run yoga studio in Queen's Park makes for an elegant approach to exercise. Rather than focusing on one discipline, the immaculate yoga centre offers a choice of hatha, ashtanga, vinyasa and iyengar, as well as beginners' courses and pregnancy sessions. The centre comes highly recommended by some of the capital's best instructors, not to mention its bendy attendees.
Perfect for… yogis that know the ropes
Average price per class: £15-£16
Introductory offer: £40 for 30 days of yoga
Monthly membership: one month only: £140; six-month minimum passes range from £35-£95 per month
3 Lonsdale Rd, NW6 6RA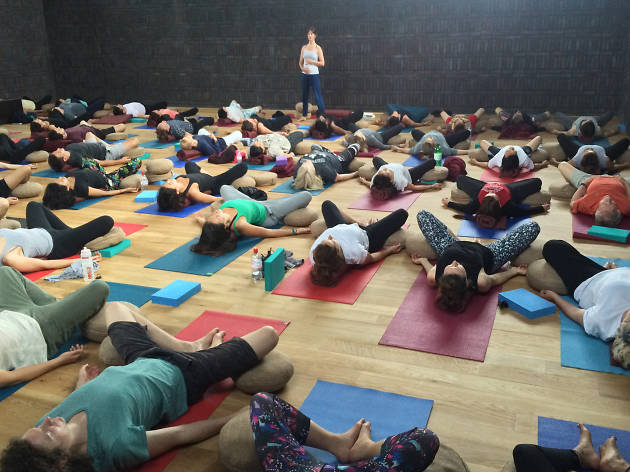 13. London Buddhist Centre
After being greeted warmly in the garden walkway, as soon as you step into the centre you are hit with a sense of calm, soon to be disrupted by the fact you have to change in the loos as there are no changing rooms – just come in your kit to avoid this. The classes themselves are very focused on breathing and keeping your mind in the present, meaning you're not thinking about the 10,000 emails you'll be receiving in the morning. Equipment is provided for the variety of classes they offer, including a whopping 2.5-hour class on a Thursday evening!
Perfect for… yogis that need to relax the mind and body
Average price per class: £8-11, but lunchtimes Mon-Fri are by donation
Monthly membership: there is no membership system – just drop in!
51 Roman Rd, E2 0HU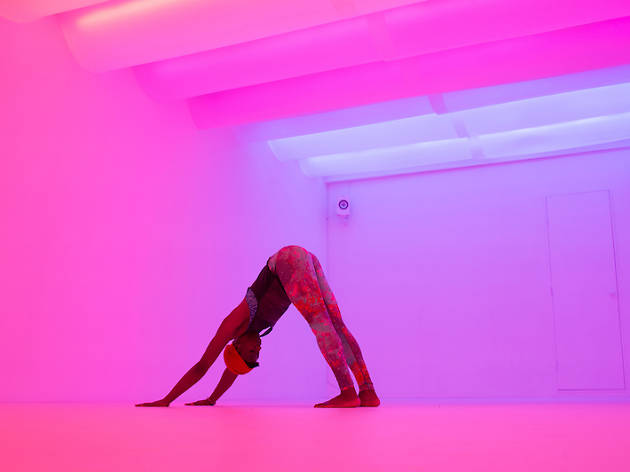 Sometimes it can be a tough to motivate yourself. But you'll have no problem getting to a ChromaYoga class, where you're drenched in colour instead of sweat. The studio uses colour therapy to combat the amount of blue light we get from our screens. Classes are colour coded, for example, Orange is a slower paced class, Pink is restorative and Chromatic moves through either the colours of the sunrise or sunset.
Perfect for… colour obsessives and yogis who are struggling to switch off
Price per class: From £13
Introductory offer: £35 for 7 days of classes
Monthly membership: monthly unlimited memberships are £110
45 Charlotte Rd, EC2A 3PD. Old St.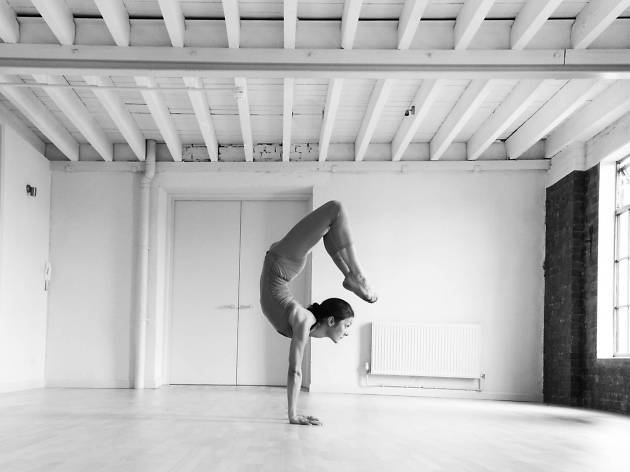 The Shala Yoga Studio
Formerly residing in Clapham and now in a refurbished Victorian warehouse in West Norwood, The Shala has been running for over 17 years and has a long-standing reputation for its excellent teaching and welcoming vibe. The yoga studio offers daily ashtanga yoga classes (traditional mysore style for beginners and intermediate) as well as workshops and yoga for pregnancy. Classes are small with an emphasis on spiritual as well as physical wellbeing.
Perfect for… yogis that 'ommm'
Average price per class: £16
Introductory offer: £39 for trial 30-day pass
Monthly membership: £89 for unlimited membership pass
1 Chestnut Rd, SE27 9EZ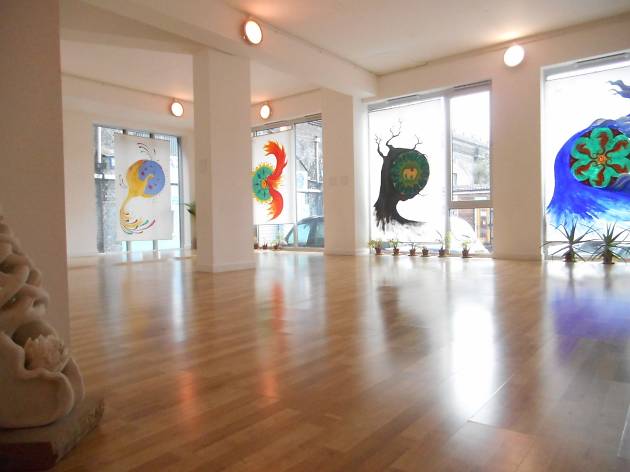 Every class at London Fields Yoga is unique. Covering everything from beginner to post-natal (with an 'open' level in-between), this peaceful yoga centre within Hackney's Arthaus building tailors each lesson to the mood of the attendees. Most sessions last an hour and you're encouraged to go at your own 'breathing cycle'. Mats and blocks are provided, as well as a contagious sense of wellbeing. Expect a focus on relaxation, expert guidance and a friendly group quietly stretching in a warehouse full of sunlight.
Perfect for… beginner-to-intermediate yogis looking to improve their moves – the teachers are so encouraging, you'll master that headstand in no time.
Average price per class: From £12 (one-week unlimited pass for £25).
Monthly membership: £55 for a month of unlimited morning classes, £108 for 10 classes.
6-12 Triangle Rd, E8 3RP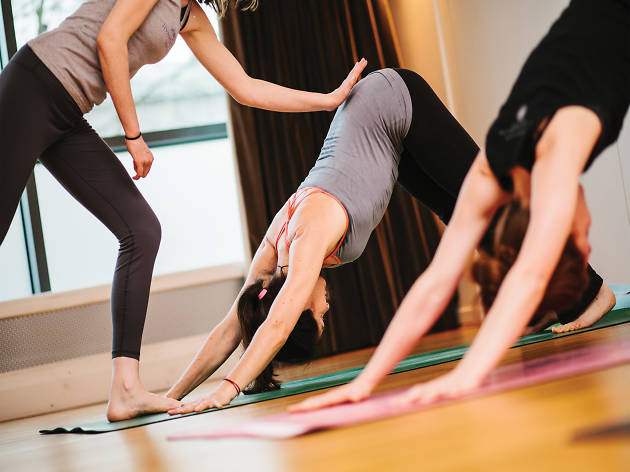 Formerly called Jivamukti Yoga London, this yoga studio hosts independent specialist instructors of this form of yoga. Jivamukti is ashtanga-based yoga which incorporates spiritual elements, like chanting. The centre has a smart feel with a hippy edge – represented by altars in each of the two studios complete with photos of Indian gurus. There's also a fitness shop where you can buy kit for perfecting your moves at home. The classes themselves are pretty intense, so best not make this the first ever yoga you try, but great for those already practising.
Perfect for... yogis that can keep up
Average price per class: £16
Introductory offer: £40 for 30 consecutive days of classes
Monthly membership: £99 per month for unlimited classes (12-month contract)
300 Kensal Road, W10 5BE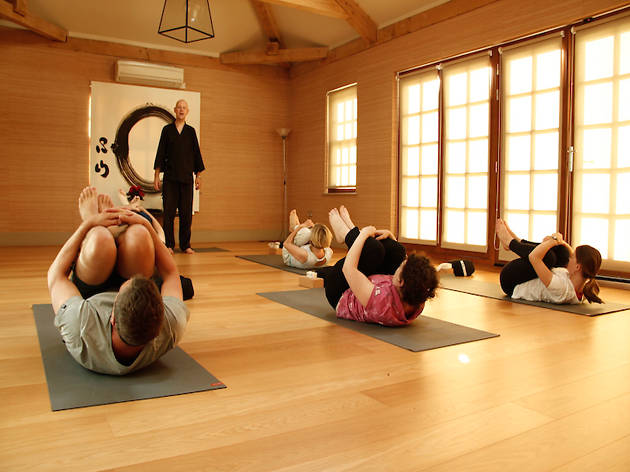 Tucked away in leafy Denmark Hill, this cosy, Japanese-style studio was founded by a Zen master who learnt his craft at Rinzai monasteries in east Asia. Classes have a traditional, restorative edge. Some add meditation and mindfulness, while the early morning vinyasa flow lessons are an instant pick-me-up. Most are drop-in sessions, letting you join on a whim. The studio doesn't have the fancy trappings of its larger city-centre counterparts (there are no changing rooms or towels), but all the equipment is provided, and the airy wall-to-ceiling windows and huge wall canvases painted with calming circles will instantly inject a dose of Japanese Zen into your day.
Perfect for… spontaneous stretchers
Average price per class: £10 drop in
Monthly membership: No membership system here, just drop in.
2D Camberwell Grove, SE5 8RE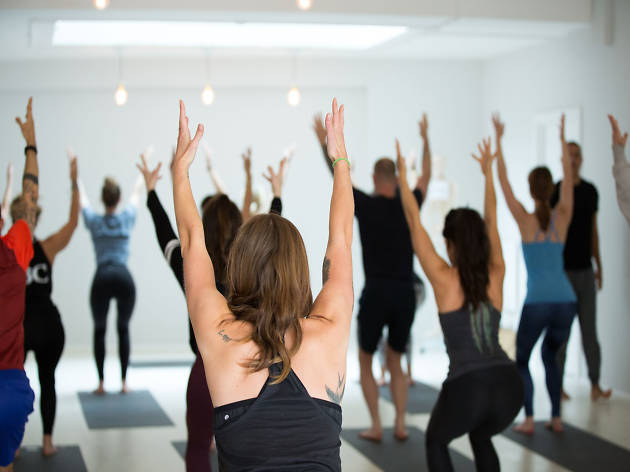 One of the first yoga studios to open in Hackney nearly six years ago, Stretch is community-focused and unpretentious, offering a wide range of yoga classes. That means there's something for everyone, whether you want to stretch out sore, tight muscles, work up a sweat or restore mindfulness and calm. The Stretch universe has expanded to classes that complement yoga, including HIIT, capoeira and functional fitness (using TRX, kettle bells and boxes for a full-body workout). Stretch now has two studios in the East End – one on Columbia Road, the other just off Broadway Market. They also offer yoga holidays around the world and teacher training.
Perfect for… adventurous yogis.
Average price per class: £14 for 60 minutes.
Monthly membership: £110
59 Columbia Rd, E2 7RG / 6 Ada St, E8 4QU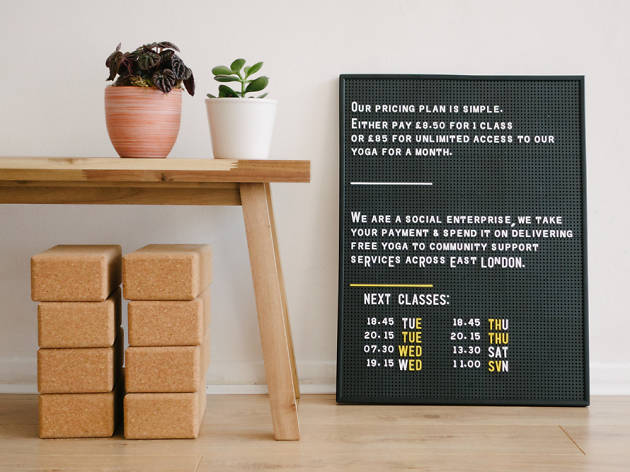 Supply Yoga
You don't need expensive leggings to enjoy the benefits of yoga. Supply Yoga is a social enterprise that offers accessible classes geared towards regular people who just want to leave feeling good. And you'll feel even better knowing that the profits help to fund free yoga for community support services across east London.
Perfect for… nervous beginners who are put off by fancy studios and anyone who wants feel good and do good.
Average price per class: £9.
Introductory offer: £20 for 10 days of unlimited classes.
Monthly membership: monthly unlimited memberships are £85.
20 Median Rd, E5 0PL. Hackney Central Overground.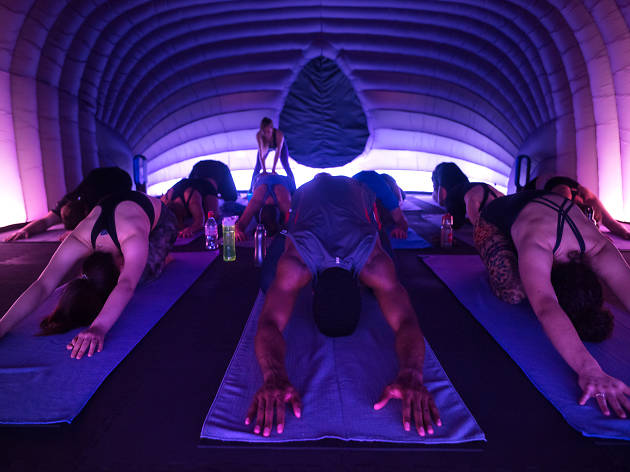 Hotpod Yoga
Disclaimer!! Bring shower things, you will need them (you can rent towels)! Hotpod Yoga, based across five sites in Belgravia, Dulwich, Hackney and Notting Hill, as well as this Brixton branch, is relaxing as well as challenging – the latter, however, is mostly because you are in a giant inflatable pod filled with 37-degree air, whilst also trying to perfect your chair pose! Facilities are simple, but do the job well – there's a bowl of hair-ties in case you forget, as well as water and snacks for you to buy. The instructors are very encouraging, but don't pressure you to do anything you feel you can't. If you can't take the heat that's also fine, and you're welcome to sit out and cool down as often as you like.
Perfect for… yogis that like to feel the heat
Average price per class: £12
Introductory offer: £15 for a one-week unlimited pass
Monthly membership: £100 (any time) or £70 (off-peak)
Various locations. Check the website for more info.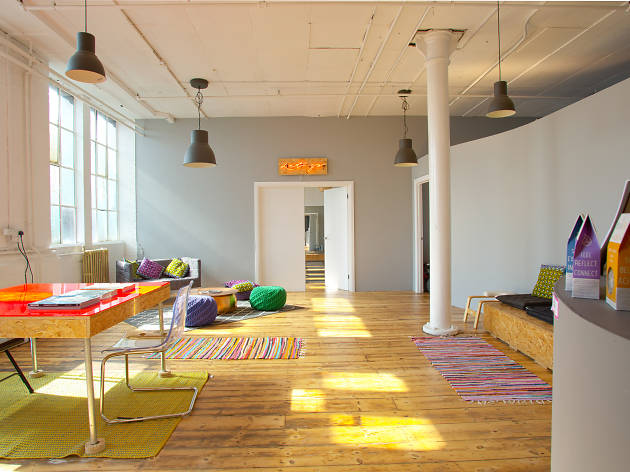 Photograph: Yogarise
Run by husband and wife team Sean and Emma, this studio is the perfect mix of the vibrant Bussey Building and the specious tranquillity of a yoga studio. Not only are you greeted by friendly faces, and a complimentary cuppa if you fancy it, but the couple's little dog, Misty, will pop in to say hello! The instructors are very welcoming and attentive, and not too pushy when it comes to more complex moves – you are just encouraged to join in and do what feels comfortable. There are two studios in the building, and the newer one is in the process of getting a specialist therapy room.
Perfect for… yogis that like to take it easy
Average price per class: £14
Introductory offer: £30 for 14 days unlimited yoga
Monthly membership: £95 (off-peak) or £120 (any time)
133 Rye Lane, SE15 4ST (The Bussey Building)
Find more fitness inspiration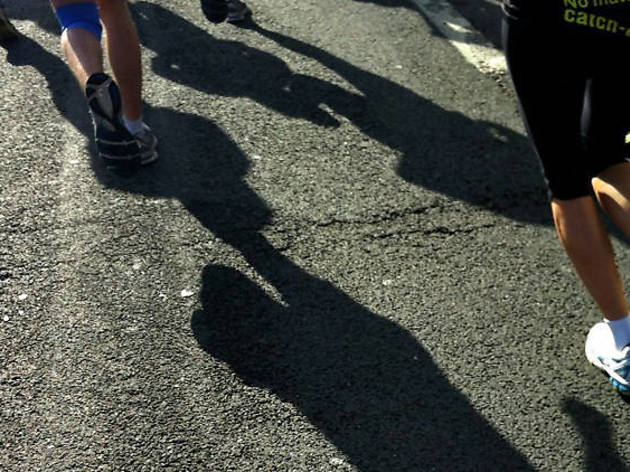 Your guide to sporting events, health and fitness in London
Support Time Out
We see you're using an ad-blocker. Ad revenue is Time Out's main source of income. The content you're reading is made by independent, expert local journalists.
Support Time Out directly today and help us champion the people and places which make the city tick. Cheers!
Donate now