St Patrick's Day in London
You don't have to go to Ireland to enjoy the party atmosphere of St Patrick's Day, as there's plenty going on right here in London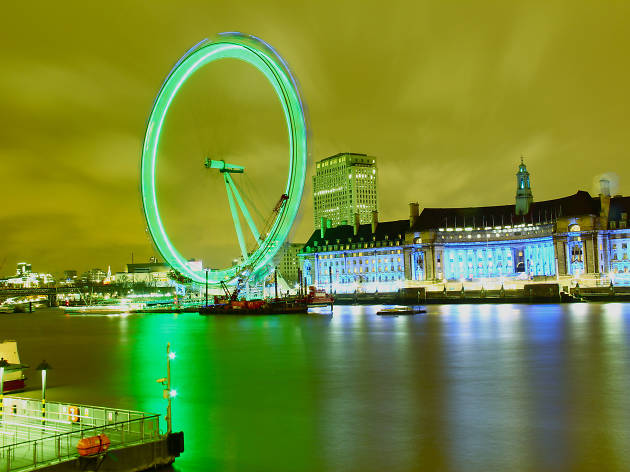 Singing, dancing, a parade and a pint or two - the Irish have always known how to party and celebrating St Patrick's Day in London is no exception. St Patrick's Day in London is a chance for Irish London (and, of course, anyone and everyone who's Irish-at-heart) to hit the streets and show the city the true meaning of the word 'craic'.
The official holiday lands annually on March 17 (a Friday in 2017), but the main London celebrations take place in Trafalgar Square on March 19.
There'll be a lively parade of music, food and ceilidh dancing, plus plenty of things to do with the kids. If you can't face the crowds, we've rounded up the best St Patrick's Day happenings below. Or if you want more cultural inspiration, check our pick of the best London events in March. Get ready for a very green weekend.
When is St Patrick's Day?
It's always March 17, but in true Irish fashion, St Patrick's Day sessions usually run throughout Paddy's weekend.
What is St. Patrick's Day?
The date supposedly marks the death of this guy called (yep, you guessed it!) St Patrick, who travelled to Ireland in the fifth century to convince Irish pagans that Christianity is where it's at. Do you associate Ireland with shamrocks? That's down to him too: the story goes that St Patrick used the three-leaved clover to describe the Holy Trinity to non-believers. Oh, and legend says he banished snakes from the country by chasing them into the sea. Best mull that last part over with a Guinness.
Where is the London St. Patrick's Day Parade?
London's St Patrick's Day parade kicks off on March 19, when crowds line the streets from Piccadilly to Trafalgar Square and cheer on a stream of leprechaun floats, traditional musicians and squads of Irish dancers. The main stage at Trafalgar Square will be surrounded by a street food market and a 'tea tent', with a line-up of Irish bands. Basically it's a big, rip-roaring one-day festival, only the pints are a shade of Gaelic green.
Join in the St Patrick's Day London fun
Sink a Guinness at an Irish pub
If you're looking for a pub that's Irish-owned, stocks Irish ales and whiskeys, or often hosts traditional music, food and even dancing, then look no further.
Read more
Sponsored listing
The Adam & Eve
Tucked away behind Oxford Street, this modern pub and kitchen has long been a little retreat for shoppers in the know. Get the right table and you can even sit under the watchful gaze of Michael Caine and Twiggy, stuck to the wall in poster form. The food menu comprises plates of poshed-up pub grub. That means apple-glazed gammon with fried duck egg and hand-cut chips, macaroni cheese croquettes, courgette fries with a red leicester fondue, pork crackling with apple cider sauce and a decent looking cheeseburger with fries, pickles and relish.  The drinks list ranges from jugs of Pimm's and bloody marys to craft beers from Pressure Drop and Kernel and a selection of wines that leans heavily on the old world.