London events in March
Your guide to the best happenings and events in London this March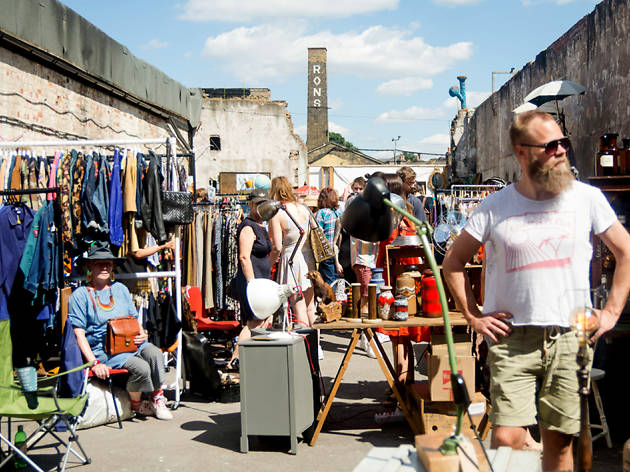 We're big fans of March. It has the first bank holiday of the year, lots of great activities to get stuck into ready for spring, St Patrick's Day and there's also Mother's Day – which you can start planning in advance now you've remembered, for once.
Here's our guide to the best events, free stuff, art and music, which should keep you busy for the whole of March
RECOMMENDED: The definitive London events calendar
Art exhibitions this March
Somehow, more than 100 years after someone first painted a canvas a single colour and thought 'yeah, that'll do', monochrome painting still manages to have a power. It can shock, it can disappoint and sometimes, when you're lucky, it can open up the possibilities of painting all over again. Brazilian artist Fernanda Gomes goes for the third option. The main room in this show of pure white works is filled with white squares and rectangles painted on cheap wooden slabs. Some are flat to the wall, others at angles. One is just stretched white mesh over a frame, another has canvas peeling away from the wood beneath. The best work isn't even a painting, it's a freakin' optical illusion! It's just an empty bloody frame!  What this all does is imply painting. She sees how far she can pull materials away while still retaining the idea of a work on canvas. She forces you to ask if this is a painting, or a metaphor for painting? Or, maybe, is it just nothing? These two rooms are contemplative spaces of modernist minimal calm. Emptiness that is somehow full. Totally, monochromatically, lovely. @eddyfrankel
Read more
The Guerrilla Girls are some of the art world's most creative complainers, and for over 30 years now, they have been handing America's galleries their arses on a platter. For their show at the Whitechapel Gallery, they've turned their attentions to Europe. This entire exhibition is based on a survey they sent out to 400 art institutions across 29 countries on the continent. In it, they demand stats for their representation of female artists, those who are gender non-conforming and artists of colour. Spoiler: it doesn't go well. As the Guerrilla Girls announce on a banner on the front of the Whitechapel building, 'only one quarter' of those contacted responded (disappointingly, the Serpentine and the Saatchi Gallery were among the no-shows). The completed questionnaires are pasted onto the gallery wall, filled with the urgently scrawled handwriting of gallery directors. Put your contacts in, because there's a whole lot of reading required for this show. Colourful posters pull out some of the best responses; when asked if it was the first time they'd collected such stats, Manchester Art Gallery replied: 'No, we talk about these issues a lot' – but the Guerrillas point out that their collection is still '80 percent male and 85 percent white'. The average representation of women artists was a pathetic 22 percent. One of the few glimmers of hope was Poland, where that figure was 28 percent and all but one of the responding galleries had a female director.    Informative as all
Read more
The jungle is swallowing Cecil Court.  Leaves are growing, water is flowing and this group show is bringing a little tropical warmth to freezing London. Turner Prize-winner Laure Prouvost's ultra-sensual breath-heavy jungle film 'Swallow' opens the show: naked bodies swim in waterfalls, hands stroke car bonnets. There are some serious return-to-nature vibes here. Alongside this are big resin palm leaves on the wall by Zuzanna Czebatul and a ceramic sculpture by Salvatore Arancio in the corner that looks like its been dredged up from the floor of some ancient sea. More of Arancio's gloopy alien rocks litter the ground downstairs, alongside biological prints by Suzanne Treister that associate fauna with mega corporations. The whole show imagines the jungle as some sensual, creeping mass of eroticism – an encroaching body of sexual potential. The only problem is, there's not enough – if the show was more overwhelming, if it really made you feel like you were sweltering through your own tropical hangover, it might have been brilliant.
Read more
The perilous, arduous, shocking journeys of migrants and refugees are splayed across screens, shown as hands tracing routes across maps. The travellers take you through each stop, through their hardships and their journeys home. There are only a handful of trips projected here, but it still feels like too many – these 'enforced journeys' are happening all over the world, all the time. Refugees, migrants, people from places of conflict: this is how they live. Moroccan-French artist Khalili then turns those trips into blue maps, constellations of struggle. The whole show exposes a wound – it's uncomfortable, but it's important, so don't look away. @eddyfrankel
Read more
Look out the window. How is it out there? Grey? Miserable? Is there a low-hanging, neverending blanket of suffocating cloud pressing down on the whole city? Of course there is. This is London. But in one chichi corner of Mayfair, the sun's out. Modernist master and Bauhaus pioneer Josef Albers painted a lot of geometric abstract square stuff, and this show is dedicated to his particular obsession with yellow, orange and gold. It's a warm hug of an exhibition, bottled (or framed) sunshine.  Each canvas here features diminishing soft-toned squares, overlapping and vanishing, all in the same configuration: big square, medium square, little square. There are sketches on paper alongside them, and a brilliant little sheet of notes and paint-tests where he's scribbled his thoughts on the various shades, including a big 'NO!' over some beige. Amen, Josef.  It all shows how singular, driven, ordered and monomaniacal he was in his quest for pure geometry, pure colour, pure art. That's what elevates this above what's on the canvas – the passion and drive, the obsession at its heart.  There are imperfections here, lines that wobble, paint that's smeared. I used to hate this in Albers's work, wishing that he'd just been more precise, more computer-like. But it's human, and that reminds you that beauty doesn't have to be perfect, it's a process. It's such a simple, calm, reductive and warming show, you'll feel like you're getting a tan. Don't be fooled, it's not real, this is London. I
Read more
Artist and architect Sebastian Kite will be filling the Bussey Building's art space with an installation of two-way mirrors that will host regular dance performances throughout the show's run.
Read more
The first major photography show in the Engine Rooms at Tower Bridge will feature new work by the celebrated chronicler of British weirdness. What to expect? The exhibition's title is probably a giveaway.
Read more
His story probably isn't that different to yours. Do Ho Suh was born in South Korea, left to study in America, settled in New York, moved to Berlin for a bit then chose London as his home. Maybe your journey hasn't taken you as far, but Macclesfield to Balham is still an uprooting. The point is, we've all moved, we've all had to leave 'home' to make new lives for ourselves at some point. Those moments of upheaval are Do Ho Suh's total obsession and he uses his art to memorialise the places he's lived in.  In the opening room of his show at Victoria Miro, he has stitched coloured mesh fabric together, recreating the doors and staircases of his past studios and homes. They are like pressed flowers, steamrollered on to paper. They're 3D sculptures that have been flattened on to 2D planes, as if these doors and staircases have been crushed flat by some temporal anomaly, a catastrophic accident in space, a dimensional apocalypse. Upstairs, he's turned doorknobs and fuse boxes into fabric sculptures on eerily gleaming lightboxes. A film in the back room captures a walk around his north London neighbourhood from his kid's-eye level. The works are pretty, but they're the weakest part of the show. It's on the top floor that his ideas really start to envelop you. Suddenly, all those 2D visions of lost architectural spaces erupt into 3D rooms. These are perfect life-size recreations of corridors from his life, arranged end to end in gently undulating, pastel-coloured mesh fabrics. Yo
Read more
The Tokyo-based cross-displinary, techno-focused collective will be creating a series of immersive installations featuring digital works of art that blur and slip into one another. 
Read more
Show more
See what's on in April
Find great things to do all year round
London is a treasure trove of brilliant days out and activities worth boasting about. Find great new ways to fill your free time with this list of our favourite things to do in the capital.
Read more