Heads up! We're working hard to be accurate – but these are unusual times, so please always check before heading out.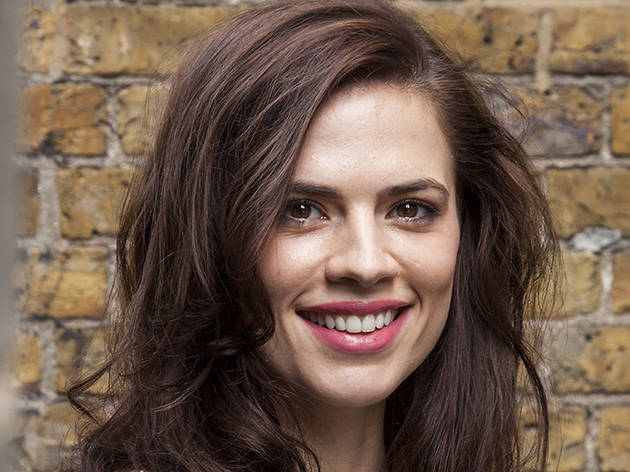 Hayley Atwell interview: 'being on stage is always terrifying'
The London-born actress is back on stage in a controversial play about gay relationships. She talks to us about felching, firewalking and playing the bad girl
The Pride
', an audacious play which contrasts the effect of repression and liberation on gay relationships in the capital from 1958 to the present day. With the recent changes in law to allow same sex couples to be married, this daring play is more relevant than ever. And as more and more people are noticing, so is Hayley Atwell…
You grew up in London and visited your dad in Kansas City in the summers. Are you a London girl, or more influenced by America?
'My dad has Native American Indian ancestry. He's a healer in some ways and he's very interested in shamanistic ritual. He also lives in California so it's kind of like this hippy existence. I firewalked six times when I was nine.'
You firewalked when you were nine?
'It's about trust and the power of your mind and challenging yourself to overcome obstacles. I'm sure there are specific scientific explanations as to why you don't burn your feet, but at the time it was like, "Woah!" The experience has served me well. My dad always brings it up when I ring about something I'm proud of. He's like [she puts on an American accent]: "It's because you always stared your fears in the face, because you firewalked, you're a superhero!"'
No firewalking when you were in London?
'Well, I did have quite a surreal life in London. I went to a slightly bohemian primary school in Notting Hill. Then I went to a very diverse innercity state school followed by an academic college. I had a real mix, but I don't come from money.'
For your first film role you were directed by Woody Allen. Presumably that was intimidating?
'"Cassandra's Dream"' didn't feel like my break – "The Line of Beauty" [the 2006 TV mini-series] did. I came out of drama school wondering whether I could really make a living out of being an actor. So when I worked with Woody, those nerves made me feel isolated. A lot of film directors don't direct you, you just have to come in on day one with a performance, which I didn't have. I was too inexperienced to know what to do other than be the pretty girl who just said a line and fucked off. It's not until quite recently that I realised how unformed I was. I felt like a baby. I just wanted to please.'

Do you feel more comfortable with what you've been doing recently?
'I think my decades will be my thirties and forties. I'm meant to be an older actor rather than a teen or a twenties starlet, I didn't feel comfortable with the pursuit of that: I wanted to know who I was as a human being first. I have also done some horrendously embarrassing jobs that I regret.'
Any details?
'No! Mostly those projects were good, but as an actor, I just hated every moment. I can only do my best work if I believe in what I'm doing. I don't want to work for the sake of working or for money or for raising my profile because any time I've had an inkling of going down that direction it ended in vanity, insecurity and a transient feeling of success.'

You have been pretty fearless though, and aren't afraid of sex scenes. Is there anything you wouldn't do?
'Reality TV. It's like modern public hangings. It mocks, and that's destructive. I don't mind doing something sexual, or playing the bad girl as long as it's not exploitative. I steer away from being oversexualised: just the hot girl who takes her clothes off. I'm driven by learning and taking myself less seriously and developing a sense of humour.'
Would you say that you haven't got much of a sense of humour now, then?
'[US actor] Stanley Tucci, who I'm now really good friends with, said that when he first met me on the set of "Captain America" he thought I had no sense of humour. I said, "Are you kidding? I was shitting myself!" I was so nervous I just became uptight.'
'The Pride' is the first play you've done since 2011. Is it good to be back on stage?
'I love it. I want to make sure that I do a play every two years or so, because the sooner I get back into the rehearsal rooms the sooner I feel I'm developing. It's terrifying. I arrive on day one with expectations that people are going to like it and then I'll have this wobble. Suddenly I've forgotten why I'm doing it, it's crazy and I don't want to do it eight times a week. But the cast is lovely, including Mathew Horne, who's very funny. On the first day, we were going through the script and felching is referred to. I asked what it is and Matt immediately launched into a description. It's so vulgar. I don't think you'll be able to print it.'
You're right. What's next then?
'I'm in a Jimi Hendrix biopic which is currently being edited, but I don't have a plan, I don't have a set of characters I want to play. I want to discover as I go along and take each step as it comes.'
Get the best of London's theatre