'I Can't Sing!': how they made the 'X Factor' musical
Rapping hunchbacks, talking dogs and off-colour remarks about the dark lord Cowell himself… Harry Hill's 'X Factor' musical wasn't ever going to be that conventional. But is it any good?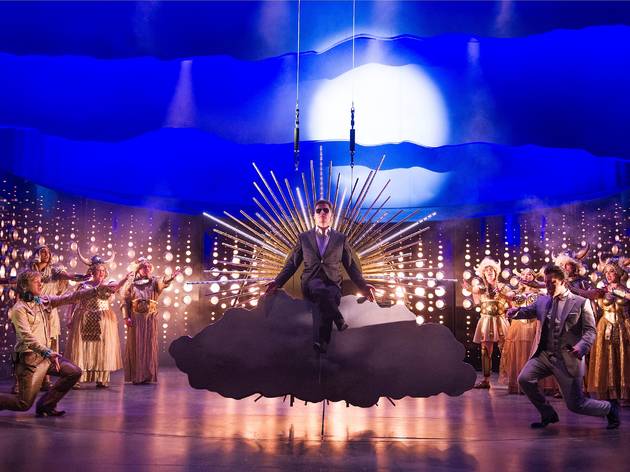 1/5
© Tristram Kenton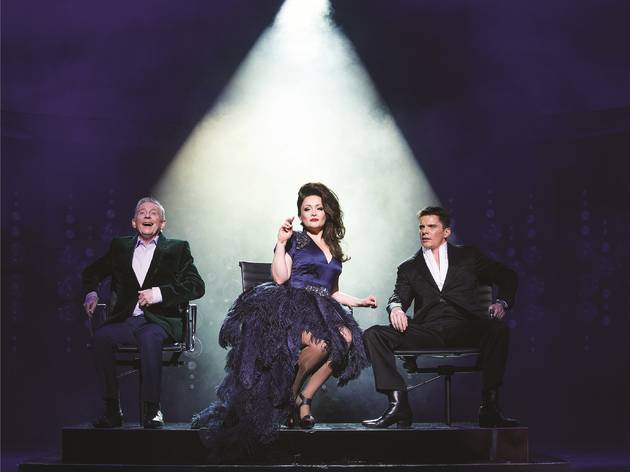 2/5
© Tristram Kenton
Ashley Knight (Louis), Victoria Elliott (Jordy) and Nigel Harman (Simon)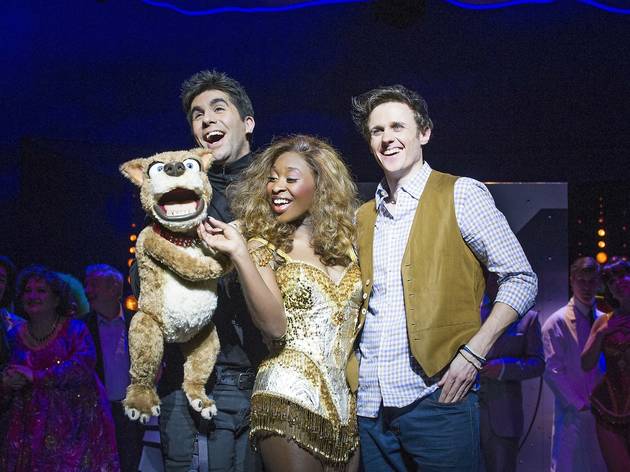 3/5
© Tristram Kenton
Simon Lipkin (Barlow), Cynthia Erivo (Chenice) and Alan Morrissey (Max)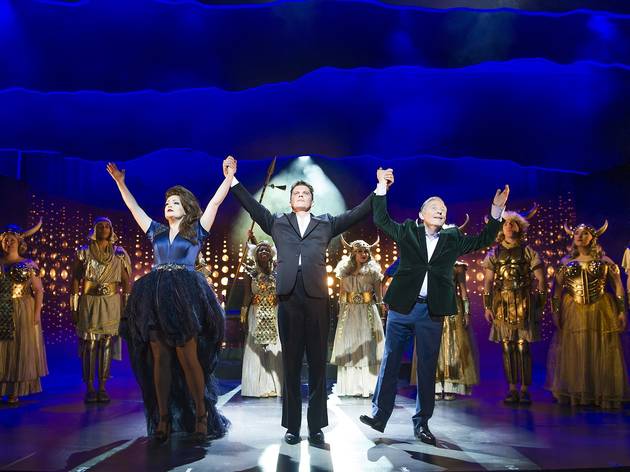 4/5
© Tristram Kenton
Victoria Elliott (Jordy), Nigel Harman (Simon) and Ashley Knight (Louis)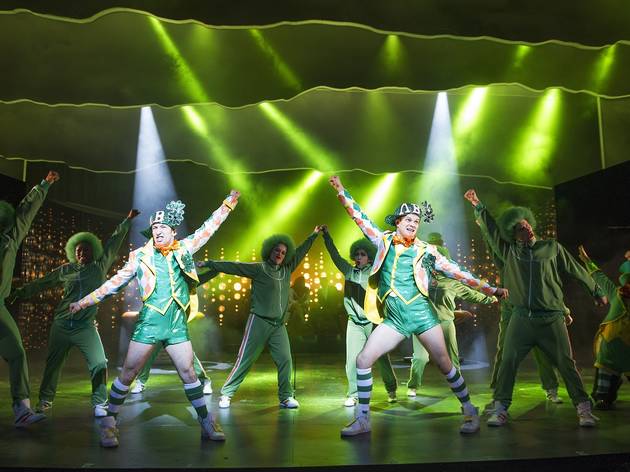 5/5
© Tristram Kenton
Shaun Smith and right Rowen Hawkins as Alterboyz
In the London Palladium, Simon Cowell has just descended from heaven upon a fluffy white cloud. 'Lo! He is come amongst us!' wails a medieval peasant. The halt and the lame cast aside their crutches. A choir of ululating Valkyries screech their tribute, and in the midst of it stands Si, tonsils wobbling as he bellows out that he's 'the patron saint of fame'.
This is '
I Can't Sing
', the musical based on 'The X Factor', currently booked into the Palladium until late October. It's funded by Cowell, he's personally seen and approved the script, and every poster is emblazoned with the logo of his company Syco. And, well, that all makes it sound a bit dreadful, doesn't it?
'When I was asked to work on a musical of "The X Factor", I thought: Oh God, that is a terrible, terrible idea,' explains Steve Brown, the show's composer. And he's not alone. The initial reaction of the show's director, Sean Foley, was similar: 'I said "Oh! How interesting!" but to myself, I thought: This is the worst idea I have ever heard.' But…
wait
. This is musical theatre! There's only a bloody twist in the story!
The whole thing is one ginormous pisstake of Mr Lofty Trousers's malevolent karaoke creation. The idea came not from Cowell, but from Harry Hill, who – having roped in his long-term musical collaborator Brown – wrote it as a sort of musical incarnation of the surreal, satirical takes on pop culture familiar to fans of Hill's 'TV Burp'. It's a caricature of 'The X Factor' packed with brilliant comic songs that render the whole thing utterly ridiculous. More ridiculous. And despite the chart-defiling TV megalomaniac having seen everything before it went on stage, he didn't veto any content at all. If you had to sum it all up in a nutshell, you'd probably say something like: 'Sorry, could you just explain that again?'
'To be honest, I mainly got in touch with Syco for the fun of going for a meeting with Simon Cowell,' says Hill. 'But once he showed interest, we had to go away and actually write a song to play him. We knew that he didn't like people using the words "journey" or "dream" on "The X Factor". So we went off and wrote a song called "Dreaming of a Journey, My Journey to a Dream". And to our surprise, he burst out laughing when he heard it.'
Thus began a curious development period, during which Hill and Brown had Syco's backing to produce the musical, but with no stipulation of who had final creative control. They recruited the Olivier Award-winning Foley ('Once I realised Harry Hill and Steve Brown were involved, I thought: Oh now that is actually interesting'). They spent three months assembling a cast including ex-'EastEnder' Nigel Harman as Cowell. Then they devoted the bulk of a year to writing the tale of a blossoming romance between two 'X Factor' wannabes: a ukulelewielding plumber who hopes to save the world's whales with his eco-balladry, and a caravan-dwelling orphan whose iron-lung-bound granddad raised her on roadkill. Both of whom are accompanied on their 'journeys' by a talking dog called Barlow. For good measure, there's a rapping hunchback and an actor whose role is to portray the wind by cavorting about in a tasselled sky-print unitard and giant white afro wig. Well, this
is
a Harry Hill script, after all. 'We just expected Simon to interfere at some point,' says Hill. 'Me and Steve were approaching the whole project being fully prepared to walk away once that started to happen. But it just never did. I think he must have a very thick skin. Either that or he's a lunatic.'
We'd go for the latter option. 'I Can't Sing' is an OTT daft and non-aggressive satire of 'The X Factor'. What else would you expect from Hill, a man who won three Baftas with 'TV Burp' for scheduling weekly fights between the likes of a Pat Butcher lookalike in a scorpion costume and a monster made out of cushions? Even so, it's none too kind. The Simon Cowell character deliberately leaks dirt on his own contestants to the tabloids. An 'X Factor' presenter tasers over-exuberant auditionees. Cheryl Cole is a vacant puppet who terrifies people by threatening to perform her new single. Louis Walsh is a simpering old buffer, seemingly too senile to grasp the events going on around him, while Cowell himself gets nearthe- knuckle lines like 'Blow me, I'm fabulous'. If it weren't for the fact that it all bears the official Simon Cowell seal of approval, you suspect that Hill and Brown would be hearing from his lawyers, and that's only if his ninjas were busy.
'Yeah, the musical's sort of like a Trojan horse in a way,' says Hill. '"Hey Simon: I've got a present for you. It's a musical! But actually what we're doing is taking the mickey out of you!" The funny thing about it, though, is that they seem to like it. Simon said to me, "Sharon Osbourne and Ozzy are flying in from LA for the opening night. She's going to be gutted if we don't mention her. Can you put a line in for that night?"'
Additional jokes about the artist known as 'Shaaaaruuuunnn' aren't the only downside of Cowell's involvement, though. In the lead-up to the launch of 'I Can't Sing', the production had to cancel its first three press preview dates. This is fairly common practice. 'Charlie and the Chocolate Factory' also cancelled a couple and 'Matilda' called off its entire first week. However, the press reaction has been a wave of articles implying that the future of 'I Can't Sing' is 'in doubt' (
The Independent
) or that it's 'facing troubles' (
The Express
).
An
Indy
reviewer even decided to perform the theatrical equivalent of catching them with their pants down and watched the show two weeks ahead of its official press launch so that they could slate it as a work in progress.
'People are out to get it,' says Hill. 'That's the baggage of getting into bed with Simon Cowell. I understand that completely. It just means that it's all got to be totally on the money, because any chink in the armour and the press will jump in.' Will they pull it off? Hard to say. It's a totally mental undertaking. But then it's Harry Hill, so surely you can't go wrong? Oh, we don't know. But who cares what we think, anyway? This is 'The X Factor'.
You decide
.
Get the best of London's theatre