Jamie Lloyd interview: 'There will be blood'
As the claret-splattered saviour of commercial theatre, Jamie Lloyd has now turned his talents to a new – and gory – production of 'Richard III'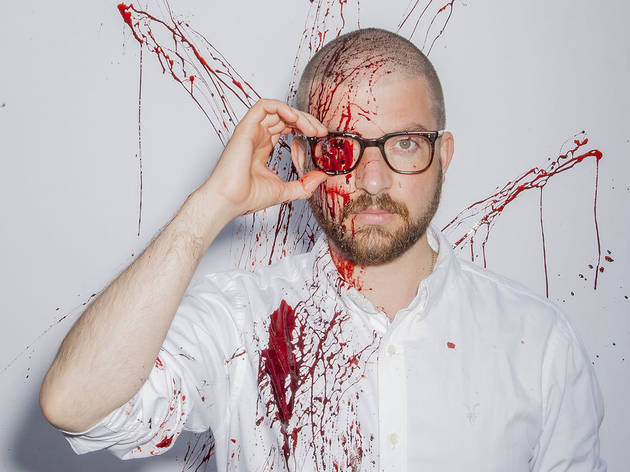 West End wunderkind Jamie Lloyd has wowed London audiences with a mix of blood-soaked reinventions of classics and sassy musical smashes: or in the case of recent hit 'Urinetown', blood-soaked musical smashes. As he begins his second 'Trafalgar Transformed' season with 'Richard III' starring Martin Freeman, he talks blood, death, and his next project, 'Back to the Future'.

What's the allure of the gore?
'I think it's important audiences connect with death and loss on a visceral level, and I just don't believe in most stage violence, it's over too quickly. My fight director Kate Waters really embraces the fact that it takes a long time to kill somebody. And then along came Pigs Might Fly South, a stage blood company, who are amazing. We get through so much of their blood that they give me "Jamie rates".'

Can we expect a bloody 'Richard III'?
'Yes, there will be blood. It's a play where the deaths normally happen off stage, but I love the idea that here you're getting to grips with the horrors Richard inflicts by seeing them explicitly.'

Is it good to be back at Trafalgar Studios?
'When [theatre group] ATG asked me about opening a venture with them, I said, "Let me take over one of your theatres," and when they suggested this place my heart sank. It was a proper dead-end theatre, where touring productions went to die. But bit-by-bit it's changed. The potential is great, and actors love being here, because it is rough and ready.'

Would you like to go the whole hog and be artistic director of Trafalgar Studios?
'That would be a cool thing to do. I'd love to work in the second space.'

Are you happy working so much in the commercial sector, when most of your peers are working in hipper subsidised theatres?
'I loathe the word "commercial", because the agenda here is not to make money. I'll be honest, some of our seats are too expensive, but that's partly because we're committed to all seats being just £15 on Mondays. And we're ambitious: we've got 19 people in the "Richard III" cast and we haven't skimped on production values. If we break even we've done well.'

Is it fair to say that nice Martin Freeman is cast against type as evil Richard?
'I think people will be surprised at how apt he feels. What I love about Martin's performances on screen is that they're quite bottled up: there's always a sense of something boiling beneath the surface. Even in "Sherlock" you feel like there's a well of anger in the man.'

Can you say anything else about 'Richard III'?
'Loosely speaking the impulse for it came from a bad joke. I said to Soutra [Gilmour, his regular designer], "Let's set it after the Winter of Discontent in 1979," and she put her head in her hands. Although, bizarrely, there is more to that period than you'd think: the aristocracy had planned a coup [in 1974] against Harold Wilson's government, allegedly.'

You're lined up to direct next year's 'Back to the Future' musical – what can you tell us?
'It's an amazing story and I think there are some amazing things to think about in terms of the unknowability of our parents. But I'd love the musical to be inspired by the film, not just retelling it. I can tell you that we just did an illusion workshop and there was a car flying around the theatre. And that car was not on wires or on a hydraulic arm.'

'Richard III' is at Trafalgar Studios. Tue Jul 1 - Sat Sep 27.

Get the best of London's theatre