Heads up! We're working hard to be accurate – but these are unusual times, so please always check before heading out.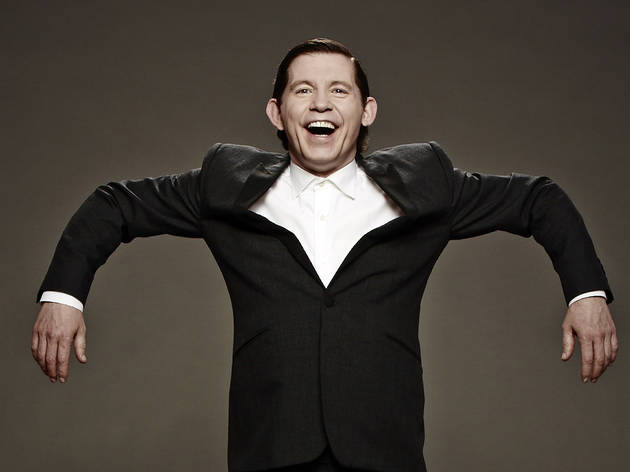 Lee Evans interview: 'I don't want anyone to dislike me'
As he prepares for his West End stage role in 'Barking in Essex', the much-loved stand-up is trying to grow out of being the 'twitchy idiot'
Barking in Essex
', Evans finally stops twitching and sits down to talk.
The new play feels like a slightly cartoonish depiction of Essex. Does it take the piss?
'I wouldn't do that. Its name is "Barking in Essex", but we're not commenting on Essex. All my wife's family are from Barking: you can't mess about with them. They get you in a headlock at Christmas and go, "Now you look after her. Otherwise you'll get your head kicked in."'
You've got the look and the voice nailed, but you're not from Essex, are you?
'No, from Avonmouth near Bristol. Right next to the docks. They're fucking good people, but I'm a creative type. I'm not sure I would have lasted too long. Nothing wrong with it but you can't have any grandiose ideas in that environment.'

Like other clowning performers, are you actually utterly serious about what you do?
'I spent months researching Darnley Packer: where he eats, where he sleeps, where he went to school. I pull everything apart. My wife says it's unhealthy.'
Are you obsessive?
'Yeah. It might be insecurity. Growing up I went to loads of different schools and travelled a lot.'
Did that make for a difficult childhood?
'It was an anarchic, unpredictable upbringing. I reacted by going off in my own dream world, to write stuff, draw and paint. When you don't know what is going to happen next you make sure everything around you is taken care of. That was the underlying thing of my life. It was always that "Watch out!" sort of thing. Always.'
How unhappy did that make you as a child?
'I don't think it made me unhappy. It made me nervous, insecure. I'm still getting my head around all that. Now I can bury myself in work and just hope that I get through it really, you only discover that as you get older. It made me a twitchy, nervous bloke. An odd bloke. What I am doing now is an extension of that.'
You made an act out of the twitching and nervousness?
'Absolutely. Oh fuck, yeah. I work it and work it and make it as funny as possible. We get in this huge room with huge amounts of people and we have loads of laughs. I don't want any gaps where they go, "Oh, he's being philosophical about the government now."'

But you've been in philosophical Beckett and Pinter plays. Aren't you happiest when you're crossing the divide between low and high culture?
'I don't think it exists. Classical music is for them? Opera is for them? That's bullshit. I worked with Harold Pinter, and he would say, "Fuck off, it should be as many people being able to see it as possible – that's what I write my plays for." In "Barking in Essex" the characters might all shout "facking this" and "facking that" but what they're actually talking about is culture and, at the same time, the loss of it.'
When you do stand-up, do you get off on the thrill of performing live to thousands of people? Do your fans get off on it?
'What, women? That's just not me. If someone approached me, I'd be: "Are you sure, love? Have you seen what I look like?" I would instantly be suspicious and on the back foot. But I wouldn't do that to my missus. She's fucking lovely, she's beautiful.'
So you disapprove of the seedy side of showbusiness?
'A celebrity shagging a tart? It's happened for centuries. I grew up with it. I hung about backstage when I was a kid; saw comedians shagging dancers. The person that shags the celebrity, they're getting something out of it, aren't they? But when you get famous there's a perception that you're more important than anybody else around you. Well, you're not actually, you are no more or less important than anybody else.Taking advantage of that is out of order.'
Is delusion an occupational hazard of being famous?
'It can be a drug to some people, it can take over your life. Jimmy Savile really enjoyed being Jimmy Savile. Do that enough and you become this person. You have to be careful not to believe that shit. It's taken me years and years just to try and get to normal from being this twitchy idiot. That's my success, if you want to call it that: I've gained confidence about what I write and what I do.'
When did you overcome your childhood nerves? When did that confidence arrive?
'The first Wembley gig – it sold out within an hour. We went and sat on the stage, and I said to my missus, "How did that fucking happen?" And she said, "You worked hard, Lee." But you sort of feel as if you don't deserve it somehow, don't you? When you're filming for Dreamworks ['Dinotopia', 2002], the budget's 60 million-something dollars or whatever, and Steven Spielberg is standing next to you, and you're going, "Fuck me, I was doing the Comedy Store last week!"'
Are you scared of failure, of going back to Avonmouth?
'I'm not scared. I've cleaned toilets, and if I have to go and clean toilets again it doesn't worry me. I cleaned toilets in Southend, in Torquay – pub toilets and public toilets. Pub toilets were bad but public toilets were worse. If you've done that then what's to fear?'
What does frighten you, then?
'I don't want anyone to dislike me. If someone says to me, "Excuse me! What did you say?" as if I've offended them, I'm like, "Oh fuck. I'll have to phone them up later or go round their house." I can't stand it. My wife gets really angry; she'll go, "Lee, it was fine." And I'll say, "No it fucking wasn't. I said something really bad." I worry so much it's stupid.'
You don't seem to have the brashness of younger comedians. Do you keep away from them?
'I never want to get in their faces. They're so determined, these young guys, aren't they? They've got a mobile and a laptop and a BlackBerry in their pocket doing bookings – unbelievable! I met one guy the other day and he said, "Hey Lee, I want to be like you!" Oh great, that's fantastic. How nice of you. Then he started to do this whole fucking thing on his BlackBerry!'
Do you think that modern comedy is soulless?
'In the '80s it felt like we were changing things, even changing light entertainment. It was very experimental – people putting fireworks up their arse or balloons on their penis. A lot of comedy now is very slick. Guys turn up in suits and they've got their ten minutes. It's gone back to the '70s: you're a personality or a celebrity. But I don't want a game show or a panel show. I don't want to make a commercial.'
What if you had to make a commercial?
'Deodorant! Towels! I'm not saying it's wrong, it's just I don't have any time to piss about. I want to get on with what I want to do, to learn something every day. When I'm about to die I want to know that I've done something constructive. That I didn't drop bombs on people; I didn't kill people; that I added to society. And then I'll leave.'
Get the best of London's theatre