Theatre Tickets
Buy tickets for all London theatre shows and find cheap and discounted London theatre tickets
Theatre Highlights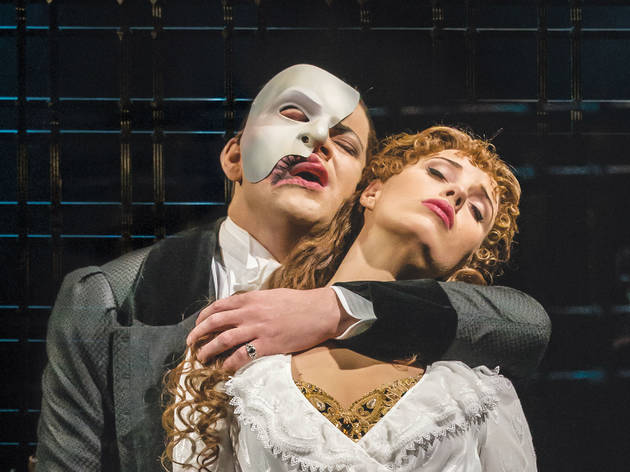 The Phantom of the Opera review
I'm not sure any show 'deserves' to be the most successful entertainment event of all time, but I'll hand it current holder of that title, 'The Phantom of the Opera' – it still works hard for its audience. Sure, chunks of Andrew Lloyd Webber's opus have never left 1986. But whereas describing a musical as 'stuck in the '80s' is usually shorthand for cheap, thin synth orchestration, nothing could be further from the truth here: the portentously swirling keyboards and crunch of hair metal guitar that powers 'Phantom's title song have a black hole-like immensity, sucking you in with sheer juggernaut bombast. Mostly, though, 'Phantom…' remains strong because its high production values haven't been allowed to sag. The late Maria Björnson's design is a heady barrage of ravishing costumes and lavish sets that change frequently, working in everything from pastoral jollity to an ancient Carthaginian theme on the way to the Phantom's stunning underground lair. It's totally OTT – in one scene the Phantom zaps at his nemesis Raul with a staff that fires actual fireballs – and anybody who describes the plot (homicidal lunatic grooms girl) as romantic should probably be put on some sort of register. But its blazingly earnest ridiculousness and campy Grand Guignol story are entirely thrilling when realised with the show's enormous budget. And while Hal Prince's production may have been hailed as rather gauche back in the day, in 2013 it all comes across as rather more tasteful than the a
Buy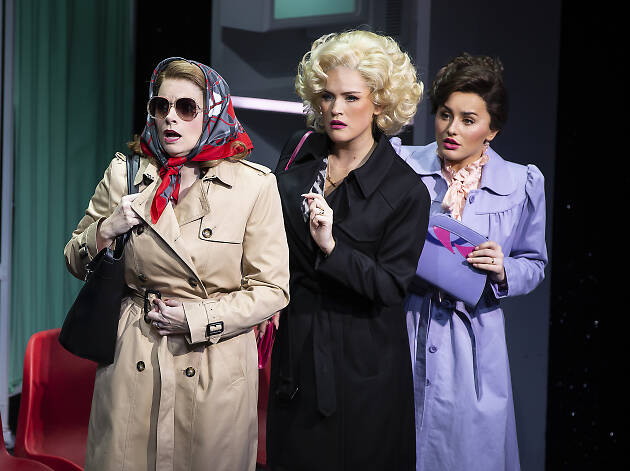 '9 to 5 the Musical' review
Backwoods Barbie, rhinestone queen and all-round country music legend Dolly Parton has her glittering fingerprints all over this musical. She's written all the songs, bar the iconic title track, especially for the show (this definitely isn't a jukebox affair). She's basically in it, as thinly disguised poodle-coiffed doppelgänger Doralee. And in case this escaped you, Parton pops up in video footage to introduce this whole bonkers confection to an audience of mad-keen fans. '9 to 5' is a musical theatre version of the 1980 movie of the same name, which involves Parton, Lily Tomlin and Jane Fonda running round an office and outwitting their dastardly male boss. And although this show started out in LA in 2005, it feels (shudder) pretty post-Weinstein, with its uncompromising focus on male shitness and violent retribution. Doralee (Natalie McQueen) can't so much as climb a stepladder without her sleazy boss theatrically ogling her – and climbing any kind of career ladder is out of the question. Meanwhile Judy (Amber Davies, of 'Love Island' fame) is struggling to get to grips with some delightfully '80s office tech, including a malevolent photocopier that attacks her with sheets of paper. And Violet – played by Caroline Sheen, subbing in for an injured Louise Redknapp who returns to the role next month – is a natural leader who's longing for the promotion she deserves. The plot, when it shows up, is about as ridiculous as these women's ultra-glam interpretation of 'office wea
Buy
The Book of Mormon
Brace yourself for a shock! 'South Park' creators Trey Parker and Matt Stone's broadway smash hit is here.
Buy
The Lion King
The posters have been plastered around the London Underground for years – long enough for this show to become the most successful musical of all time – but nothing prepares you for the sheer impact of 'The Lion King's opening sequence.
Buy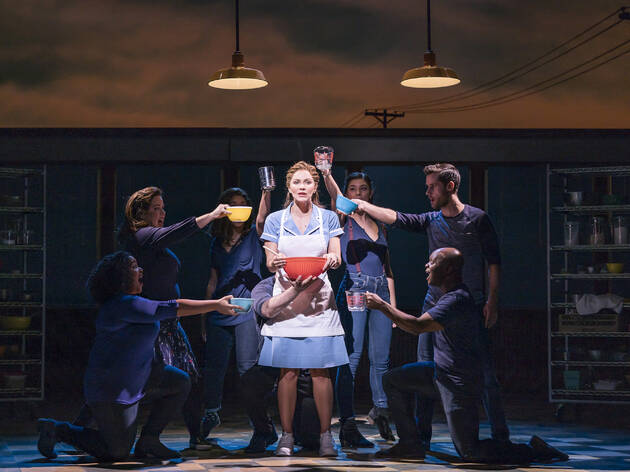 'Waitress' review
Lucie Jones has now taken over from Katharine McPhee in the role of Jenna in 'Waitress'. Blake Harrison and Ashley Roberts have also joined the cast as Ogie and Dawn. The specials board in the diner in 'Waitress' advertises a bacon and blueberry pie. Most of the pies in Diane Paulus's Broadway-conquering show are allegorical: their lurid lists of ingredients are flights of fancy in the mind of Katharine McPhee's titular heroine Jenna, a pie-making prodigy who dreams of escaping her abusive marriage. However, as far as I can tell, the show is serious about the bacon and blueberry one. Bacon. Blueberry. Individually these are reasonable things, but with apologies to American readers, I cannot conceive why anybody in their right mind would even put them on the same level of the fridge, let alone lock them inside a pastry crust. Similarly, 'Waitress' is made from the very finest ingredients, but often they don't actually feel like ingredients that should have been put together. Adapted from Adrienne Shelly's cult 2007 indie flick of the same name, 'Waitress' is a moving musical full of flawed, morally compromised characters of the sort you so rarely get in this type of glossy Broadway show. Everyone, on some level, lets us or themselves down: indeed, the big showstopper, 'She Used to Be Mine' – delivered with exquisitely controlled sorrow by McPhee – is Jenna's bitter ode to her disappointment in herself. There are no heroes here: not Jenna, not her hunky gynaecologist lov
Buy
Our favourite plays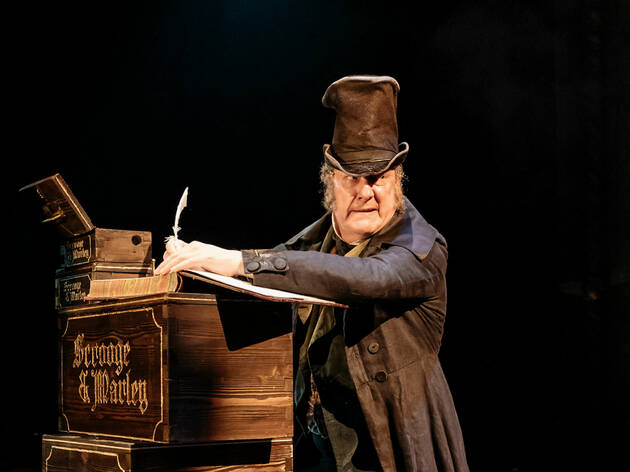 'A Christmas Carol' review
'A Christmas Carol' returns for its third run at the Old Vic in Christmas 2019. This review is for its second run, in Christmas 2018. This time Paterson Joseph will star as Scrooge. I didn't see Rhys Ifans in Matthew Warchus's production of 'A Christmas Carol' last year and I'm glad. He's always a bit self-consciously 'Rhys Ifans', and you absolutely definitely must not doubt the sincerity of this Scrooge if this big, open-hearted test of theatrical nerve is going to come off. If you reckon Dickens paints in broad emotional strokes, hold on to your (top) hat: Jack Thorne's version of 'A Christmas Carol' makes 'EastEnders' look like Ibsen.Stephen Tompkinson's Scrooge starts off physically and emotionally cumbersome. He's a kind of lumbering Anti-Santa: an un-jolly old man who goes round depriving people of stuff. It's an interesting take on the part: as the ghosts show him the errors of his grasping, wasted life, he's all Northern bluster and defensiveness. Around him, there's carol-singing, there's clog-dancing, there's handbell-ringing (and plenty of hand-wringing). It's like the blinking Olympic Opening Ceremony or something. There are also several stunning pieces of visual theatre: Marley's ghost dragging a huge, Lady Di-wedding dress train of clanking chains; Scrooge alone beside a coffin on a wheeled carriage containing his future corpse.It's sort of impossible not to read it all as a Brexit parable: Scrooge is cut off from the whirl of life around him by greed and fe
Buy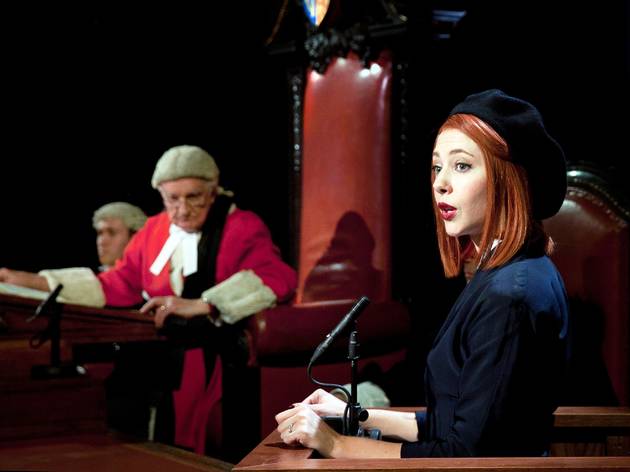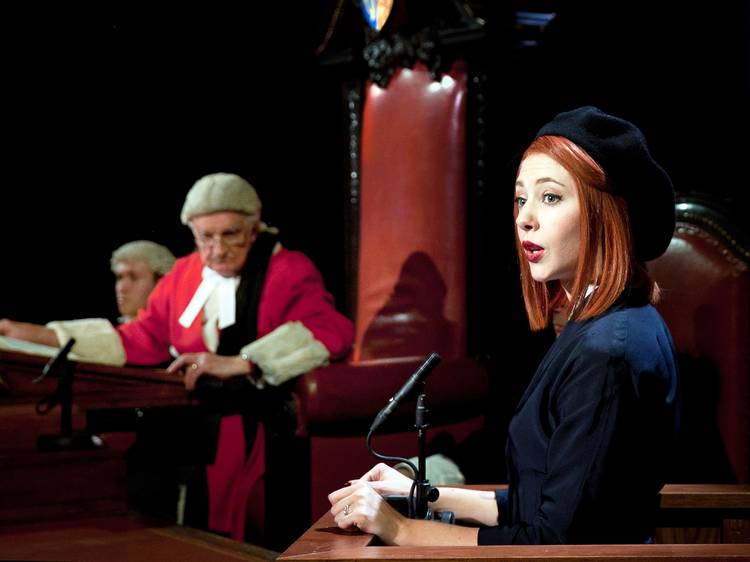 Witness for the Prosecution review
It wasn't all about Poirot's little grey cells or Miss Marple solving murders at the vicarage. In her lifetime, crime writer extraordinaire Agatha Christie wrote 16 plays and a massive 73 novels. Apart from the immortal 'Mousetrap', 'Witness for the Prosecution' – which Christie adapted in 1953 from an earlier short story – is one of the most famous. Like most of Christie's work, you can't say much for fear of ruining the ending. Leonard Vole (a butter-wouldn't-melt Jack McMullen) is on trial for murdering an older woman who has left everything to him in her will. He insists he's innocent, but it all rests on the testimony of his wife, Romaine. What will she say on the stand? When Christie adapted her original story, she shifted the focus almost exclusively to the Old Bailey courtroom. Here, Lucy Bailey's production has the gift of being in the main chamber of London County Hall. Big, austere and grand, it's the perfect setting for the legal theatrics of Christie's forensically precise plotting. Some audience members are even addressed as the jury. If the courtroom is a stage, this play is all about performance. Few are as good as Christie at leading us down the garden path, expectations-wise. She constructs her plot like Vole's barrister, Sir Wilfrid Robarts QC (a charismatic David Yelland), builds his case, before knocking over apparent 'revelations' like dominoes. Bailey plays up the melodrama beautifully, in some scenes lighting the judge's bench like something fro
Buy
The Woman in Black
It's been decades since this skillful adaptation of Susan Hill's 1983 Gothic horror story first started setting West End audience a-shiver. 'The Woman in Black' remains perennially popular – particularly, it seems, with generally hard-to-please teenagers – which is testament to its rough-theatre appeal and the extraordinary and enduring potency, not of guts, gore or special effects, but of simple suggestion. Ageing Arthur Kipps is haunted by sinister events that befell him 30 years earlier. In an effort to exorcise his demons, he hires an actor to help him tell his story for an invited audience. As they rehearse, though, their staging itself becomes prey to supernatural visitations from the titular hatchet-faced, whip-thin, funereally garbed woman. Stephen Mallatratt's dramatisation and a deft production by Robin Herford exploit the peculiarly spooky atmosphere of an empty theatre, making us, as an audience, feel almost like spectral voyeurs. And the chills are irresistibly effective: swirling fog, a creaking rocking chair, a locked door, a pale visage looming out of the gloom. Only occasionally does the staging show its age. The projected image of the gaunt, sinister house of Kipps' tormented memory looks hopelessly cheap and crude, and a graveyard conjured with dust sheets struggles to convince, even within the low-tech aesthetic parameters of the piece. Yet the shrieks and gasps that greet the performance demonstrate that, even in the twenty-first century, this doughty
Buy
Uncle Vanya
Hot on the heels of the return of his Bob Dyan musical 'Girl from the North Country', the great Irish playwright Conor McPherson returns with a new stage adaptation of Chekhov's classic. Whether McPherson applies his full magical realist personality to 'Uncle Vanya' or maintains a light touch, this production is a fairly mouthwatering prospect, with Ian Rickson directing Toby Jones as the eponymous loveable sadsack and Richard Armitage as his friend, local doctor Astrov. The tone of the play tends to vary immensely from production to production – but we're guessing from the blub here that this is going to be a pretty dark take. Rae Smith designs. Tickets go on sale Monday September 30.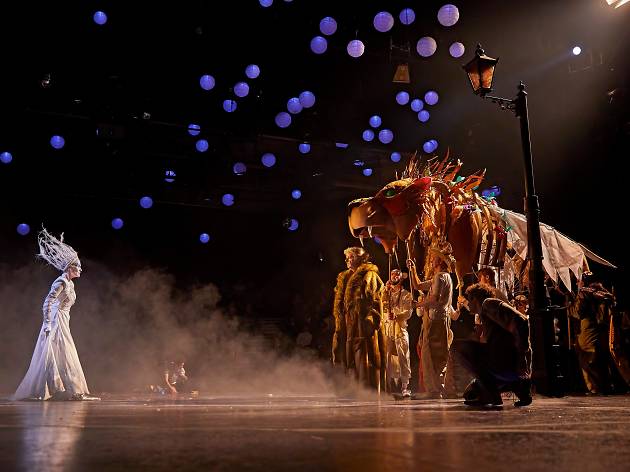 The Lion, The Witch and The Wardrobe
For its first ever family Christmas show, the Bridge Theatre bags the London transfer of director Sally Cookson's devised adaptation of CS Lewis's beloved kids' fantasy novel, which ran to great acclaim at Leeds Playhouse in 2017 undr the aegis of Elliott & Harper Productions. Design for the spectacular in-the-round take on the tale of snow witches and fauns is by the marvellous Rae Smith.
More great theatre tickets