18 #YOLO-inspired places in London
You only live once… so here are 18 places in London you really should try before you die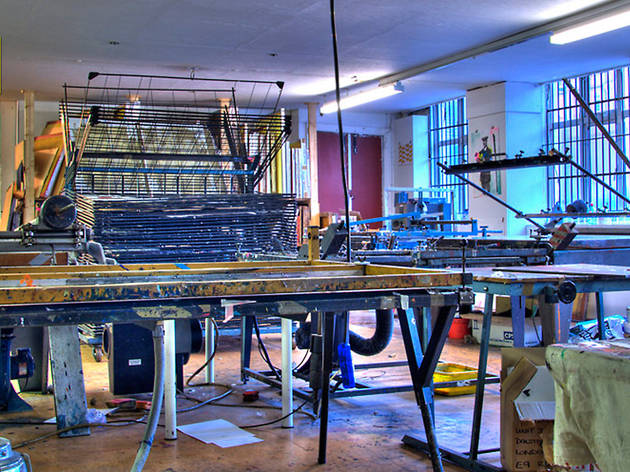 1/18
For unleashing your creativity... Print Club London are the folks responsible for my lack of wall space, and my new-found knowledge of screen printing. As the name suggests, they are a lovely big bunch of designers that manage a printing studio in Dalston. Attend print workshops, get your own designs hand-printed by their Tuckshop or just head to one of the cracking events they hold. If it takes your fancy, you can become a member like me and print to your heart's content. It was one of the first places I reviewed as a Google City Expert because I knew you would be unlikely to stumble upon their studio without knowing about it! Chosen by Louise Tilley See the Time Out venue page for Print Club See Print Club London on Google Maps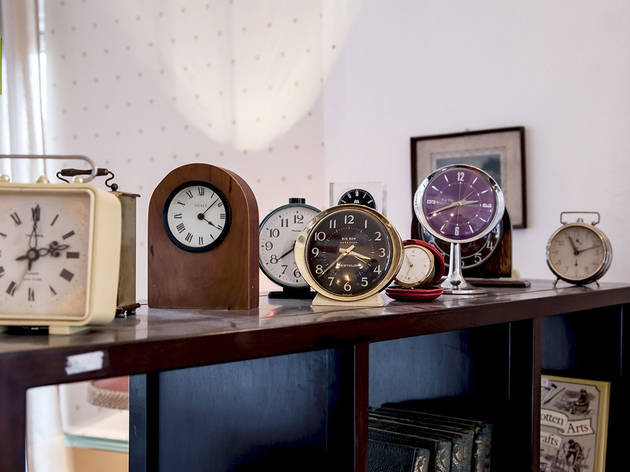 2/18
For feeling like time has stopped (even when the clock is ticking)... I love Ziferblat because it's more than a pay-as-you-go-cafe. You don't only come here for the coffee, you come for the peaceful atmosphere and the lovely vintage decor. Ziferblat is my favourite workspace, a disconnection from the world outside their walls. Despite the fact you pay 3p per minute – and a lovely vintage clock will be ticking on your table counting the time – in Ziferblat, it feels as if time has stopped. The good thing about being a Google City Expert is that you can help small, new places like Ziferblat by reviewing them on Google so more people get to know them! Chosen by Mónica Escudero Read the Time Out review of Ziferblat See Ziferblat on Google Maps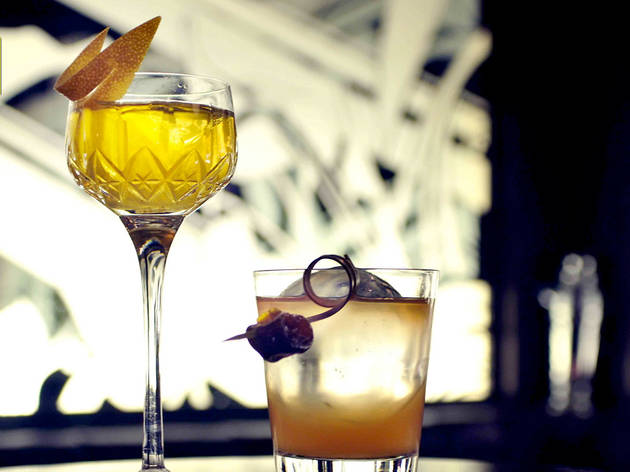 3/18
Britta Jaschinski / Time Out
For drinking a cocktail from every era… From simple prohibition era Mint Juleps all the way up to cocktails served in a hipflask, Nightjar has a huge choice of cocktails with an informative menu separated by era/style and supplemented by knowledgeable staff. Combine this with table service and live jazz and you have the best night out in London, in my humble opinion. It's seating only, so the club never feels too crowded, and you don't have to queue at the bar to crane your neck to see the band. Just look for the door with the bird. Chosen by Xander Wood Read the Time Out review of Nightjar See Nightjar on Google Maps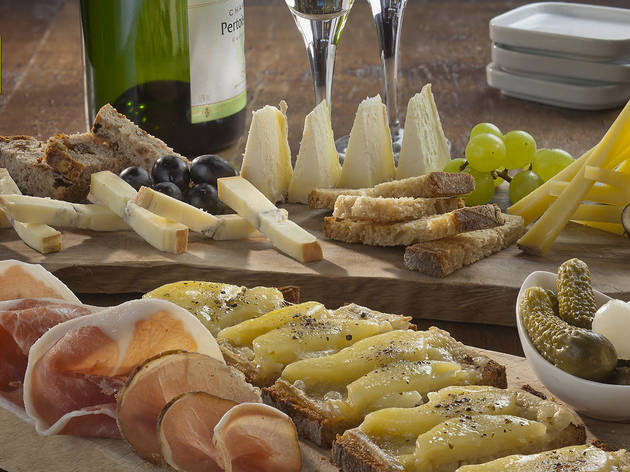 4/18
Giles Christopher - Media Wisdom Photography Ltd
For eating ALL the cheese... If you thought cheese and wine couldn't be topped as a concept, you need to check out Champagne + Fromage, who've invented a formula that's equally tasty and a whole lot more fun. In their bijou bar and restaurant you can sample a wide range of fine French cheeses along with a selection of hand-picked champagnes – all made to the traditional method with none of that prosecco or cava stuff that's all but taken over in recent years! The staff are helpful, friendly and really know their stuff: I recommend dropping in on one of their regular tasting events to make the most of their outstanding selection. You can also book in for afternoon tea with some of the best Parisian-style macarons in town. Chosen by Abi Silvester See the Time Out venue page for Champagne + Fromage See Champagne + Fromage on Google Maps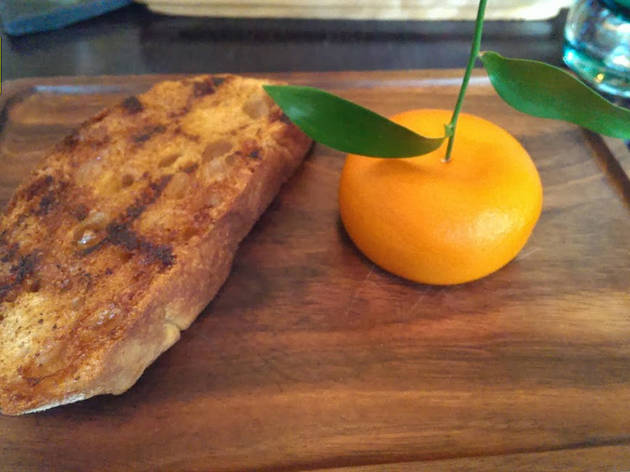 5/18
© Leo McIntosh
For the Willy Wonka food experience... From its mischievous presentation to its sublime texture and taste, the Meat Fruit at Dinner by Heston Blumenthal is food as it should be. Playfully subversive, full of surprise and delight, yet evoking familiarity and warmth. After initial bewilderment, you are amazed at how effortlessly your knife cuts into the mandarin jelly, and how the parfait easily spreads over the grilled bread. You discover that the bread is homely and perfectly crunchy, yet the parfait is smooth and decadently creamy. You smile as each bite reminds you of a hug from an old friend, a comfort you have been without for far too long. Magical. Chosen by Leo McIntosh Read the Time Out review of Dinner by Heston Blumenthal See Dinner by Heston Blumenthal on Google Maps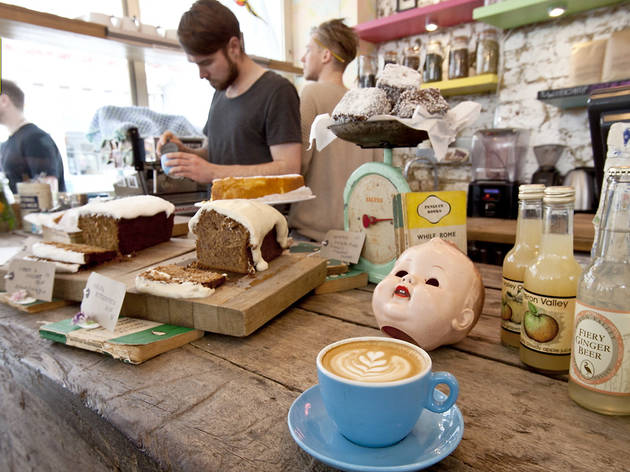 6/18
Ed Marshall
For breakfasts that will never make you want another meal... I love a good brunch and my favourite place in London for that is M1lk in Balham. It's an independent café with a quirky decór, friendly Aussie staff and an amazing range of classic breakfast dishes such as full English, sweetcorn fritters and eggs benedict. The menu also features seasonal specials and freshly baked cakes. Another reason to love M1lk: they use Workshop coffee beans for their espresso-based drinks and Koppi for filter coffee. I first discovered M1lk thanks to word-of-mouth and then reviewed it on Google to spread the word about this little cute place in South London! Chosen by Giulia Mulè Read the Time Out review of M1lk See M1lk on Google Maps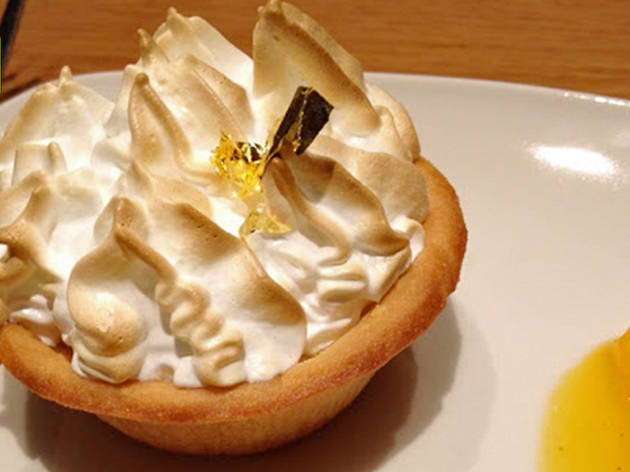 7/18
© Judith Lewis
For delighting in the most decadent of desserts... You have to make time to visit William Curley's dessert bar. With a menu that changes monthly, this special experience is only available on the weekends. Set aside two hours to sit at the bar and enjoy as the patissier makes each of the dessert courses in front of you. Add champagne, of course, but the teas and hot chocolates are also perfect if you don't fancy alcohol. As you'll see from my review on Google Maps, I've indulged in quite a few of the dessert bars! Chosen by Judith Lewis See the Time Out review of William Curley See William Curley's dessert bar on Google Maps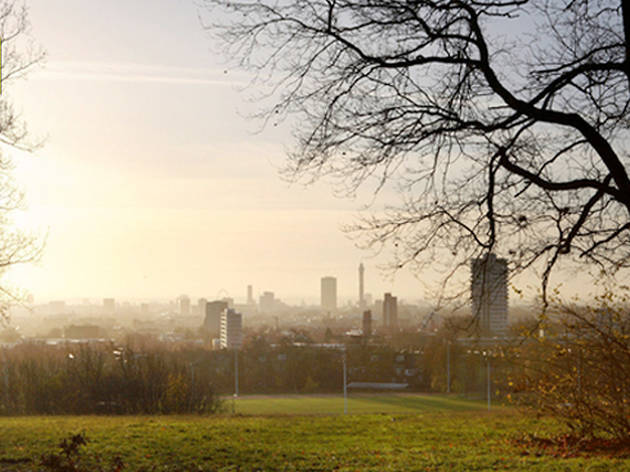 8/18
© Zak Garner-Purkis
For falling in love with London… or flying a kite! Difficult as it is, if I absolutely had to pick an unmissable spot in London, it would be the absolutely stunning views and the tranquillity of the Parliament Hill (on Hampstead Heath). The first time I went there was after watching the comedy-drama film 'Scenes of a Sexual Nature', a substantial portion of which was shot at the Heath. The sense of calm that washes over you as you sit down on one of the benches overlooking the city is indescribable. The grass, the ponds, the endless walks, the curiosity-inducing people: I could go on and on. Be it for the views, or for the solitude. Be it for the lazing around, or for the kite-flying. Be it for a romantic afternoon with your better half, or for a fun-filled picnic with friends. Whichever way it is, go pay Parliament Hill a visit, and you won't be disappointed. Chosen by Manish Sahai See the Time Out venue page for Parliament Hill See Parliament Hill on Google Maps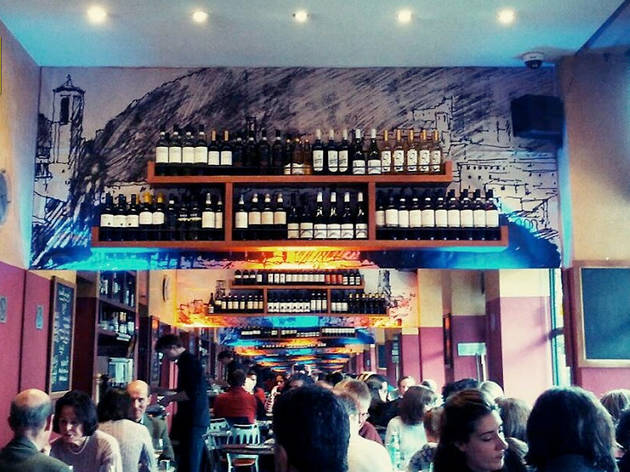 9/18
© Jonathan Seyghal
For breaking away from the same old, same old... For too long our family Sunday lunches up in town had entailed simply visiting the nearest Pizza Express. Until one Sunday I whipped out my phone and looked up Italian restaurants in the 'Explore' section of Google Maps. Ta-da! Hidden away on a side street all these years had been an incredible Italian restaurant called La Delizia Limbara 2007, now a firm family favourite. We would honestly not have ever just stumbled across this place. It's a truly cosy Italian restaurant where you'd better book in advance as the locals know about it and routinely fill it to the brim! Chosen by Jonathan Seyghal See La Delizia Limbara 2007 on Google Maps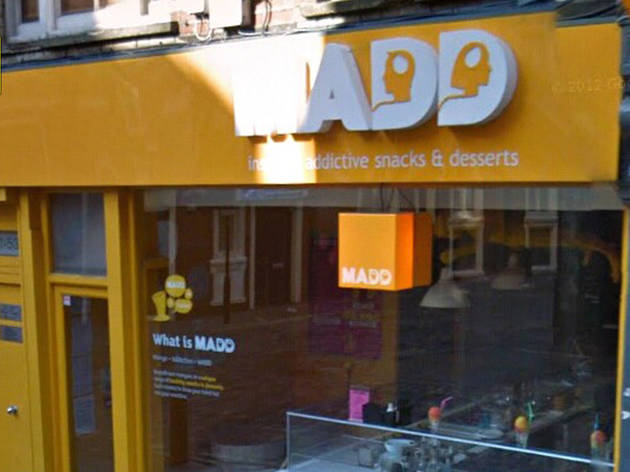 10/18
For going mad for mangoes (and arcade games)... After being introduced to this fun dessert bar by a friend, Madd has quickly become my favourite hangout. It's a dessert/gaming café where the treats come in two flavours: mango, or non-mango. My absolute favourite is the sticky rice with mango! And then there's the arcade games, consoles, board games and much more... you could happily lose a couple of hours in here! Even their cocktails are game themed (Skyrum!!). The staff are lovely and the toilets gender-neutral. What more could anyone ask for?! Chosen by CJ Bruce See Madd on Google Maps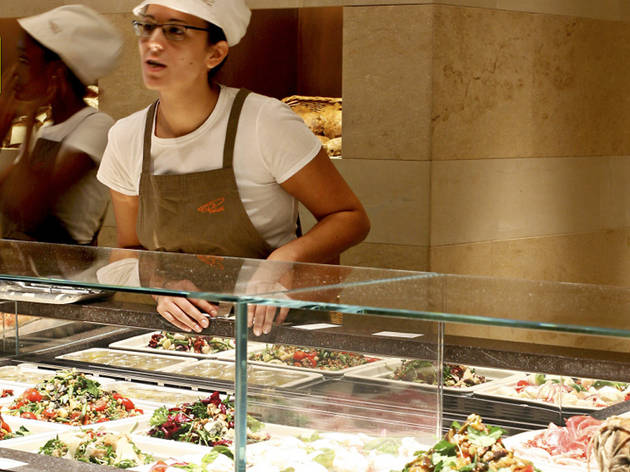 11/18
© Rob Greig
For escaping to Italy (without leaving London)... Ben:Princi on Wardour Street has to be my favourite place in London. It's perfect for any occasion, whether an impromptu rendezvous or a place to catch up with people. I love the atmosphere that goes with this place, the buzz on any given evening means that you can lose yourself in the crowd. Over the past few years I've probably tried about 90 percent of the desserts. Grant: Us busy Londoners don't get much time to stop, but if there is one place I love to go on my days off, it's Princi on Wardour Street (seated preferably at the indoor fountain bar). On any night Princi is rammed with Soho-ites but the real secret is to go there during the day. You would struggle to find a more buzzy and yet relaxing atmosphere. Amazing food, delicious salad bar and really good coffee in an environment so authentically Italian you forget you are whiling away the afternoon in the heart of London. Sorprendente! Chose by Ben Gan and Grant Kemp Read the Time Out review of Princi See Princi on Google Maps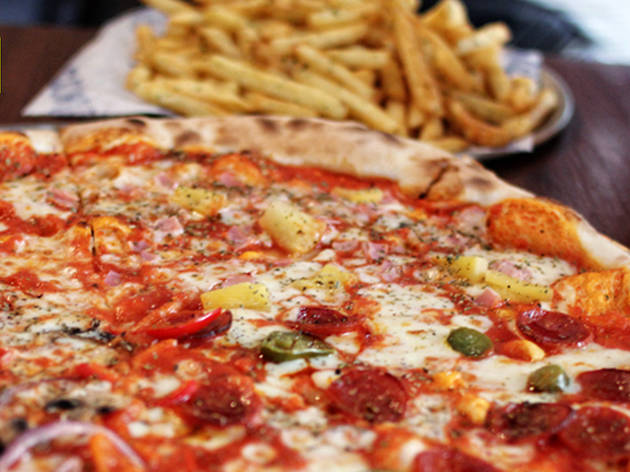 12/18
© Jo Crawford
For an oasis of calm (and chips with chicken salt) in London… The Holborn Whippet, on a Saturday afternoon, is one of my favourite places in London. On a weekday you can barely get through the door but on a weekend it is so calm and the perfect place to go for a pint and one of their massive pizzas – don't forget the chips with the chicken salt! I actually came across it on the Time Out website, then checked the reviews on Google Maps and was instantly sold. Chosen by Jo Crawford See the Time Out review of The Holborn Whippet See The Holborn Whippet on Google Maps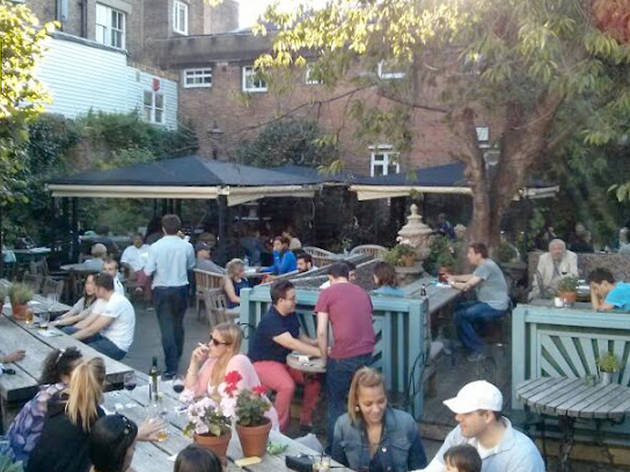 13/18
For drinking in a piece of history... Location may not be its strongest ally at first, but the historic Spaniards Inn is right where it's supposed to be after a nice stroll in Hampstead Heath. The beer garden out back is where locals and their dogs stretch out and catch their breath, and is the best mixture of tree shade and large wooden seating. There's a decent selection of craft beers and pub grub, and the fireplace inside is incredibly cosy. Since I usually rely on Google Maps to find anything around me, it's nice to review places so others can get a good idea of what a place is like. Chosen by Gerard Ward Read the Time Out review of The Spaniards Inn See The Spaniards Inn on Google Maps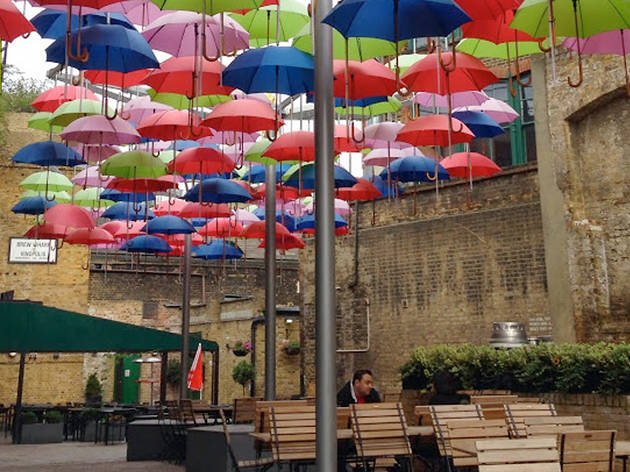 14/18
For satisfying your rumbling tum... I absolutely love Borough Market and being such a big foodie fan, I have to buy something to stop my stomach from complaining. If you'd prefer to save the pennies just have a wander around as there are plenty of tasters to be had. With such a large variety of seasonal produce, cakes, savouries and just everything you'll be spoilt for choice. It's also become a tourist destination in its own right, showcasing just how well London has embraced its multicultural population by offering some of the best of seasonal British and International produce. Best to come on a Thursday or Friday to beat the crowd, or early Saturday morning. It gets very very busy! Chosen by Jennifer Yau See the Time Out venue page for Borough Market See Borough Market on Google Maps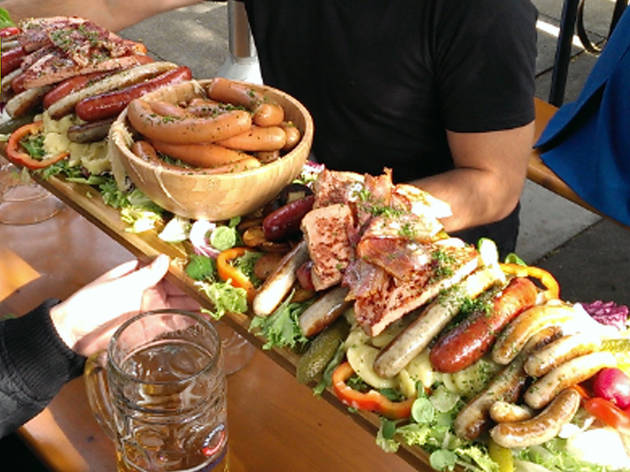 15/18
For facing the Giant Sausage Feast... There are few fonder memories I have than watching the sunset over the River Thames whilst feasting on succulent sausages and refreshing beers at Stein's. Depending on Google Maps to persuade my friends that we were indeed heading the right way up the river, the Stein's shack and benches were a sight for shopping-fatigued eyes. We ordered the Giant Sausage Feast (arriving on a platter and making for an excellent photo for Google City Experts to enjoy), and adored the plumpness of the sausages, the crispiness of the potatoes and the accompanying steins of German beer to help wash it all down. Chosen by Leo McIntosh Read the Time Out review of Stein's See Stein's on Google Maps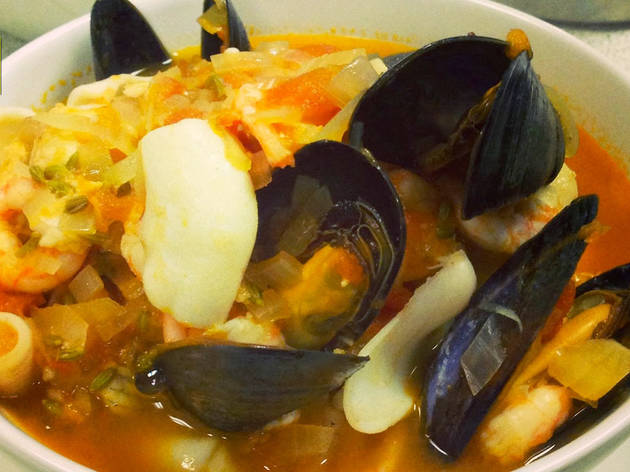 16/18
© Abigail Eats
For filleting a mullet bigger than your arm... The Billingsgate Seafood Training School is located just above the market of the same name, and happens to be one of London's best kept secrets. There, a team of passionate instructors teach everything from environmental sustainability, to the most efficient way to get a fish from crate to plate. I had a ridiculously good evening here thanks to a Time Out voucher I got for their One Pot Suppers class (I filleted a mullet bigger than my arm!) and I wanted to let more people know about the great work they're doing. What better way than with Google City Experts? Chosen by Abigail Eats See The Billingsgate Seafood Training School on Google Maps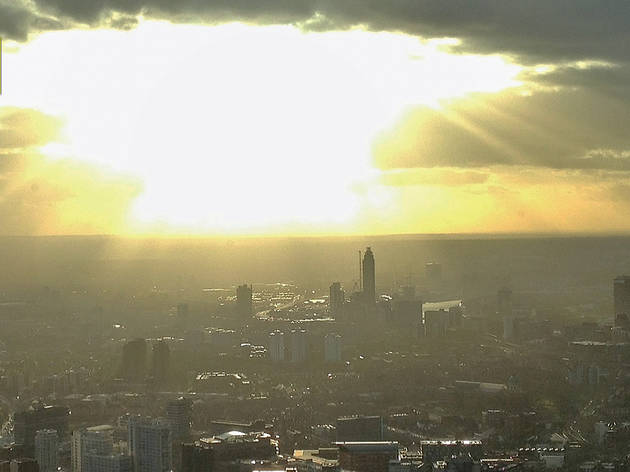 17/18
© Rosanna McPhee
For romantic dates from dawn til dusk... This 95-storey skyscraper allows you one of the best views of London. My first visit to The View from The Shard was just after it opened to the public in February 2013 on a wintry, clear afternoon and I stayed until dusk. I have been back three times since. It's a bit on the expensive side but it's an experience of a lifetime. Chosen by Rosanna McPhee See the Time Out venue page for The View from The Shard See The View from The Shard on Google Maps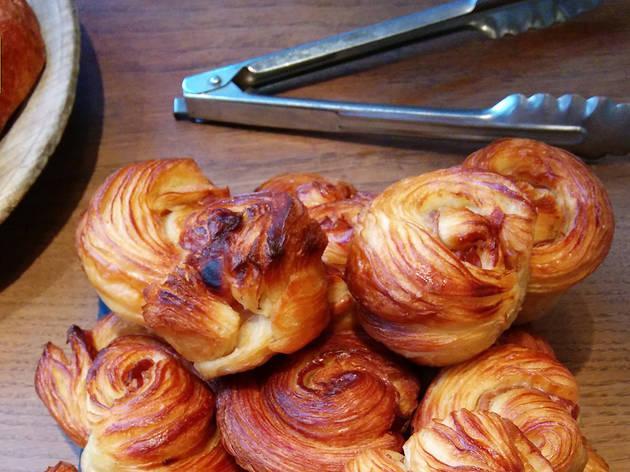 18/18
© Rejane S
For grabbing your caffeine fix without the crowds... Saturday mornings could not be better spent than getting a warm cup of coffee from Monmouth. They have three shops in London but I discovered my favourite one in Bermondsey Spa by accident while searching Google Maps recommendations around Borough Market to get away from the crowds. The eastern site is only open on Saturdays but has some fantastic pastries from The Little Bread Pedlar bakery next door and coffee is of great quality. They always offer some different bean varieties and also serve the most magical espresso. Chosen by Rejane S  See the Time Out review of Monmouth Coffee See Monmouth Coffee on Google Maps
Google City Experts
– the foodies, bloggers and London aficionados who add reviews and photos to Google – to pick out the one thing in London that they'd drop everything to do again. Because, you know, #YOLO.
- Want to use maps offline when you're on the Tube? Just type 'Ok Maps' into the search bar on the Google Maps app for uninterrupted exploring.
- Save your home and work addresses to easily get directions to the next place you're giving a go, or back from an old favourite. Just go to settings on the Google Maps app and 'edit home or work'. Done!
- Stuck for inspiration, or looking for a change from your usual haunts? Tap search and scroll down to Explore on the app to find new places to eat, drink and play.
More great places to try in London