The best places to see cherry blossom in London
Check out these bloomin' brilliant spots to catch London's cherry blossom season in 2019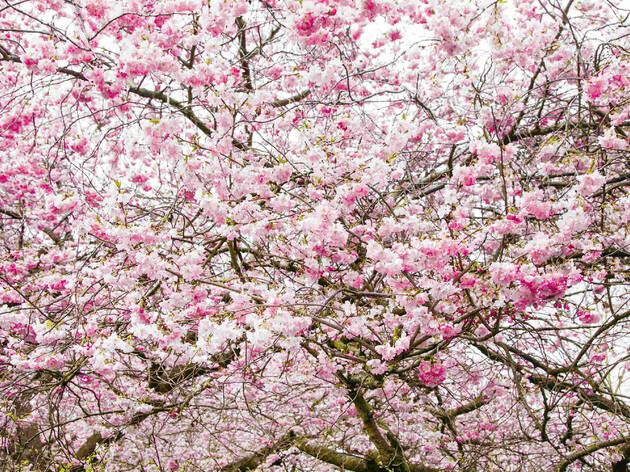 The 2019 cherry blossom season is drawing closer, and people in London are gearing up for a colourful spectacle that signals warmer days are on the way. Cherry blossom season in Japan is a major event, drawing visitors from around the globe to witness the petals in full bloom. This year, some people are forecasting that the blossom will arrive in Japan earlier than usual, and the cherry blossom trees could be full of flowers early in the UK and London, too.
London might not match Japan for sakura action, but there are plenty of bloomin' marvellous places to see the flowers. You can find cherry blossom in some of London's best parks or lining pretty suburban streets. From the candyfloss arches of Greenwich Park, to the Cherry Walk in Kew Gardens, London folk are spoilt for choice. Get your cameras at the ready and track down these top places to see cherry blossom in London.
RECOMMENDED: The best places to see spring flowers in London
Where to find cherry blossom in London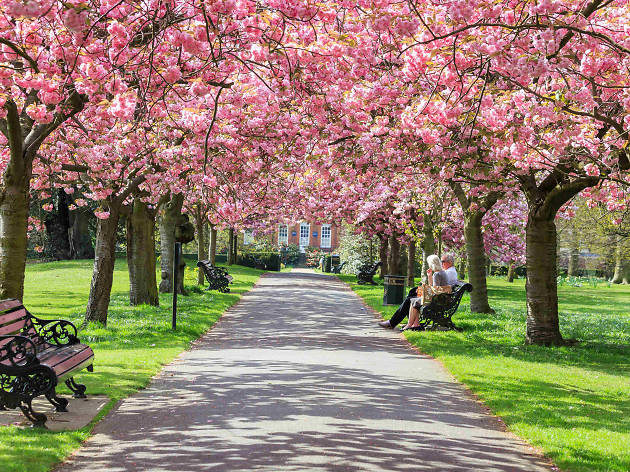 Attractions, Parks and gardens
Just beyond the cricket pitch in Greenwich Park is a road of bursting cherry trees that leads you straight to a Georgian villa called Ranger's House. The tangled branches create a candyfloss arch that makes every pic look like the backdrop of a Lawrence Alma-Tadema painting. Careful not to slip on the magenta carpet of mushed petals.
Image: John Parfrey/Flickr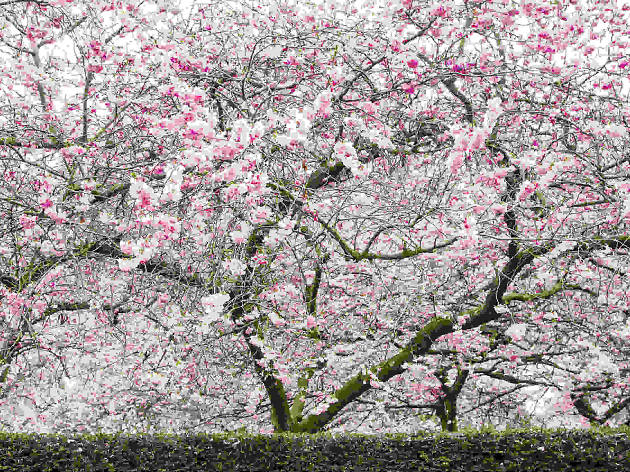 Attractions, Parks and gardens
Walk through the Chester Road entrance and (if you're lucky enough to catch them) you'll find an avenue belted by tall white Sunset Boulevard-variety cherry blossoms. When the light hits, they're all 'Mr DeMille, I'm ready for my close-up'. For more cherry-chasing, hit the south end of Avenue Gardens, where a cluster of pink trees hang over the path like a big bubblegum cloud.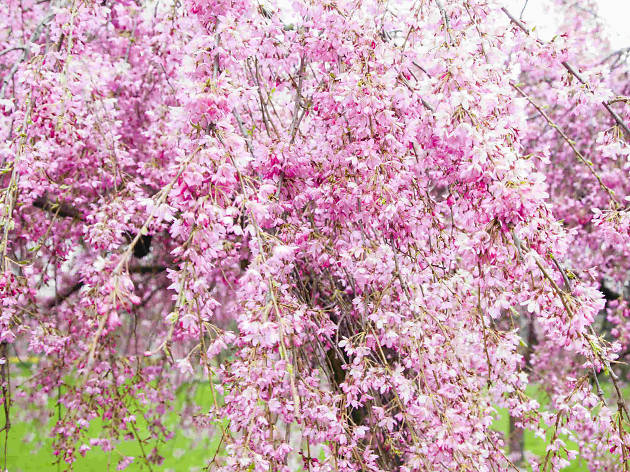 The best way to see the ostentatious blooms of St James's Park is to travel in full circle. At Storey's Gate, you'll meet a clique of eight or so pink trees; keep walking to the Buckingham Palace side to find elegant cherries leaning over the lake. They are among the first to flower most years, so go now to see the petals before they fall.
Attractions, Parks and gardens
London's botany HQ should be booming with blooms by mid to late April. Kew's hunt is less of a challenge: it has its own Cherry Walk, starting at the Rose Garden at the back of Palm House, which is home to Japanese cherries. Two parallel rows with 15 trees apiece form a blushing runway to Temperate House.
Attractions, Parks and gardens
West London is steeped in sakura at this time of year. Many of the fancy pastel homes of Notting Hill Gate are fronted by branches covered in flamingo florets. But you'll get grumpy looks for draping yourself over the gable end of a mansion for photo ops. Instead, try Kensington Gardens. Start at Lancaster Gate where you'll be greeted by blooms and walk to the Albert Memorial, which has six big, blousey pink trees nearby.
Things to do, Cultural centres
A line of skinny cherry trees point straight towards Ally Pally. It's not the most abundant collection of blossoms in the city, but there are plenty of green patches where you can settle in for a hanami (flower viewing) picnic.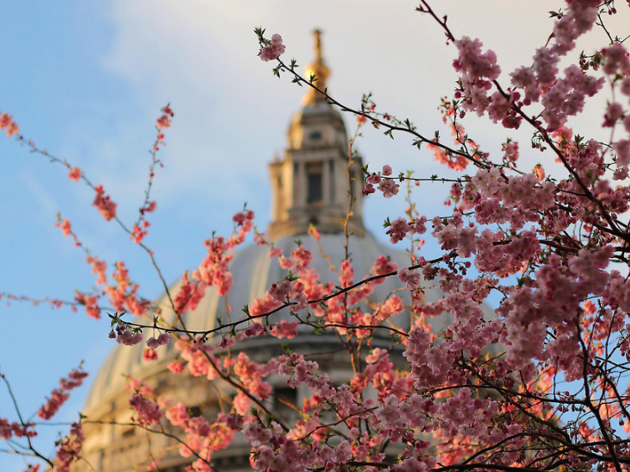 Attractions, Religious buildings and sites
How do you know it's spring in London? When the pale rosy pom-poms on the tree outside St Paul's Cathedral make an appearance. They popped early last year, so visit soon if you're after a petal-framed picture of the dome.
Image: Patrizia Ilaria Sechi/Flickr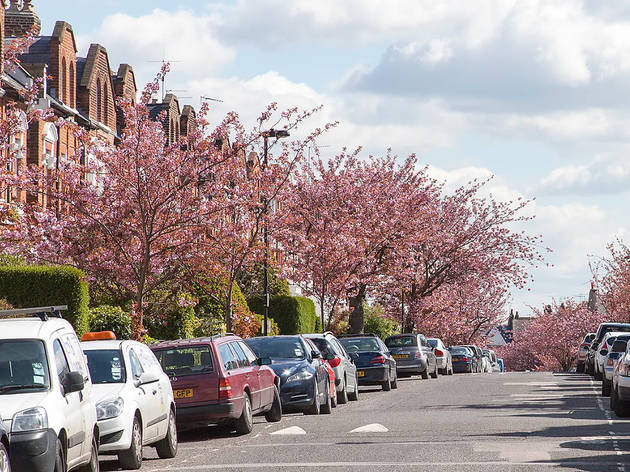 The arborealness of N8 is too often overlooked, but the area usually has some healthy blossoms to offer come April. Just around the corner from Hornsey Town Hall (and Flashback Records, fyi) is Cecile Park, a road lined with pink prunus 'kanzan'. The billowing trees transform it into one of London's prettiest streets.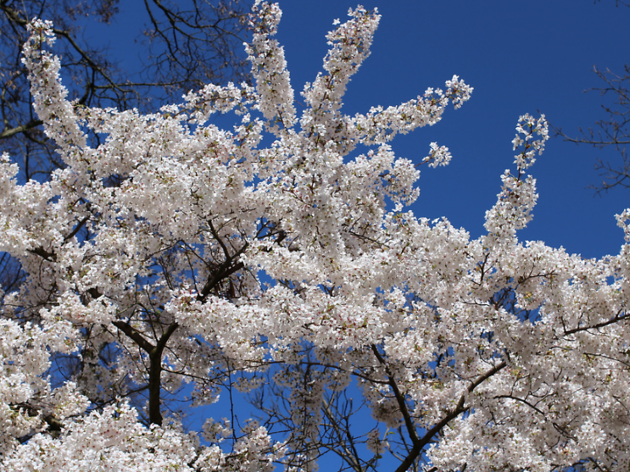 Attractions, Parks and gardens
The Kyoto Gardens in Holland Park was built to celebrate the Japan Festival held in London and across the UK in 1991. It's home to koi carp, a little bridge at the foot of a waterfall and, you guessed it – cherry blossom. It's no Hirosaki Park, but it's a beautiful, unusually tranquil pocket of London that's always at its best in spring.
Image: Paul Howard/Flickr
Find more photogenic spots in London
Hotfoot it to the places on this list and you can sit back and let your surroundings do the work
Nip inside for a cocktail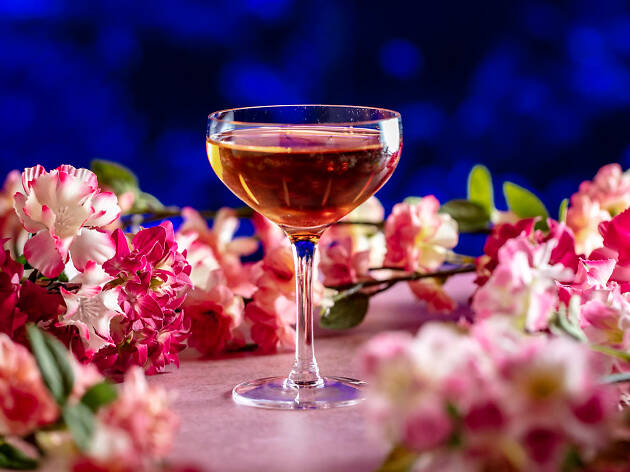 London bars are channelling the spirit of hanami, Japan's cherry blossom (sakura) season, with pop-up floral installations. Drink beneath the glow of pretty pink flowers, sip on blossom-infused cocktails and sake or simply raise a glass of fizz to London's most elegant spring trend. Move fast, though: some of these bloomin' gorgeous pop-ups are as fleeting as the season.