23 places to see spring flowers in London
Get your flower fix with these blossoming beauties – here are the best spots to find spring flowers in London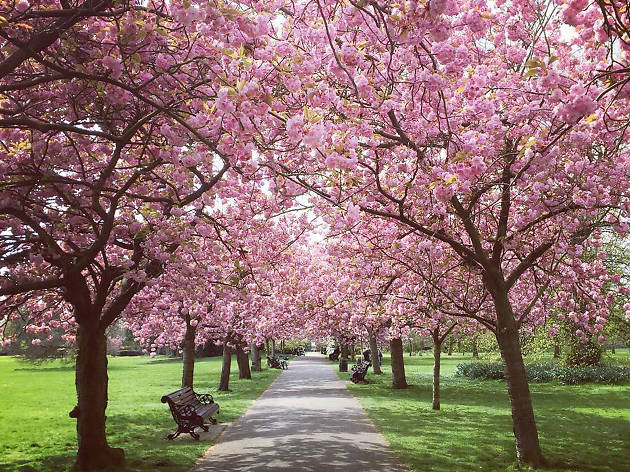 Spring in London is a wonderful thing. As people start coming out of hibernation, our calendars fill up with all kinds of unmissable events for 2019 (check out Kew's Orchids Festival for another flower fix), and the parks and trees burst into life with all manner of pretty petals.
We might be in a sprawling capital city, but doesn't mean there aren't amazing green spaces to enjoy these pops of colour. Time to leave behind those cosy pub fires for another year, and visit London's best parks to soak up some natural beauty. From bright pink cherry blossoms to seas of lavender later in the year, take a look at our list of the best places to see spring flowers in London.
RECOMMENDED: The best things to do outdoors in London
Where to see spring flowers in London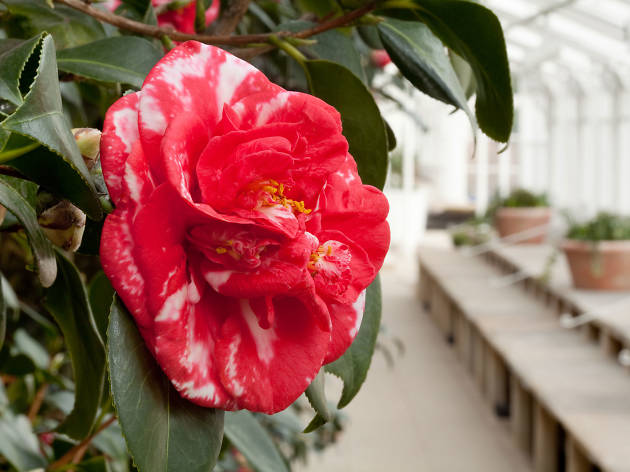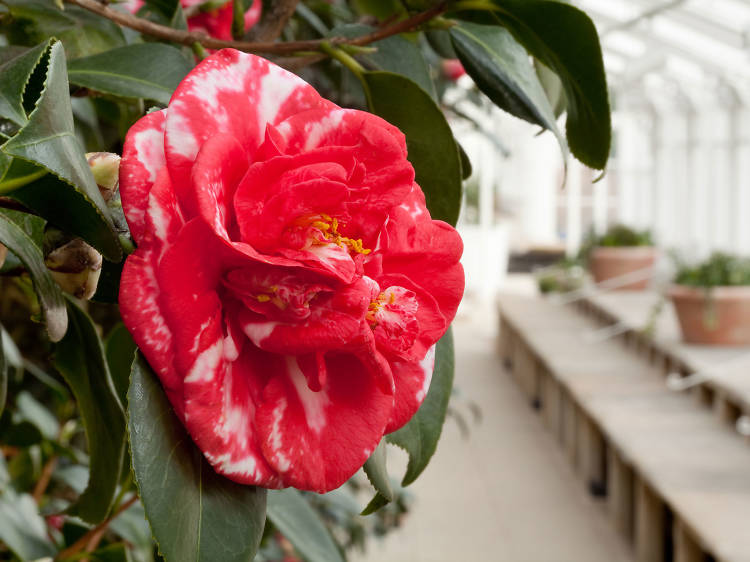 John Fielding
Where? Chiswick House, Kenwood Garden, Isabella Plantation (Richmond Park).
When? February-April.
Flowery fact Chiswick House is home to one of the world's rarest varieties of camellias, the deep pink 'Middlemist's Red'. It was brought back from China in 1804 by Londoner John Middlemist and the only other known plant of this kind is in Waitangi, New Zealand. Hopping on a train to west London doesn't seem like quite so much of a trek now, does it?
Image: Chiswick House, John Fielding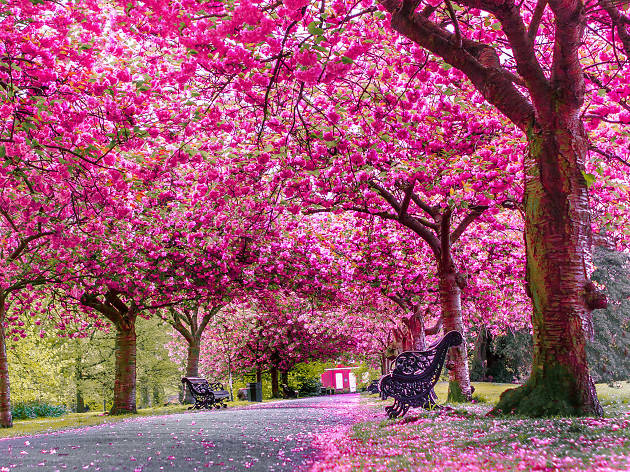 Shadman Chowdhury
Where? Greenwich Park, St Paul's Cathedral, Kew Gardens.
When? March-April.
Flowery fact In Japan, cherry blossom is thought of as the unofficial national flower. They call it 'sakura', which is also the word for 'raw horsemeat'. No prizes for guessing which will get you more likes on Instagram.
Image: Greenwich Park, @shadz_ig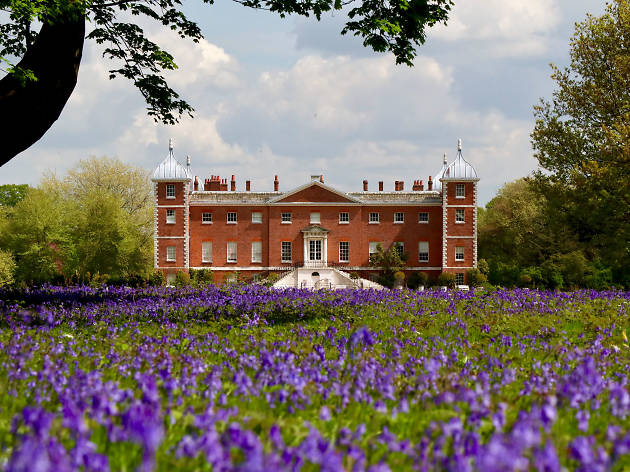 @loucamera
Where? Osterley Park (Hounslow), Highgate Wood, Wanstead Flats.
When? Mid April-May.
Flowery fact Bluebells are a protected species, so don't be tempted to pick them and take them home. What would Sir David Attenborough think?
Image: Osterley Park, @loucamera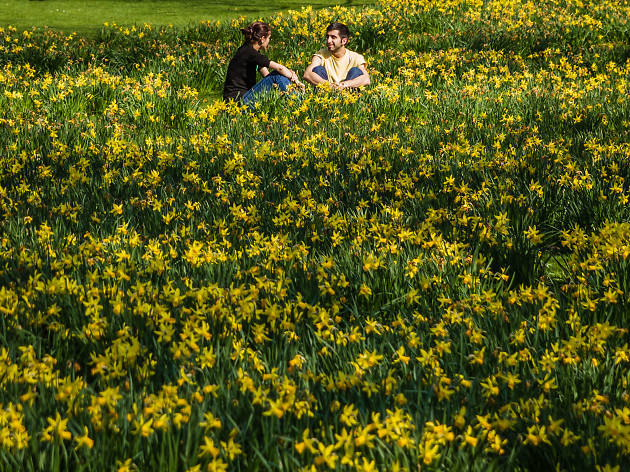 @rodwey2004
Where? Green Park, Hampton Court Palace, St James's Park.
When? March-April.
Flowery fact Green Park is a sea of yellow in spring, with 1 million daffodils in bloom – but that's the only time you'll see flowers there. The park has no formal flower beds – rumour has it that's because King Charles II's wife had them removed after she caught him picking flowers there for another woman. Busted.
Image: St James's Park, @rodwey2004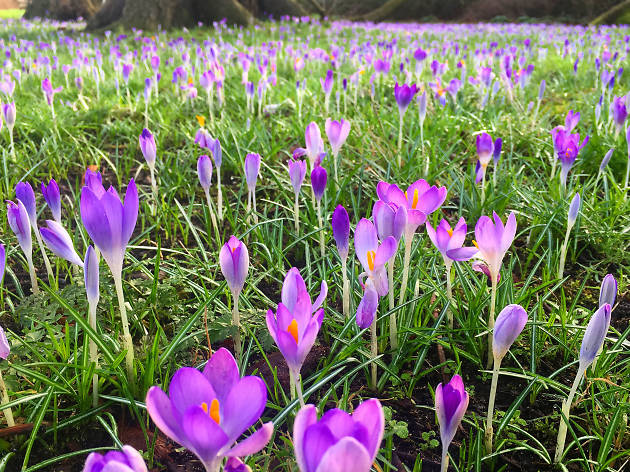 RBG Kew
Where? Kew Gardens, Cannizaro Park (Wimbledon), Battersea Park.
When? March-early April.
Flowery fact Kew's impressive 'crocus carpet' makes up just part of the whopping 5 million bulbs planted in the gardens. In total, it's the biggest spring flower display in the country. Who needs the countryside?
Image: Kew Gardens, RBG Kew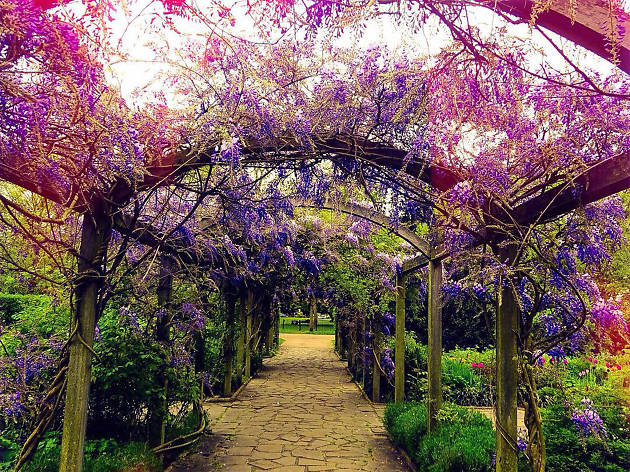 @misskizzylew
Where? Peckham Rye Park, Hampstead Heath Pergola, Holland Park.
When? April-June.
Flowery fact Built in the 1900s, the Hampstead Heath Pergola is as long as 1 Canada Square at Canary Wharf is tall. In spring, it's even more impressive, as it gets covered with Parma Violet-coloured, sweet-smelling wisteria. Cop a whiff of that!
Image: Peckham Rye Park, @misskizzylew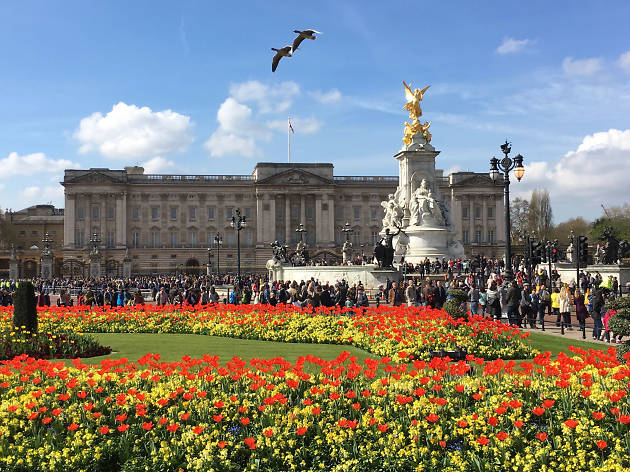 @piccoloexplorer
Where? Buckingham Palace Memorial Gardens, Regent's Park, Kensington Gardens.
When? March-May.
Flowery fact Created in honour of Queen Victoria, the Memorial Garden outside Buckingham Palace is filled with around 50,000 yellow wallflowers and red tulips. Replanting takes up to ten staff around two weeks. That's a lot of bad backs.
Image: Buckingham Palace, @piccoloexplorer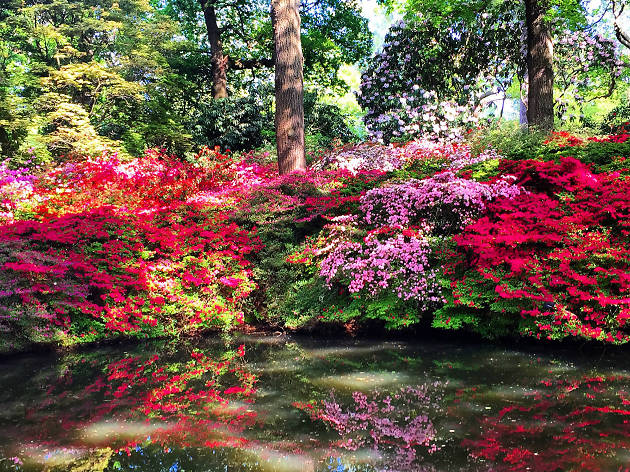 Shereagh Dunphy
Where? Isabella Plantation, Kenwood House.
When? April-May.
Flowery fact Hidden away in Richmond Park, Isabella Plantation is home to 100 different varieties of azaleas – but it hasn't always been a flowery haven. Back in the seventeenth century, it was known as The Sleyt, which meant 'boggy ground'. Doesn't sound quite as aesthetically delightful.
Image: Isabella Plantation, Shereagh Dunphy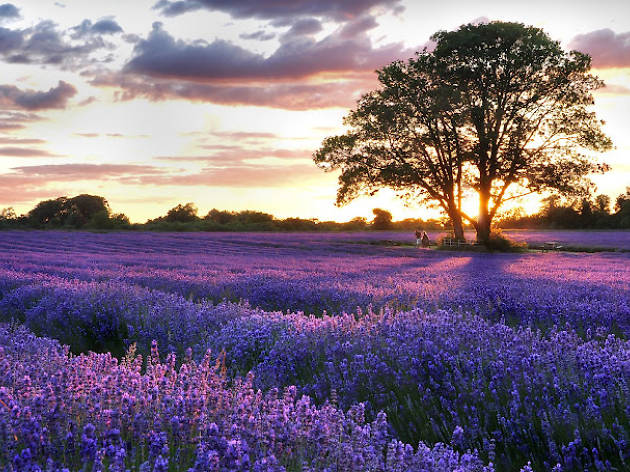 © Mayfield Lavender
Where? Mayfield Lavender Farm (north Surrey), Vauxhall Park, Kennington Park.
When? July-August.
Flowery fact You might associate lavender with sunny Provence, but you don't need to cross the Channel to see rolling, perfumed fields of the stuff. Mayfield Lavender planted its gorgeous purple fields in 2010 to revive the historic lavender industry, which boomed here in the eighteenth and nineteenth centuries. Entry costs just £2 per adult. Close your eyes and you might almost feel like you're in France. Almost.
Image: Mayfield Lavender
Explore more of London's natural side
Gardens that you won't find growing in the guidebooks
Snap up exclusive discounts in London
Time Out's handpicked deals — hurry, they won't be around for long...