Heads up! We're working hard to be accurate – but these are unusual times, so please always check before heading out.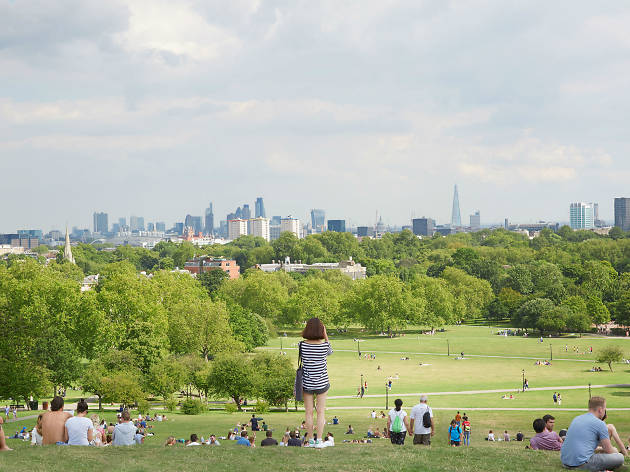 Eight places to see incredible views of the London skyline for free
Want to really appreciate the London skyline? These spots prove that the best views of the city come free
Ah, the bright lights of London. Whether it's your first time visiting or you've been born and raised here, there's no denying that this city is a looker.
Don't believe us? Try drinking in the capital with a panoramic view - that should do it. You could head to a fancy rooftop bar for lovely views, but this list is all about the grassy vantage points that are completely free.
So pack a picnic, maybe a few cans of mojitos, and set off at sunset to one of these romantic spots to get glorious views of central London.
RECOMMENDED: More totally free things to do in London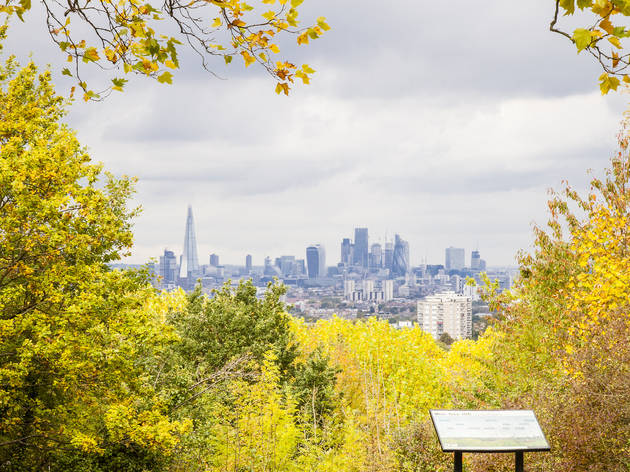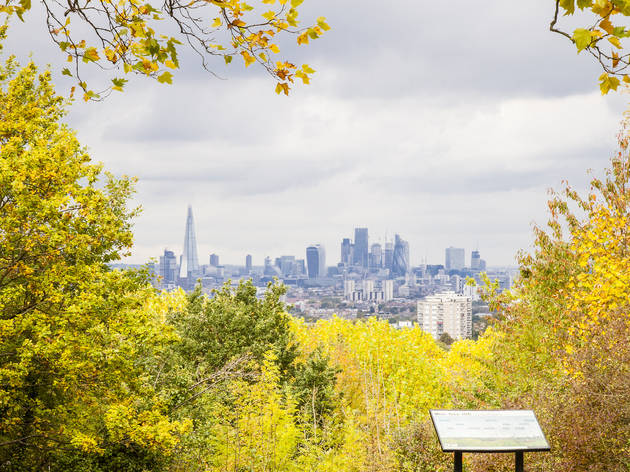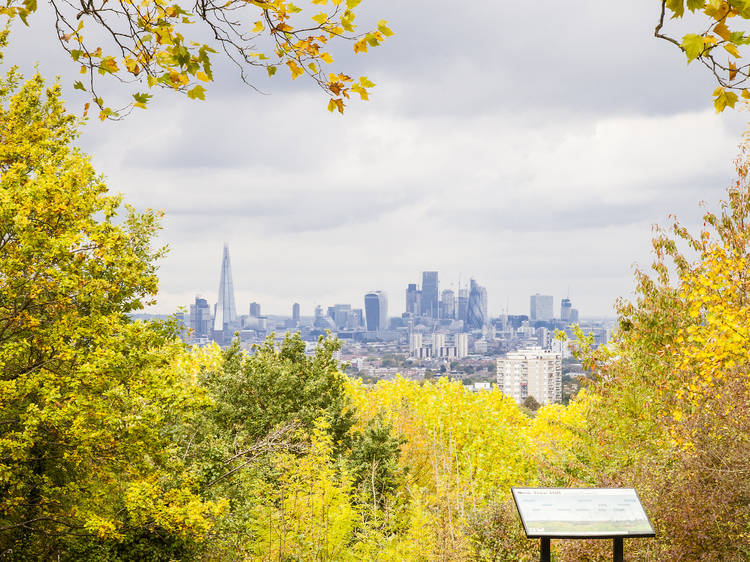 Andy Parsons
Almost certainly not the inspiration for the glossy US teen TV drama, One Tree Hill stands between Forest Hill and Brockley, and offers an unexpectedly breathtaking view of London to the north. Climb the steps to the summit and the cityscape is framed by hybrid black poplars and London plane trees. You're standing above Europe's largest underground reservoir, and there are the remains of a WWI anti-aircraft gun emplacement nearby, both of which add a frisson to the splendid vista. Honor Oak, SE23. Honor Oak Park rail.
When Tate Modern opened its iconic extension in 2016, it very decently included a viewing level in the design. Thanks, Tate Modern! Now, as well as looking at all that amazing free art, visitors can enjoy a free 360-degree panorama of the city (you can see as far as Wembley Stadium on a clear day). While lots of London galleries have great views from their penthouse cafés – the National Portrait Gallery, for example – you won't even have to fork out for a cup of tea to take in this one. Bankside, SE1.
One New Change is a curious, stealth bomber-esque retail temple in the City of London. Designed by lauded French architect Jean Nouvel, it's slap-bang next to St Paul's. Take the glass lift up to the terrace, James Bond-style, and you'll find a swish bar and restaurant that's a big hit with City slickers. Those looking for a cheap date should carry on past the banker bait and head to the public viewing area (which is actually closer to Wren's masterpiece). Take some M&S tubs and a big bag of crisps then cop an eyeful of the house of the Lord as the sun goes down behind it. 1 New Change, EC4.
Ally Pally was conceived as north London's answer to the Crystal Palace, and – as befits 'The People's Palace' – its socially democratic views are free to all and stunning, with the whole of London laid out at your feet. But spare a thought for its southern cousin as you drink it all in. The Crystal Palace burned down in 1936, and its namesake football team is now managed by Roy Hodgson. South Terrace, N22.
Yes, it's a cliché, but the sight of London from the top of Primrose Hill really is great. As a result, this 213-foot hill is one of the capital's 13 protected vistas: spots where the view must remain untouched by development. Back in the day, the hill was used for duelling, but these days you're more in danger from poshos flying kites. Primrose Hill Rd, NW1.
This Richmond Park hill is said to be where Henry VIII stood, heart in mouth, waiting to spot a rocket let off from the Tower of London to signal that his missus Anne Boleyn had been beheaded. This is probably bollocks. Either way, since 1710 the view's been protected. Generations of gardeners have kept it foliage-free, so you can gaze all the way down the Thames to the City of London. Richmond Park, TW10.
Never mind 'Blade Runner 2049' – we're all about 'Blade Runner 2017', as embodied by the three-storey Sky Garden at the top of the Walkie Talkie. A little corner of Dubai in the sky, it's the hanging gardens of our modern Babylon: lush and lovely, with 'Wow! London's mad!' views of the city and up and down the Thames. It's also free to enter (though you have to book). Sure, the upmarket drinks and food are pricey, but with a free window seat this good, who cares? 20 Fenchurch St, EC3.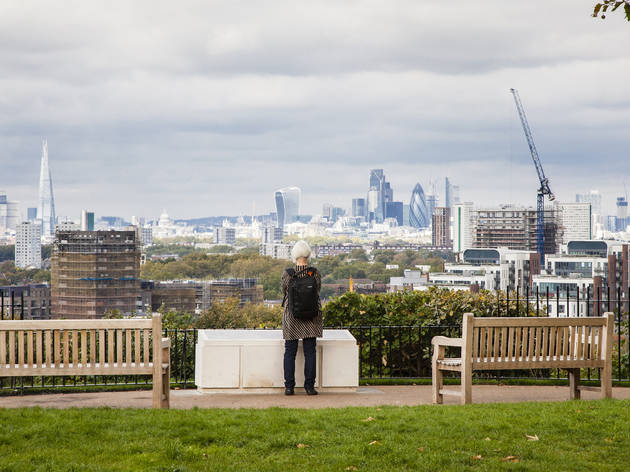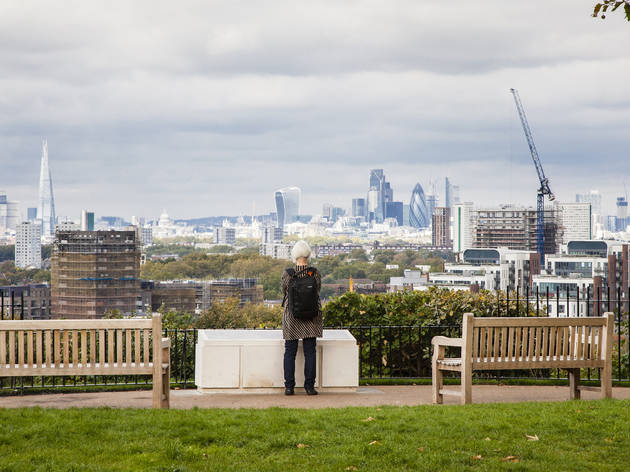 Andy Parsons
The view of London from beside the Royal Observatory in Greenwich Park is immense, so it's inevitably swamped by a sea of tourists beneath a waving canopy of selfie sticks. Head just ten minutes up the road, though, and The Point offers almost as great a vista which you can enjoy in virtual seclusion. Take a bottle of something and some plastic cups, colonise one of the two romantic benches, and watch the sun descend in the west. Plus, unlike Greenwich Park, there's no chucking-out time up here. Point Hill, SE10.
Get high at London's best rooftop bars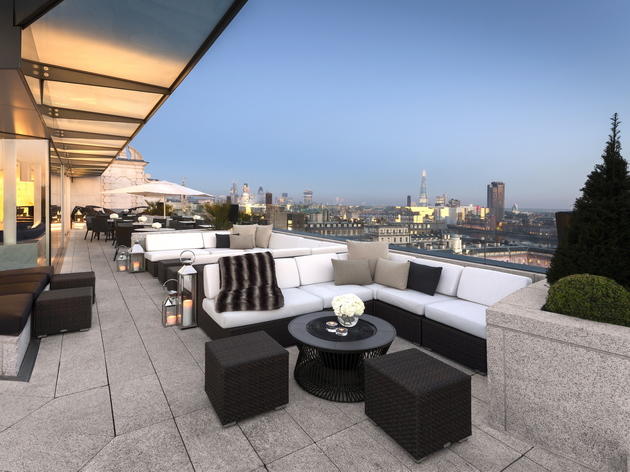 London's best rooftop bars
At London's best rooftop bars, you'll find swish cocktails, plush lounges and gourmet bar snacks galore, not to mention a front-row seat to the sexiest skyline on the planet.