Notting Hill Carnival information
Plan your day at Carnival now – here's all you need to know about travel, visiting with children and staying safe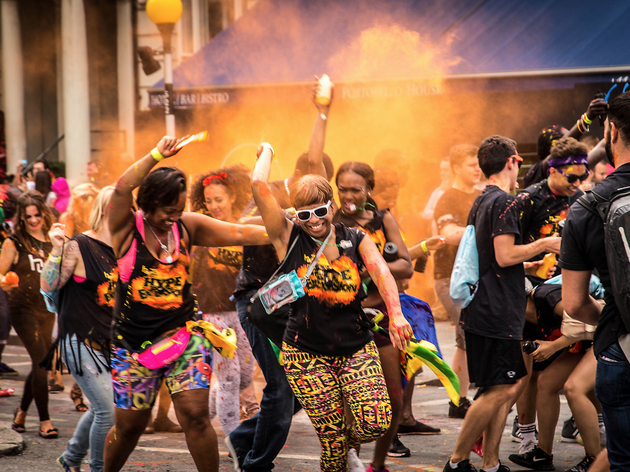 If you're heading to Notting Hill Carnival this year, be sure to check out our Notting Hill Carnival information guide. Crammed with everything you need to know about the floats, trucks and soundsystems, plus advice on how to stay safe over the weekend and details on entertaining the kids at the event. Our info guide is a must-read before attending Carnival 2017.
RECOMMENDED: Read the full Notting Hill Carnival guide
Everything you need to know about Notting Hill Carnival 2017...

1. THE BASICS.
When is Notting Hill Carnival 2017?
The parade begins at 9.30am on both Sunday August 27th and Monday August 28th. Judging finishes at 6.30pm. Soundsystems play on both Sunday and Monday, with a strict noise curfew at 7pm, giving floats, trucks and parade bands time to clear the streets by 8.30pm.
Where does it take place?
On the streets of W10: Notting Hill, Ladbroke Grove and Westbourne Park.
Do I have to pay?
Nope. Notting Hill Carnival is completely free, but most after-parties and warm-ups at bars and clubs do charge.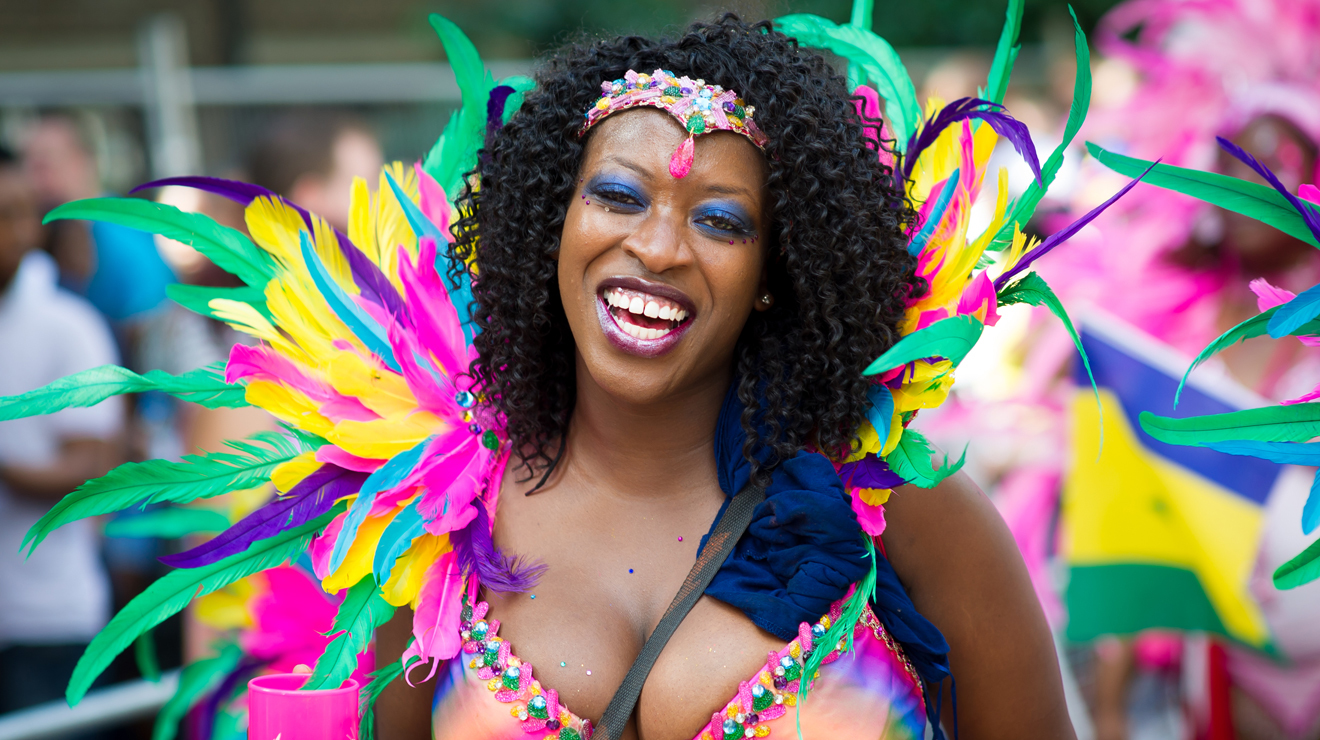 What's the music like?
A patchwork of Caribbean-influenced sounds: reggae (old and new), dub, dancehall, soca and calypso. Plus soul, afro beat, house, funk, drum 'n' bass, jungle, dubstep, ska, breaks and more. All thumping from 37 dedicated soundsystems. Oh, and there's steel and mas (short for masquerade) bands on the main route and African drumming at Powis Square too.
What happens on Sunday?
Sunday is 'Children's Day' – a more relaxed start before the hard-partying main parade on Monday. Between 6am and 9am, early visitors to Canal way, Ladbroke Grove W14 can catch the Jouvert procession, a traditional Caribbean event where revellers smother each other in colourful powder, paint and melted chocolate to a steel band soundtrack. Between 9am and 7pm, there's a colourful parade for children and eclectic sounds from the World Music Stage at Powis Square.
What happens on Monday?
Monday's the Grand Finale, when more than 60 bands, 37 soundsystems and countless sequin-covered dancers on floats parade very slowly around W10. Check our route map for more information then hit up the surrounding streets, bars, pubs and clubs to continue the party.
What can I eat there?
As you'd expect, many food stalls sell traditional Caribbean food. But there are other options, including BBQ and veggie food, if jerk chicken and curried goat ain't your thing.
Can I still party once Carnival is finished?
There are loads of great after parties on Sunday and Monday, plus warm-up parties on Saturday. Take a look at our list of Notting Hill Carnival warm-up and afterparties.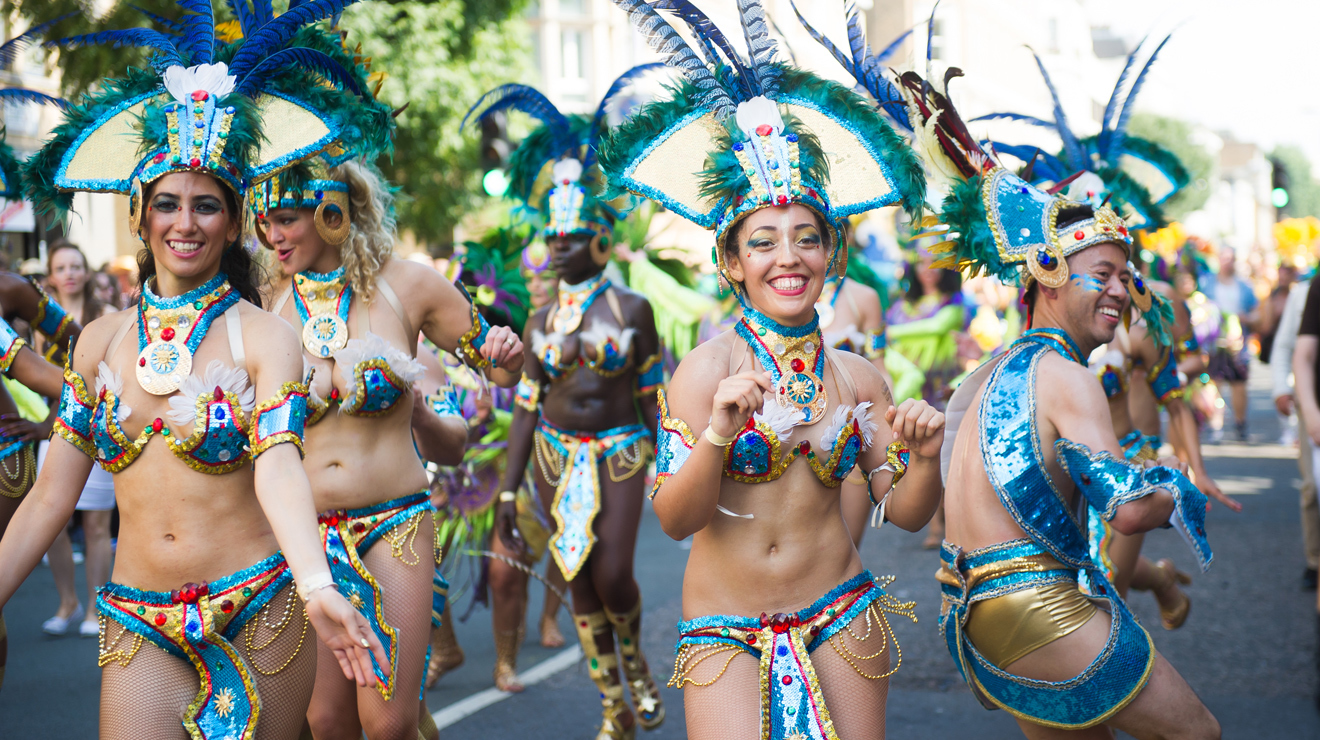 3. IMPORTANT TRAVEL INFO.

Carnival always leads to major changes to the local tube and bus services. We definitely advise planning your journey to and from Carnival before you set off.
TUBE
Some stations around the carnival site will be exit-only or close early on Sunday and Monday. Stations may shut temporarily to prevent overcrowding. Be patient and consider strolling to a station a bit further away as part of your journey home. Here's info on some key stations:
Ladbroke Grove
Station closed on Sunday and Bank Holiday Monday.
Latimer Road
On Sunday and Bank Holiday Monday the station will close at 11.30pm.
Notting Hill Gate
On Sunday and Bank Holiday Monday the station will be exit only between 11am and 7pm. Between 11am and 7pm Circle and District line trains will not stop at this station on Sunday or anytime on Bank Holiday Monday.
Westbourne Park
Exit only between 11am and 6pm on both days. The station will close at 11.30pm on both days.
Holland Park
Exit only from 7pm on both Sunday and Monday.
Royal Oak
Exit only between 11am and 6pm on both days. The station closes at 6pm on both days.
Bayswater
On Bank Holiday Monday between noon and 7pm, it may be advisable to use this station as Circle and District line trains will not stop at Notting Hill Gate.
Paddington (Hammersmith and City and Circle lines)
On Sunday and Bank Holiday Monday, it may be advisable to use this station instead of Notting Hill Gate/Royal Oak as both these stations will have entry restrictions.O
Other nearby stations that aren't affected
High Street Kensington (Circle and District lines), Queen's Park (Bakerloo line) and Shepherd's Bush (Central line).
OVERGROUND
Queen's Park, Kensal Rise, Kensal Green and Shepherd's Bush stations will be running a normal timetable as will the majority of the London Overground network on Sunday. A Saturday timetable will run on Bank Holiday Monday.
BUS

While extra services will be in operation on routes 2, 36, 205, 436, 2X, 36X, 205X and 436X, no buses will enter the Carnival area from first thing Sunday morning until the first service on Tuesday morning.
Night buses in the area will also be subject to diversions. On both Sunday and Monday, bus services begin from Notting Hill Gate in the south and from the Prince of Wales on Harrow Road (close to Elgin Avenue) in the north. Bus stops within or adjacent to the area will carry displays about diversions or disruptions.
CYCLE HIRE
Some local docking stations will be suspended or removed for Carnival, so don't count on there being space to dock your bike.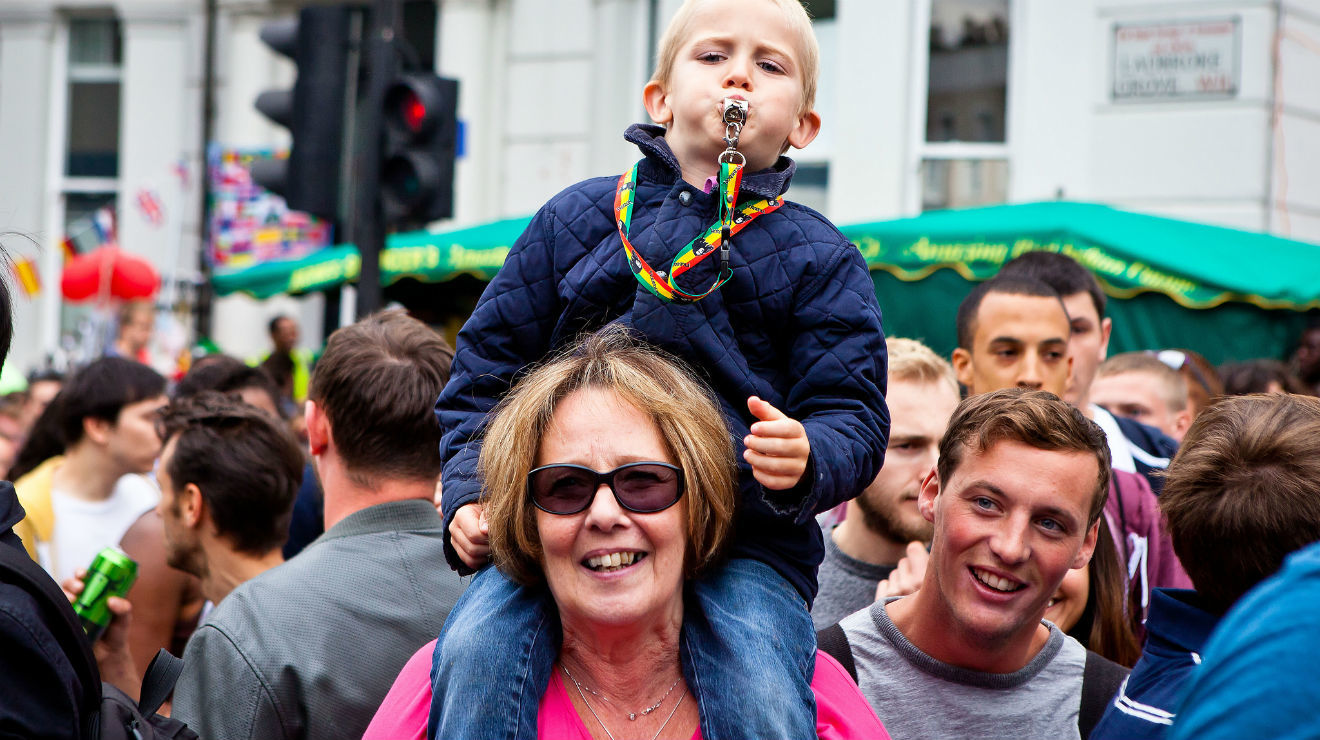 3. HELPFUL TIPS AND SAFETY ADVICE.

Should I take my children?
Of course, Carnival is most kid-friendly on Sunday, known as 'Family Day'. Arrive early to beat the crowds. Bring travel potties, snacks and water because queues and kids aren't the most compatible combo. Top tip: Write your mobile number on your child's arm, so they can contact you if you get separated.
Is it dangerous?
Don't be put off by the scare stories. Carnival is well policed and the crime rate is generally very low. As long as you take basic precautions – leave valuables at home; don't flash phones, cameras or expensive gadgets around; stay with friends – then the whole thing will be a blast.
Doesn't it get really crowded?
With up to 2 million attendees (that's the equivalent of 11 Glasto festivals FYI), things are bound to get a little crowded. If you're feeling claustrophobic there are safe zones to give you a breather from the main action (marked in yellow on our map).
How much money should I bring?
Enough for the whole day. Local cash machines tend to run out of dosh very quickly.
Will I be able to get phone signal?
Probably not. It's a large festival and that means spotty phone coverage. So make sure to agree on a meeting point with your friends.
What should I wear to Carnival?
Something fabulous and something waterproof. Wear comfy shoes (that you don't mind getting dirty) and give flip-flops and open-toed footwear a miss, unless you want your feet to get crushed by the galumphing masses. Set off with more than a muscle tee if you're out for the duration.
And finally, watch our video of last year's parade to get you in the party mood...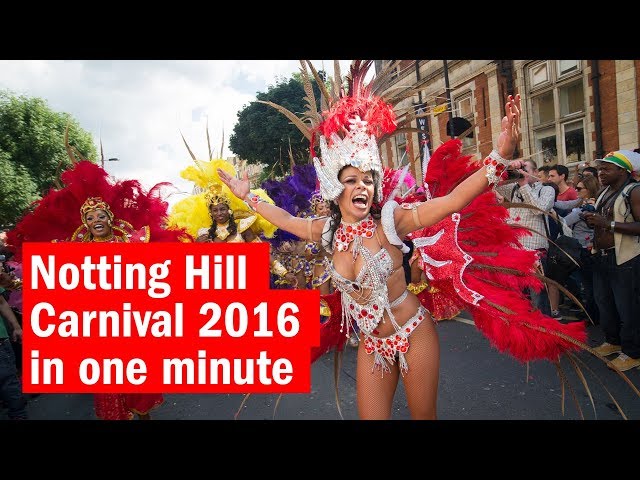 More Notting Hill Carnival
Ms Dynamite, The Heatwave's Gabriel, Gaz Mayall (Gaz's Rockin' Blues) and more share their advice for having a ball over the August bank holiday.
Read more
Carnival's exotic outfits, banging music and strong Caribbean liquor are a perfect party combination. Here are the hottest pre-and post-Carnival parties this August bank holiday
Read more