Notting Hill Carnival information
Plan your day at Carnival now – here's all you need to know about travel, visiting with children and staying safe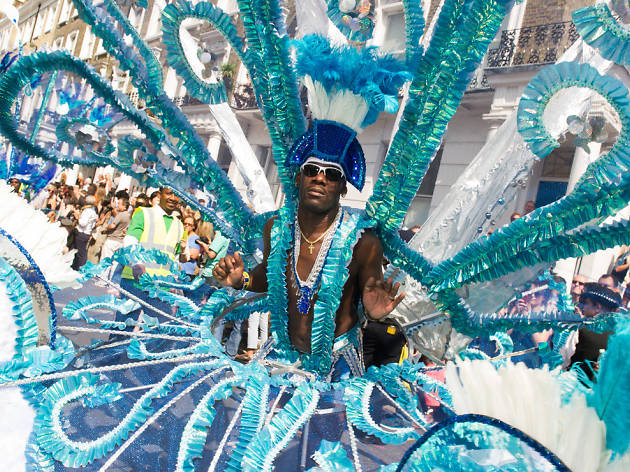 If you're heading to Notting Hill Carnival this year, be sure to check out our Notting Hill Carnival information guide. Crammed with everything you need to know about the floats, trucks and soundsystems, plus advice on how to stay safe over the weekend and details on entertaining the kids at the event. Our info guide is a must-read before attending Carnival 2017.
RECOMMENDED: Read the full Notting Hill Carnival guide
The parade begins at 9am on both Sunday and Monday, and judging finishes at 7pm; floats, trucks and parade bands have to clear the streets by 8.30pm. Soundsystems play on both Sunday and Monday, with a strict noise curfew at 7pm. The main parade starts on Great Western Road, winding its way along Chepstow Road, then on to Westbourne Grove, and then down Ladbroke Grove.
Everything you need to know about Notting Hill Carnival 2017
When is Notting Hill Carnival 2017?
Carnival traditionally takes place on the bank holiday weekend at the end of August.
Where does it take place?
On the streets of W10: Notting Hill, Ladbroke Grove and Westbourne Park.
What happens there?
Cool stuff! There's live music from traditional Caribbean bands, DJs, colourful street parades, dancing, costumes, food and drink, afterparties and more.
What's the music like?
A patchwork of Caribbean-influenced sounds: reggae, dub, dancehall, soca and calypso. Plus house, funk, drum 'n' bass, jungle, dubstep, ska, breaks and more. All blasting from 38 dedicated soundsystems. Oh, and there are steel bands and live bands too.
Do I have to pay?
Nope. Notting Hill Carnival is completely free, but most afterparties and warm-ups at bars and clubs do charge.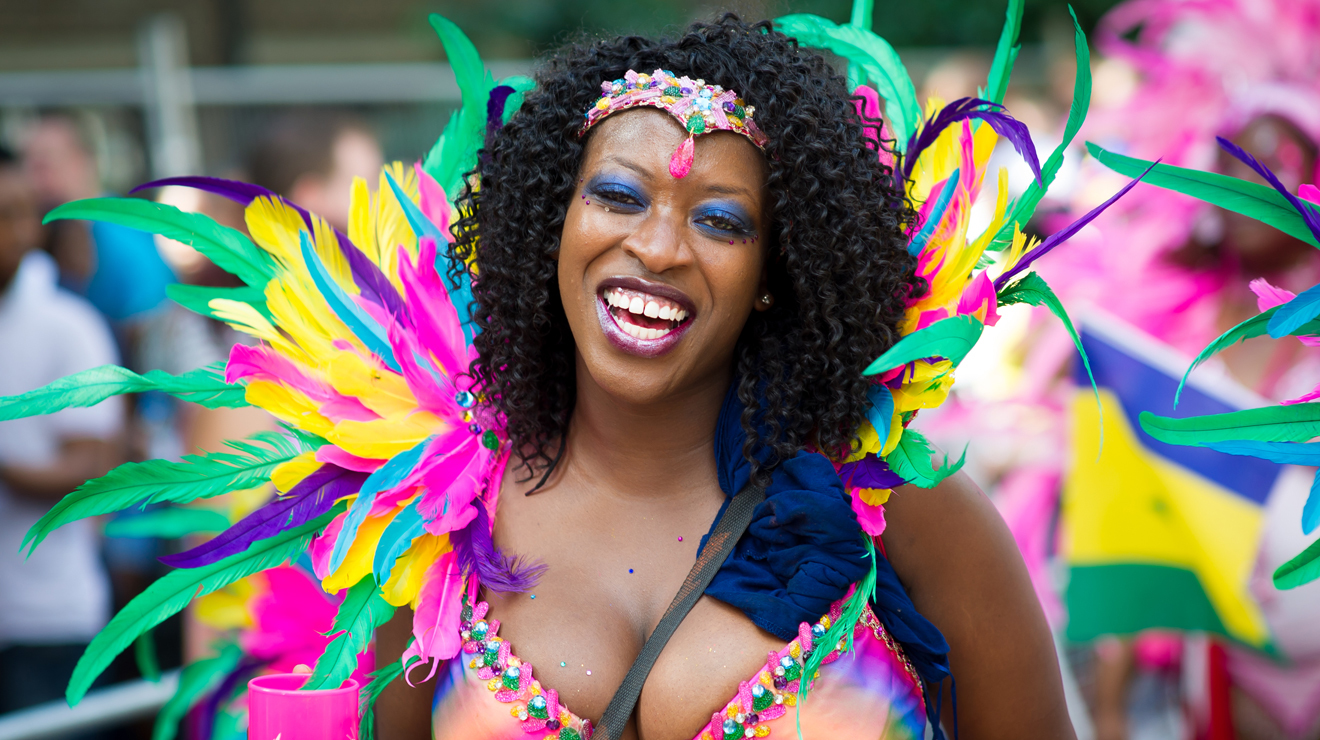 Will the tube be running and what station do I go to? The nearest tube stations without disruptions are Holland Park, High Street Kensington, Queen's Park, Shepherd's Bush, Bayswater and Paddington, while Notting Hill Gate, Royal Oak and Westbourne Park usually have amended operating times.
How about the bus?
While extra services will be in operation, no buses will enter the Carnival area from first thing Sunday morning until the first service on Tuesday morning. On both Sunday and Monday, bus services begin from Notting Hill Gate in the south and from the Prince of Wales on Harrow Road (close to Elgin Avenue) in the north. Night buses in the area will also be subject to diversions.
Can I ride my bike?
Some local docking stations will be suspended or removed for Carnival, so don't rely on space to dock your Boris bike.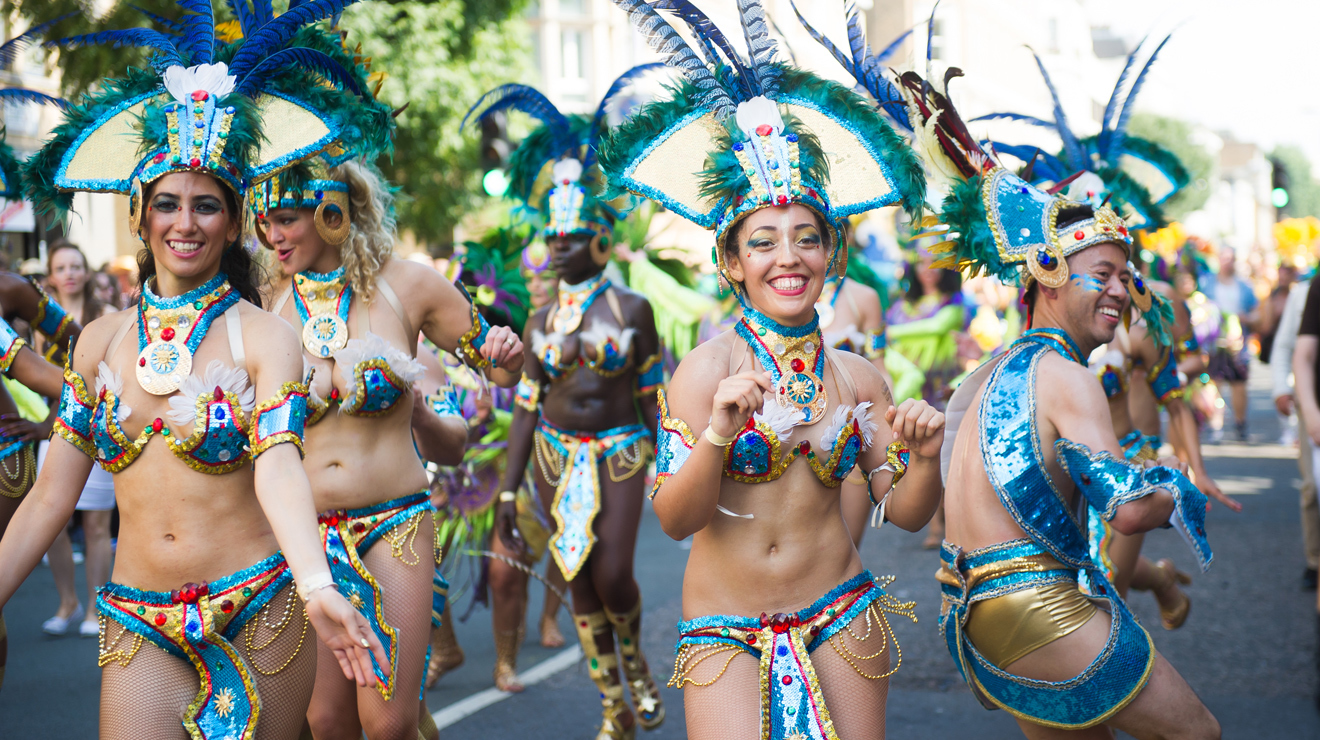 What happens on the Sunday?
Sunday is 'Children's Day' – a more relaxed start before the hard-partying main parade on Monday. Between 6am and 9am, early visitors to Ladbroke Grove can catch the Jouvert procession, a traditional Caribbean event where revellers throw colourful powder paint at each other to a steel band soundtrack. Between 9am and 7pm, there's a colourful parade for children and eclectic sounds from the World Music Stage.
What happens on Monday?
Monday is the big one. The main parade (or Grand Finale) sees more than 60 bands, 38 soundsystems and countless dancers on floats parade very slowly around W10. Check our route map for more information. There's also plenty of other music and partying happening in nearby streets, bars, pubs and clubs.
What can I eat there?
As you'd expect, many food stalls sell traditional Caribbean food. But there are other options, including BBQ and veggie food, if jerk chicken and curried goat ain't your thing.
How much money should I bring?
Enough for the whole day. Local cash machines tend to run out of dosh very quickly.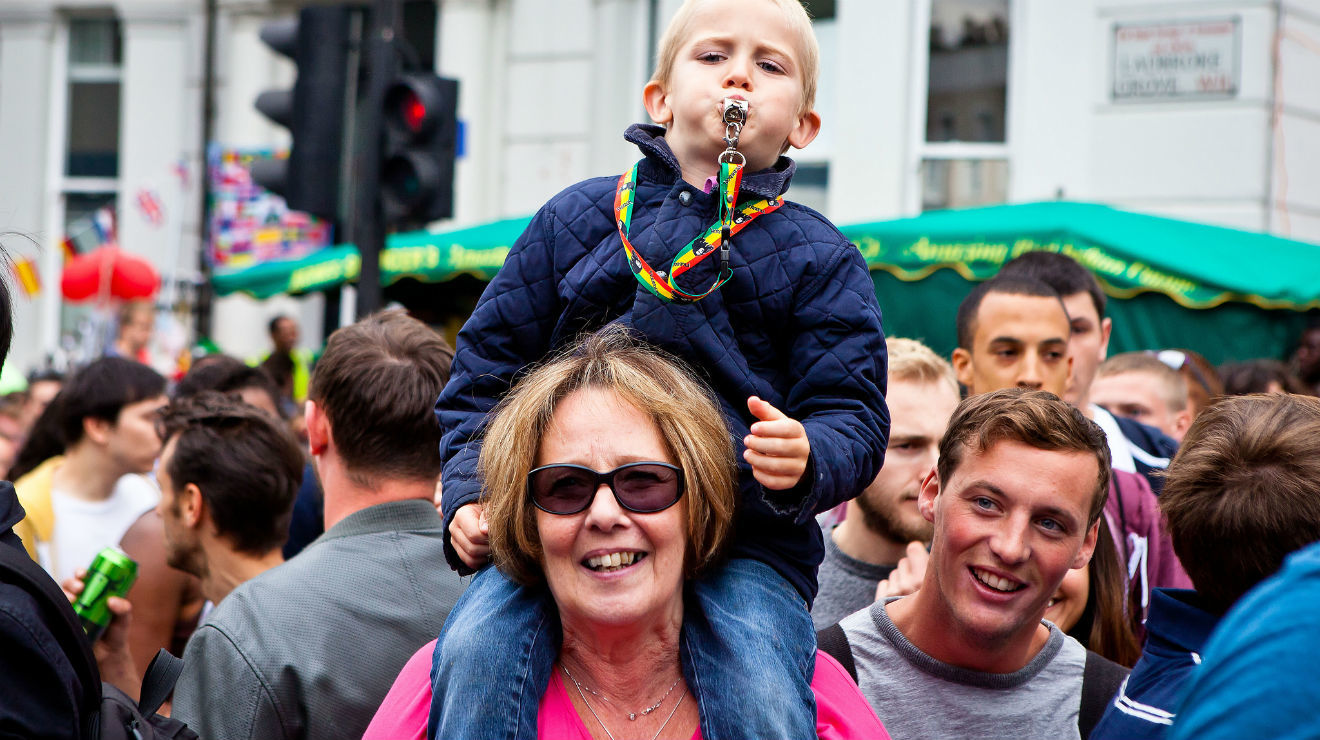 Should I take my children?
Lots of people do take their children, but remember that it can be very hard work. Weigh it up first and if you are certain you want to take the kids, make sure you go prepared. Here's a quick checklist:
1. Go on 'Family Day'. It's still busy (and noisy) but it's much more kid-friendly than the main parade on Monday.
2. Arrive early. You'll beat the crowds and can get a good, comfortable spot.
3. Bring ear defenders for the little 'uns.
4. Plan your travel route beforehand and check which tube stations are closed – see above for travel info.
5. Bring travel potties for very young children, as portable toilets at Carnival will have long queues.
6. Bring some easily transportable food and water for them in case you can't buy anything suitable.
7. Write your mobile number on your child's arm, so they can contact you if you get separated.
8. Don't buy them a vuvuzela unless you want a perforated ear drum!
Is it dangerous?
Don't be put off by the scare stories. Carnival is well policed and the crime rate is generally very low. As long as you take basic precautions – leave valuables at home; don't flash phones, cameras or expensive gadgets around; stay with friends – then the whole thing will be a blast.
Doesn't it get really crowded?
Yep. It can get very crowded, very quickly. But there's space away from the main action if you're feeling claustrophobic. Plan your route with our Carnival google map and remember the earlier you arrive, the less crowded it will be.
Will I be able to get phone signal?
Probably not. It's a large festival and that means spotty phone coverage. So make sure to agree on a meeting point with your friends.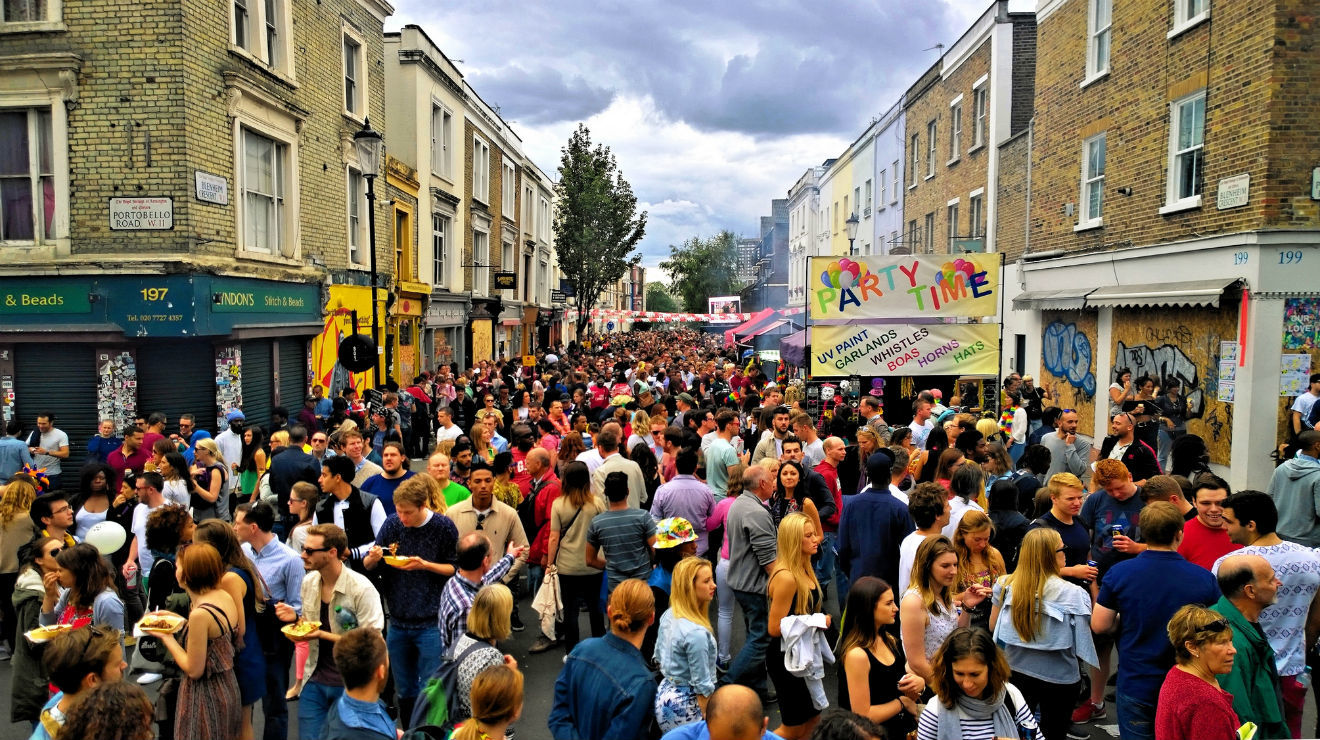 What do I wear to Carnival?
Something fabulous and something waterproof. Wear comfy shoes (that you don't mind getting dirty) and give flip-flops and open-toed footwear a miss, unless you want your feet to get crushed by the galumphing masses. Set off with more than a muscle tee if you're out for the duration. For Carnival outfits and insipration, check out our what to wear to Carnival style guide.
Can I still party once Carnival is finished?
There are loads of great after parties on Sunday and Monday, plus warm-up parties on the Saturday. Take a look at our list of Notting Hill Carnival warm-up and afterparties.
We'll be updating this page with details for 2017 as soon as they're announced.
More Notting Hill Carnival
Ms Dynamite, The Heatwave's Gabriel, Gaz Mayall (Gaz's Rockin' Blues) and more share their advice for having a ball over the August bank holiday.
Read more
Carnival's exotic outfits, banging music and strong Caribbean liquor are a perfect party combination. Here are the hottest pre-and post-Carnival parties this August bank holiday
Read more
Sponsored listing
The Victoria
Here's what happens when Dreambagsjaguarshoes grows up, packs its bags and moves to Dalston. The Victoria is now owned by the same people as the perennially cool and grungy Shoreditch hangout, and probably represents a mellowing out with age – it's a pub, it's more relaxed, it stages live music, and it's on a backstreet off Dalston Lane instead of the illuminated strip down the road. As a pub, it's decent – an artily thrown-together look, a few local beers (although not many), and a 'residency' from peripatetic grillers Psychic Burger. It's a misleading name – I sat thinking about what I wanted to eat for half an hour before having to go up and order at the bar in the old-fashioned way. But as US diner food in plastic trays goes, it's a fine example of its type. Through the back of the pub is the stage, where assorted bands assemble to perform. The Victoria has been a scuzzily democratic live music venue for decades, so it's great that the new owners kept that going and didn't turn the room into a dining room/yoga space/Tesco Metro.