14 super rural getaways from London
Need a break from city living? Escape London life with a weekend away at one of these really rural and off-grid getaways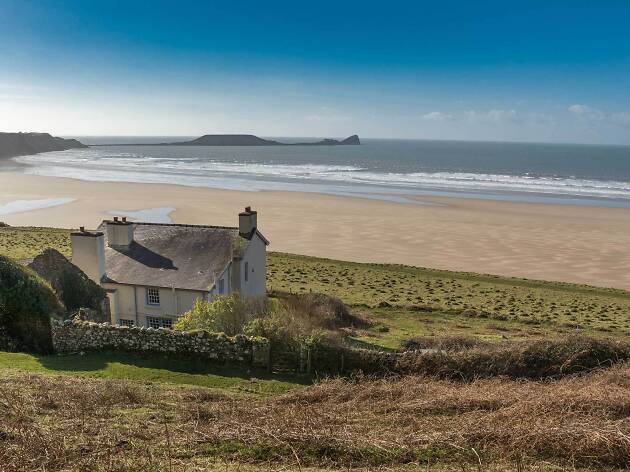 Don't get us wrong, we love London. But sometimes the packed pavements, constant stimulation and long working days get too much. Luckily, you don't have to venture too far outside the M25 to escape the concrete landscape and artificial, urban environment (we're talking those warm tube winds, office aircon and the fact that it never really gets dark). The UK is peppered with quiet and pleasingly slow-paced pockets of green. Whether you want to go on a solo adventure to a Cornish cabin, take a group of city-weary mates to a former military fort that gets cut off from the land at high tide, get muddy wellies in Northumberland, stargaze from your bed or lounge in a copper bathtub while listening to birdsong, we've found a rural retreat for you.
Forget wi-fi, some of these getaways don't even have electricity. So put on your out-of-office, switch off your phone and properly disconnect with one of these super rural weekend breaks from London.
RECOMMENDED: The best weekend breaks from London
You're in prime position for epic beach sunsets at The Old Rectory, the only building on Rhossili Bay. All that's between this boxy white house and the beach is a mini grassy cliff and a few sheep. Dating back to the 1800s, it served as a base for WWII radar workers and a filming location for 'Torchwood' before becoming a holiday cottage. It's got a big kitchen for cooking up feasts, and proper hygge wood-burning stoves. Evenings can be spent in the garden out front, watching the tide come in under those pinky skies.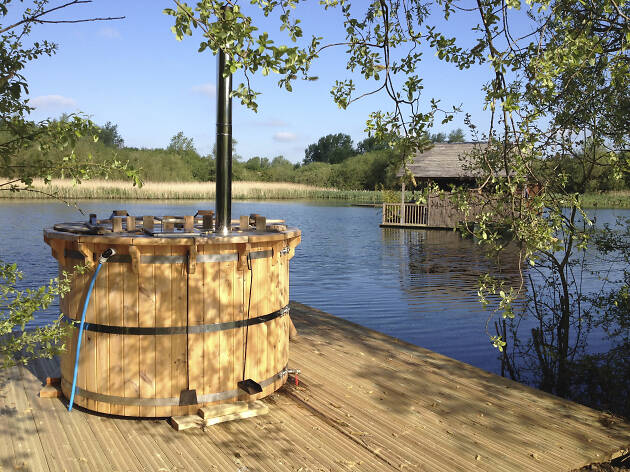 Found your sea legs? Live out any long-held 'Swallows and Amazons' fantasies by spending the night on a wooden cabin floating on a lake. The Raft at Chigborough is a simple, solar-powered, two-storey home that sits right on the water. You can fish, cook alfresco or relax on the deck, totally surrounded by nature. There's a little ferry platform to help you reach your floating home, and even a rowing boat for making your way over to the hot tub and fire pit by the bank of the lake. It's the stuff of aquatic daydreams.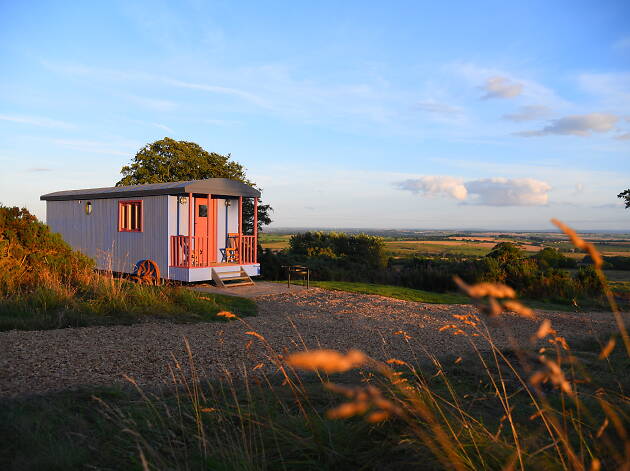 Tired of living in a city that never truly gets dark? Head to Beacon Hill Hideaways and bed down in a luxe shepherd's hut. The secluded huts are set on a 360-acre estate full of walks, woods and wildlife. You'll be just eight miles from the sea and a short drive from Northumberland's International Dark Sky Park where, thanks to the lack of light pollution, the nights get so inky black you can spy planets, the Milky Way, shooting stars and if you're extremely lucky, the Northern Lights. Back at your base, if things start to feel a bit too rural, you can explore the on-site spa or soothe your eyes with a Smart TV sesh.
Not many places feel more remote than Alderney. The tiny, three-mile-long island is one of the Channel Islands. You can walk the entire island easily, and you're never far from the town, the beaches or an unusual piece of military history. The super-secluded island, just a short flight from England, hasn't always been so peaceful. It was strategic in a number of conflicts over the centuries – most recently the island was occupied by Nazi forces during WWII – and is dotted with fascinating forts and batteries. Built to protect the Channel Islands during the mid-Victorian era and restored to house holidaymakers, one of them – Fort Clonque – now sleeps 13. Access is via a causeway that cuts the fort off from the island at high tide, so you can enjoy some totally secluded, simple down time that feels a million miles away from life in London. Loving that peace and quiet? Hop over to nearby islands Sark and Herm, which are even smaller and totally car-free.
Central London holding you back from astral exploration? StarBed Hideaways have got you covered. Their super-luxe Shepherd's Huts are in a secluded spot, overlooking Devon's wooded valleys on the edges of Dartmoor National Park. But that isn't all: the lodges feature a curved glass ceiling so you can look up at the night sky from the comfort of your duvet. Your new favourite place also includes a king-size bed, wood-burning stove, oven, deck and firepit, so you barely have to leave your cabin. Just you, the stars and some amauter astronomy until you're ready to head back to the bright lights of the city.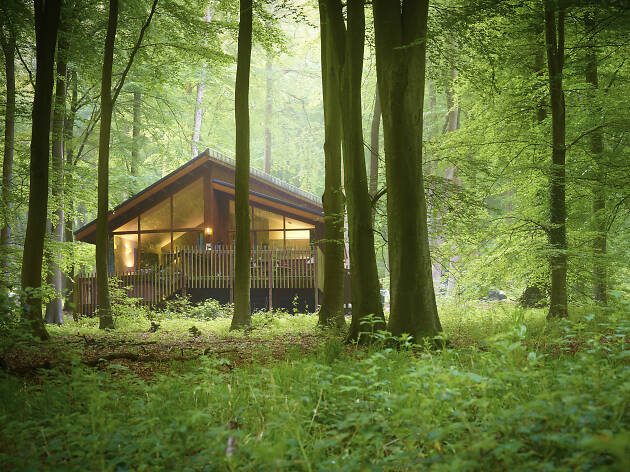 Blackwood Forest, Hampshire
If the view from your bedroom window is a bus stop or a bin store, your urban mind might very well be blown by the vistas from the cabins deep in Hampshire's Blackwood Forest. The woodland near Winchester is home to 60 lodges, each with a huge picture window, framing nothing but towering beech trees. At the centre sits the Forest Retreat, a small shop, café and bar. Last orders are before 8.30pm so don't expect any wild nightlife. Instead, settle into the hot tub on your terrace. Listen to the calming rustle of leaves and keep an eye out for a different kind of night-time wildlife.
There's getting away from it all, and then there's getting away from Netflix, the news, work emails, all your social media feeds and your phone. Hansel and Gretel-esque Hex Cottage in Suffolk is a tiny thatched house for two that's completely electricity-free. You'll have your own wood-burning range, open fires to keep you toasty and cupboards full of candles to light up the space in a soft glow come sunset. You just won't be able to post about how much of a lovely time you're having because there's nowhere to charge your phone. Instead, embrace the quiet of the fields and woodlands around you, have a BBQ, a bike ride or a hike, or even play boardgames by the light of thirty flickering flames. #digitaldetox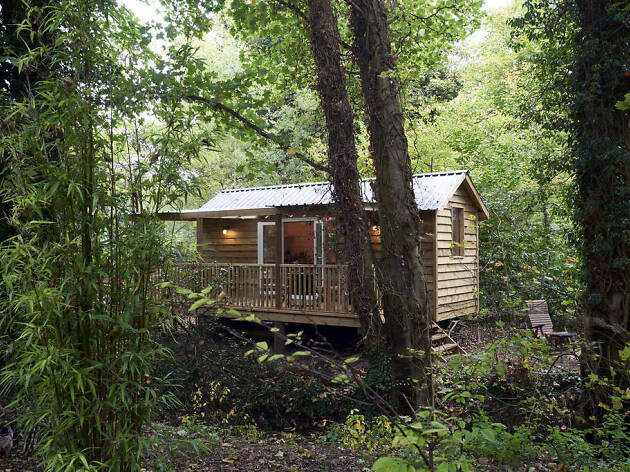 You don't have to venture too far outside of London to find this rustic spot. An hour from the pulsating crowds in central London, and a five-minute walk from market town Wendover, sits Chiltern Yurt Retreat. Settle into a yurt, tabernacle or cabin, all of which have their own unique amenities. The Badger's Bower tabernacle has an enormous double-ended bath, its own hammock and a firepit for alfresco cooking, while Hazel Tree Cabin comes with a hot tub in a woodland glade for wallowing and listening to the soft rustle of leaves/trying not to think about bugs.
What's the complete opposite of a central London new-build? An electricity-free hideout in a wild abandoned slate quarry in Cornwall. For a unique rural getaway, book into one of these architectural Kudhva cabins, raised high above the ground with sweeping views of the Cornish coastline. They are all entirely off-grid, forcing you to relax, unwind and get completely immersed in nature. You can light a campfire outside your cabin or cook in the communal kitchen area before retiring to your home in the treetops. To truly connect with the rugged environment, try sea sports, foraging, yoga, climbing, coastal walks or surfing – and maybe you won't even want to return to London life at all.
For full rural immersion, head to the Blackdown Hills in Somerset. It's where Andrew, Emma and their family run a luxe glamping experience called Dimpsey, which FYI is a West Country term for the half-light that comes at the end of the day. If that isn't a dreamy enough reason to visit, the huts are as luxury as sleeping in a field gets. Think log burners, wood-fired hot tubs and a garden oven. The aim is to keep you close to nature, though, so there's no wifi. Just local walking trails, vintage picnic baskets and piles of board games to keep you entertained.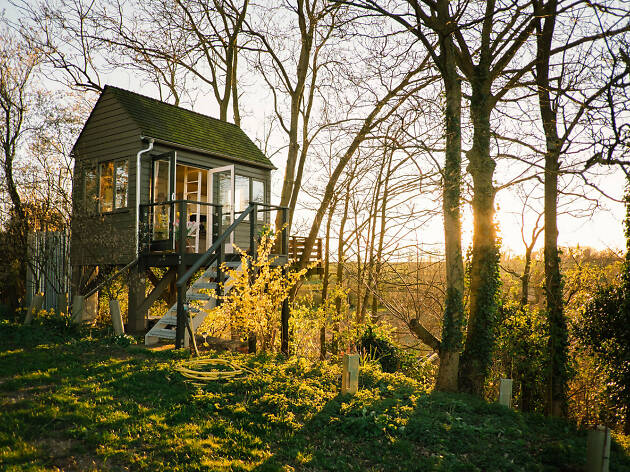 Ted's Hilltop Treehouse, Norfolk
Forgo your urban comforts and live up a tree like a real country mouse. Ted's hilltop treehouse is a teeny, tiny nest on the edge of the Norfolk Broads, with more leaves outside the window than you could shake an actual stick at. Explore the area on a walking trail before returning to sit around the firepit, cook alfresco and listen to birdsong from the deck of your very own human-sized birdhouse. A simple spot, with a sofa sized for two and a ladder up to a bed in the eaves, those down-to-earth vibes extend to the bathroom facilities: a compost loo and an open-air shower for indulging your inner naturist.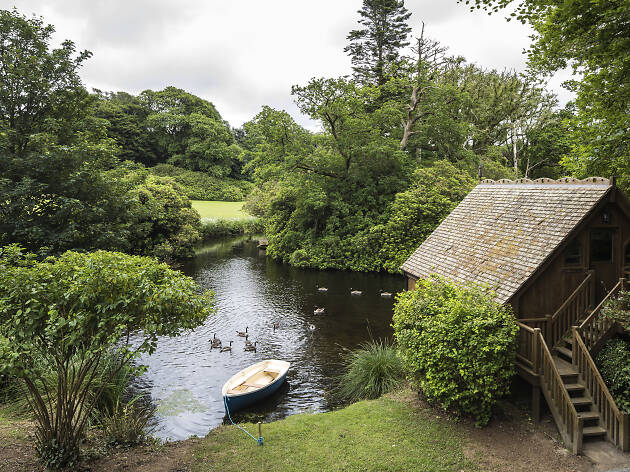 Photograph: Ryan Wicks
Treehouse on the Lake, Cornwall
When you've soaked up St Ives's artistic vibes, go in search of your own inspiration inland at Treehouse on the Lake. This rural high-rise – a treehouse 20 feet above the forest floor – is a lush place to call home for a day or two. Cleanse yourself of your London existence by wandering through woodland, stargazing or listening to the sounds of the forest from your timber terrace. The treetop hideaway might even inspire you to make your own art. But if your creative endeavours don't go to plan, you can always feast at the on-site restaurant or lie around in the heated pool and spa instead.
Part-tent, part-cabin, part-treehouse, Bee's Bower is inspired by safari camps in the African wilderness. The idea is to get as connected to nature as possible – and, bedding down in the middle of a Welsh forest in an eco-friendly, solar-run home, you'll definitely feel eons away from London. The Bower, which is big enough for two people (plus a baby and a couple of dogs) has all your basic amenities, as well as a balcony with views over a lush valley, a grand copper bath, a spiral staircase and hand-crafted details. If you can drag yourself from your new home, there are great walks, pubs and shops nearby. Just make sure you're back in time for sunset – there's a telescope for exploring the night skies. Weekends away don't get much more otherworldly.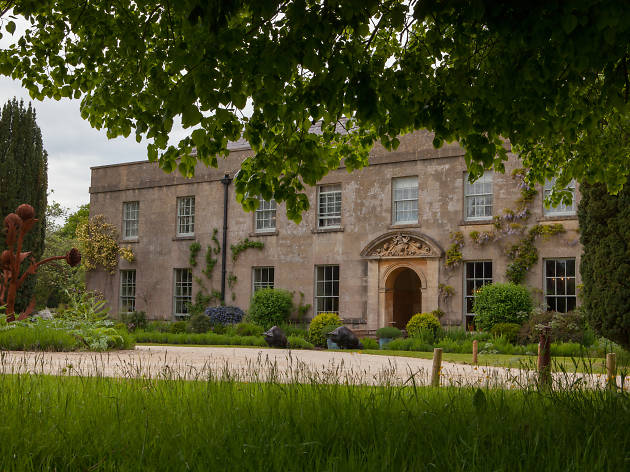 A rustic hotel in a grand country house, The Pig near Bath is a rural idyll. There are pigs and chickens in the peaceful grounds, and herds of deer roaming around the estate. You can settle down on the hotel's lawns with nothing but views of the lush Mendip Hills. Inside, rooms are plush, but the real star is the restaurant. Aside from some Cornish fish, it only serves up grub from less than 25 miles away. Most comes from the hotel's enormous kitchen garden: row upon row of berries, beans and greens, plus a mushroom house for home-growing fungi. Spend an hour poking around greenhouses before sitting down to dinner. Meat-eaters are well catered for, but those super-fresh veggies are where it's at. Then retire to your room to read about hedgrowing and fall asleep to the sound of rural silence.
Staying closer to home?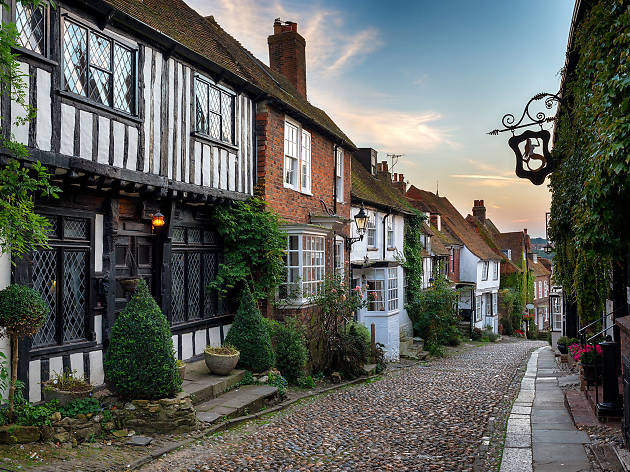 Whether you're in the mood for bracing sea air or a forest frolic