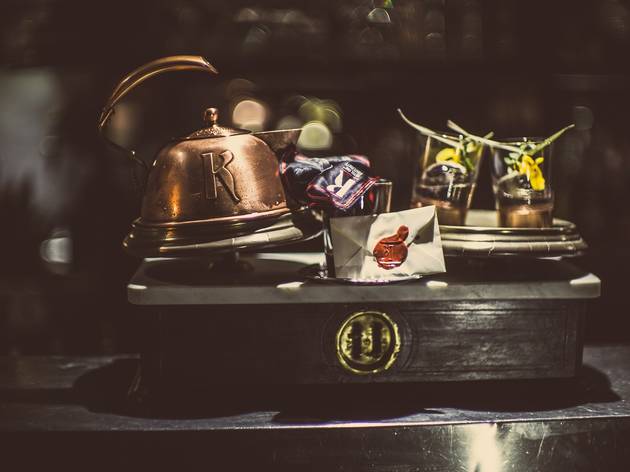 Featuring four floors, three bars and one temporary restaurant, Peroni's showcase of contemporary Italian culture is back for 2014. Visitors to the May event – taking place over one month in a four-storey Holborn townhouse – can expect all sorts to get involved in, from silk scarf-making classes to street food to coffee-tasting workshops. As well as sumptuous grub from restaurant Bottega Wapping, DJs will be providing a soundtrack of suitably Italian-flavoured beats.
Rating Breakdown
5 star:

1

4 star:

0

3 star:

1

2 star:

0

1 star:

1
How significant is a smaller-than-average bottle of lager? Very, if you're Peroni. To celebrate the launch of their new 25cl 'piccola' bottle, the Italian brewer has hired out a huge Georgian townhouse on Lincoln's Inn Fields and filled it with 'the very best of contemporary Italian style and culture'.
With two bars, a restaurant and a pavilion (i.e., another bar, but with rain), the House of Peroni features a series of 'themed' rooms alongside a packed programme of events. The purpose of all this doesn't make much sense before you get there, and the mists don't really clear on the way round.
The art and design elements are confused at best, with a stunning Georgian townhouse not being immediately reminiscent of Italy. Similarly, the bland, international-hotel-chain interior wants to be cutting edge but ends up a bit of a bad dream. It's unpleasant, but mercifully easily forgotten. The same impact could have been achieved (and at possibly lower cost) by simply pasting the walls with £20 notes. The house tries much too hard to impress, and has a whiff of desperation as a result.
For more art in plain English, check out http://www.curatedlondon.co.uk
Amazing place! I was there in July, but this time they have a restaurant where you can order food and have a chat with your chef Will , he is amazing, he guides you trough every aspect of the risotto, i would say that he is the 3rd Costardi brother! Keep it up guys!