Heads up! We're working hard to be accurate – but these are unusual times, so please always check before heading out.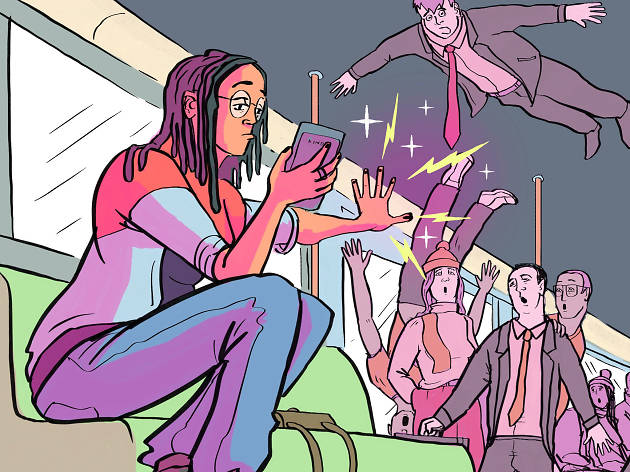 The witchiest events in London
London can't get enough of witchy stuff right now. Here are the wickedest things to do for Halloween and beyond
Our fascination with all things witchy has always been strong. London is rife with new age spellcasting, modern takes on the occult, and a fascination with mysticism. If you spend every Halloween rifling through your wardrobe in search of the perfect black outfit to match your pointy hat, why not find the perfect event to bring it to? From Glastonbury-style Wiccan festivals to feminist takes on the history of witches, there are plenty of ways to feel a little bit more spooky this season. Here is our round up of the best witch events in London.
RECOMMENDED: Halloween in London
Forget about pointy hats and broomsticks. Learn about really bad witches with award-winning storyteller Giles Abbott. Listen to classic tales including 'The Princess & The Swans', and discover menstruating giantesses in Norse mythology, while you keep warm around a fire at Queen of Hoxton's rooftop wigwam. This year it's being transformed into the house of the Wicked Witch of the West. Beats listening to another true-crime podcast, eh?
Queen of Hoxton. Tube: Shoreditch High St Overground. Nov 6. Free.
Having a hard time sourcing eye of newt, toe of frog and wool of bat? Sod that. Discover the best herbs for a potent love potion or find out which dried flowers will conjure the perfect charm for financial success at Hedge Witch: Working Magically with Plants at House of Hackney. It's hosted by scholar and magical practitioner Christina Oakley Harrington, who'll tell you all about the best herbal charms using plant and flower samples, as well as how to communicate with flora spirits. You better be-leaf it.
House of Hackney. Tube: Old St. Nov 7. £20.
Watch 'Legend of the Witches', a dramatised documentary on the cult and practice of witchcraft in Great Britain. Director Malcolm Leigh's 1970s film investigates the secrets of initiation into a coven. You see animal sacrifice, scrying (seeing visions), death spells and the chilling intimacy of a black mass. Expect lots of full-frontal nudity, which can make for uncomfortable viewing, but it's a film that you have to watch carefully. Got burning questions afterwards? Stick around for the post-screening panel discussion. Just be sure to leave the flaming stakes at home.
Prince Charles Cinema. Tube: Leicester Square. Nov 13. £11.50.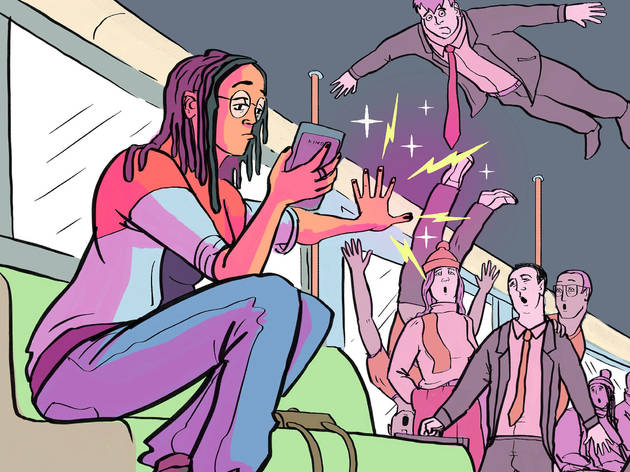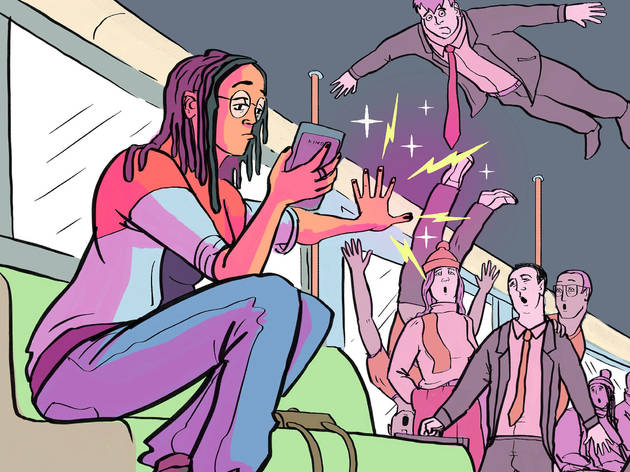 Illustration: Dan Leydon
Show off your best sketching witch face at the Sketchy Witches Spooktacular Sketch Party. Not sure what to draw? You can pick portrait prompts from the trick-or-treat bag to get you going. Fancy dress is essential, but strictly no Harry Potter characters (soz, Hagrid). You can BYOB too, which should get the creative juices flowing.
The Cartoon Museum. Tube: Oxford Circus. Wed Oct 30. £10.
Calling all warlocks, wizards and high priestesses. Party the night away with resident mystics and DJs, indulging in astrology, crystals, cocktails, tarot card and aura reading, and fortune telling. Dance until the early hours at this Halloween bash with The Stratford Coven at the Stratford Hotel. After all, when the working day is done, ghouls just wanna have fun.
The Stratford Hotel. Tube: Stratford DLR. Thu Oct 31. £30.
Enter the spellbinding world of Backyard Cinema at Winter Night Garden where it'll be brewing a special Halloween immersive cinematic concoction. See the 1990 movie adaptation of Roald Dahl's dark fairytale 'The Witches' in all its grotesque glory, featuring a group of children-loathing witches turn kids into mice. Details on what else to expect are kept strictly under wraps, but the mystery is part of the fun.
Capital Studios. Wandsworth Town rail. Sun Nov 3. From £18.99.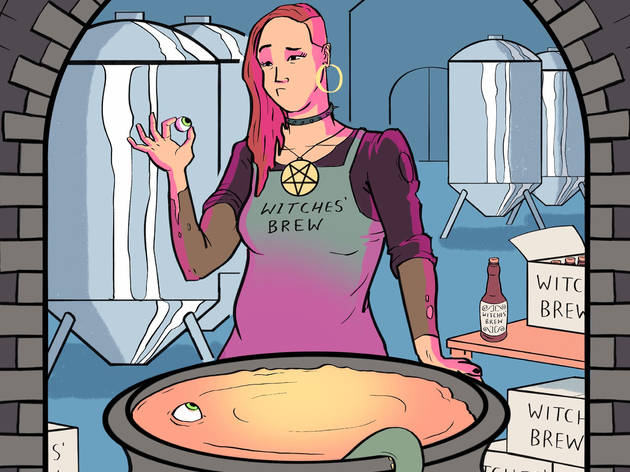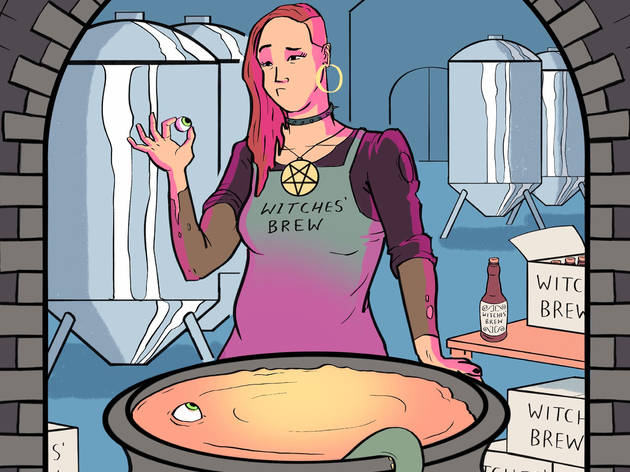 Illustration: Dan Leydon
Didn't score Glasto tickets? Don't worry, Witchfest will fill that Worthy Farm-shaped hole. Taking place at Fairfield Halls, this witchcraft festival promises a mighty mythological line-up. There will be hourly occult talks from big names in Wicca and workshops on witchcraft, plus live bands, DJs and drummers to keep the party going until the witching hour (well, 2am).
Fairfield Halls. East Croydon rail. Nov 9. £37, £15 concs.
Opera, electronic music, poetry and dance are all on the cards at this festival which will explore the witchy side of the arts. The nine-day London Contemporary Music Festival: Witchy Methodologies is packed with performances inspired by the realm of witchcraft and mysticism – ranging from traditional ghost-dancing to wicked fairytale readings to rites and rituals.
Ambika P3. Tube: Baker St. Dec 7-Dec 15.
Learn about the feminist history of all things witchy with Dr Chris Giudice at his Occultism and Modernity lecture, which reveals a huge number of occultists were suffrage activists too. Uncover how occultism squares with the ideals underpinning women's equality and how many of the suffragettes who made great strides were devoted to the Order of the Golden Dawn, a secret society of occultists.
Treadwell's Bookshop. Tube: Goodge St. Nov 18. £10.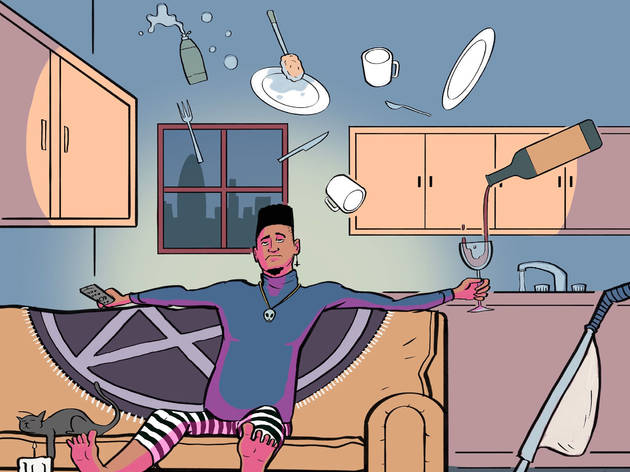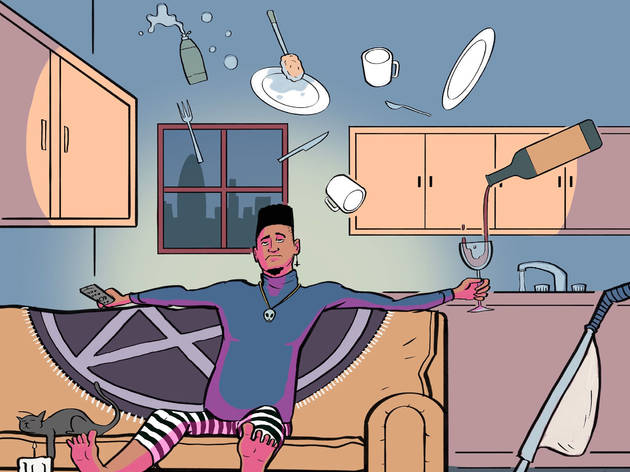 Illustration: Dan Leydon
The all-day discussion one
Join the London Fortean Society for Haunted Landscape: Magic and Monsters of the British Isles, a one-day symposium exploring all things magic, monsters and folklore. Authors and researchers will be taking to the stage to discuss the undead, fairies, witchcraft, witches and the magic of common folk. Prepare to be spooked.
Conway Hall. Tube: Holborn. Nov 23. £22.
It's all happening down by the river. Join an initiated Gardnerian Wiccan high priest for the monthly Wicca Full Moon Ceremony underneath the Millennium Bridge. Be a part of the sacred space and get to grips with group magic, spells, chants, drums and energy-raising. Come to bond with your new witchy sisters, stay for the feast afterwards. (FYI, this one's for legit witches only.)
Under Millennium Bridge. Tube: Blackfriars. Nov 12. £5, £3 concs.
The Final Girls, a collective that delves into the intersection between horror and feminism, is hosting the last event of Here Be Witches, a month-long season at The Horse Hospital that explores witches in TV and film through screenings, discussions and podcasts. Going out with a bang, they've curated a programme of short films that showcase witch cults and show how witches are represented in folklore and pop culture. It's going to be wicked.
The Horse Hospital. Tube: Goodge St. Nov 27. £10.
More spooky happenings
Crystals, spiritual guides and fortune-tellers are back in fashion