Heads up! We're working hard to be accurate – but these are unusual times, so please always check before heading out.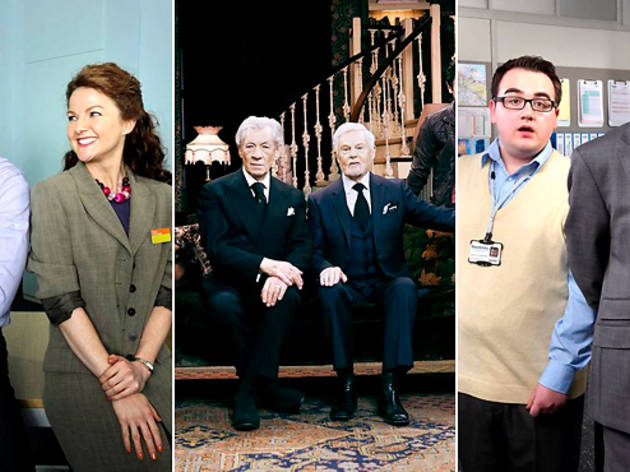 New British sitcoms: the good, the bad and the ugly
Time Out takes a look at three new comedies through parted fingers
Looking at the recent history of the British sitcom, from 'Mrs Brown's Boys' regurgitating the worst excesses of 1970s primetime garbage to 'Miranda' and 'Not Going Out' turning back the clock to slapstick and quickfire gaggery, you might very well fear the worst.
But think again – Geordie love letter 'Hebburn'; NHS paean 'Getting On'; Chris O'Dowd's 'Moone Boy'; the sainted 'Rev' – all freshly minted within the last couple of years, gifting sharp scripts with distinctly British (or, in 'Moone Boy's' case, Irish) perspectives to generation-spanning casts, tapping sentiment sparingly and effectively, and allowing characters to evolve along the way.
So, do the three new sitcoms starting this week – '
Vicious
', '
The Job Lot
' and '
The Wright Way
' – advance the form or take a backward stride? Take a look and let us know what you think the worst British sitcom of all time is in
the comments below
.
Plot
Two old queens, together for 48 years, bicker relentlessly and indiscriminately, catching friends and acquaintances in the crossfire.
Pedigree
Eye-popping. Ian McKellen and Derek Jacobi take the leads, Frances De La Tour is their oldest friend-cum-confidante and 'Misfits's' Iwan Rheon the hunky new neighbour. And it's co-created by playwright Mark Ravenhill and 'Family Guy' / 'Will and Grace' writer Gary Janetti.
Throwbacks
The format of single-camera flatshare sitcom could hardly be more trad. Legendary thesps doing scripted comedy have been a familiar sight since Judi Dench in 'As Time Goes By'. And the performances are a riot of double takes and shrieking hammery.
Innovations
It's on ITV! And it's funny! And while addressing age or sexuality so unapologetically may not be novel, combining the two is bold. The stars are clearly having a ball, their outrageous overselling so infectious that even a rape joke gets a deserved laugh thanks to the brilliance of De La Tour. And the colour scheme, it has to be said, is daringly brown.
Reasons to be cheerful
Most of the above: 'Vicious' uses a mainstream approach to bust a few taboos – it's 'Rising Camp' in all but name.
'Vicious', Mon Apr 29, 9pm, ITV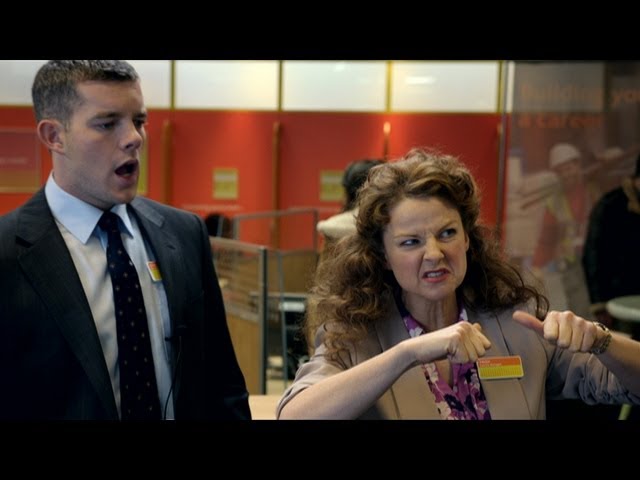 Plot
The lives and loves of job centre workers and their clientele.
Pedigree
'Miranda' sidekick Sarah Hadland as a passive-aggressive, jargon-spouting manager. Russell Tovey from 'Him and Her' playing the disillusioned underling. Daisy from 'Downton' (Sophie McSheara) as a workshy job applicant. Solid, in a word. The show's creators are just starting out, but production company Big Talk is responsible for 'Rev', 'Him and Her' and 'Friday Night Dinner'.
Throwbacks
Yes, 'The Job Lot' does sound a bit like 'The Office', and it adopts a similarly deadpan approach to getting laughs. If anything, it leans towards Sky1's more underwhelming ventures into sitcom ('The Cafe', 'Trollied'), but thankfully steers clear of the tired mockumentary approach.
Innovations
Well, it's certainly current. And the Kafka-esque horrors of bureaucracy are given an ingenious, gut-churning twist during one jobseeker's prolonged visit. But this is a gentle affair that generally pokes fun at the staff and the system rather than the clientele.

Reasons to be cheerful
First-time writers Claire Downes, Ian Jarvis and Stuart Lane have come up with a misfire, but a confident one. A bit more crackle to the one-liners and a more distinctive vision would help, but it's an honourable effort; we may yet hear more from these three.
'The Job Lot', Mon Apr 29, 9.30pm, ITV
Plot
Blimpish health-and-safety manager of 'Baselricky' council rails against modern world.
Pedigree
Ben Elton's brand may have been tarnished irreparably by 'We Will Rock You', not to mention sitcom duds 'The Thin Blue Line' and 'Blessed'. But he did write 'Blackadder' and 'The Young Ones'. And David Haig (in the lead as Gerald Wright) is a highly accomplished comic actor. Shame about the wretched scripts and lacklustre direction.
Throwbacks
From the excruciating title to Wright's catchphrase, 'don't get me started', this is sitcom so backward-looking it's got a crick in the neck. Viz: next week's episode is entitled 'Conkers Bonkers'.
Innovations
Um. Wright's daughter is a lesbian. Er. There are a couple of references to 'hashtags' and 'YouTube moments'. Hmm. Does plumbing new depths of ghastliness count? This really is feeble beyond belief.
Reasons to be cheerful
If this does sufficiently badly, Ben Elton might never write another sitcom. But then, we thought the same after 'Blessed'. And 'The Thin Blue Line'…
'The Wright Way', Tue Apr 23, 10.35pm, BBC1