Koreatown bars: The neighborhood's top lounges, dive bars and cocktail bars
Koreatown is a neighborhood that never sleeps with a bar on nearly every block. Keep 24-hour good times rolling at the hood's top watering holes.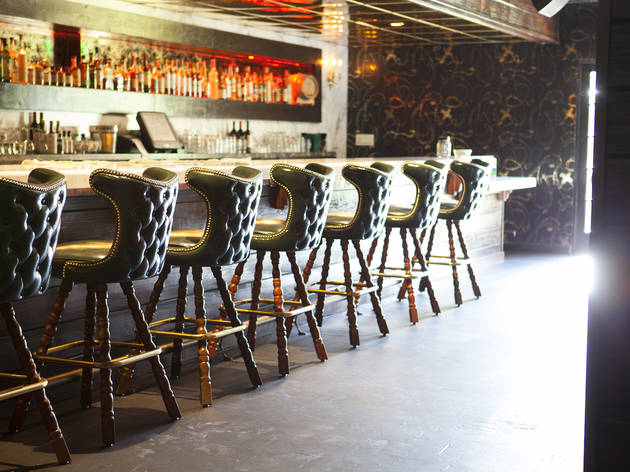 Koreatown is a neighborhood that never sleeps. Flooded with watering holes from humble dive bars and beer bars to swanky speakeasies and hidden gems, K-town keeps the drinks flowing and the party going. We suggest pacing yourself and bar hopping by foot in this walkable 'hood. And when you're in need of some late night fuel (to soak up all that alcohol, most likely), look no further than the 24-hour, cheap eats spots around every corner. Just remember: never pour for yourself and that's "Gun-Beh!"
RECOMMENDED: Koreatown neighborhood guide

Dan Sung Sa, named after an old theater in Korea, serves up cheap Korean bar food in a dimly lit, lively atmosphere, perfect for adventurous small groups. The kitchen, located in the center of the bar, whips up Korean "delicacies": chicken gizzards, heart and feet—all grilled on a stick. Don't miss the hot wings and "lunchbox" of fried egg, rice, and kimchee. For fun, order off the Korean menu, point to your favorite number and order what you can't translate.
Read more
Located in the ground floor of a nondescript office building (park and enter at the back), this ski lodge-styled room has one of the most comprehensive karaoke songbooks in the city. Waiting times on weekends routinely hit 45 minutes, so you'll have time to down plenty of liquid courage before you get your shot on the stage.
Read more
LA-raised Neil Kwon took a cue from the biergartens of Berlin and Munich in bringing craft beer to Koreatown in 2010. His beer hall, Biergarten, views Germany through a Korean prism. Platters of brats are dished up alongside Korean fried chicken, kimchi short rib fried rice and burgers both American and international—try the spicy Chosun One with red chili paste aioli and pickled daikon or a Southwest version with chipotle-infused black beans and fried green tomato. The beer list combines Old World ales like malty Spaten Optimator with West Coast IPAs like Bear Republic Racer 5, none of which appear in yard-long glasses served at kitschier neighboring spots. The space also touts flat screens that draw UFC and sports fans.
Read more
Standing strong since 1954, the bowling alley boasts (surprise) 39 lanes complete with a roundabout bar, coffee shop, arcade and billiards room. Pre-game at the bar with $4 cocktails served up by Eddie, a veteran employee and staple bartender for 35 years, then graduate to a round of in-house bevvies—the super strong Shatto Sandbagger, a mind-bending blend of Bacardi 151, Remy Martin, Grand Marnier, sweet and sour mix and cranberry juice ($7.50), promises a punch. In between celebratory strikes, refuel with salty snacks like heat lamp–ready (and heartburn-guaranteed) nachos ($2.75) or the Shatto Special, a combo of chicken wings, stir-fried cabbage and fried egg over rice ($6.50).
Read more