LA lounges and bars: Where to drink in Los Angeles
From Irish bars and cocktail lounges to rooftop bars and beachside dives, your where-to-drink guide to LA lounges and bars.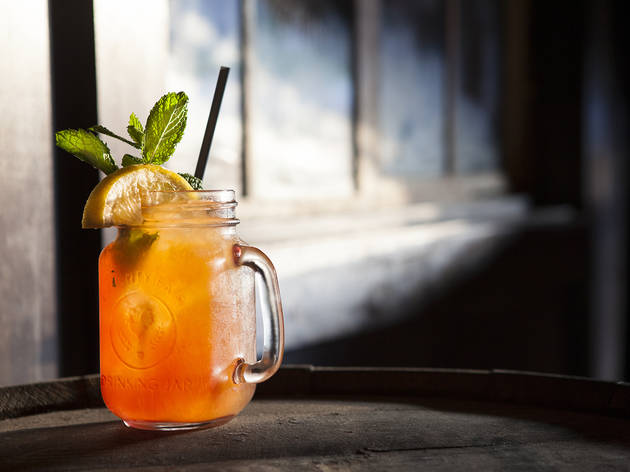 From craft brews in Los Feliz to hand-crafted whiskey cocktails in Silver Lake, LA's lounges and bars are as varied as its neighborhoods. Navigate the city's bar scene with your cheat sheet of where to drink now. Bottoms up!
LA bar reviews
The retro-fabulous design—and not the drinks—takes center stage at this new Hollywood watering hole that's less of a cocktail bar and more of a vibe. Walk through 800 Degrees to the back of the pizzeria and up a staircase near the bathrooms to reach this hidden bar that looks like a vinyl shop bred with the basement in That '70s Show. The handful of cocktails on offer could use more balance and finesse, but it's hard to argue with a setting this fun and an all-vinyl soundtrack; the later the night gets, the louder the Michael Jackson plays.
Look for the pink neon beneath Metro's Chinatown stop and you'll find one of the city's chicest wine bars. The latest from Bar Covell and Augustine owner Dustin Lancaster, Oriel not only brings French wines and a modern, hanging-plant haven to the neighborhood—it also offers some of the best French bistro fare on the Eastside. Staff could use a bit more training (any server at a wine bar should be aware of natural wine and whether it's offered), but the neon's rose-hued glow, coupled with the romance of that well-rounded wine selection—especially those available by the bottle—makes it easy to fall in love with Oriel.
Now you see them, now you don't: The cocktails of Bibo Ergo Sum—"I drink, therefore I am"—disappear almost magically. That's fitting, as its Proprietors-designed menu is inspired by the art of illusion and Christopher Nolan's The Prestige. Bedecked in Art Deco decor, Bibo drops the beverage know-how and scientific prowess of the team behind the Walker Inn into a neighborhood lacking complex cocktail bars. The result? Approachable but dramatic, elegant and innovative drinks that develop as the menu progresses—such as the Grandpa Joe with its centrifuge-clarified citrus, and the carbonated Dr. Julius, made with clarified milk-washed rum, orange peel and vanilla bean, that's then run through a draft line.
What do you get when you take a '50s diner and convert it into a French-themed cocktail bar? The Friend.
Check out the newest watering hole in L.A.'s most up-and-coming neighborhood.
Show more