LA lounges and bars: Where to drink in Los Angeles
From Irish bars and cocktail lounges to rooftop bars and beachside dives, your where-to-drink guide to LA lounges and bars.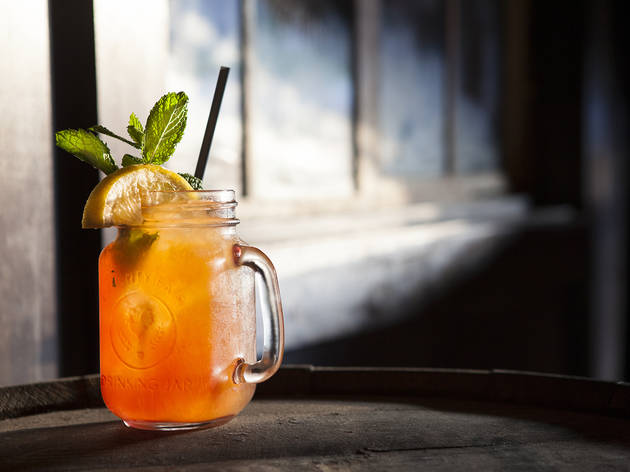 From craft brews in Los Feliz to hand-crafted whiskey cocktails in Silver Lake, LA's lounges and bars are as varied as its neighborhoods. Navigate the city's bar scene with your cheat sheet of where to drink now. Bottoms up!
LA bar reviews
There's a purity and pride to Silverlake. It's a neighborhood where cultural heritage is doggedly preserved, honored and protected from outside adulteration. Exhibit A: an artifact of musical and cultural significance, the mural on Sunset where singer-songwriter Elliott Smith posed for his "Figure 8" album cover before his death in 2003. Fans still come to pay tribute here with candles, flowers and well-wishes written in Sharpie. In the buzzy area, the owners of the space could probably have sold at any time, but instead waited for a buyer who would agree to honor the memory of Smith and his music. Enter Bar Angeles, a proud Italian eatery whose top-notch drinks and communal atmosphere pay homage to Smith's musical legacy. Bar Angeles—named for Smith's song, "Angeles"—moved a section of the mural to the building's interior, making it the bar's back wall and the focal point of the room. Next, they employed chef Joey Booterbaugh, formerly of Cafe Birdie, to devise a vegan-friendly menu of delectable small plates, gourmet pizza and a game-changing cheeseburger. Finally, they had barman Greg Mills, who recently shook up Brokklyn's bar scene, craft a cocktail program where effervescents breathe new life into old classics. Bar Angeles has no signage save for a tiny neon placard above the door. It's easier to find this place by the swooshy, iconic "S" on the front wall that forever heralds Silverlake's musical hero. Vitals The scene This isn't a rowdy kind of bar. It's a spot
Read more
What do you get when you take a '50s diner and convert it into a French-themed cocktail bar? The Friend.
Read more
Check out the newest watering hole in L.A.'s most up-and-coming neighborhood.
Read more
Show more