Five brand new happy hours to try in November
Your guide to $1 oysters, rooftop cocktails, $2 beers and more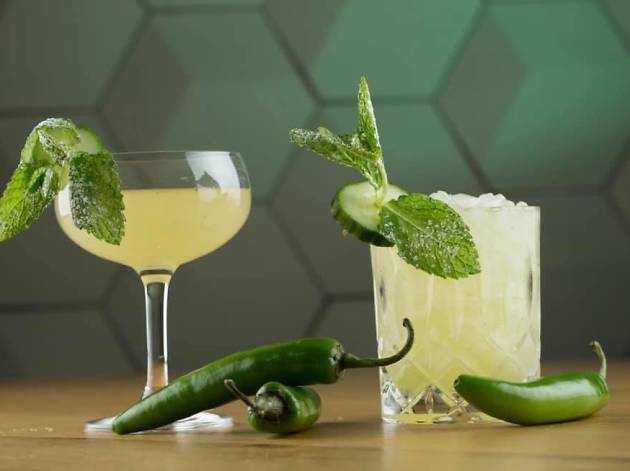 We love a good happy hour as much as the next Angeleno, but throw in rooftops, dollar oysters, whiskey lattes and $2 beers? Well, now you've really got our attention. Here's our guide to the best new happy hours to try around town, no matter your mood.
We're obsessed with the lobster rolls from Broad Street Oyster Co., but at the seafood pop-up's Malibu residency, there's plenty more to get excited about—including the brand new happy hour. Starting this week, you can stop by for $2 Budweisers, $5 pilsners, $6 IPAs and $2 off glasses of wine, which go perfectly with the restaurant's breezy, open windows overlooking the creek and, of course, the top-notch shellfish and snacks. Happy hour also gets you $10 off seafood platters, not to mention some $12 popcorn shrimp; a $10 crab cake with fries; $8 anchovies; a $10 burger-and-fries combo; and a $10 bowl of chowder, an ideal meal as we ease into winter. (But while you're there, might we also suggest the lobster roll? You can thank us later.)
Mon–Thu, 5–9pm
Toronto's wildly popular vegan chain finally landed in L.A., bringing cocktails, organic cold-pressed juices and fresh, whole-grain dishes ranging from the clean-eating angelic to the indulgent. It also brought a great happy hour deal to the Sunset Strip: On weekdays during two time slots, you can find a handful of bites and sips for only $8 apiece. Cocktails like an aloe mojito; mezcal with coconut milk, Thai basil and pineapple; a kombucha-tinged Aperol spritz; and the house margarita are all on option, as are glasses of red, white, and prosecco, and health-minded shakes and smoothies. To eat, look for fresh hummus; cashew-queso nachos; quinoa onion rings; squash tacos; Beyond Meat cheeseburger sliders; and buffalo cauliflower with ramp hearts.
Mon–Fri 3–6pm, 9:30–10:30pm
We love a two-for-one deal, so it should come as no surprise that we're into this new happy hour special in DTLA. The Mediterranean-leaning restaurant at one of the neighborhood's busiest corners just launched the "Bottle & Board," where $35 gets you a full charcuterie board and a bottle of red or white wine. This, of course, is in addition to their regular happy hour menu, which includes $9 bites such as marinated olives, black-garlic tzatziki, jicama tuna tacos and avocado toast, plus limited menu items like $15 chimichurri bone marrow and a $19 wagyu burger.
Tue–Sun 5–7pm
How do poolside cocktails sound with, oh, a stellar view of DTLA? You can find this and more—and at a discounted rate—thanks to the Hoxton Hotel's new rooftop restaurant and bar. The hotel's rooftop restaurant, Pilot, just opened and it features an A+ happy hour menu, which involves $1 oysters, $5 glasses of wine and $6 Honeybear on Holiday cocktails (a house specialty that serves tequila blanco, sherry, Amaro Montenegro, pineapple, lime, apricot liqueur and cumin-infused honey in one of those darling bear-shaped squeeze bottles). Catch these deals at the rooftop lounge and bar, at the pool, or inside the full-service restaurant.
Daily 3–6pm
Who says that happy hour has to be limited to boozy beverages? At every L.A. location of Verve, one of our favorite coffee shops, you can find a weekly happy hour special that's bound to get you into the holiday spirit. Every Wednesday afternoon, drop by for Holiday Drink Happy Hour, which gets you $1 off every seasonal cup. That means a discount on mint con panna; a non-alcoholic whiskey latte; citrus ginger lattes; and the Golden Bowl of Soul, a new turmeric-and-ginger soy drink. Ugly Christmas sweaters are optional.
Wed 4–6pm
Looking for more new deals and spots to sip?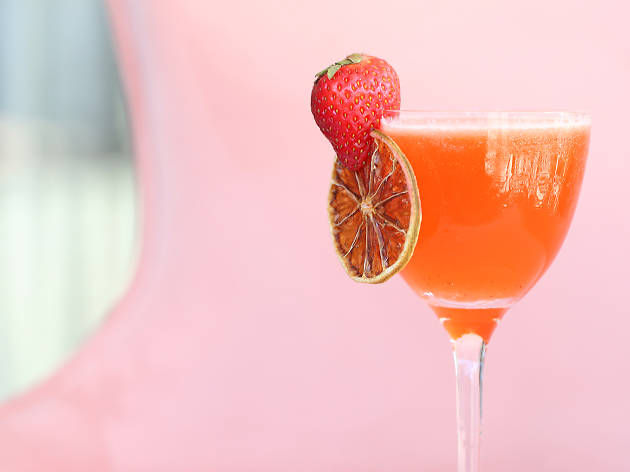 Photograph: Courtesy Crustacean Beverly Hills
Five brand new happy hours to try in October
This modern Vietnamese seafood house is going full-on fall with a new rendition of Red Hour, Crustacean's discounted menu of sips and dishes. You'll find plenty of year-round items—$12 glasses of wine, $14 signature cocktails, and anywhere from $3 to $6 off items such as mushroom wontons, tempura sole and crab puffs—but you can also expect a few wallet-friendly October-and-November treats. To drink, they've added four new cocktails, all at $15 apiece, including the Komodo's Veil made with tequila, aloe liqueur, Thai-chili–infused lemongrass, cucumber and lime. Feeling hungry? There's also a seasonal food rundown that involves squash and rock shrimp tempura ($21), tempura chicken oysters ($12), duck potstickers ($14), langoustines toast ($12) and chicken-and-sweet-potato dumplings with pumpkin seeds ($14).
Tue–Fri 4–7pm
One of the Eastside's best sports bars just made its way to Glendale, and, unsurprisingly, it brought its happy hour A-game. Highland Park's Greyhound is the neighborhood go-to for sports, a basket of wings and pints upon pints of craft beer, and you can expect the same in the sibling outpost—including the specials that extend to Dodgers games (we know, we know, too soon; keep these specials in your back pocket for next season). Happy hour and "Blue Hour" during games is when you'll be able to land steep discounts, including $5 pints of draft craft beer, but at the new Glendale location they've also got new items such as $1 oysters, tofu nuggets, and a $10 burger-and-fries combo.
Mon–Fri 3:30–6:30pm
If you're trying to grab a cheap drink and/or bite in K-town early or late, Mama Lion's just come through with an updated happy hour and late-night offering—not to mention a whole new chef. It's already one of the best bars in Koreatown, and now you can find $6 cocktails for a few hours in the early evening (daiquiris, East Sides, and vodka Collinses), plus $8 margaritas. Jason Fullilove—of Barbara Jean and, more recently, of Magic Castle fame—is now the force behind the food menu, and he's stacked the happy hour with three pork belly tacos for $8; avocado fries for $6; calamari for $8; Korean-chili cauliflower for $8; and Brussels sprout salad with coconut bacon for $6. More of a night owl? There's also a new late-night menu starting at 10pm, and it's got a fried chicken slider sporting truffle aioli ($12), plus a couple desserts, among other dishes to keep you going into the late/early hours.
Happy hour Tue–Fri 6–8pm; late-night menu Tue–Fri 10pm–close
Sometimes happy hour doesn't need to run all week long, as long as it gives you one perfect day of imbibing—and what more perfect day to imbibe than a Sunday to ease yourself into the workweek? Ronan's just launched what the pizza spot is calling Sunday Golden Hour, where you can catch 20 percent off wines and cocktails by the pitcher. (Hello, an entire pitcher of Spritz Carlton with strawberry-infused Aperol for $45.) Deeper discounts can be found on the food offerings, which involves a menu of snacks and pizzas always at 25 percent off on Sunday afternoons: That means deals on their fantastic grilled oysters with uni butter and breadcrumbs; steak tartare with fried egg, crispy shallots and parmigiano; and the classic margherita pie ($14), which is, let's be frank, how we'd prefer to start (or end) every week.
Sundays 4:30–7pm
One of our favorite food stalls in all of Grand Central Market somehow—against our beliefs that it could happen—just got even better. Margarita and Walter Manzke's fantastic Filipino food stand just launched a happy hour with some incredible specials, as if we needed another reason to hang out there all evening. Sari Sari Store's new Pulatan Happy Hour starts early (hey, 4pm there-for-you-right-outta-work vibes) and runs every single day, which means you can snag $3 glasses of the Philippines' own San Miguel beer on draft even on weekends. There's also a brief, discounted food menu that involves $7 Pinoy BBQ ribs; $6 fish-sauce–caramel wings; $5 adobo shishito peppers; and $6 tokwa't baboy made of crispy pig ears, oyster mushrooms and tofu.
Sun–Thu 4–8pm; Fri, Sat 4–9pm
Show more