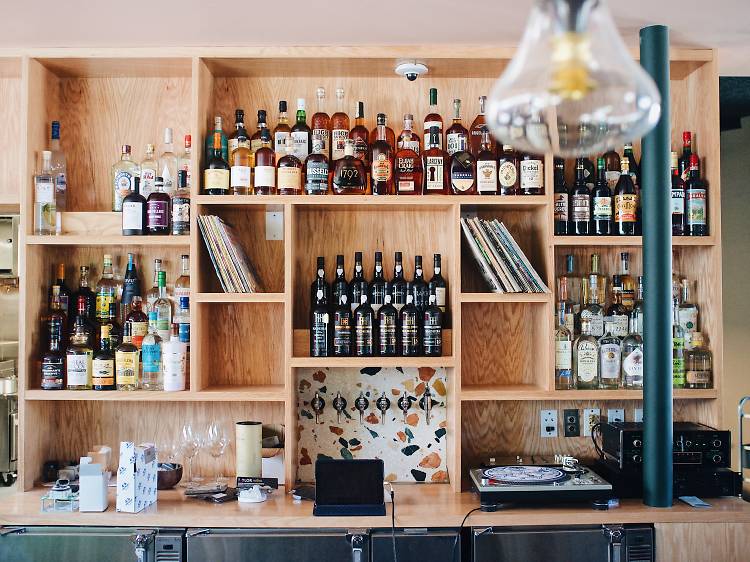 Photograph: Stephanie Breijo
Five brand new happy hours to try in December
Silver Lake's the Friend was already one of our neighborhood favorites, so imagine our delight when the charming, fun-loving cocktail bar launched a location in Venice. Sporting the O.G.'s signature baby pink and brass motif, the sibling spot is cute and just as playful as the first André Saraiva, Jared Meisler and Mickey Madden venture—in fact, maybe even more so: You have to find the entrance, back around the Sunny Spot (just look for the mural of smiling stick figures all clamoring to get in). From there, it's all bright and seasonal cocktails with local and organic ingredients, plus dancing under a disco ball. To make it all the more appealing, you can find some great deals on the happy hour, including $5 Peroni drafts, $4 PBR tallboys, $5 glasses of wine, $8 classic cocktails and $7 well drinks.
Daily 6–8pm
Michelin-starred San Francisco chef Melissa Perello just landed in Los Angeles, making a splash with her hallmark: refined California cuisine. Her first L.A. restaurant sits on a corner of the ROW DTLA complex and serves up shareable plates that should satisfy, no matter your taste or cravings: a spin on Indian saag, here made with chard, romanesco and house-made feta; heirloom-wheat pastas; delectable sourdough ice cream; kanpachi in tamarind broth—and on and on. The restaurant's bar, cool and tucked away near the front of M. Georgina, offers a happy hour with drink specials and a few bar-only items, where you can snack on the more casual takes of Perello's cooking. Every day but Monday, head to the bar for $8 old-fashioneds, $8 margaritas, $10 boilermakers, $5 Smog City pours and $8 glasses of wine. Round it all out with $9 cornmeal-crusted chicken wings with rosemary and Meyer lemon, and $5 marinated olives with feta.
Tue–Sun 3:30–5pm
Eagle Rock's buzzing new beer bar keeps roughly two dozen brews in its draft rotation at any given time, which means there's always something new to try—and from Wednesday to Friday, you can try these pours at a discounted rate, and do it during a generous four-hour window. (Speaking of windows, find a seat along the garage-door walls that open onto the neighborhood's busy stretch of Colorado Boulevard so you can people-watch as you sip.) The happy hour at Relentless gets you $2 off nearly all draft beers—sadly sours and barrel-aged varieties aren't included—and if you're more of a cocktail fan, you can also get $2 off all well drinks. Our tip? Keep your eye on the bar's social accounts and try and plan your visit to pregame events such as comedy nights, painting parties, mezcal tastings and tap takeovers.
Wed–Fri 3–7pm
Is loving rosé and millennial pink and karaoke basic? Look, we're not going to answer that, but we're going to say that we're not here to judge, and neither is new West L.A. spot Sorry Not Sorry. The "playful rosé-forward cocktail bar" keeps things on-brand with cocktails named after movies like Legally Blonde and characters like Sex and the City's Mr. Big, and the drinks arrive garnished with flowers served in glassware such as brass pineapples. During happy hour—which just so happens to run all night long on Mondays (#CaseOfTheMondays, etc.)—you can snag $2 off all cocktails, including what they're claiming is the world's best frosé, knocking them down to around $10 a pop.
Monday all night long; Tue–Sun 5–7pm
One of L.A.'s most exciting new bars just amped up its already-clutch offerings with a daily happy hour of special cocktails only found on that menu. Thunderbolt is all about Southern hospitality done with L.A. flavor, and we're all about the cocktail list here, which sprinkles in nods to the neighborhood and the owners' L.A. and Georgia roots (see also: the pandan-tinged P-Town Boxing Club, a nod to Historic Filipinotown's heritage). There's also a significant madeira focus, not to mention some of the best Southern-leaning bar bites in town (hat tip to sibling spot Park's Finest BBQ, which whips it all up). But once you've made your way through all the goodness Thunderbolt has on offer, look to the specials board for the $10 happy-hour drinks, which have included the likes of Singani liqueur with mango, rice milk, cardamom and anise, or with apricot, mint, ginger and soda.
Daily 5–7pm