Five brand new happy hours to try in September
Your guide to $3 beers, half-price dinners and more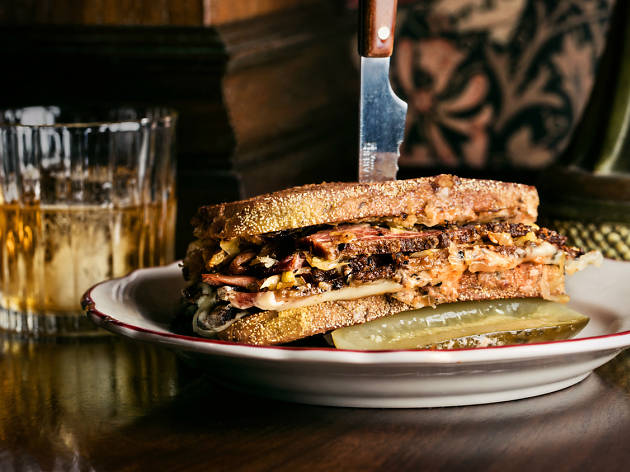 The best things in life are free or, at least, almost free—especially if you've worked up a thirst. While the best new restaurants and bars can't offer you a free drink or two, they can come pretty close with $3 beers, $6 wines and discounted bar bites late into the night. Give your wallet a break with this month's top almost-free happy hour specials.
Talk about a power hour: 1 Hotel West Hollywood's breezy patio restaurant is offering what might be the best new happy hour deal in town, but you can only find it for one hour of the day. Head to Alice during this magical window and you can find the entire menu at 50 percent off the regular price. (Yes, seriously.) This means you can snag select glasses of wine for as little as $7 and cocktails at $8, beers at $3 and $4, and an entire food menu that's half-price. Roasted half chickens get cut down to $13, soups become $6 and salads, $9, filet mignon will run you about $25, and snacky bites such as pimento cheese dip with focaccia crisps reduce down to $5.50. It's a deal so good it's worth racing against rush hour to get there, and that's saying something.
Mon-Fri 5-6pm
West Hollywood's Japanese-Italian hybrid hideaway just launched a mix-and-match to end all happy hour specials, giving you a wealth of options for not a lot of cash. From 6 to 7pm, the new menu presents a handful of small plates and a few beverages, where you can pick and choose any three items for a total of $21. You want to go all-booze and just order three drinks? You can have a glass of sauvignon blanc, some sangiovese, an IPA or a hefeweizen. Want to go all-food? You've got options: umami-and-egg–packed arancini; amberjack crudo; squash blossoms; Niman Ranch meatballs; blistered shishito peppers and other bites are all at the ready. Choose any three from either category, pay only $21. Bing, bang, boom.
Tue-Sat 6-7pm
Thanks to a revamp from 1933 Group, this historic West Hollywood watering hole is back and better than ever. Little Fatty's David Kuo provides a menu of Taiwanese dumplings, noodles and Chinese-American sizzling platters and classics, while Chinatown's gem of an ornate antique wooden bar—formerly of gone-but-not-forgotten Yee Mee Loo—sits as a centerpiece for fun, fruity, strong cocktails. It's the kind of place where you can really lose track of time, and where we want to spend all day and night—which we can now do, because Formosa just launched both lunch service and a late-night menu. From 10pm to midnight every night of the week, find $8 deals such as house-made orange chicken; pork-and-shrimp wontons in garlic sauce; veggie egg rolls; marinated Persian cucumbers in fish sauce; sesame wings with fermented tofu blue "cheese"; and pork-and-cabbage potstickers. The Formosa was a celeb hangout during the '40s and '50s, many of whom watch over the bar via their black-and-white headshots hanging around the space—think of them as your new (old) drinking buddies as you nosh late at night.
Nightly 10pm-midnight
One of our favorite Silver Lake spots just launched a discounted menu that's sure to be a godsend for early imbibers. Tuesday to Thursday you can find the happy hour kicking off at 5pm, but on Fridays and all weekend long, it starts at 2:30pm—so who's with us in calling for the workweek to end around 2pm? We're all for getting a jump on Freedman's modern Jewish bites, some of which (and some of our favorites) you'll find at a lower rate: the Chicago-inspired Big Dog hot dog, the must-order whitefish cigars and the house reuben, among them. Wash it all down with $8 glasses of natural wine and $10 bottled cocktails and martinis. Sound like a plan? Great, see you there on Fridays at 2:30?
Tue-Thu 5-6pm, Fri-Sun 2:30-6pm
Marina Del Rey's a waterfront city, and, fittingly, Terzo MDR takes its inspiration from a coastal region. The Mediterranean restaurant is all about seafood (head-on shrimp, roasted octopus, salmon crudo), but that doesn't mean there isn't fresh pasta on the menu, too. There's also pizza, and a Spanish-leaning selection of small plates that includes options like wood-roasted morcilla sausage, not to mention nightly happy hour, to wash it all down. Every night of service, catch some of these Mediterranean bites for around $6—chicken wings, fried artichokes, the salumi of the day—and sip old-fashioneds and Moscowmules for $7, some red or white for $6, and any draft beer available for $6. It's as easy and breezy as, well, that Marina Del Rey breeze.
Tue-Sun 3-7pm
Looking for more new deals and spots to sip?