Five brand new happy hours to try in July
Your guide to $5 patio bites, $4 beers, an entire summer menu devoted to spritzes and more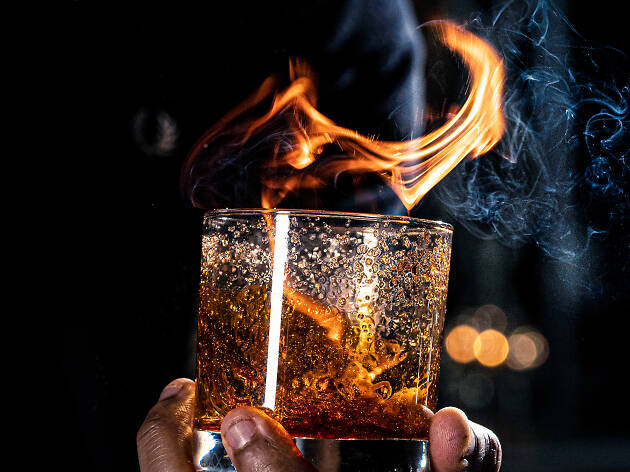 We're well into summer, which means we're on the prowl for refreshing, thirst-quenching cocktails—and at an affordable price to offset all of our seasonal splurges. (Are you telling us you don't lose and replace your sunglasses every week?)
Fortunately, some of L.A.'s best and newest spots are giving our wallets a break with discounted sips and bites, and we do mean discounted. Read on for happy hour deals full of $5 small plates, $5 beers and under-$10 specialty cocktails, which are, let's face it, even cheaper than parking near the beach and settling for subpar refreshments near the boardwalk.
Brazil might be best known for its grilled meats and empanadas, but when it comes to drinking, the caipirinha reigns supreme. The country's national cocktail is a refreshing blend of cachaça, sugar and a whole lot of lime, which helps cut through the heartiness of those flame-grilled and spit-roasted meats—and at DTLA's new Brazilian steakhouse, you can sample it all affordably on weekdays. During happy hour, H&H offers $5 cheese empanadas, $6 grass-fed–beef empanadas, and a $6 stewy, beefy, traditional picadinho bagual, among other bites. South American wines run around $7 per glass, and there's $6 craft beer on tap, too, but you're here for the caipirinha, available for $9 in either traditional, strawberry or coconut varieties.
Mon–Fri 5–7pm
West Third's verdant Middle Eastern spot has a brand new location in Palms, and now you can snag bites for as little as $5—not to mention $10 shot-and-beer combos—at either location. There's patio space at both, but in Palms, the shaded area seems to stretch for eternity (and comprises most of the restaurant's seating, period). It's exactly where we want to be for those prosecco-heavy $10 sbagliato cocktails; $9 lamb sliders; $10 old fashioneds and $5 spreads and dips. We'll take one of those $10 boilermaker combos with a lager and a shot of Jordanese anise liqueur, while we're at it.
Mon–Fri 4–7pm
Far East Plaza's beloved Filipino spot recently secured its beer-and-wine license, which can only mean one thing: a new happy hour menu. Of course, that license can actually mean multiple things, including the fact that Chase Valencia, the restaurant's co-owner and general manager, stepped up to curate the wine list and he's giving us funky natural wines that perfectly complement the happy-hour bites. Rotating glasses of red or white can be had for $10 apiece, while Filipino lager San Miguel Pale Pilsen is only $5 and a handful of craft beers cost $7 each. The bites in question? A few wood-grilled skewers (available in either chicken-gizzard or shrimp) at $3.50 and $4.50 apiece, respectively; vegan Filipino-inspired bar snacks such as calamansi-powder–dusted corn nuts ($6) and rice-flour chicharrones with mushroom powder ($5); and a handful of small plates and sandwiches, such as the house fried rice ($7) with sausage and/or crab additions, a tidy mound of crispy chicken wings ($11); light, crispy fried calamari over squid ink coconut milk ($9) and a gooey, comforting pimento-cheese sandwich on pan de sal ($8).
Wed–Fri 5:30–7pm
Technically Downtown's newest bar calls its special menu "Social Hour," but we all know what's good. The reduced-price food and drink options run well into the night here, which is great because the bar's black-and-gold glam, subterranean setting makes it easy to lose track of time. Housed in the former Honeycut space, it makes good use of that light-up dance floor, which is where you'll probably be after a few of those $5 beers. Cocktails are $3 off during this window, which means tipples such as the Dr. Funk (dark rum, lemon, pomegranate and herbstura) or the Il Napolitano (gin, Aperol, lemon, honey and cherry bitters) can be yours for around $10.
Wed–Sat 5–10pm
Angelenos love a spritz—that breezy, bright Italian concoction usually involving prosecco and an apéritif such as Aperol—and West Hollywood's modern-meets-rustic Italian charmer is giving the people what they want with a summertime menu devoted to it. Every day through the end of August, head to the Viale's courtyard for a swoon-worthy setting complete with the occasional Spanish guitar and, above all, $10 spritzes (normally $15 apiece).
Expect the traditional Aperol variety, in addition to the sgroppino with lemon sorbet, vodka, Amaro Montenegro, prosecco and lemon zest; a California-inspired spritz, made with white vermouth, apricot liqueur, cardamom bitters, lemon, prosecco and star anise; the 101 North Spritz, a blend of Santa Barbara Vermouth, gin, cardamom bitters and prosecco all garnished with a grapefruit twist and lavender; a Campari spritz with Campari, naturally, plus Vermina Rosso, prosecco, rosemary and orange; and, finally, an amari-based spritz with Amaro Braulio, grapefruit vermouth, prosecco, mint and a grapefruit twist. Oh, and psst—Viale's regular happy menu is killer, too, with $4 beers, $4 falafels, $4 wood-fired olives, $9 fried clams, $10 cocktails and more.
Daily 3–7:30pm
Looking for more new deals and spots to sip?