Heads up! We're working hard to be accurate – but these are unusual times, so please always check before heading out.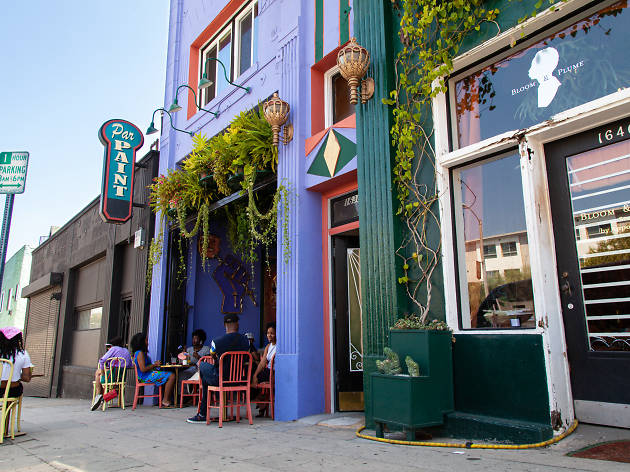 Where to eat, drink and explore in Historic Filipinotown
Get to know one of L.A.'s most exciting dining destinations right now with a stop at these HiFi restaurants, bars and more
It's a tired story in Los Angeles: Neighborhoods dubbed the next big thing price old businesses and residents out, and then the process repeats in each adjacent area. But Historic Filipinotown has the potential to do things differently. Yes, it's in an early but rapidly-progressing period of change. And yes, young chefs opening casual eateries have turned it into one of the city's most exciting dining destinations. But right now there's a sense of community and cultural identity that runs through HiFi that's missing from most other evolving neighborhoods; pop into some of our favorite businesses and you might spot a postcard that highlights other Asian-American–owned restaurants in the area. It's a neighborhood where traditional Filipino recipes feel at home next to '90s hip-hop vibes, with a convergence of cultures that feels authentically L.A.
Though Filipino Americans first started opening businesses, churches and other organizations in the area in the mid 20th century, it was only officially dubbed Historic Filipinotown in 2002. The borders blur a bit depending on who you talk to since HiFi sits at the nexus of a few other neighborhoods: Echo Park, in particular, as well as Silver Lake, Westlake and Rampart Village. In general, though, it's a safe bet to consider HiFi anything south of the 101 freeway and west of Glendale Boulevard; its southern border then follows Beverly Boulevard to that road's intersection with Temple Street (you'll find a sign just up the block from there marking its western gateway).
Wildly colorful murals and casual new eateries keep popping up here and there along otherwise unshowy stretches of Temple and Beverly, but you'll find the most concentrated activity along two walkable blocks on opposite ends of the neighborhood: on the western edge, identifiable by the ever-changing artwork along Gabba Gallery's exterior, and on the Echo Park Lake-abutting eastern edge, easily spotted by the oasis-like patio at Tribal Cafe and purple-painted, floral-fronted facade at Bloom & Plume.
We've picked out our favorite spots all across the neighborhood, including alleyways full of street art, a tour in a colorful jeep and a stop at one of the best bars in L.A.