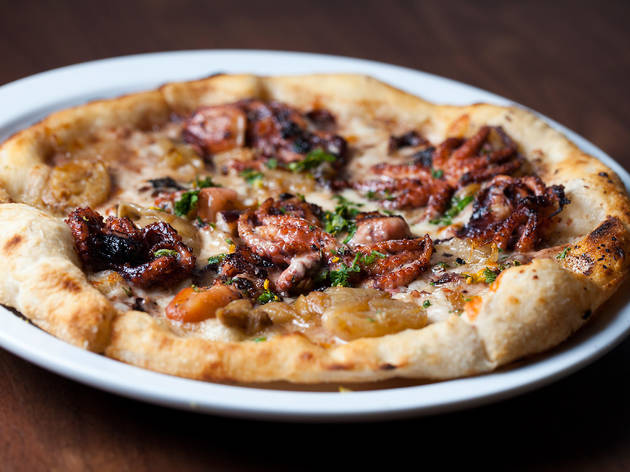 Eat your way through the 4th of July with these food and drink specials
Posted: Wednesday June 29 2016, 10:31am
When celebrating the red, white and blue this weekend, it's important to remember what the 4th of July is truly about: Hamburgers. Kidding! It's about beer, too. In case you have any doubt, restaurants and bars throughout LA are offering some badass food and drink specials this holiday weekend, from all-day happy hours to to prix-fixe dinners.
Baldoria (Little Tokyo): Happy hour is turning into happy day on the 4th, with Baldoria offering their discount prices for the entire 4th of July. Dine on $8 pizzas and get 20 percent off all beer and wine, along with $4 Buffalo Trace bourbon.
The Abbey (West Hollywood): If you had any doubt that the Abbey would be celebrating our Independence Day in style, consider this: $40 buckets of Chandon splits, $20 buckets of Miller Lite, all the beautiful people. 'Murica.
Horse Thief BBQ (Downtown): The 4th of July also happens to be Horse Thief's three-year anniversary at Grand Central Market, so shots all around! Er, we mean beer. For any diner who orders a pint of Shiner Bock or Shiner White Wing, you'll be treated to some pretty sweet Shiner swag. From 5-7pm, pork and brisket tacos will be available for $3 each; starting at 7pm, a DJ will be spinning until the sun goes down.
mar'sel at Terranea (Palos Verdes): Wear your red, white and blue while overlooking the sparkling Pacific Ocean at Terranea's mar'sel, where a Patriotic Dinner will be offered for $65 ($35 for children). From 2 to 8pm, dine on fried chicken and caviar, along with sparkling California wine. Reservations can be made by calling 310-265-2836.
Le Petit Paris (Downtown): It's going to be a full-on party at Le Petit Paris, with the Downtown brasserie offering live music and a summer grill buffet for $35 ($15 for children under 10). Indulge in a burger bar, salad and meat buffet, and a summer dessert buffet from 11am-5pm.
Know of any other 4th of July restaurant and bar specials? Let us know in the comments below!
Share the story