Best of 2013: Time Out Los Angeles Critics' Picks
Time Out Los Angeles readers told us which restaurants, bars, museums, shops and more are at the top of their lists.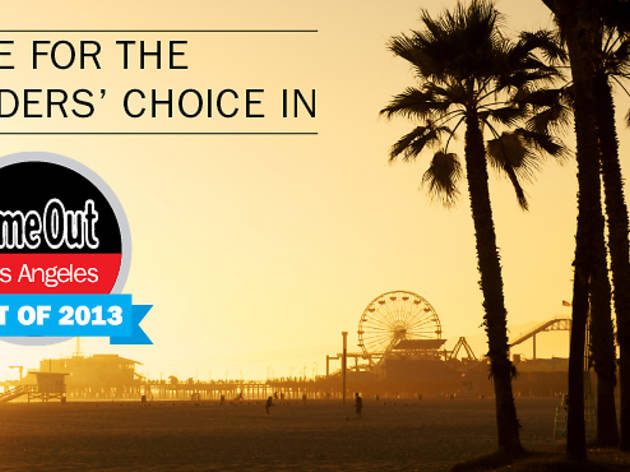 The newest boutique hotel from Avi Brosh, Palihotel sits on Melrose Avenue's prime retail shopping strip. The location may be unexpected and the space a bit small, but inside lays 32 impeccably-designed rooms, indoor and outdoor lounge areas including an alfresco courtyard and upstairs salon, and homey charm that makes you want to curl up with a book in every nook and cranny. With a Southern-inflected restaurant, the Hart & the Hunter, that serves from breakfast to dinner and a private room for Thai massage, you may never want to leave.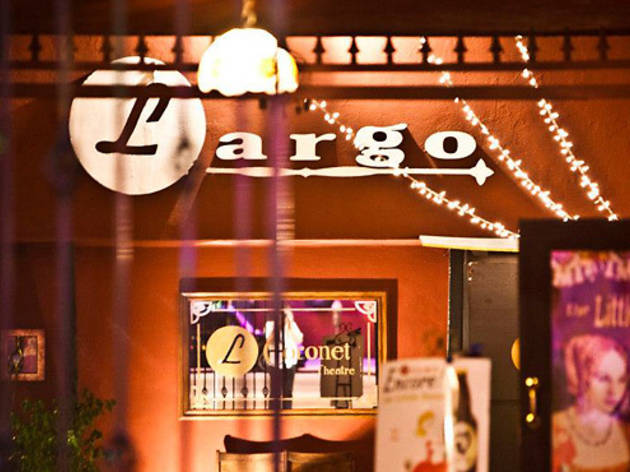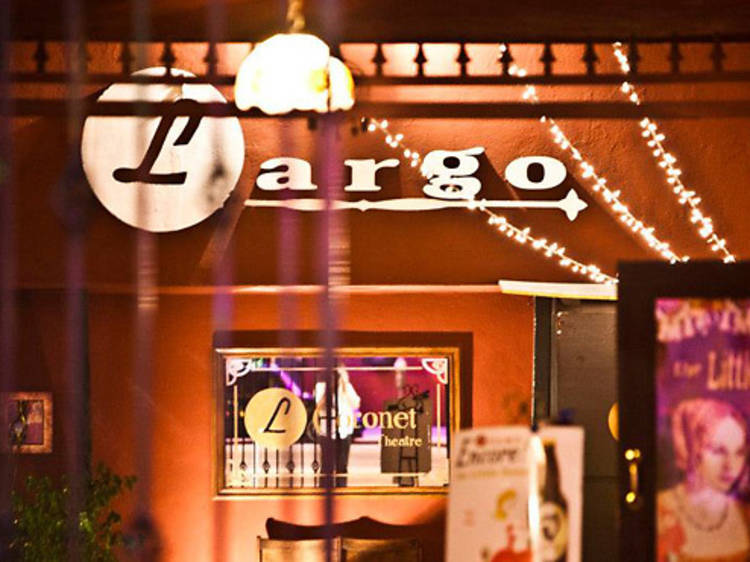 The address has changed and the dinner menu has gone (it's now snacks only), but the performers remain the same at LA's home for cultured, bankable singer-songwriters and brilliant comedians, relocated to a '40s theatre. The likes of Aimee Mann, John Doe, Jill Sobule and perennial hot-ticket artist-in-residence Jon Brion ply their trade in the 280-seat theater. But most nights, Largo rounds up a consistently stellar stable of comedy talent, from showcases hosted by Patton Oswalt, Nick Kroll and Sarah Silverman to the occasional transcendent set by the likes of Louis C.K. or Tig Notaro. RECOMMENDED: LA Comedy Calendar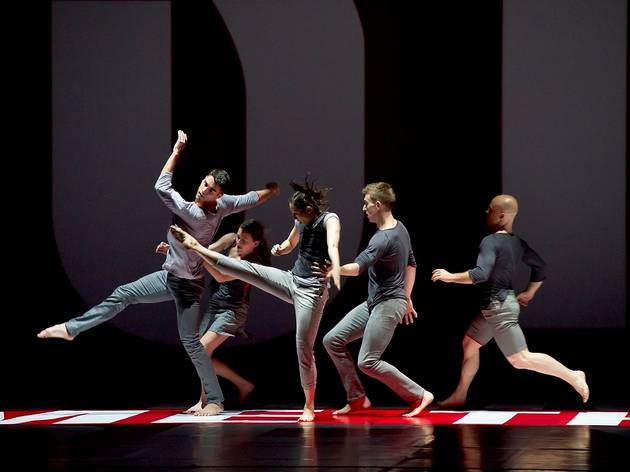 Best hope for a rising dance scene in LA: LA Dance Project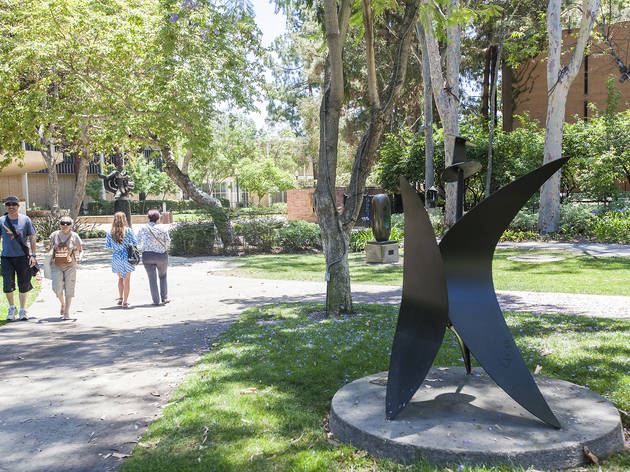 There's a rock star-level roster of art hanging out in plain sight on the UCLA campus in the Franklin D. Murphy Sculpture Garden. With works by Miro, Matisse, Rodin, Arp, Lachaise, Zuñiga, this 5-acre sculpture garden is a treasure trove of art—70 pieces in all—and it's one of the most impressive outdoor sculpture collections in the U.S. Group tours of the garden are available through the Hammer Museum, or take a self-guided one (there's a podcast about the garden available for free on iTunes).
Best excuse for a party disguised as an art gallery opening: Night Gallery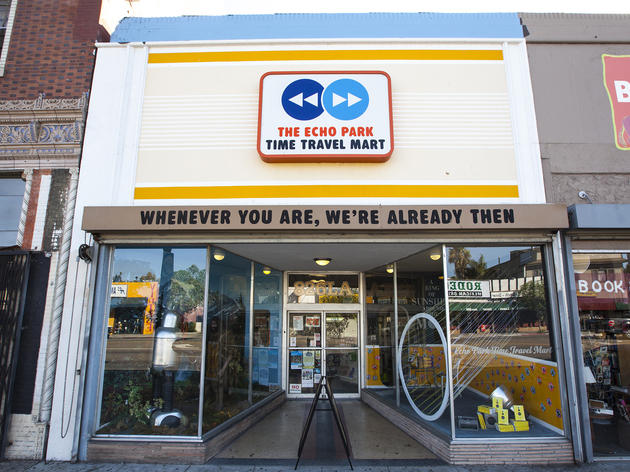 Things to do, Cultural centers
At first glance, the inside of this storefront resembles any other market in the area—but look closer and you'll find a collection of funny "time travel" curiosities that one needs in order to visit the past and future. Oddities include Robot Toupees, Aeon Bottled Time (i.e. sand in a bottle), Barbarian Repellent, Primordial Soup In a Can, and a whole bunch of books. What's going on? The market is a ruse: everything in it is indeed for sale, but the store is actually a front for 826LA, a nonprofit organization which tutors kids ages 6 to 18. Founded by author Dave Eggers, 826LA gives free creative writing classes to kids. All the books in the store? They're written by those children. Many are professionally published in tandem with publishing houses around LA and some are actually sold on Amazon. The classroom is located through a door in the back of the shop, and only the kids who take classes even know it's there. Shoppers can buy cool gifts, or volunteer to teach the kids. If you come up with an idea for a product to sell in the store, the employees will help you design it and the store will sell it. Which might spur others to drop some money and add to the financial support of this amazing nonprofit. How cool is that?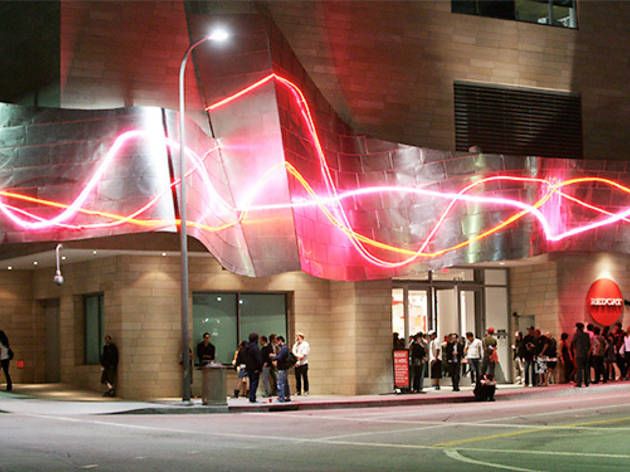 Theater, Performing arts space
Located in the back of the Walt Disney Concert Hall complex, the prestigious CalArts-owned multipurpose space leads the way in compelling avant-garde performances in dance, music and theater—not to mention the exhibits mounted in the center's 3,000-square-foot gallery.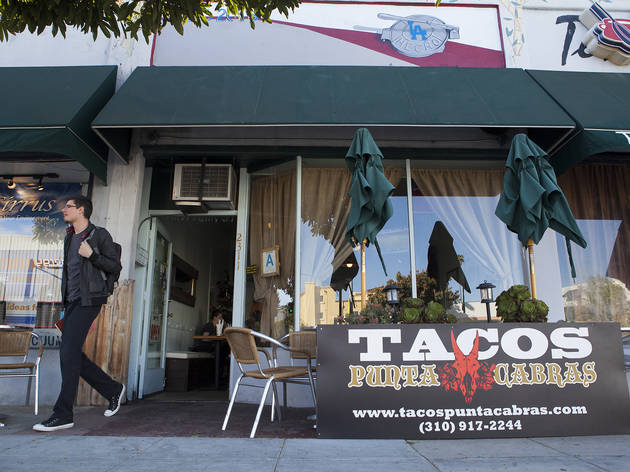 The Westside isn't exactly known as a taco destination, but Tacos Punta Cabrasis changing LA's taco landscape. Chefs Josh Gil and Daniel Snukal—they also run the popular underground dining club Supper Liberation Front—recently opened this small, cozy space tucked away on Santa Monica Boulevard. The focus here is Baja-style seafood tacos ($3.50). The scallops, subtly sweet and battered in crispy tempura, are particularly good, and the fresh, chewy tortillas make it that much better. Specials like cardoons topped with a "63-degree quail egg" go fast, so come early… and come often.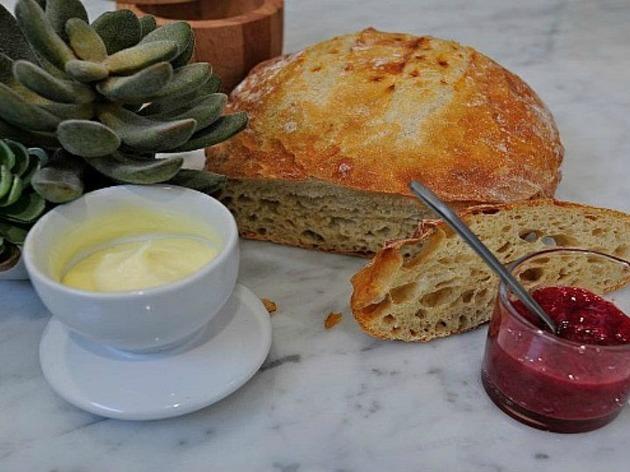 Things to do, Schools and universities
Housed in Beverly Hills' Greystone Park, the Institute of Domestic Technology holds an array of extensive, hands-on classes from canning to home coffee roasting—in a popcorn maker, no less. Instructors are knowledgeable; classes are intimate and always supplemented with freshly-made snacks for refueling.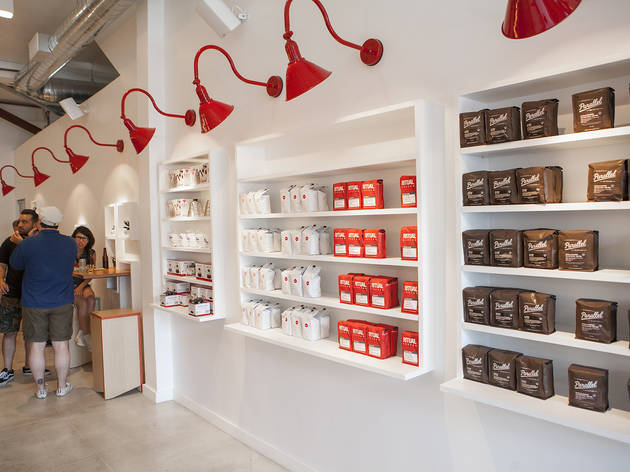 Restaurants, Coffee shops
Mid-City's Larchmont Blvd is getting schooled in all things roasted and brewed at Go Get Em Tiger, the newest iteration of G&B. The growing coffee empire from varsity team Kyle Glanville and Charles Babinski—they met at their alma mater, Intelligentsia—sets up their third storefront along the ever-growing block in the space once occupied by the long-standing (and, inevitably, shuttered) Baskin-Robbins. Ice cream cases are replaced with a long, standing bar where coffee nerds and newbies can get their caffeine fix. (Those looking for a frozen treat, can request the milkshake mixed with Strauss vanilla ice cream and an eye-opening four shots of espresso.) The light-filled, minimalist space features grab-and-go bottles of housemade cold brew, pastries and retail items from brewing supplies to beans. There's an all-star line-up of coffee—expect four to six rotating varieties at a time—from San Francisco (Ritual), Vancouver (Forty Ninth Parallel) and PDX (Heart Roasters). Take a seat at one of the low-slung wooden stools or tabletops by the bar for toast and jam (courtesy Saving the Season) to go with that pour-over ($4.25). Our number one pick? Try a cappuccino made with almond milk ($5.75), the homemade variety gets into the DIY spirit.
Show more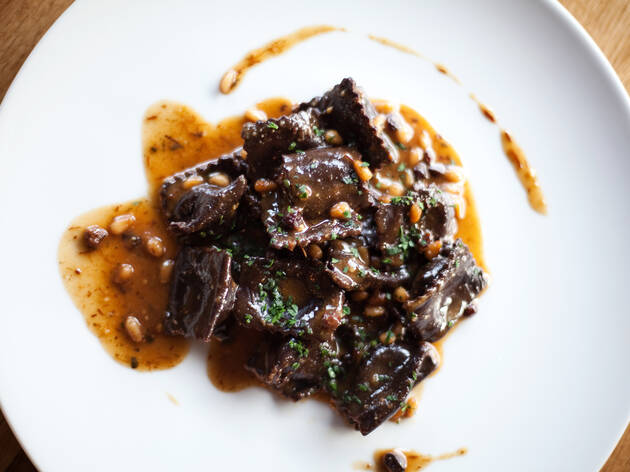 Don't try to walk into Bestia without a reservation. As the most talked about (and as a result, packed) restaurant at the moment, securing a table at least a week in advance is a good idea. And even then, you might have to wait for a table. The up side: The bar is a happening place to be not only for dinner but also for drinks with mixologist Julian Cox behind the seasonal libations. It seems like most everything that restaurateur Bill Chait touches turns to gold—places like Sotto, Picca and Short Order, and, now, Bestia, another white-hot hit. Ori Menashe, a longtime Angelini Osteria chef, is the brains behind Bestia's thoughtful, ingredient-driven Italian menu that doesn't shy too far away from California. Menashe's house-cured salumi is superb, especially atop a puffy pizza with ricotta, charred Brussels sprout leaves and chili oil. Housemade spaghetti tangled together in a sea urchin tomato sauce was both creamy and balanced and a stew of braised pork sausage and veal ribs was comforting enough to evoke nonna's. Perhaps one of the Bestia's best kept secrets is wine steward Maxwell Leer—he joins the restaurant by way of the Tasting Kitchen and the Bazaar—whose strength is selecting obscure wines from boutique producers around the world that you've likely never heard of. Don't be surprised if he tries to pour you an orange wine or a dry Sherry with dinner. Go with it. To describe Bestia as a brick bunker isn't intended to insult. The wide open restaurant, defined by walls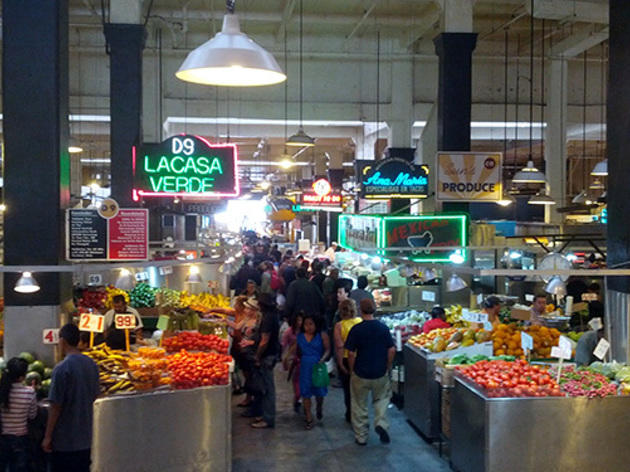 Buried in the heart of Downtown LA is this European-style food hall, which has been operating on the ground floor of the iconic Homer Laughlin Building since 1917. Some food vendors merit more praise than others, though Mexican- and South American-themed stalls offering treats like pupusas, carnitas tacos and aguas frescas remain some of the most popular.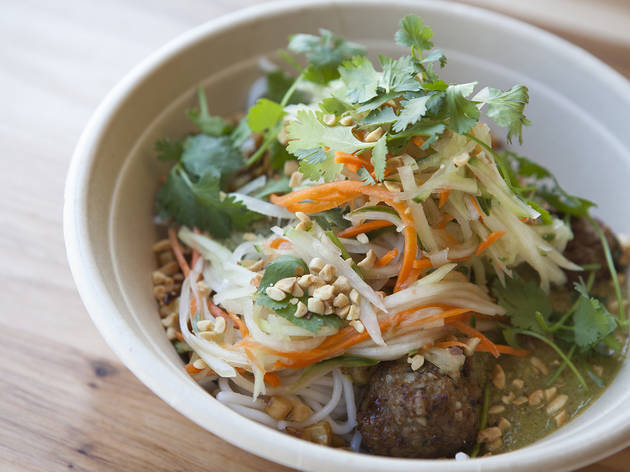 Restaurants, Fast food spots
Welcome to the new age of fast food dining: Chipotle expands from burritos to bowls, taking a trip to Southeast Asia, namely, Shophouse, the second location in the heart of the popular 3rd Street Promenade . Lunchtime crowds and budget diners can customize their own on-the-go meal. Create a base of brown or jasmine rice, rice noodles, Napa cabbage, then pile on meat—grilled chicken satay, grilled steak laab, pork and chicken meatballs or veg-friendly tofu— and veggies (broccoli, charred corn, eggplant & Thai basil, green beans). Finish with your choice of sauce, garnish (papaya slaw, pickles, herb salad) and crispy toppings (toasted rice, crispy garlic, crushed peanuts). You can expect the same virtuous eating (re: antibiotic and hormone-free meat, non-GMO tofu) and touches of the East with a wall plastered with Thai newspapers, racks of Sriracha bottles and the store's own maneki-neko aka lucky fortune cat. The flavors are bold and often spicy with ingredients—did someone say tamarind vinaigrette or coconut curry?—you won't find at your average food fast joint.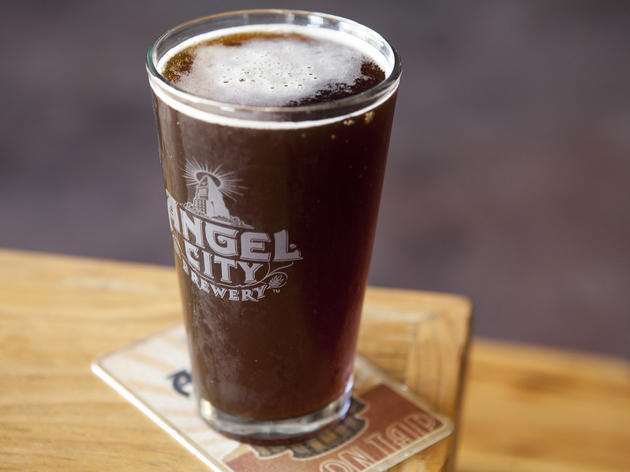 Angel City Brewing opens the doors to its brand new home in Downtown's Arts District. After closing up its Alpine Village storefront in 2010, the local brewery has rooted itself in an expansive, century-old John A. Roebling building, the former production site for suspension cables that made their way to the likes of the Brooklyn and Golden Gate bridges. The industrial space has a bare-bones, beer hall feel, with plenty of room to spread out among picnic tables beneath a renovated mezzanine. But the main focus is the well-lit bar with 12 coveted bar stools, clean copper taps and an Art Deco-inspired backdrop. The building's graffiti art is not to be overlooked: Above the entrance, a work of art from street artist JR's The Wrinkles of the City commissioned by MOCA and a Ronald Regan portrait by Shepard Fairey are on view. This is a city brewery to keep your eye on—just don't let your beer trickle down in admiration. Vitals Good for: A beer-and-pretzel end to a lazy weekend stroll in DTLA. If you've never been behind the scenes at a brewery, sign up for a tour (check their website for times), where you'll get to see and sniff malt, hops and aromatic components like dried orange peel. The Scene: Nearby beer-loving residents in their 20s and 30s unwind post-work during weeknights and on weekends take advantage of the free board games—Jenga, Checkers, Monopoly—as well as a dog-friendly policy, so don't be alarmed if a little bark comes with your beer. Locals also stop by to ref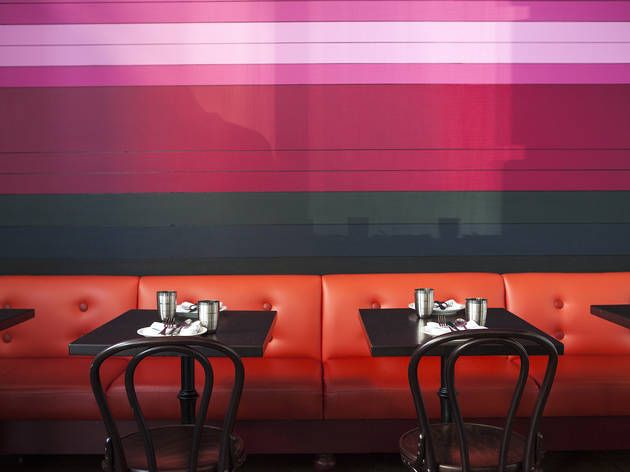 DTLA's newest culinary concept is a family affair with father-son team chef Pawan and Nakul Mahendro' mash up of old and new, traditional and modern, East and West at this Indian gastropub. A welcome change to Downtown and the growing intersection of 2nd and Main streets, traditional and updated Indian street foods and favorites are served in a design-forward space. White tiles and black chalkboard walls meet color block banquettes and a central art piece inspired by the colors, while vintage Bollywood posters and aluminum tumblers straight from the motherland add authentic flair. Sit at the bar, upstairs or along the sidewalk and take in the Bollywood movies projected on the wall as small plates arrive at the table. Start with street cart classics such as addictive 2-Bite Fish Fry ($9); crunchy papri chaat chips($7) served with masala-flavored potato and chickpeas, yogurt and tamarind and mint chutneys; or fried samosas—choose traditional potato and peas and not-so-traditonal short rib and pineapple. Beef eaters can fill up on the Badmaash Burger ($11) gussied up with mango jam and spiced mayo on a brioche bun and Holy Cow! Keema Pow ($10) of beef, pea, tomato stew served with mini brioche buns, while old schoolers can opt for butter chicken ($12), good ol' saag paneer ($11) and tandoori oven faves like naan ($3) and Badass Chicken Tikka ($12). Thirsty? New World wines by the glass and bottle and a limited, yet impressive, selection of CA-local beers by the bottle and can. T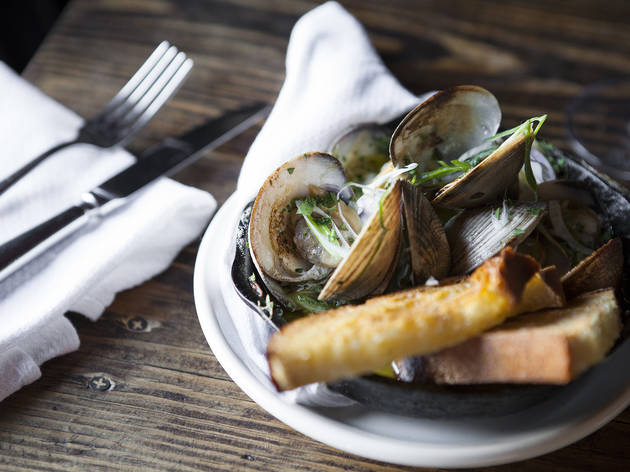 AOC has maintained its seasonal consistency over the years, serving the denizens of Los Angeles for a decade. The neighborhood wine bar is back in the limelight with a charming relocated home on West Third Street and a successful reinvention from chef Suzanne Goin and business partner Caroline Styne. Now, there's more reason to visit more than ever. With a gorgeous patio and tastefully simple dining room with natural hues accent Goin's rustic cuisine, AOC is a restaurant fit for many occasions—date night in a cozy back booth or drinks with friends at the communal table or bar. AOC is still centered on Californian: seasonal salads, plenty of vegetables and dishes from the wood-burning oven including pizzette-like focaccia. Fans of the original AOC will be happy to see signature dishes such as curried cauliflower, arroz nero and bacon-wrapped dates. The expanded menu also includes larger plates to share from housemade sausages to half and whole roast chicken. While some dishes are better than others, Goin's seasonal menu provides ample variety and generally succeeds. Styne curates an expanded list of organic, natural and biodynamic boutique wines from around the world. Offered by the glass and by the bottle, the comprehensive selection range from the esoteric—try the Hungarian Kiràlyudvar's Furmint ($14)—to domestics on tap. And for the first time, the bar is licensed to mix and muddle about half a dozen $14 cocktails that make use of the season's best. Vitals What to eat: St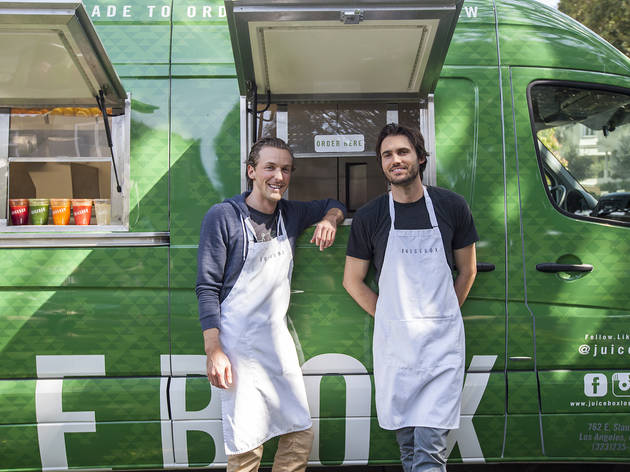 Photograph: Jakob N. Layman
Best green drink cure for the morning after: Juice Box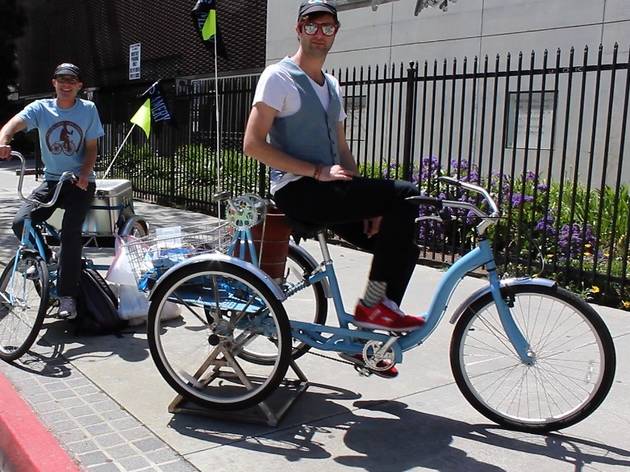 Restaurants, Ice cream parlors
Everyone knows ice cream tastes best when its churned by bicycle. Make sure the rumors are true at Peddler's Creamery, now with a storefront in hip DTLA. Ice cream, vegan desserts and sorbet are house-made from local and organic ingredients.