Here's where to find the cheesiest, sauciest, best chicken parm in L.A.
Grab some stretchy pants and clear your afternoon for a post-meal nap, because these restaurants are serving the ultimate Italian-American comfort food.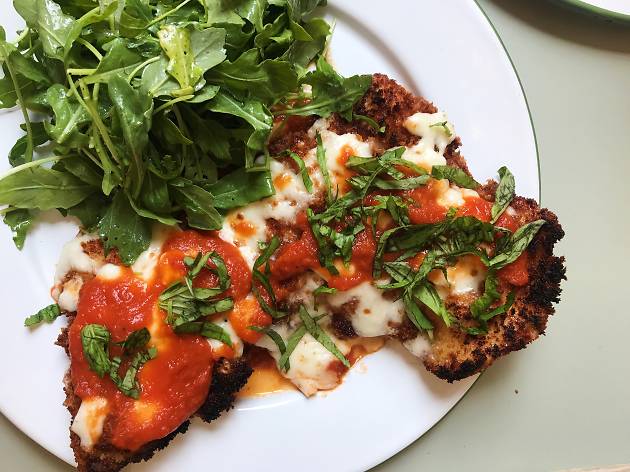 Red-sauce joints and L.A.'s old-school Italian-American gems tend to get lost in the wave of newer, trendier handmade pasta spots and coastal-Italian restaurants, but there are certainly still some stars shining bright—you just need to know where to look.
While there are a slew of dishes that embody the culture's hearty, quintessential type of family-style dining, the most iconic is chicken parmesan: Whether it's on a plate as a dinner entrée or between a perfectly crusty roll as a sandwich, chicky parm is elite-level comfort food. The problem is, it's such a simple dish—a lot of variants tend to taste similar, what with the clear-cut components of fried chicken under red sauce and mozzarella or provolone. So, how do you parse the city to find out who's got the best cutlets? Easy. Consult our guide to the ultimate chicken parms around L.A.—consider us you own little nonni. (You look a little skinny—have you eaten yet?)
For chicken parm sandwiches