Coachella 2014: What to eat and drink
Some of the best Los Angeles restaurants and bars are popping up at the music fest. Fuel up for Coachella 2014 at these local favorites.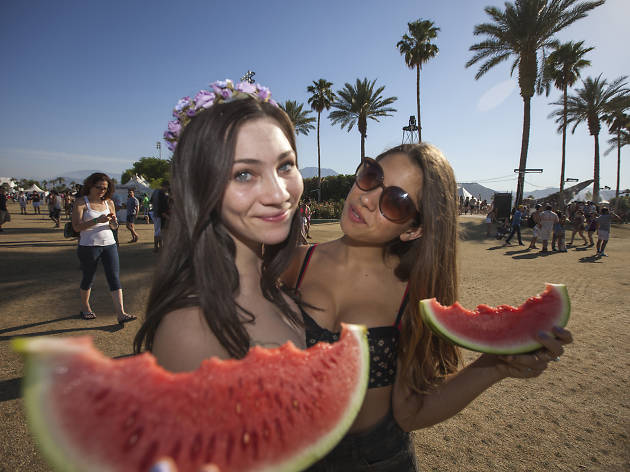 Coachella is all fun and games until hunger strikes and you find yourself in a desert (literally). This year, you're in luck—some of the best Los Angeles restaurants and bars are setting up shop at the music fest, and not just for VIP ticket holders. Head to the Terrace for plenty of vegan, vegetarian, gluten free, and even kosher options. Planning to camp out? Wake up to juice and coffee at the Camping Counter. And for those who scored VIP tickets, head to the Rose Garden for drinks and eats from LA tastemakers including food from Joseph Centeno's DTLA hot spots, libations from Cedd Moses' bars and more.

RECOMMENDED: See all Coachella coverage
Follow Ramona Saviss on Twitter: @RamonaSaviss
General admission: The Terrace
General admission: Camping Counter
Short order is a celebration of over thirty years of friendship and culinary collaboration between Amy Pressman and Nancy Silverton. Highlighting their shared passion of bringing the best seasonal ingredients to the table, each menu item at Short order is crafted emphasizing locally raised, organic, artisanal and handmade products. This restaurant is Amy and Nancy's showcase for foods prepared the way they personally love to eat. Short Order represents their comfort in the simplicity of cooking as they would in their own homes.
Restaurants, Coffee shops
If by the late afternoon, you still haven't met your day's caffeine quota, make your way down to Stumptown. The PDX coffee company makes it way to Downtown's Arts District in a 7,000-square foot warehouse space that houses a 60-kilo Probat coffee roaster, pastries from Sugar Bloom and a menu of 20+ coffees and espresso-based drinks. Plan your visit for 3pm, when the staff leads daily cuppings (that's coffee tastings, for you non-coffee nerds) .
To juice or not to juice, that's not even a question in this town. And in the midst of the city-wide juice frenzy, the latest to open up shop is this La Brea storefront. Pick up bottled, cold-pressed juices—try the eponymous green with pear, lime, cilantro, mint and kale or a seasonal concoction like the cold-weather comfort made with yam, carrot, cinnamon, ginger made from organic, local ingredients—or detox with an eight-juice-a-day cleanse from 1 day ($70) to five ($350). There's also Kombucha on tap—hello, Portlandia—and power shakes—we love the eye-opening Rise & Grind ($8) with espresso cubes, Stumptown coffee and chocolate protein powder and dark chocolate chips and chia, banana, almond butter mix called Chia-Spa ($8), perfect for a post-yoga drop-in from the next-door Moksha Yoga. For those who prefer to chew, there are vegan selections of sandwiches and salads from Silver Lake's Flore and locally baked, gluten-free sweets. Peruse other locavore goodies like handmade aromatherapy candles and paintings for sale from Lab Art.