Heads up! We're working hard to be accurate – but these are unusual times, so please always check before heading out.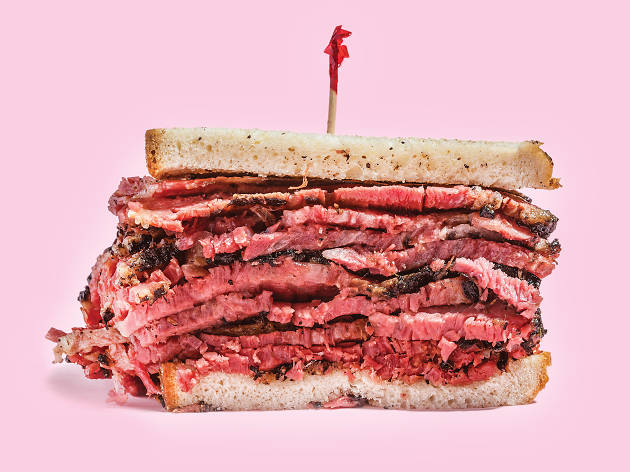 Here's how to get the most iconic dishes in the country delivered to your door
Who needs to live in New York City to get Katz's anymore?
Maybe you've already ordered from every restaurant in your neighborhood four times this week or you're feeling a little homesick for a city on the other side of the country, or maybe—just maybe—you're just dying to try that one sandwich from a restaurant in a city you've never been to. Whatever the case, some of the best delis, cafés, sandwich shops, barbecue joints, bakeries and butchers deliver out of state, bringing some of the most iconic dishes in the country (and the world) to your doorstep. Whether you're ordering from a national shipping company or straight from the source, here's how to get some of the country's most iconic eats in your own home.
RECOMMENDED: Support your favorite local restaurant without leaving the house
Chicago
Though it's everywhere, the big deep-dish game in town falls to two famous pizza makers: You're either on team Giordano's or team Lou Malnati's. And though we love the occasional Giordano's, Lou Malnati's deep-dish is the platonic ideal of the iconic Chicago-style pie. Nearly 50 years in and the husband-and-wife duo of Lou and Jean Malnati still turn out made-from-scratch pizzas with a buttery, perfect crust and an essential "backwards" technique of layering ingredients: thick, fluffy dough gets topped with mozzarella, then sausage and other goods, then fresh tomato sauce, then tomatoes and more cheese. Through Tastes of Chicago, Malnati's ships whole, ready-to-bake deep-dish pizzas, plus its vinaigrette, heart-shaped cookies, and even a deep-dish pan and branded serving spatula for perfect slice pulls at home.
You want a dog with some snap? The crucial ingredient to the Chicago-style hot dog—and arguably the maker of the best beef franks known to man—doesn't just sell hot dogs in your grocery store: Vienna Beef's online store ships dozens of products, including whole packages devoted to the crispy, salty, meaty, pickle-topped Chicago dog, complete with relish, celery salt, poppy seed buns and more. It sells kits for Italian beef sandwiches. It sells jars of Chicago-style relish. It sells boxes of bagel dogs. It sells giardiniera. It sells soft salami. It sells Polish sausages. Listen, you want Chicago meat? Now you know where to find it.
Miami
When you hear "South Florida seafood," you probably think Joe's Stone Crab—and if you don't, it's time to get acquainted. This 100-plus–year institution serves platters of crab, oysters, coconut shrimp and more, not to mention plenty of steakhouse classics, with much of the seafood caught off the Florida Keys. Lines to dine in can stretch on forever, but if you're ordering for delivery, all you'll need to do is place your order via the restaurant's shipping page, choosing between à la carte stone crab claws, lobster dinners, crab cakes, whole Key lime pies, a classics-oriented package or some combination thereof—and you'd better believe the famous Joe's mustard sauce is included with almost every dish.
Miami's ubiquitous pastelitos are on the move: Vicky Bakery's Cuban pastries—a staple since 1972—can now be enjoyed far beyond South Florida. Shipped frozen and ready to bake, each order contains one dozen of the flaky, buttery pastries made with the bakery chain's original family recipe, plus the parchment paper you'll need to bake them at home. Simply hop on Vicky's own online shop and choose from the cheese variety, the guava option, the cheese-and-guava pastries, or the combo box of all three.
Philadelphia
Dubbed "The House of Cheese" and brimming with hanging salami, wheels of provolone and anything else you could want from an Italian deli, Di Bruno Bros. is a Philly institution. Their cold case is full of antipasti, the shelves are stocked with pastas, olive oils and bottled sauces—many of which are house label—and the cheese selection is otherworldly. Thankfully the house that cheese built ships nationwide through its own website, so you can get fresh burrata, Abbruzze cheese spread, smoked mozzarella, olives, cured meats, a hoagie kit, tins of fresh Italian cookies, spiced pears, pestos, caviar and more straight to your door.
When it comes to beef dripping with cheese sauce, one city rises above the rest. In Philadelphia, Pat's vs. Geno's is the ultimate rivalry, but only one of these legendary restaurants offers nationwide shipping for Philly cheesesteak bliss. Pat's King of Steaks, founded in 1930, is credited with creating the sandwich and throwing sliced beef on the flat-top with some onions and whiz. Via Goldbelly you can get packs of Pat's cheesesteaks sent to you, with your choice of "wit" or "wit-out" onions, and with your choice of cheese: whiz, provolone or American.
San Francisco
When it comes to Bay Area bakeries—or restaurants, period—none are more iconic than Boudin Bakery. The name is synonymous with sourdough at this point, and its loaves still get made with the same starter its bakers have been using since 1849. Even the thought of rich clam chowder filling a hollowed-out sourdough bowl conjures foggy days at Fisherman's Wharf, and you can bring a taste of the Bay to you own home even if you're nowhere near fog (or water, for that matter). Boudin's own website sells sourdough bread samplers; loaves shaped into crabs and turtles; classic boules; seasonal specials; bread bowls; and baguettes—not to mention cans of its chowders, jars of local mustards, blocks of California cheese, and monthly subscription services.
Sure, those chocolate squares are a commodity all over the world, but if you really want a taste of a Ghirardelli chocolate shop—where the scent of creamy milk chocolate coats the air and old-timey sundaes come served in tall soda-shop glasses—you can recreate it in your own home with a few clicks. The 1864-founded, iconic SF temple to chocolate sells plenty of wares through its online shop that extend far beyond the usual wrapped squares (though they've got plenty of those, too): You can order double chocolate hot cocoa, frozen hot chocolate kits, hot fudge topping, baking chips of every variety, dark chocolate chip cookie box mixes, ground white chocolate powder, ready-to-bake brownies and beyond.
New Orleans
There's something transportive about a cup of Café Du Monde chicory coffee, a sip that reminds us of slow mornings and late nights in New Orleans—that, and fingertips covered in powdered sugar. You can take that figurative trip thanks to the iconic café's online shop, which boasts some of the same goods Café Du Monde has been offering since 1862. The French Market coffee stand ships cans of its chicory coffee, as well as its French roast, plus coffee pods for home machines and even coffee subscription services. Of course it wouldn't be the full Café Du Monde experience without its signature beignets—pillowy, fluffy and dusted with powdered sugar—which can be made fresh at home with box mixes.
There are deli sandwiches, and then there's the muffuletta: The stack of cold cuts, olive salad and cheese on a sesame loaf is undeniably one of the most incredible sandwiches ever invented, and its birthplace is still standing. The French Quarter's Central Grocery—an Italian-American sandwich shop and market that tourists and locals stick flock to after more than 100 years—now sells its signature muffuletta via Goldbelly. You can buy them in packs, and if you're as partial to their olive salad as we are, you can also buy the jars à la carte.
Austin
Sitting just south of Austin, Kreuz Market is a temple to smoked meat that's been keeping Texans satisfied since 1901. The Lockhart institution serves hearty slabs of prime rib, brisket, large sausage links, gargantuan chops and ribs smoked in brick pits. Kreuz uses oak wood, which burns at a more leisurely rate than popular mesquite, and gives the meat time to mature in flavor and tenderness. You can taste the difference, and you can taste it through Kreuz's online store, which ships à la carte meats, smoked or dried sausages, and dinner packages nationwide.
Rudy's was founded just outside of San Antonio, but don't let that fool you: With five locations in the Austin area, it's a downright BBQ staple. It's also some of the best BBQ that ships outside of Texas, bringing you that slow-smoked meat you can't find in most of the country—don't believe us? Sample it yourself via the Rudy's online store, which sells whole turkey breasts, whole briskets, jalapeño sausages, St. Louis-style ribs and sides, not to mention bottles of its signature BBQ sauces and rubs.
Portland
You know the phrase: Everything Old World is new again (or something), and no one does Old World charcuterie like Olympia Provisions. Portland's iconic salumeria takes a page from European-style charcuetie programs to make some of America's most artful pâtês and cured meats with local flair. You might've tasted a charcuterie board at the restaurants or spotted popular butcher-paper–wrapped varieties at the grocery store (just thinking about the Greek-style loukanika has us salivating), but when you order from Olympia Provisions's online shop, you'll find much more to drool over: They ship individual salami, sausages, pâtés, a range of sampler boxes, charcuterie baskets, jars of their pickled goods, and even subscription services so the meat and pickles never have to end.