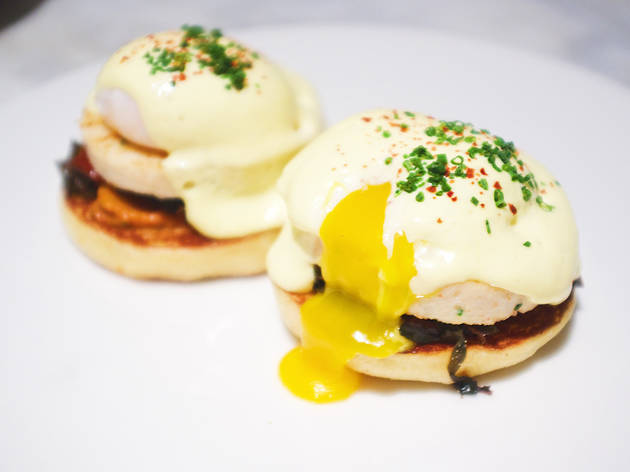 Five brand new brunches to try in March
We're talking bottomless brunch cocktails and some of the city's best pastries
We're breezing into alfresco season, which means it's the perfect time to drink some mimosas in a botanical garden or opt for poached eggs on a plant-packed patio. Whether you're looking for bottomless brunch cocktails and scallion pancakes from a Top Chef winner or the city's best pastries, here's where to kick off your weekends in March.
For brunch with some scenery, the Edition Hotel's lush plant-covered Ardor restaurant just launched brunch service so you can wake up to skillet pancakes on one of West Hollywood's best patios. Chef John Fraser's keeping the natural focus going on weekend mornings with a menu that's big on produce: There's a small seafood raw bar selection, plus options like steak with shiso chimichurri; lobster scrambles; and a breakfast sandwich sporting chicken sausage and Calabrian chili. But the focus here is on vegetables—many sourced from nearby farmers' markets—which find their way into the likes of breakfast tacos with sweet potato and avocado; a forest-mushroom omelet; crepes with cream and berries; seasonal four-grain porridge; and a Greek mezze platter with turmeric eggs and butternut squash baba ganoush. If that somehow doesn't do it for you, there are fresh pastries (hello, house croissants and English muffins) and mimosas, not to mention a number of rosés. (Hey, it's almost prime patio season, remember?)
Sat, Sun 11am–3pm
One of 2019's best new restaurants is getting into the brunch game with one of the best ways you can start a morning in L.A.: Lincoln Carson's pastries. The Bon Temps chef and pastry star sadly cut weekday breakfast at his modern Arts District brasserie, which meant that some of the city's best croissants, cakes and scones disappeared from the scene. Thankfully they've returned at the new brunch service, where you can purchase a flight of them via the pastry board, which features a new addition of whipped ricotta and honey. But as brilliant as these baked goods are, they still don't manage to outshine entrées such as Carson's crab cake Benedict with tomato jam; the flawless "eggs on eggs" French omelette topped with caviar; and a custardy butternut squash quiche. Even the sides are worth daydreaming about, whether it's the artful slab of lacquered thick-cut bacon or a bowl of crispy potatoes, which arrive as borderline patatas bravas. Our point? One of the best restaurants in town is now serving one of our favorite new brunches, so grab a few friends and order the menu.
Sat, Sun 10:30am–2pm
Now that the weather's warming up, why not brunch alfresco? The Kitchen at Descanso Gardens recently underwent a massive revamp, which means the sprawling and iconic botanical gardens have a new all-day café to check out—and on weekends, a new brunch. The Kitchen's new, more global menu takes its cues from the nature that surrounds it, which means cauliflower al pastor tacos; a tarragon-aioli–topped burger; and produce-packed cocktails—and at brunch, a bar menu of fresh-vegetable bloody Marys, plus floral options such as the Blossom Mimosa, made with chamomile syrup and edible flowers. To eat, look for weekend-only additions such as a daily quiche; beignets with Chantilly cream; and chilaquiles with free-range eggs. Note: You don't even need to buy admission to the gardens in order to dine here (but if you ask us, tickets max out at $15 and are well worth it).
Sat, Sun 9am–2pm
It's finally here. Jessica Koslow and Gabriela Cámara's highly anticipated collab was announced as an all-day restaurant, and now it is. The L.A.-meets-Mexico City concept opened inside Santa Monica's Proper hotel last October, but a few weeks ago, we finally got a taste of the kind of morning fare the minds behind Sqirl and Contramar might whip up together. What does that look like? As it turns out, a few Sqirl-y rice bowls and salads, topped with local produce and herbage, but also new additions like chorizo and fried eggs; a tlacoyo of house-made masa topped with beans, eggs, crema and avocado; chilaquiles under confit tomato sauce; masa ricotta pancakes with Sqirl's blood orange and hibiscus marmalade; and blue-crab toast with sorrel, trout roe, fig leaf oil and preserved Meyer lemon. Supplement with a few of the fresh pastries—we're talking goat-milk cajeta linzers, coconut cream conchas and more—and coffees like the caramely cajetaccino, and you're kicking off the day in style.
Daily 8am–3pm
Top Chef winner Hung Huynh gave West Hollywood a sleek Pan-Asian restaurant last fall, plating wagyu-beef potstickers; lobster rangoon; gingery Cantonese shrimp; drunken noodles with short rib; and a cheeky Fukyou chicken with basil late into the night (speaking of late into the night, let's not forget his downstairs bar, the Choo Choo Club). But this Sunday he's launching brunch service, curing any Saturday-night hangovers he might've caused. You'll be able to kick things off with a hair-of-the-dog prosecco kit ($45), which includes a bottle of bubbly and juice fixins like strawberry, peach, and orange juice, or opt for $20 bottomless mix-and-match cocktails. To eat, find those evening lobster rangoon and beef potstickers, plus brunch fare like a scallion pancake wrap with eggs and bacon; banana bread French toast with pineapple rum raisin sauce; the Fukyou chicken in sandwich form; steak and eggs; the Warrior stack-of-the-day pancakes; and Benedicts galore. And if Huynh caused you any hangovers due to too much Friday partying, don't worry—he's planning on launching Saturday brunch service down the line, too.
Sun with seatings at 11am, 1pm and 3pm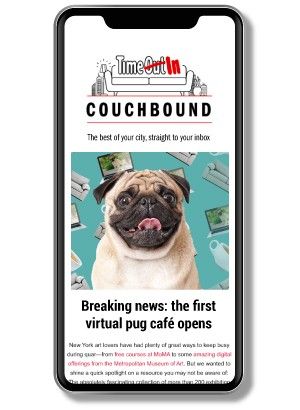 An email you'll actually love
Sign up to our Couchbound newsletter and bring the city to your sofa
Subscribe now
Looking for more new menus?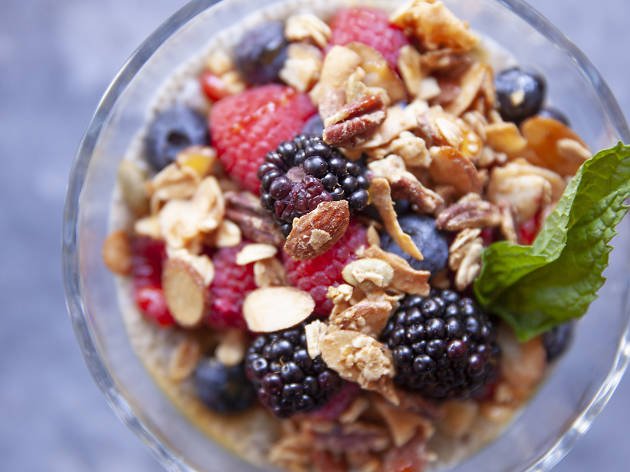 Photograph: Courtesy Socalo/Anne Fishbein
Five brand new brunches to try in January
Uni scrambled eggs, anyone? This all-day café recently cropped up inside the new Second Home co-working space, but Andrew's Place is open to all—meaning there's no membership required to enjoy some coconut yogurt with almond granola on that verdant patio. There are house-cured salmon tartines; bowls of steel-cut oatmeal made with almond-milk horchata; truffled eggs with prosciutto; rustic slabs of toast slathered with strawberry-thyme jam; and even some sweet-savory buckwheat waffles. What's more, many of the herbs and other greenery come straight from the restaurant's on-site garden. Technically this spot isn't open for weekend brunch—just weekdays for now—but the menu looks so good we had to include it.
Weekdays 7am–4pm
La Brea's got a bustling new sports bar, which just so happens to serve stick-to-your ribs brunch on weekends—perfect for those who want a bite while catching the game. Berkshire House boasts shareable, snackable fare such as garlic knots, whole New York-style pizzas and buffalo cauliflower, but on Saturday and Sunday you can find more morning-friendly plates such as cinnamon knots dripping with icing; breakfast burritos stuffed with hash browns; chicken and Belgian waffles; and a breakfast stromboli full of scrambled eggs, spinach and red onions with a side of tater tots. Game on.
Sat noon–3pm, Sun 10am–3pm
Zack Hall's homespun bakery now, finally, has a full-on café. You can still find Clark Street's phenomenal croissants, cookies and loaves of bread, but also bagels, soft-boiled eggs, Nordic-inspired breakfast plates and plenty of lox, a nod to Hall's background of baking in Sweden. There's a full coffee program to help get you moving and serve as a complement to goods like lemon-and-ginger scones and large pinwheels of pain aux raisin, plus light fare such as Greek yogurt topped with house-made granola and seasonal fruit, and avocado toasts, ricotta toasts and all sorts of toasts, now enjoyable in a roomy space all their own.
Daily 7:30am–4:30pm
For those who like to brunch in style, you can find this breezy California-Italian restaurant tucked into the Silver Lake Pool & Inn, a darling boutique hotel that's small in size but big on design. Marco Polo sports an indoor-outdoor floor plan, which makes some alfresco eggs not only possible but ideal on a weekend morning (hello, waking up slowly under those palm trees and umbrellas). Expect Italian-leaning eggs, such as their prosciutto take on a Benedict, plus items like ricotta pancakes, fennel-touched avocado toast and fresh pastries. If you're more into lunch items, there's also a handful of pastas on offer, plus salads and some antipasti. Want to make your frittatas and cocktails even more luxe? Ask to dine poolside.
Sat, Sun 10am–5pm; weekday breakfast 7–10am
Two of L.A.'s culinary OGs just opened a brand new restaurant in Santa Monica, making a return to the neighborhood after launching (and recently shuttering) their beloved and influential Border Grill there so many years ago. Now, you can find Susan Feniger and Mary Sue Milliken inside the Gateway Hotel and turning out even more colorful Mexican fare at their latest, Socalo. The all-day canteen starts breakfast as early as 7am, even on weekends, with a morning menu that includes the likes of market-vegetable chilaquiles in either red or green sauce; huevos rancheros under a roasted-poblano salsa; house-made granola available as either sweet or savory; breakfast tacos; and fresh pastries like guava empanadas. Wash it all down with their daily agua fresca or something from their juice bar (we've got our eyes on the carrot juice and ginger lemonades, personally).
Daily 7–11am
Show more