Where to find the best pumpkin pie this season
In charge of the pumpkin pie for your next holiday dinner? We've got you covered with some of the best picks in town.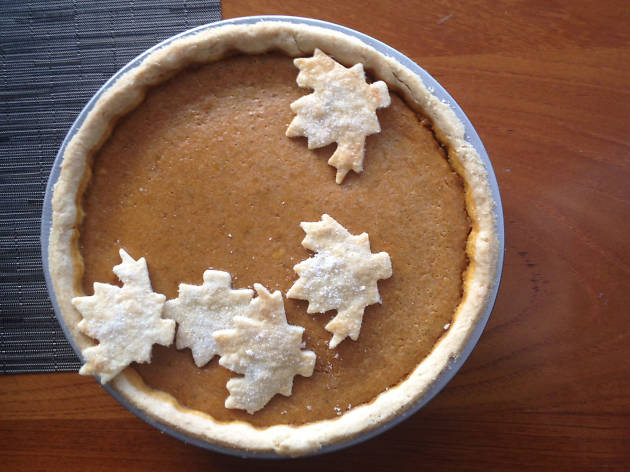 Pumpkin pie may be a love-it-or-hate-it dessert, but few can contest the fact that it has a rightful place at the holiday dinner table. Whether you're eating out for Thanksgiving, hosting your own meal or heading over to someone else's house, this seasonal treat is a staple on the menu—and, in our opinion, a better alternative to a PSL. After all the turkey has been eaten and all the bottles of wine are empty, here are the pumpkin pies you'll want to be sinking your fork into.
RECOMMENDED: Thanksgiving in Los Angeles
L.A.'s best pumpkin pie picks
Restaurants, Sandwich shops
The spiced pumpkin pie at Tavern, which can feed up to eight people, features a flaky, light crust and a filling that perfectly balances sweet and spice. $30, order by Nov 19
Moe's Pumpkin Pie is a seasonal favorite at the Pie Hole—and with four generations behind the recipe, it's easy to see why. With a smooth, creamy filling and the flakiest crust, this 9-inch classic is going to shine on your dining room table. $33
Restaurants, Ice cream parlors
This dreamy spiced pumpkin ice cream pie from Sweet Rose Creamery has a ginger cookie crust filled with spiced pumpkin ice cream and topped with whipped milk, pumpkin seeds and cinnamon sugar. Available at all five locations (Brentwood, Santa Monica, Mid-City, Pacific Palisades and Studio City). $48, order by Nov 15
Pastry chef Margarita Manzke is offering a slew of seasonal pies for the holidays, including her whimsical 9-inch pumpkin pie topped with toasted marshmallows. $38, order by Nov 21
Pick up Café Gratitude's organic, plant-based pie this year for a dessert option that's friendly for everyone at the table. $35, order by Nov 20
Superba's pumpkin pie is just as decadent as it looks: a roasted Cinderella pumpkin filling with pumpkin spice whipped cream. $36, order by Nov 22
Restaurants, Coffee shops
The North Hollywood coffee and pie shop is known for having fantastic pies of all kinds (coconut cream! Espresso almond! Chocolate banana!), but this 10-inch, classic pumpkin variety is perfect for those who are craving a traditional dessert. $30, order five days in advance
Cake Monkey's honey-braised pumpkin tart is made with a house-made graham cracker crust and topped with a toasted, house-made marshmallow fluff. $38, or gluten-free for $42, order by Nov 22
Looking for more great pie?
Check out our guide to the city's best pies.