Where to find the best pies in Los Angeles
Banana cream, lemon meringue, chocolate rye—we found the very best pies in Los Angeles to satisfy your sweet tooth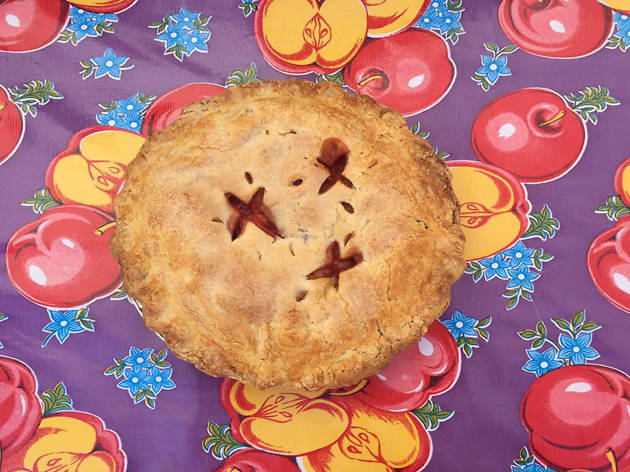 Whether you're planning a summer picnic or getting ready for a Thanksgiving feast, there's nothing wrong with having pie as the meal's central focus. And L.A. has some excellent pies. Not only can you find creamy lemon meringues and classic apple pies in old-school diners, but a handful of restaurants around town are excelling at one or two really fantastic pie variations. And then there are the city's top pastry chefs, who produce drool-worthy pies wherever they go, from farmers' markets to weekend festivals. Check out our guide to L.A.'s best pies—ice cream optional.
L.A.'s best pies
Republic of Pie looks more like a homey living room than a coffee shop, but that doesn't mean their menu is something you could whip up in your kitchen. Beautiful (and indulgent) pies are made fresh daily—dare we say they are some of the best desserts in the Valley. If you're craving something sweet, go for the chocolate banana bread pudding pie, the cookies n' cream, or the coconut cream pie. Wanting something more savory? Their mac & cheese pot pie is crazy good, as is their ham & swiss quiche. As for the drinks, a long list of coffee and tea is written out on a blackboard, boasting items like the NoHo cold brew and a refreshing white tip jasmine tea.
Read more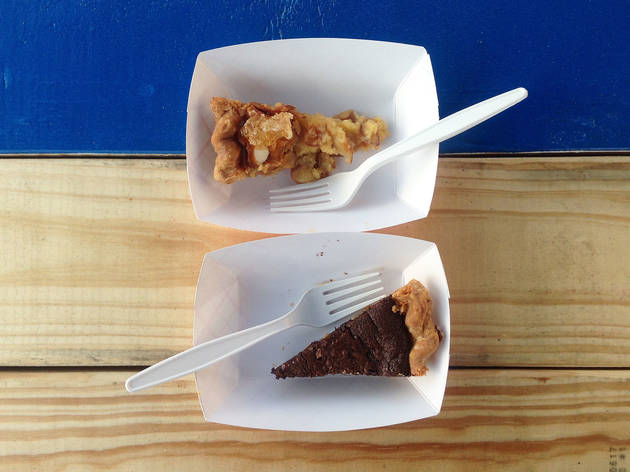 Rucker's Pie at Smorgasburg
Whether you've snagged her pies at Gjelina, Gjusta, Smorgasburg, Cofax or within a Shake Shack custard, Nicole Rucker is putting plenty of love and care into her baked goods. As of right now, you're guaranteed to find her at Sunday's Smorgasburg in the Arts District, where she slings slices packed with seasonal fruits and decadent ingredients. Her Bee Sting pie comes topped with a big dollop of honeycomb, while her Chocolate Chess variety is both airy and rich with an incredible crust. Are you drooling yet?
Now with locations in Hollywood, Glendale, Pasadena, the Arts District and Orange County, the Pie Hole has developed a reputation as one of L.A.'s go-to spots for a serious slice of pie. The family-owned cafe, whose Arts District interior consists of a few basic wooden picnic tables and chairs, offers homemade (if slightly expensive) pie varieties that range from Mexican Chocolate to a savory mac and cheese hand pie. One of our favorites includes the light-as-a-feather Earl Grey Tea pie, with its mound of whipped topping and a thin layer of chocolate ganache on top of the buttery crust.
Read more
Knowrealitypie (yes, all one word) might have a strange name and an even stranger-looking storefront, but the Eagle Rock bake shop is not messing around when it comes to pies. They've won ribbons multiple years in a row at KCRW's pie contest, and it's easy to see why when you sink your teeth into one of their sweet or savory slices. Seasonal pies include inventive options like apple crumb with whiskey sauce, toffee praline caramel apple and hot buttered rum cream pie.
Read more
Whether you're enjoying a more formal dinner at Odys + Penelope or lining up for a weekend meal at the Sycamore Kitchen, you'd be wise to order a slice of pie made by über talented pastry chef Karen Hatfield. At O+P, the chocolate rye pie is a thing of beauty, topped with a peanut butter crumble and vanilla malted ice cream. At the Sycamore Kitchen, seasonal slices might include pumpkin or boysenberry, to be enjoyed on Sycamore's sunny outdoor patio.
Book now
Read more
After successfully launching the Craft brand in New York, Tom Colicchio brought his famed restaurant to Century City, quickly establishing it as one of the Westside's staples for power lunching. A big part of its success: pastry chef Shannon Swindle, whose desserts are as vital to the restaurant as the rest of the menu. Swindle's pies change seasonally; more recently, a grape streusel pie was in rotation, oozing fresh fruit and flanked by scoops of complementary sorbet. Topped with a crumble that includes chopped peanuts, the pie is like an elevated peanut butter and jelly. Keep an eye out for some of Swindle's returning favorites, like strawberry angel cake and buttermilk pie.
Book now
Read more
If you can bake it in a crust, Jongewaard's will make it. Opened by Roger and Carol Jongewaard in 1965, the family-owned restaurant specializes in dishes that conjure up a meal around grandma's table: pot roast, chili, chicken fried steak, sandwiches. But it's the pies (oh, the pies!) that make first-timers become regulars here, a never-ending list of sweet and savory options that include banana meringue, rhubarb, pumpkin streusel, lemon cream, French apple, pecan, boysenberry and more. Pie for all!
Read more
Like so many of Echo Park's worthiest eateries, Brite Spot has a knowing sort of charm. Their retro décor, complete with rosewood tufted booths and shiny display cases, matches the menu, which can best be described as classic diner with a SoCal twist. If you're not here for stacks of pancakes and massive omelet plates, you're probably here for the pie: salted honey, bourbon pecan, chocolate creme, strawberry rhubarb crisp, key lime. The honey whiskey pie at Brite Spot is a standout, as is the peanut butter pie.
Read more
Queue up and settle around a U-shaped counter at this West L.A. institution, which has somehow seemed to escape time. Burger patties sizzle on the griddle that's been around for decades (since 1927, to be exact) and served by friendly waiters that seem to have been around for just as long. Whatever you order, be sure to end your meal with one of the Apple Pan's trademark pies—specifically, the banana cream pie, which comes stuffed with thick banana slices and plenty of whipped cream. Be prepared to pay with cash only and, on a sweltering day, opt for a seat by the door at this AC-less joint.
Read more
Sweet Lady Jane is known for just about everything—cakes, tarts, pies, breads—and especially their signature crowd-pleaser, a Triple Berry Shortcake. If pies are what you're in the market for, Sweet Lady Jane's don't disappoint. Available as slices or entire rounds, fillings include apple, blueberry, cherry, boysenberry and mixed berry, as well as seasonal favorites such as pumpkin, pecan, peach and strawberry-rhubarb.
Read more
Just two and a half blocks shy of the Hollywood border, this West Hollywood restaurant/bar/café feels like the sexy younger cousin to Dan Tana's. The main room is straight out of Scorsese's Goodfellas, while the café hearkens back to a family restaurant you would find in Rome's Campo de' Fiori. For dinner, there's pizza and pasta galore, but anyone with a sweet tooth knows to order Jones' famed apple pie. The ooey, gooey slice spills out onto a wrought iron skillet, accompanied by a scoop of vanilla ice cream. It's old school, old-fashioned and timeless.
Read more
Don't be fooled by the relaxed, homey vibe given off by this throwback diner, which first opened in 1963: when it comes to pies and burgers, they mean business. In addition to the griddle-cooked patties (topped, of course, with a secret recipe house-made sauce), the selection of pie here includes pillowy meringues (banana,coconut, lemon, butterscotch), seasonal fruit (strawberry, blackberry, peach) and classics (pumpkin, custard, cherry and even mince). Add ice cream or homemade whipped cream for $1.75.
Read more
Salt's Cure may not seem like the place to find exceptional pie, but the grapefruit wedge at this L.A. staple has become one of the city's best slices. Tart, creamy and full of zest, it's been with Salt's Cure since their move from West Hollywood to Hollywood in 2015, and we wouldn't have it any other way.
Book now
Read more
Looking for donuts instead?
If you're craving donuts over pie, these are the best donut shops to visit for your baked good needs.
Read more