Heads up! We're working hard to be accurate – but these are unusual times, so please always check before heading out.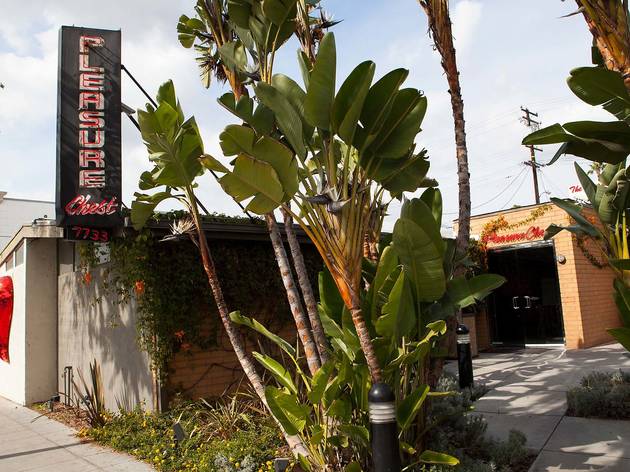 The best sex shop options in Los Angeles
Whether high-end or low brow, Eastside or Westside (or, um, LAX), there's a sex shop in Los Angeles just for you
Sex shop storefronts in Los Angeles are almost as ubiquitous as coffee shops—or strip malls, honestly. Throw in all the erotic dancing establishments (GIRLS! GIRLS! GIRLS!) plus full-on (read: full-frontal) strip clubs and you've got a city in which sex rules, sells and is pretty much on everybody's minds all the time. Luckily, along with high-end lingerie and clothing boutiques, LA has some very classy sex shops—in which discussing carved wood anal plugs and $100+ vibrators is no big thing. Prefer your sexy shopping with a little more comedy (and a lot more tourists)? Check out our cheesy options, better suited for bachelorette parties and costume shopping. Just looking to get your rocks off already, don't care where? We've even got the beast of the sleaze. So whether you're looking to indulge a fringe fetish or just want to buy some lube for lots of missionary, we've got you covered, with a sex shop for every whim and whimsy, from Culver City to Silver Lake.
Classy sex shop options
Vibrators, dildos and all kinds of things both unmentionable and unimaginable are offered at this longstanding emporium of sauciness. The Pleasure Chest is one of the classiest sex shops in a city filled with, well, lots of smut. It's clean, welcoming and the salespeople there really know their stuff—you can get the lowdown on lube without blushing, or even satisfy your curiosity about fleshlights and anal plugs sans judgement. In fact, the vibe is so safe and comfy here that you'll probably explore further than you intended—and leave, well, very satisfied. The Chest also offers classes (many free!), lectures and comedy, de-mystifying and de-stigmatizing our more carnal impulses.
Stockroom sells a wide array of unique, ahem, intimacy outfits. But if you're looking for lingerie, move along—this shop specializes in the rubber mask, ballgag, leather whip and latex variety of intimate accessories. That's not to say the shop isn't high-end—the place is spotless, organized and has some of the most encyclopedic employees we've found in the industry. Stockroom also has a mezzanine floor with all sorts of sex toys, plugs, wands, lubes and other items to get you in the mood, regardless of whether or not BDSM is your thing. Be sure to check out the shop's selection of erotic fiction—forget 50 Shades of Boring and go straight for Story of O, a 1954 novel about love, dominance and submission by French author Anne Desclos (under the pen name Pauline Réage).
You won't feel affronted by the arousing trinkets suspended from the walls of this saucy boutique. Make a pleasure-centric pit stop next time you find yourself on the 405 at this spacious shop for grown-ups, which veers more in the direction of romance than unadulterated kink. Don't get us wrong—A Touch of Romance vends everything from beaded nipple clamps to sex swings—but if friendlier lovemaking is more your speed, they also offer bath and body aphrodisiacs, enviromentally-friendly vibrators and an array of lingerie, from demure chemises to naughty school girl getups. Check out their events calendar for classes on topics such as "how to rekindle your love life" and "the secret to achieving longer orgasms." Sign us up.
Cheesy sex shop options
Hot pink interiors and a dripping chandelier echo the loud-and-proud attitude of this wild adult boutique. Chi Chi LaRue's is named after the infamous drag icon, and—in order to live up to such a reputation—offers over 2,000 DVD titles, as well as a spattering of lube, toys, apparel, performance enhancers, smoking accessories and beyond. Browse all of the eponymous queen's own naughty brands while making conversation with her eccentric staff. Kitchy as it is, fun is one thing you're guaranteed to experience on Chi Chi's glittering watch.
Pure Delish began in 2000 as a costume vendor for go-go and exotic dancers. It's since grown to offer ensembles of all kinds for an equally eclectic array of Angelenos: racy lingerie, role play accoutrements, fetishwear (think vinyl bodysuits and leather thongs), plus a small selection of adult toys. Colorful and kitschy from the inside out, the costume shop's brassy spirit is reflected in its philosophy: "At Pure Delish, we feel that the bedroom is your kitchen, and we want to help you whip up dessert!" Hey, we told you it was cheesy.
Filthy, spacious and in-your-face are the primary qualities of this colorful emporium for all things kinky. Take a spin around the expansive retail space, filled with a mind-blowing collection of DVDs, toys, lingerie, lube—and lots and lots of tourists. Hustler highlights include Hitachi Magic Wand vibrators, bejeweled butt plugs and fleshlights modeled after the lady business of your favorite ladies in the business. Refer to their Top 100 Porn Movies of the Week page to navigate their, ahem, massive selection.
Sleazy sex shop options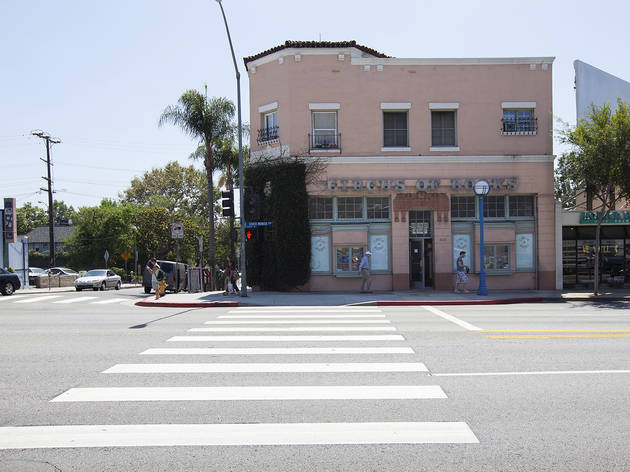 This three-decade-old institution is a well-known pick-up spot, whether you're looking for a fun new sex video or a fun new sex partner. The combination of testosterone and walls lined with gay adult books, magazines, DVDs, toys and lubricants (among other novelties) makes for a particularly sexually charged environment, otherwise known as ground zero for cruising. Let's face it…anyone who walks into either the WeHo mainstay or the Silver Lake outpost is already up for it, so is it any surprise that the pickings are so ripe here? The fact that both stores are within stumbling distance of popular gay hot spots like Akbar (Silver Lake) and Fubar (WeHo) only adds to their allure. We also love the throwback feel of each location—back to the days when erotica was confined to paper and ink, which COB still stocks in abundance.
Maybe this place is a little seedy, but when you've just finished a long plane ride and find yourself with a hankering to watch MILF Hunters Volume 15, where else are you gonna go? Conveniently located a mere five minute drive from the airport, this "cozy" [ed. note: questionable] adult shop offers a selection of DVDs, toys and costumes that are arguably less shabby than the decor. The store isn't exactly fancy, but it'll do just fine when you want to procure some erotica under the radar (and some landing jets).
Sprinkled all across our (apparently sex-crazed) metropolis, this X-rated chain allows you to pick up your much-needed masturbation dolls and strap-ons at any hour of the day, no matter what part of town. Romantix locations are in Hollywood, Glendale, Whittier, Sherman Oaks, Studio City, Pasadena and beyond, but the North Hollywood locale stays open all night long, so that when you find yourself fresh out of Luna Beads at 4am, you've got somewhere to go. The shop's erotic wares range from everyday items like edible undies and lube to unmentionables such as vibrating cockrings, "ball gag training systems," pussy pumps (yep, that's a thing) and penis extensions. One observational lap around the store and you'll already find yourself in need of a shower.